Creamy, rich, tangy and lovely. This dairy-free Chocolate Frozen Yogurt is a delicious and versatile treat on a hot summer day. Scooped onto cones, or enjoyed with fresh berries and toppings, this churned fro-yo is a winner. And if you let it chill in the fridge to harden, it is perfect for adding to a banana shake, to give the effect of a rich and frosty milkshake. If you love the subtle tang of frozen yogurt and all things chocolate, give this easy recipe a twirl..
Summertime. Heatwave weather. Triple digits. It's all good. Because, ice cream. (And fro-yo.)
I have really fallen in love with coconut milk-based ice cream, swiftly churned in my ice cream maker. It is SO speedy to make and has such a lovely texture.
How I do it? I have a can of fully chilled coconut milk all ready to go in the fridge. Then I blend the simple ingredients in my Vitamix, pour into my machine and churn for a few. Soft serve ice cream is ready in under twenty minutes. Or you can place the churned mixture in the freezer to chill a bit longer, perfect for scooping.
And while I am talking Vitamix. Did you know that you can snag one on Amazon for $249! That is an amazing deal. Such a worthy wellness investment. And if you are hesitant to buy 'refurbished' – don't be! I visited the Vitamix headquarters and heard first-hand how extensively they check and certify their blenders – new and refurbished. I tell all my friends and family to buy refurbished because the savings are just incredible.
Back to chocolate..


Add it to smoothies! And as I mentioned above, after this froyo fully chills in the freezer, it gets really firm and creamy. But that texture is perfect for adding to chocolate banana shakes! It turns my light and lovely frozen banana ice cream into a true decadent ice cream milkshake-like treat.
Here is a simple shake recipe:

2 frozen bananas
1 scoop nut butter (opt'l)
1 teaspoon cacao powder
½ cup Chocolate Frozen Yogurt
1 cup non-dairy milk
pink of sea salt
Blend and serve with a spoon.
Get my Chocolate Frozen Yogurt recipe below…
Hope you guys are having a happy, sunny summer!

Ps. If you missed my last email newsletter, get it here.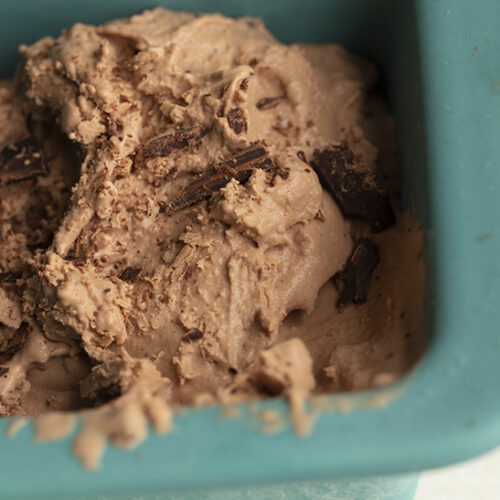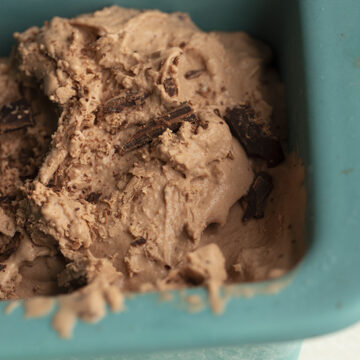 Chocolate Frozen Yogurt
This rich and delicious DIY fro-yo is a rich and creamy, dairy-free summer dessert. Coconut milk base.
Print
Pin
Ingredients
1

can

full fat coconut milk, fully chilled

1

frozen banana

4-6

ice cubes

5

oz

vanilla dairy-free yogurt

1

tablespoon

agave syrup

2-3

tablespoon

cacao powder

pinch of sea salt

Optional: 2-4 tablespoon finely chopped vegan chocolate
Instructions
Open your fully chilled can of coconut milk. Scoop the opaque white contents into a blender. Discard the watery substance remaining.

Also add to the blender: banana, ice, yogury, salt, agave and cacao. Blend until smooth.

Set up your ice cream maker. Turn it on and pour in the mixture. Allow to churn for 15-20 minutes, or until stiff. Add optional chocolate pieces.

Serve right away, soft serve style. Or pour into a freezer-friendly container and chill until desired firmness is reached. Enjoy!
nutrition estimate | per serving
Calories:
266
kcal
|
Carbohydrates:
20
g
|
Protein:
4
g
|
Fat:
21
g
|
Saturated Fat:
19
g
|
Polyunsaturated Fat:
1
g
|
Monounsaturated Fat:
1
g
|
Cholesterol:
2
mg
|
Sodium:
38
mg
|
Potassium:
432
mg
|
Fiber:
2
g
|
Sugar:
12
g
|
Vitamin A:
34
IU
|
Vitamin C:
5
mg
|
Calcium:
83
mg
|
Iron:
4
mg
No Ice Cream Maker? The recipe above requires an ice cream maker, but if you do not have one and just want to use a blender like a Vitamix, I would advise trying this recipe: chocolate blender ice cream — To make a FroYo version, simply sub some of the non-dairy milk with a plain or vanilla non-dairy yogurt.

* Vitamix version ice cream

Pin it for later..