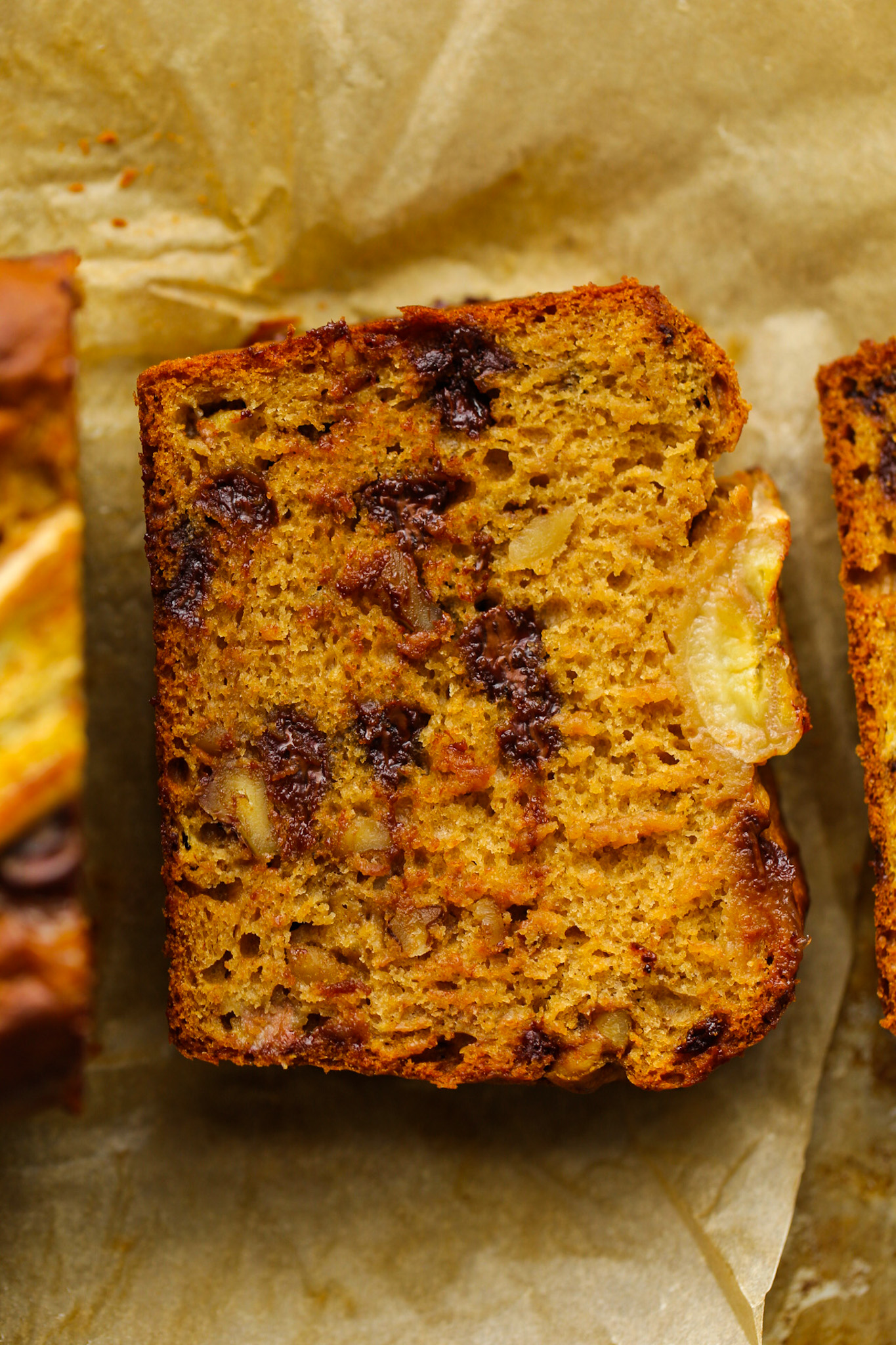 This 'Chunky Monkey' style, Chocolate Chip Banana Bread is loaded with melty chocolate chips and chunky walnuts, all clustered together in fluffy, vegan banana bread. I love the thick slice of baked banana right on top too!
Whip up this cozy loaf and I chat about the best way to serve banana bread… cold of warm?!…..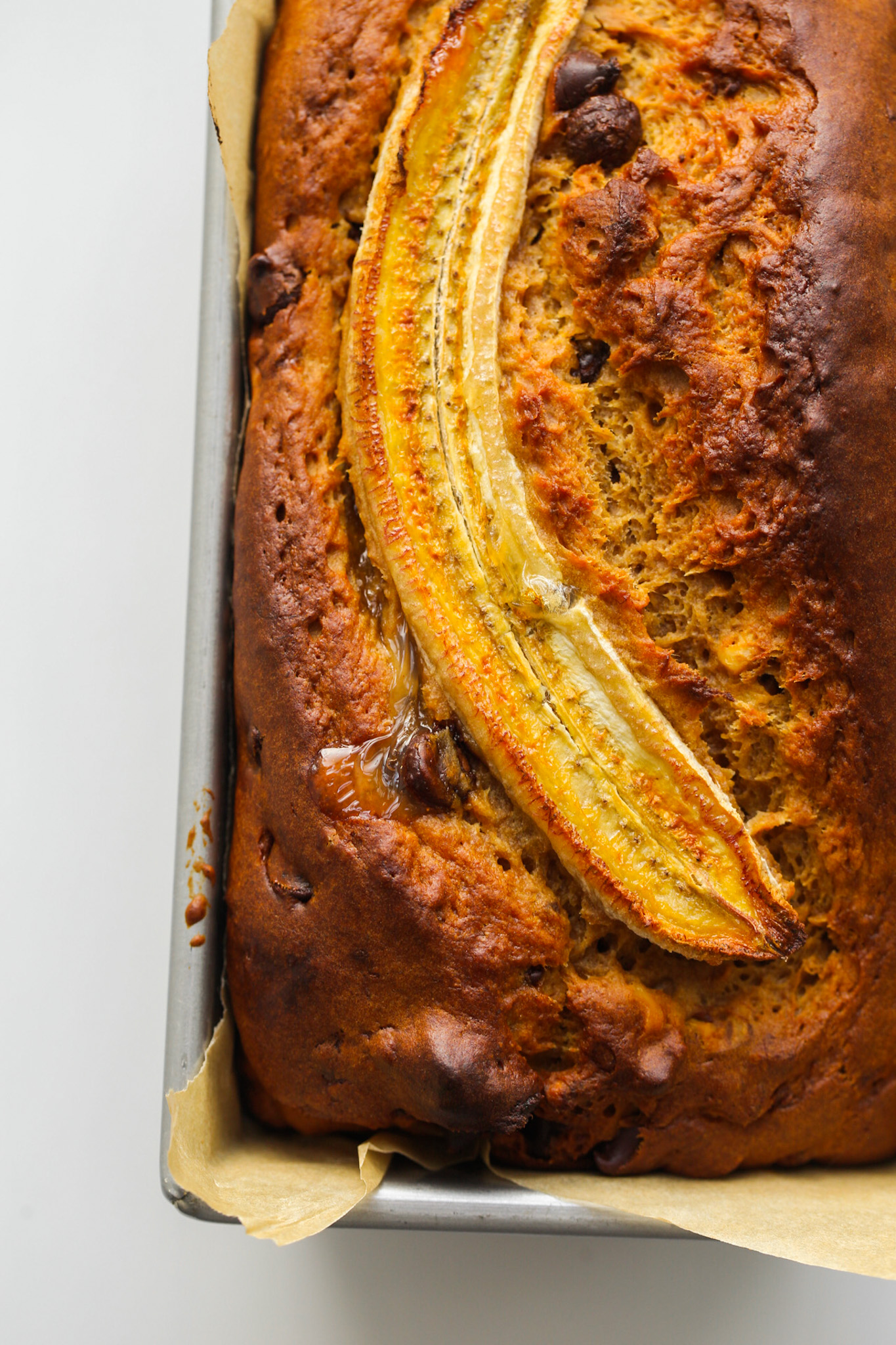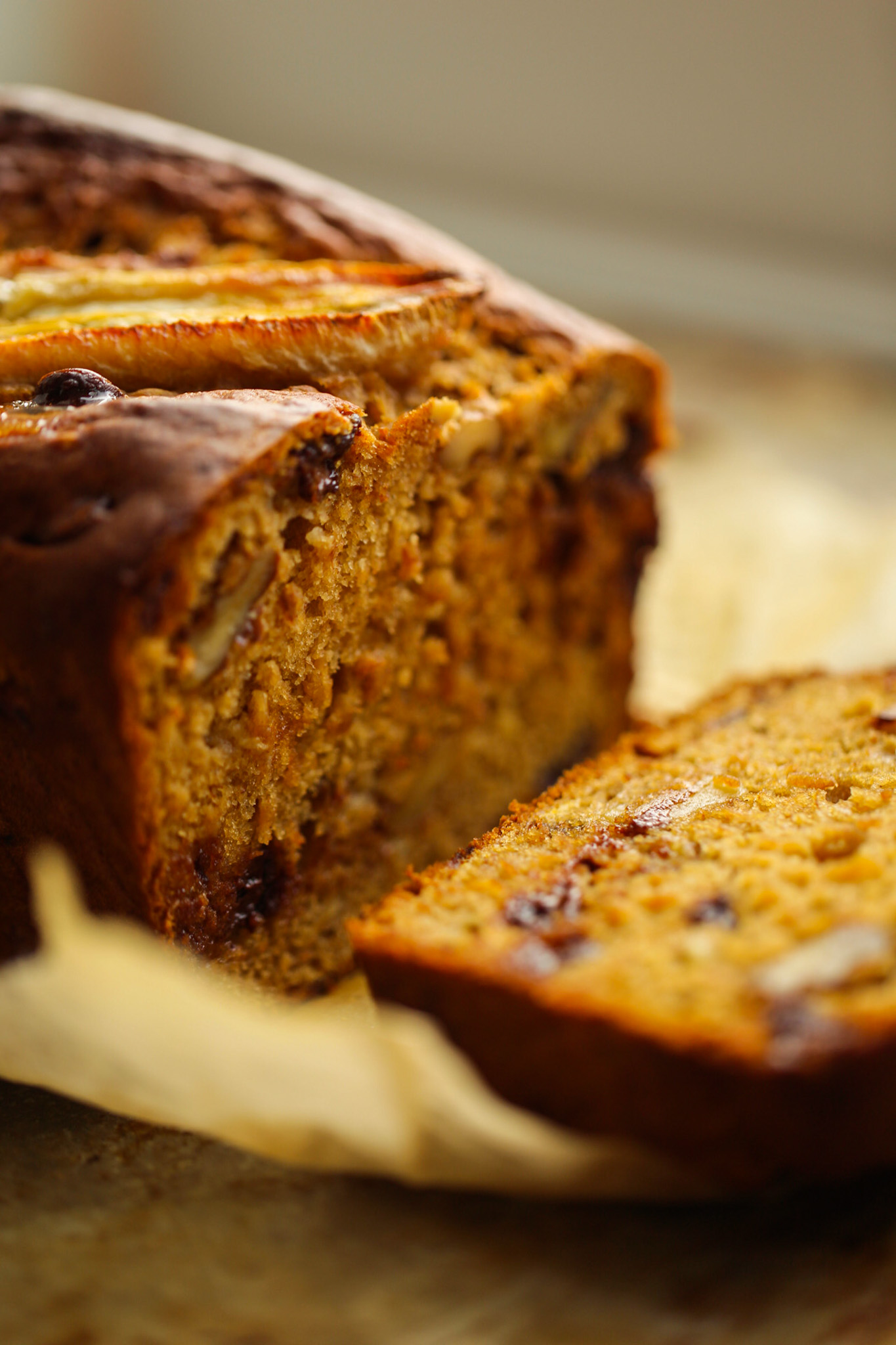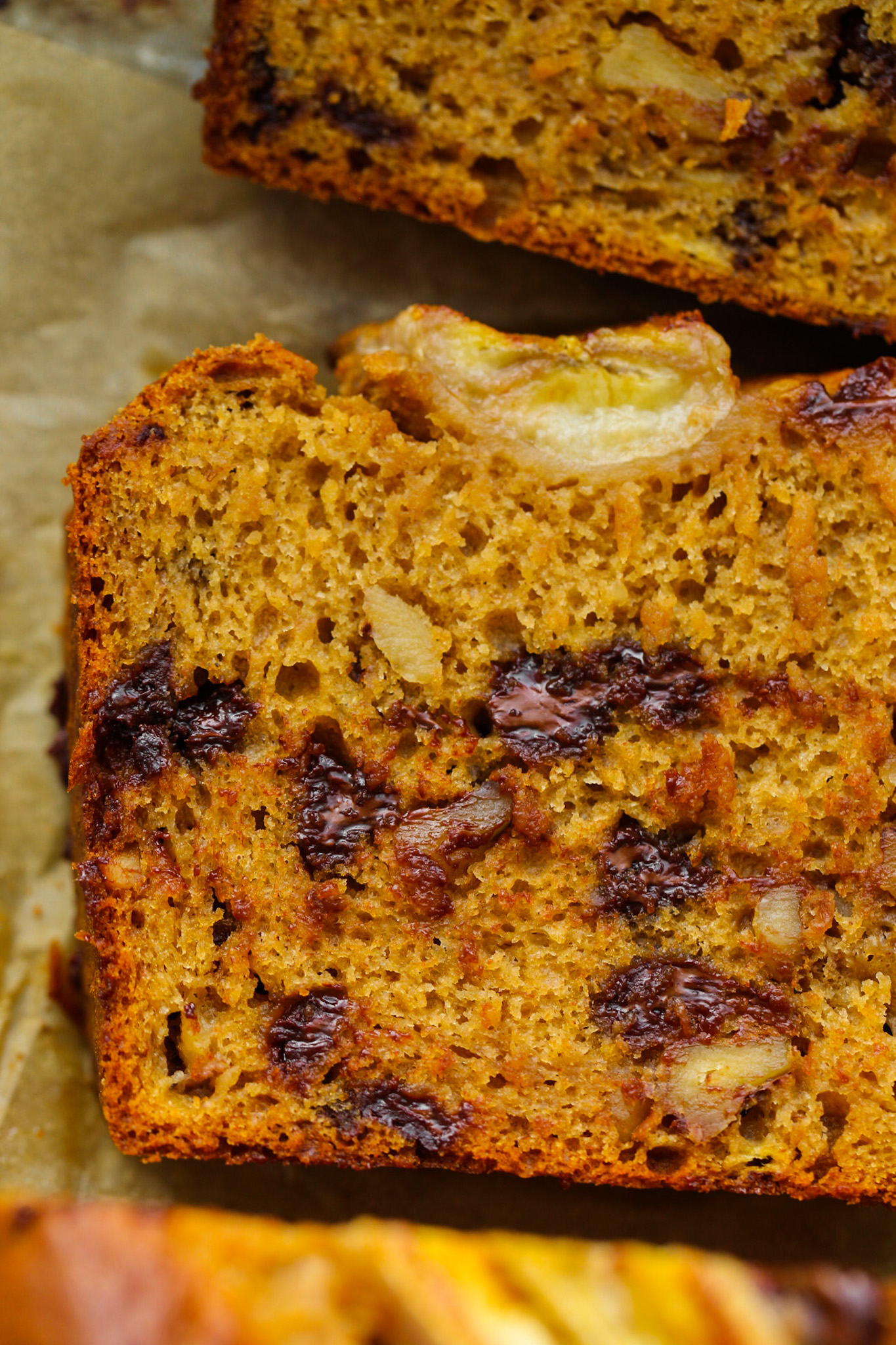 Banana Bread Cozies
Yup, banana bread is a popular recipe this year! There have been entire articles analyzing why people are so drawn to banana bread flavors and textures during this COVID crisis.
"Why Banana Bread Is the Official Comfort Food of the Coronavirus Quarantine" – The Kitchn
"In The Midst Of The Coronavirus Pandemic, Banana Bread Is Experiencing A Quarenaissance" – Delish
Well, I think it's pretty obvious why people are embracing this baked good…
It's a cozy favorite! Banana bread is not only delicious, it has a comforting aroma when you bake it. A swirling mixture of banana, vanilla, cinnamon and maybe even some chocolate too.
And it feels like the perfect healthy treat. A snack loaf meets dessert. Perfect any time of day. Breakfast, afternoon, after dinner. For dinner! Ha. Maybe not for dinner, but I have definitely saved room for my after-dinner banana bread slice.
But when all the days start blending together and dinner becomes linner and lunch becomes second breakfast and everything is confused and you just start eating when you are hungry…. banana bread, baked good for ANY hour sounds just about right.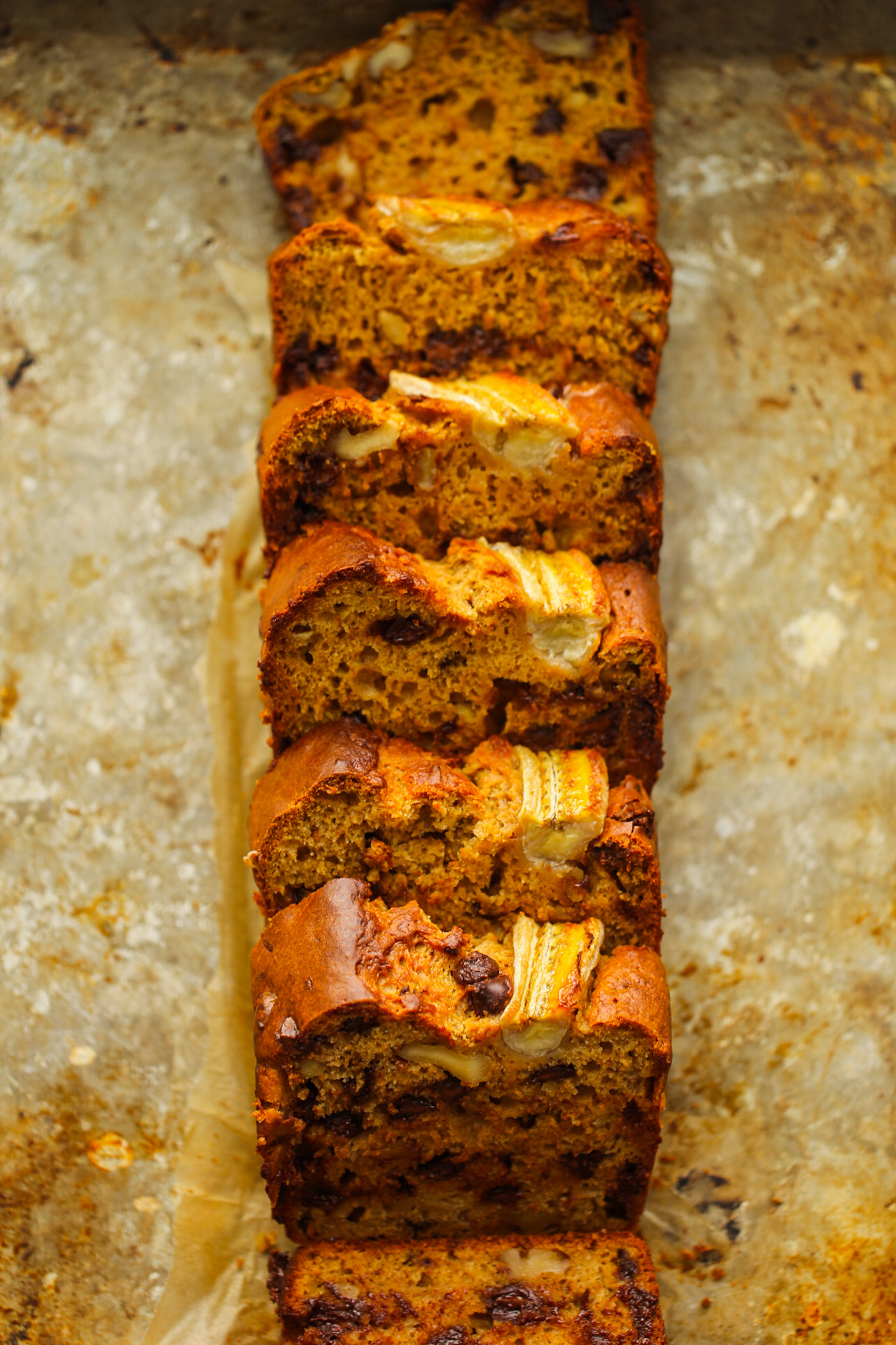 Egg Replacer
I have used both silken tofu and JUST Egg in this Chunky Chocolate Chip Banana Bread recipe with perfect results. If you are not vegan, you can use two eggs, but I would give the vegan version a try at some point just so you can see how you really don't need eggs when baking fluffy and moist loaves and breads and cakes!
If you want a more unique egg replacer, check out my chickpea banana bread – yes really. It is really good and a fun way to experiment with using chickpeas in baking.
Chunky Monkey Inspired
This Chunky Chocolate Chip Banana Bread could easily be called Chunky Monkey Banana Bread too.
I honestly don't know who invented the phrase 'chunky monkey' to describe the delicious combo of banana, chocolate and walnut – I think I will give credit to Ben & Jerry's because that is where I heard of it first. If you know the origin, let me know! After a bit of research it looks like cartoonist Pauline Camanor created a "Chunky Monkey" cartoon character fifteen years before the beloved ice cream flavor. Interesting!
And since then, this phrase has been used by a lot of recipe developers to describe that ingredient combo.
Walnuts for the Win
One underrated ingredient in this Chunky Chocolate Chip Banana Bread recipe might be those chunky bits of walnut! Sure, they don't get the flavor pop of a melty chocolate chip, but their buttery crunch is just as adored in this bread. Each walnut adds texture and crunch and a subtly nutty flavor.
Plus, walnuts are loaded with healthy fats!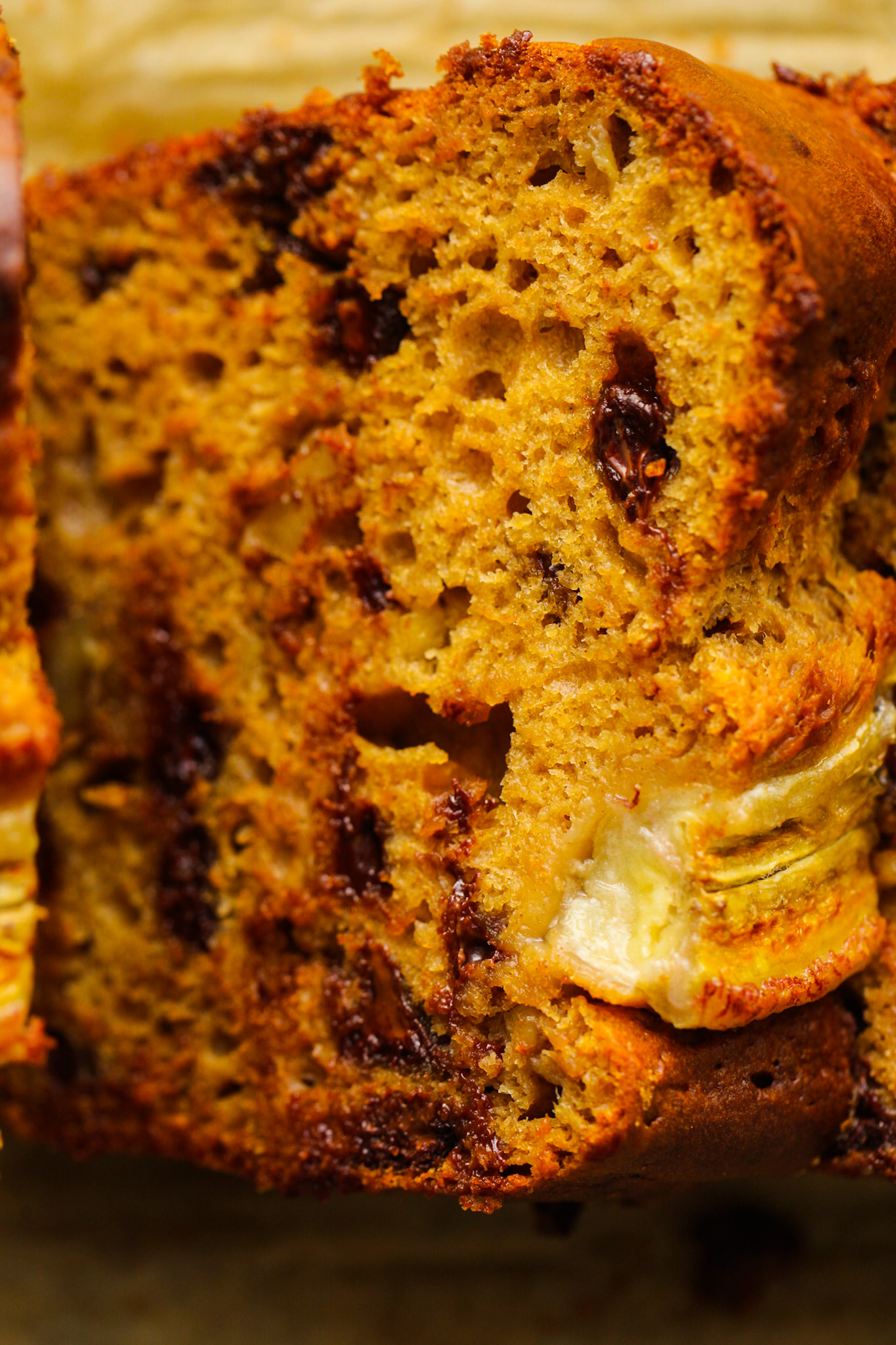 How Do you Like Your Banana Bread: Warm of Cool?
I may be the weird one here, but I am only obsessed with banana bread when it is served cold. Straight from the fridge. All fluffy but also kinda firm. Yes, even when chocolate chips are involved! It feels like more of a "snack" to me instead of a dessert. And when I nibble cool bread it seems to last longer!
Warm Chunky Chocolate Chip Banana Bread is crazy delicious, but is swiftly gobbled down for me. So I don't know, I like to let my cozy snacks linger. What about you?
How do you like your banana bread???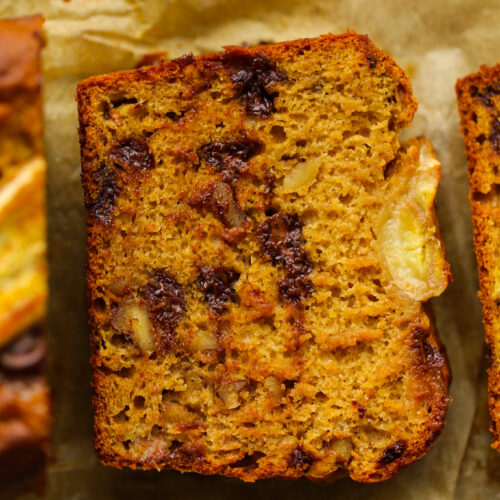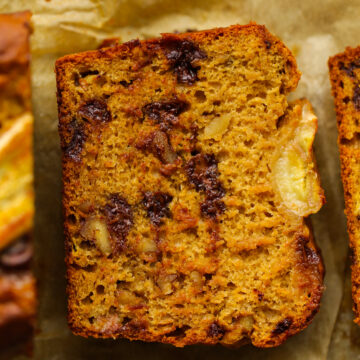 Chunky Chocolate Chip Banana Bread
Fluffy and moist, this vegan banana bread is packed with chunky bits of chocolate and walnut.
Print
Pin
Ingredients
Wet:
2

large

bananas

,

over-ripe + mashed

¾

cup

coconut sugar

½

cup

water

½

cup

egg replacer

,

see notes

¼

cup

walnut oil

,

another vegetable oil can be subbed

1

teaspoon

vanilla extract
Dry:
1

teaspoon

cinnamon

,

ground

1

teaspoon

salt

2

teaspoon

baking powder

2

cups

bread flour
Fold in:
½ – 1

cup

walnuts

,

raw, chopped

1

cup

vegan chocolate chips
Topping:
½ – 1

medium

banana

,

sliced long ways
Instructions
Preheat oven to 350 degrees and line a loaf pan with parchment paper.

Add all the wet ingredients to a large mixing bowl and mash and whisk together.

Add in the dry ingredients and whisk (or use an electric mixer) until combined and fluffy. Mixture will be slightly chunky from the mashed banana.

Fold in the walnuts and chocolate.

Pour batter into loaf pan. Add optional banana slice(s) on top.

Bake at 350 for 55-65 minutes or until loaf passes the toothpick test.

Pull loaf from oven and allow to cool for at least ten minutes before lifting parchment paper from pan. Cool for another 10-20 minutes before slicing and serving.

Store leftovers in the fridge for up to a week. Freeze for longer storage. Serve chilled or warm, whatever your preference. I love cold banana bread from the fridge!
Equipment
loaf pan

mixing bowl

parchment paper or oil for greasing
Notes
egg replacer: I would use either JUST Egg or silken tofu, pureed + an extra pinch of salt serving size: I like to thickly slice thos loaf, then slice each slice in half to serve. That way you can have 1-2 servings. Yeah, I usually end up eating the whole slice, but sometimes just a half slice does it!
nutrition estimate | per serving
Calories:
212
kcal
|
Carbohydrates:
30
g
|
Protein:
4
g
|
Fat:
10
g
|
Saturated Fat:
3
g
|
Sodium:
162
mg
|
Potassium:
169
mg
|
Fiber:
2
g
|
Sugar:
13
g
|
Vitamin A:
11
IU
|
Vitamin C:
1
mg
|
Calcium:
52
mg
|
Iron:
1
mg