This Perfectly Chunky Mango Guacamole is a delicious combo of smooth and chunky, sassy and sweet, rich and salty. All those things in a dip. This guacamole is chunky enough to have some oomph, but smooth enough to be able to scoop and spread with ease.
I love this dip served with a giant bowl of salty tortilla chips, warm corn or flour tortillas or even scooped over top a salad or inside a baked sweet potato with some black beans on top.
And the best part about this no-frills, easy as can be recipe, is that it only has two main ingredients and a special process to get the 'perfectly chunky' texture…
I love simple recipes that taste amazinggggggg, and this is one of those! I could eat this entire bowl of dip without even realizing it. So warning, serve this with a friend or a few friends or watch yourself inhale it.
I love the combo of buttery healthy fat avocados with vitamin C-rich mangoes with their sweet and sassy bite. The tartness to a mango is so wonderful with avocados that you really can skip any additional citrus juice from lime or lemon! But if you like your guacamole extra tart, lime would be a good add in.
For spices I kept things super simple and added smoky paprika, sea salt and a bit of cumin. Garlic powder or a minced raw garlic clove would also be nice.
And just in case you didn't know this fun fact, most of of the nutrients in an avocado are concentrated in that outer dark green layer of flesh, just before the skin — so be sure to cut the avocado properly to avoid missing the dark green layer! Sometimes it can stick to the skin, or rind?, but try to scoop it if need be.
Here is a good description of how to peel and avocado to retain the most dark green colored flesh.. (And I show how I do it in my video at the bottom of this post.)
"..the "nick and peel" method. In this method, you actually end up peeling the avocado with your hands in the same way that you would peel a banana. .. cut into the avocado lengthwise, producing two long avocado halves that are still connected in the middle by the seed. Next you take hold of both halves and twist them in opposite directions until they naturally separate. At this point, remove the seed and cut each of the halves lengthwise to produce long quartered sections of the avocado. You can use your thumb and index finger to grip the edge of the skin on each quarter and peel it off, just as you would do with a banana skin. The final result is a peeled avocado that contains most of that dark green outermost flesh, which provides you with the best possible phytonutrient richness from the pulp portion of the avocado." – WHFoods
So grab a big bag of chips or slice up some veggies or warm up some tortillas and try this recipe.
And this guac upgrades all your snacking circumstances for this weekend, Super Bowl or not..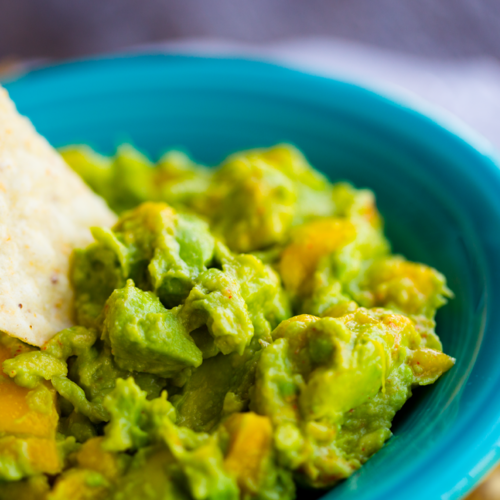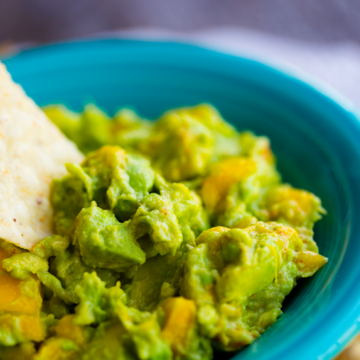 Perfectly Chunky Mango Guacamole
This perfectly chunky mango guacamole combines a hint of sweetness with buttery avocado bliss. Mango adds sweet and tart and texture. This guacamole pairs with salty tortilla chips or warm tortillas. 
Print
Pin
Ingredients
2 ripe avocados

1 mango, diced

½ teaspoon pink salt

smoky paprika to taste

1 lime, juiced (optional)

additional spices such as cumin, garlic powder or cayenne (optional)
Instructions
Dice half of the mango and 1 ½ avocados. Add to a medium deep bowl. Mash very well until smooth and the mango mashes just as much as the avocado.

Fold in the salt and any additional spices.

Add the other half of the diced mango along with the remaining avocado. Dice the avocado into cubes before adding to bowl. Fold the mango and avocado chunks into the creamy mashed mixture. If adding lime juice, you can also fold it in now.

Pour the final mixture into a serving bowl and top with smoky paprika. Best when served freshly made, but if making in advance, squeeze lime juice right over top the dip and seal tightly with plastic wrap.