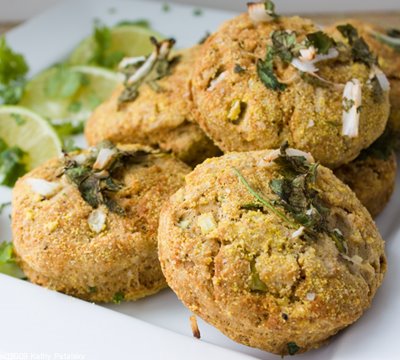 Today's Mexican inspired recipe: Cilantro Lime Agave Biscuits. Savory onion and salty cilantro flavors are paired with sweet agave and lime accents. A dusting of cornmeal creates a crisp hearty shell, while the inside stays moist and steamy. Make these tonight…
Biscuits! (Are not boring.) Biscuits get a bad wrap for being boring, traditional and even unhealthy. Well I'm on a mission to re-invent the biscuit as you know it. Biscuits can be just as versatile as muffins, and just as healthy as a whole grained bread. They can flavored be sweet or savory, simple or complex. And you can adapt your biscuit recipe to suit any meal. Biscuits can be in the oven in a snap, and are best served steamy hot.

Healthy Ingredients. Instead of the traditional white flour, honey and butter biscuits, I've decided to use whole wheat flour, a bit of flax seed meal, canola oil, agave syrup and lots of herbs and spices for flavor accents.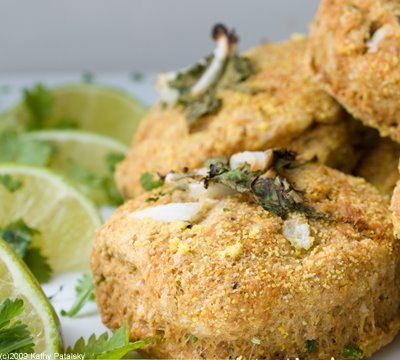 Cilantro lime Agave Biscuits
vegan, makes 12 biscuits
2 cups whole wheat flour
¼ cup Garbanzo-Fava Bean Flour (or more ww flour)
3 tablespoon Flax seed meal
1 tablespoon freshly ground black pepper
1 tablespoon baking powder
2 teaspoon kosher salt
1 teaspoon fresh thyme, chopped
1 tablespoon spices
*I used a loose combo of: onion powder, cayenne, cumin, cinnamon
1 cup warm water
¼ cup agave syrup
¼ cup canola oil
1 large lime, juiced
1 tablespoon lime zest
½ cup onion, finely chopped
2 tablespoon parsley, chopped
¼ cup cilantro chopped
handful of cornmeal
Topping:
leftover chopped onion, cilantro, agave and oil mixture for brushing.
Directions
1) Combine dry ingredients: ww flour, flax seed meal, GF flour, salt, pepper, thyme, spices baking soda. Mix together well.
2) Add liquid ingredients: water, agave syrup, lime juice, lime zest and oil.
3) Fold in onion, parsley and cilantro.
4) Use your hands to mold dough into a loose ball.
5) Sprinkle cornmeal on a flat surface. Drop dough on cornmeal and lightly coat top and sides with a sprinkling of cornmeal. Bottom of the dough should pick up a thick layer of cornmeal.
6) Using your palms and fingers, press out the dough to about ¾ inch thick.
7) Using a 3″ glass or biscuit cutter, cut out the biscuits.
8)Lay biscuits on a parchment paper covered baking sheet.
9) Brush biscuits with your agave/lime/oil mixture. Dot each biscuit with a pinch of onion and chopped cilantro.
10) Bake for 18 minutes in a 380 degree preheated oven. Or until edges are lightly browned.
Serve steamy warm.
optional add-ins: 1 jalapeno, chopped for spiciness or ½ cup grated vegan cheddar cheese.