Current recipe obsession: beans and rice anything. This speedy Coconut Curry Rice Bowl is a flavorful entree featuring fluffy jasmine rice and nutty skillet chickpeas. This recipe can easily be whipped up in just a few minutes. The flavors include coconut-curry, sweet potato, garlic, spinach and a touch of either lime or lemon juice to bring everything to life. Get the recipe…
Love the hint of caramelized garlic in this Coconut Curry Rice Bowl. And the sweet potato adds sweetness and satisfaction to this meal.
Fluffy jasmine rice worked so well in this dish! I love the texture and aromatic fragrance that it brings.
Rice + Beans Bowls.
My go-to warm lunch lately is a rice and beans bowl. Once you get the rice figured out (you can either Instapot it, rice cooker cook it, stovetop cook it or even used frozen pre-cooked rice) — everything else comes quickly together in a big sizzling skillet.
Veggies, spices, flavor accents. Beans and rice is such a timeless and comforting vegetarian and vegan duo.

Another super speedy rice and bean bowl that I love is my peanut butter chickpeas bowl.
Substitutions allowed!
You can absolutely get creative based on the ingredients that you have in your pantry. Rice and bean varieties can absolutely be switched around.
Rice could be brown rice, jasmine rice or even quinoa or another fluffy grain. Beans could mean chickpeas, white beans, black beans or even lentils.
This Coconut Curry Rice Bowl is easy to make your own!
Coconut Milk.
I think some people are afraid to cook with coconut milk because the high fat content and extreme richness intimidates them. Trust me, you need to get over that because coconut milk is such a lovely base liquid for so many vegan sauces.
Sure, if you dump the entire can of coconut milk into a skillet like this the texture can turn very rich, very quickly. Sometimes when I eat out at restaurants, I avoid the coconut milk dishes because they can be so heavy and dense. But at home, you can customize!
Start small, maybe ¼ cup and then play around with ½ cup and increase from their if you want. Another option is to use light coconut milk, but really that's just like a watered down version of coconut milk so in my opinion not worth buying.
And I just love coconut and curry paired together with a hint of citrus. You get the heat, some body and bright acid.
Flavors in this Coconut Curry Rice Bowl:
nutty chickpeas
fluffy jasmine rice
rich, creamy coconut milk
lively warming curry powder
bright citrus: lime or lemon
toasted garlic
spinach
sticky sweet sweet potato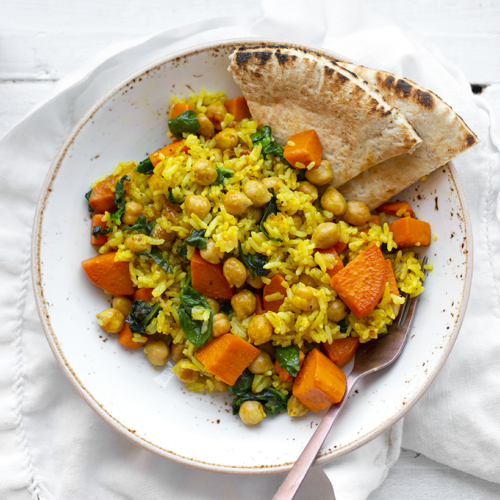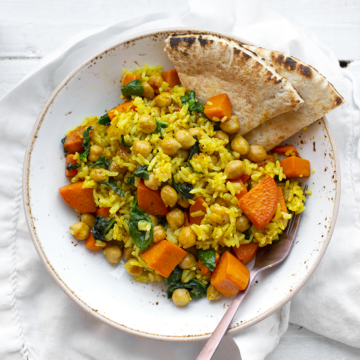 Coconut Curry Rice Bowl
This flavorful rice bowl contains chickpeas and spinach, sweet potato and garlic. Sweet curry flavors with a kick of citrus.
Print
Pin
Ingredients
1 ½

cups

chickpeas

,

canned – drained and rinsed

1 ½

cups

jasmine rice

,

cooked*

⅓

cup

coconut milk

,

full-fat

1

tablespoon

curry powder

1-2

tablespoon

maple or agave syrup

4

tablespoon

lemon juice

,

added to skillet mixture

4

cloves

garlic

,

chopped

2

teaspoon

extra virgin olive oil

,

for pan

¼

teaspoon

salt

,

or to taste

black pepper

,

to taste

1

small sweet potato

,

peeled and diced

1-2

cups

spinach

,

or kale

1-2

tablespoon

lemon juice

,

squeezed over top to serve

1

pita pocket

,

sliced into triangles
Instructions
Fill a small soup pot with water. Bring to a boil over high heat. Add the sweet potato and boil until tender, usually five minutes should do it, depending on how small your pieces are.

Pop your rice bag in the microwave for about two minutes to heat. (If using leftover rice, you do not need to warm up.)

Warm a large skillet over high heat. Add a drizzle of olive oil along with the garlic. Cook for a minute to toast the garlic and bring out the flavor. Add in the chickpeas. Toss chickpeas a bit in the oiled pan, cover with a lid just in case the chickpeas start sizzling and popping a bit. After about a minute or two, add in the coconut milk, lemon juice, rice, maple or agavce syrup, curry powder, salt and pepper.Toss everything very well together and lower the heat to low. Cover with lid and allow the flavors to marinate together for a minute or two.

Lift the lid and do a taste test of the rice mixture. Add more salt, pepper, or even maple syrup as desired. You can even add in another splash of coconut milk if you like a richer texture. When you like the flavors, you can move on to the last cooking step.

Drain the sweet potatoes and transfer them to the skillet. Add the spinach to the skillet as well. Fold the spinach and potatoes into the rice mixture. Transfer to a serving bowl to serve,

Add 1-2 tablespoon of fresh citrus (lemon or lime) over top to serve. You can also add some fresh pepper, if desired. Serve with toasted slices of pita bread. Hummus or tahini sauce would also be a nice side. Enjoy!
nutrition estimate | per serving
Calories:
409
kcal
|
Carbohydrates:
70
g
|
Protein:
10
g
|
Fat:
11
g
|
Saturated Fat:
6
g
|
Sodium:
578
mg
|
Potassium:
602
mg
|
Fiber:
8
g
|
Sugar:
9
g
|
Vitamin A:
11646
IU
|
Vitamin C:
16
mg
|
Calcium:
107
mg
|
Iron:
4
mg
Pin it for later.