On the fourth day of Vegan Treats, my true love gave to me, Four Coconut Snowballs,
and a North Pole Peppermint Chai (just for me.)
Snowball fight! Get this fun-yummy winter white recipe for Coconut Snowball Cookies. With or without 'mud'…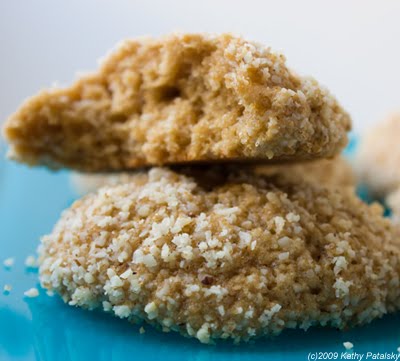 Snowballs are for Eating! As wintery thoughts began crowding my brain, I began dreaming about the perfect coconut-coated 'snowball' cookie. So I took to the kitchen and began experimenting. I tried a few variations of my recipe, but it was the tricks of adding raw Brazil nuts to the coating, mashing in a tropical ripe banana and sprinkling in extra cinnamon that finally made my recipe sensational. To me, these cookies taste like snickerdoodles with an earthy tropical spin. The coconut, banana, coconut oil, nuts and vanilla make these 'snowballs' taste like they came straight from the tropics!
With or Without Mud. As adults, we probably remember those joyful and sometimes heated snowball fights. Sometimes hurried players would grab snow at any pile they found-and sometimes those winter white snowballs contained a bit of gritty black mud. A smack with a muddy snowball was no fun, but eating a muddy snowball is! I actually prefer these cookies without the 'mud' when they come warm from the oven. However, straight from the fridge, I liked the 'mud' cookies better. Try making half your batch with chips and half without-you be the mud judge.
With Mud: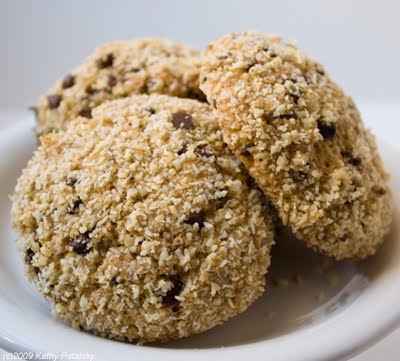 Winter White, aka Without Mud: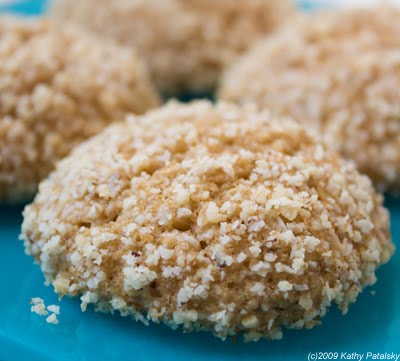 Warning: These yummy vegan cookies may inspire a 'snowball fight'. A fight over who gets the last snowball cookie that is.
Coconut Snowball Cookies
vegan, makes 12 large snowballs or 20 small
dry:
1 cup + 2 tablespoon whole wheat flour
⅓ cup medium grain unsweetened coconut shreds
½ teaspoon salt
3 dashes of cinnamon
½ teaspoon nutmeg
2 teaspoon baking powder
wet:
¼ teaspoon vanilla extract
1 extra-ripe banana, mashed
½ cup brown sugar
½ teaspoon apple cider vinegar
½ cup soy milk, vanilla
2 tablespoon extra virgin coconut oil
3 tablespoon warm water
Snow Topping
½ cup raw Brazil nuts
1 tablespoon brown sugar
¼ cup coconut shreds
½ teaspoon cinnamon
¼ teaspoon nutmeg
dash salt
Optional "Mud" Bits
¼ cup mini vegan chocolate chips
Optional "Extra Snow"
¼ cup extra coconut flakes, last step
Directions:
1. Preheat oven to 375 degrees, set aside a baking sheet.
2. Combine all dry ingredients for cookie dough. Stir in the liquid ingredients. Note: combine the warm water and coconut oil in a small bowl in order to 'melt' the coconut oil to almost liquid form. This will allow it to easily blend into your batter. If you are adding in 'mud' chocolate chips, fold them in now.
3. In a small food processor (I use a mini-grinder) add your Brazil nuts, coconut, salt, sugar and spices. Chop on high until the bits are finely ground. Pour into a flat bottom small bowl. If you are using 'extra snow' for a whiter snowball, place your extra coconut flakes in another small flat bowl.
4. Using your hands, grab about 2 tablespoon of dough. If the dough seems a bit too sticky, add a few pinches of dry coconut bits. However, you want the dough to be nice and moist so it will absorb the snow coating.
5. Roll your cookie ball into the Brazil nut/coconut mix, fully coating all sides. If you are adding an additional layer of 'extra snow' roll the ball in just coconut, then place on baking sheet.
6. Repeat until all your balls are made. You will probably have leftover coconut mix-I like to simply store it in a baggie in the fridge for the next time I make snowy cookies.
7. Bake at 375 degrees for 15 minutes. Cooking times will vary based on cookie size. If you are making small snowballs, you may want to pull them out around 12 minutes. For larger golf-ball sized snowballs 16-20 minutes may be needed. You will know the cookies are ready when the outer coconut coating tinges a light caramel color.
8. Allow to cool for ten minutes before serving. Store in the fridge. These cookies taste delicious cold-straight from the fridge. They are snowballs!…
Oh, and these cookies are for eating kids, not for throwing! However, a little coconut dashed at a fellow baker is always a little fun.