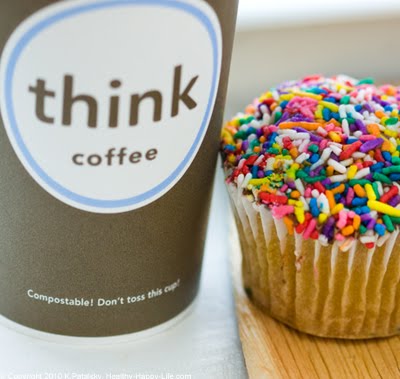 In every town, you're likely to hear this phrase spoken on some early-morning street corner, "So, where can I get a good cup of coffee?" The quest for a good sip of coffee, espresso, chai or tea to-go or to-stay is one we can all relate to. However, for those of us who like our bevie dairy-free, our quest becomes a bit more complex. You could just go to Starbucks, but this is NYC, so why be bevie-adventurous…
The Lists. "Best of Coffee and Chai NYC" 1) Best Soy Latte 2) Best Soy (Dairy-Free) Chai 3) Buzzed About (But Yet to Try Myself) 4) Best To-Stay Bevie 5) Best Coffee/Chai-side Goodies 6) Disappointments. Start sippin…
Chai vs. Espresso. A few years back I was a soy-latte-holic. It started in college. Surprise, surprise, right? I'd drink one, two and sometimes three soy lattes a day. Loved them. Craved them. Even after 10pm, I'd drink them. But after a while, my body didn't love them so much. I was chugging antacids and my sleep-time wasn't as productive as I craved. My solution: I decided to go off coffee/espresso for a few weeks. 100% cold-turkey. Those weeks turned to months and pretty soon I had sipped under a handful of lattes in an entire year. It felt good.
Just a few months ago I started ordering lattes again (but only to-stay, slowly sipped bevies, at my absolute fave soy latte spots). Nowadays, I do mostly chai, with an occasional latte. But I must admit, my coffee-cleanse felt really really good for a while. I know many of you love a latte/coffee and some of you crave a warm spicy chai tea. Here are the best of both worlds…
Coffee and Chai NYC. There are hundreds of coffee shops and cafes in NYC. And narrowing down my faves was not an easy task. And along the way I even discovered a few frustrating bevie bumps in the road. Like this fun fact: When you order a "soy chai" it doesn't always mean it's dairy free. And, sometimes the best "soy latte" joint, might be devoid of vegan goodies. Darn.
Big disclaimer: I have only tried a small fraction of the NYC options out there. However, I have gone out of my way to try some of the best, most buzzed about and vegan-friendly joints out there. However, keep in mind that most of the spots I frequent are downtown NYC.
And another note: these are my faves. Your taste buds may differ when sipping these hot or iced, foamy, frothy, sippable, cravable bevies (and a few cafe goodies as well)…
And yes, goodies are important to the coffee/chai-going experience…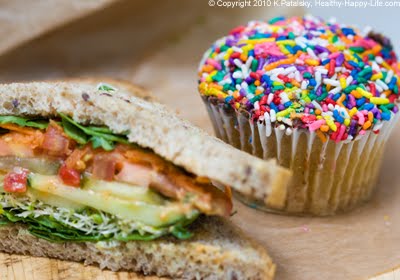 *yes, these are ranked, (#1=top of the list)

List 1) Favorite Soy Latte:
Bluebird Iced Soy Latte: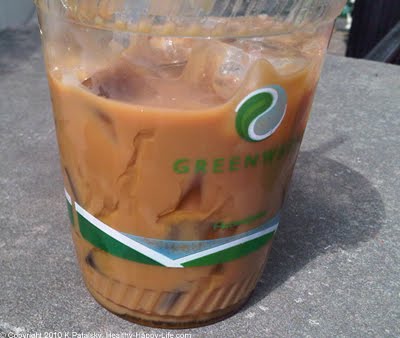 #1 – Bluebird
Why: I tried Bluebird for the first time this past Sunday and fell in love. My Iced Soy Latte was the best I've ever had. Then I sipped my husband's hot Soy Cappuccino and I was hooked. The espresso is sweet and fluffy – the roasting is so fresh that you truly barely need any sweetener at all. Perfection. Small cove of a spot, not many seats. Go on a sunny day and sip as you stroll.
Neighborhood: East Village
72 E 1st St
(at 2nd Ave)
Manhattan, NY 10003
(212) 260-1879
www.bluebirdcoffeeshop.com
#2 – Joe the Art of Coffee
Why: Kinda loved this place for a long time now. Always a superb latte. Consistently fabulous. Note: updated -added Joe to my soy chai list below!!
141 Waverly Pl
(between Avenue Of The Americas & Gay St)
New York, NY 10014
(212) 924-6750
joetheartofcoffee.com
#3 – 9th Street Espresso
Why: It was a long trek on a Saturday that brought us to 9th Street in the East Village. We were pleasantly surprised by the goods. Authentic, hard-core bevies from barista geniuses who take their job seriously. Also a location in Chelsea Market.
Neighborhood: East Village
700 E 9th St
(between Avenue C & Avenue D)
New York, NY 10009
(212) 358-9225
ninthstreetespresso.com
#4 – Think Coffee
Why: Another consistent fave. There are several Think spots now, and I actually like every location. The atmosphere is so chill and the fact that they serve wine just makes it that much cooler. I love getting a hot soy latte or an iced soy latte at Think. And always some sort of vegan goodie with it. But quite frankly, I usually get a Soy Chai…as you'll find below it's my #1 soy chai spot…
Neighborhood: Greenwich Village
248 Mercer St
(between 3rd St & 4th St)
New York, NY 10012
(212) 228-6226
www.thinkcoffeenyc.com
#5 – Gimmee Coffee
Why: Gimmee moved into one of our old neighborhoods just as we were moving out! Sad because this little coffee shop on Mott Street is pretty fantastic.
Neighborhood: Nolita
228 Mott St
New York, NY 10079
(212) 226-4011
www.gimmecoffee.com
#6 – Le Pain Quotidien
Why: Consistent, easy-to-find and pretty great for a worldwide chain! I prefer my Soy Latte to-stay, from Le Pain. As you'll note in my "Best to-stay bevies" list below…
Neighborhood: SoHo
100 Grand St
(between Greene St & Mercer St)
New York, NY 10013
(212) 625-9009
*Honorable Mention Soy Lattes:
Ceci Celia
Why: Love this little bakery/cafe. Reminds me of Paris. I always get a $2 ciabatta bread from this place – so fluffy and delicious. I don't get soy chai's here because I've noted them using a dairy-containing powder mix. But the soy lattes are delicious!
Neighborhood: Nolita
55 Spring St
(between Cleveland Pl & Lafayette St)
New York, NY 10012
(212) 274-9179
Saturdays Surf NYC
Why: I'm a California Girl…and this trendy hot spot gives me a suntan the moment I step inside. Love the atmosphere, decor and fun sunny folks behind the counter. The coffee isn't bad either…!
Neighborhood: SoHo
31 Crosby St
(between Grand St & Broome St)
New York, NY 10013
(212) 966-7875
www.saturdaysnyc.com/
Third Rail Coffee
Why: Very good, but I'm still deciding why my latte isn't always great. I think it was the temperature of my latte. A tad too cool. Decor and baristas are fab, but I wish they had a chai option and a few vegan goodies.
Neighborhood: Greenwich Village
240 Sullivan St
(between Bleecker St & 3rd St)
New York, NY 10012
thirdrailcoffee.com/index.html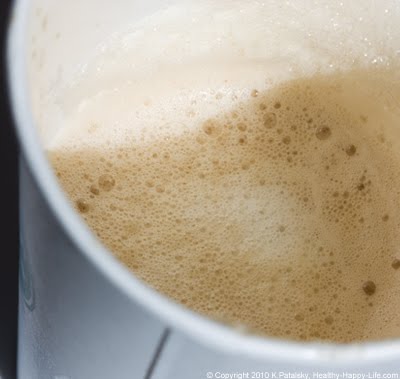 List 2) Favorite Soy Chai Latte:
#1 – Think Coffee
Why: Think Chai is dairy-free and that makes me happy. Plus, it is spicy, warm, frothy and good. Great. Fabulous! I'm a Think Coffee regular and love getting a soy chai paired with a vegan cupcake, vegan grilled cheese sandwich pb&j or vegan (veggie) sandwich. So good.
*see above for location info
4/15/10 UPDATE: Tie for #1 – Joe the Art of Coffee
Why: I had to add Joe's chai to this list – at #1 to tie with Think. Why? Simply because I tried it today and loved it! The spices are robust and rich. Plus, you can even order something caled a "Dirty Chai" which is a chai with espresso shot(s) added. Wow. Amazing soy lattes and chais at Joe.
*location info above
#2 – Teany
Why: Teany is for more than just chai. It's for tea. Lots of tea. I adore Teany, and I'm so glad it has re-opened since the small fire last year. Delicious vegan bevies, plus tons of snacks, sandwiches and veg goodies. Vegan desserts galore. A must try for tea-lovers strolling the LES.
Neighborhood: Lower East Side
90 Rivington St
(between Ludlow St & Orchard St)
New York, NY 10002
(212) 475-9190
www.teany.com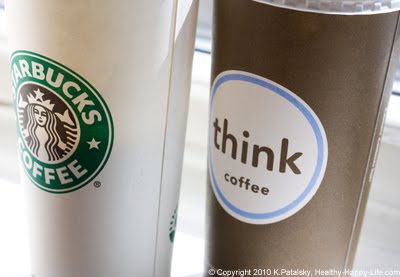 #3 – Starbucks
Why: Why? Why? Why? Well, honestly, I've had too many good Soy Chai Lattes at Starbucks to not put them on this list. Sometimes they are great and sometimes just average. But all in all, I know I can always find a Starbucks in NYC – and that's a nice feeling. Honey Note: I get a lot of comments on this, so I'll address it. Starbucks chai mix does contain honey – so if you don't eat honey – you can always get a chai tea bag, which is honey-free.
My Starbucks TAZO Tea Bag Review.
*many many locations*
www.starbucks.com
Aroma Soy Chai To-Stay: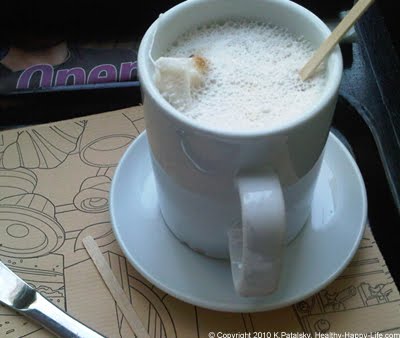 #4 – Aroma
Why: Aroma uses a chai tea bag with soy milk. I am usually not a huge fan of basic "tea bag" chai. But aroma's is very good. Not bitter like most I've tried. I like it to-stay in a big thick aroma mug.
145 Greene St
(between Prince St & Houston St)
New York, NY 10012
(212) 533-1094
www.aroma.us
*Honorable Mention Chai:
Liquiteria
Why: I love Liquiteria for many yummy reasons: juice, soup, smoothies, goodies… And they have a yummy soy chai too.
neighborhood: East Village
170 2nd Ave
(between 10th St & 11th St)
New York, NY 10003
(212) 358-0300
www.liquiteria.com
Earth Matters
Why: They use Oregon Chai concentrate for their soy chai. So I know it's dairy-free. It's basically what I'd make myself at home. But a nice option if I'm near the LES and on-the-go.
Neighborhood: Lower East Side
177 Ludlow Street
(between Stanton St & Houston St)
New York, NY 10002
(212) 475-4180
www.earthmatters.com/
Jamba Juice
Why: Honestly, I hated the chocolate chai I tried at JJ. But the basic hot organic soy chai was pretty good. Organic and dairy-free. Nothing spectacular, but an OK option that's easy to find. My Review.
*many many locations*
www.jambajuice.com
List 3) Yet to Try – Buzzed:
Soy Cafe
Neighborhood: West Village
115 Greenwich Ave
(between 12th St & Jane St)
New York, NY 10014
(212) 229-9898
Grounded
Neighborhood: West Village
28 Jane St
(between 4th St & Greenwich Ave)
New York, NY 10014
(212) 647-0943
www.groundedcoffee.com
Cafe Grumpy
Neighborhood: Chelsea
224 W 20th St
(between 7th Ave & 8th Ave)
New York, NY 10011
(212) 255-5511
www.cafegrumpy.com
Gorilla Coffee
Neighborhood: Park Slope
97 5th Avenue
(between Park Pl & Warren St)
Brooklyn, NY 11217
(718) 230-3244
www.gorillacoffee.com
Abraco
Neighborhood: East Village
86 E 7th St
(between 1st Ave & 2nd Ave)
New York, NY 10003
(212) 388-9731
www.abraconyc.com/
Macchiato Espresso Bar
Neighborhood: Midtown East
141 E 44th St
(between Lexington Ave & 3rd Ave)
New York, NY 10017
(212) 867-6772
www.macchiatocafe.com
List 4) Fave To-Stay Drinking:
#1 – McNally Jackson Books
Why: This cafe is kinda a secret spot for Nolita locals. The coffee shop area is usually packed on weekends. Great spot to laptop it, and sip a bevie. Must try for the "sick-of-starbucks' crowd.
Neighborhood: Nolita
52 Prince Street
(between Lafayette St & Mulberry St)
New York, NY 10012
(212) 274-1160
mcnallyjackson.com/
#2 – Le Pain Quotidien, SoHo Grand Street location
Why: My fave Le Pain is the one in SoHo. Those giant froth-filled handle-less mugs of soy latte joy are the perfect to-stay bevie. Many to-stay eats to choose from too. Fabulous energy in this busy hotspot.
*see above for location info
#3 – Aroma
Why: Energized atmosphere at the Mercer street, SoHo location. Love the people and the 30 min free wifi. I also love the yummy vegan sandwich I often get when I order a to-stay soy chai.
*see above for location info
#4 – MarieBelle
Why: Cozy, quaint, smells like chocolate. Order a tea or latte to-stay and feel better about your day. Almost like you just wandered into a Paris cafe. I wish they had more vegan goodies, but that's OK. PS, sorbet in the summertime = yay!
484 Broome Street
(between Wooster St & Broadway)
New York, NY 10013
(212) 925-6999
www.mariebelle.com
List 5) Best To-Go Muffins, Goodies and Sandwiches:
Think Vegan Cupcake:

Think Vegan Sandwich (Healthy Bite/Goodie):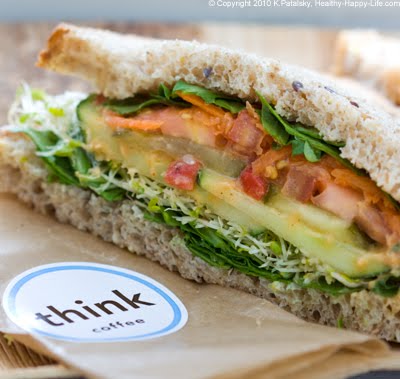 #1 – Think
Why: So many options! Vegan cupcake, vegan veg sandwich, vegan grilled cheese, vegan pb&j. Yum. I come here a lot.
*see above for location info
#2 – Le Pain Quotidien
Why: Lots of options. Love their muffins, spelt bread tartines, steel cut oats and more… Vegan-Friendly List of Le Pain items.
*see above for location info
#3 – Cafe Angelique
Why: I'm obsessed with their Vegan Angelique sandwich, and their vegan goodies like cookies, muffins and vegan peanut butter cups.
Neighborhoods: NoHo, Greenwich Village
68 Bleecker St
(between Broadway & Crosby St)
New York, NY 10012
(212) 475-3500
www.cafeangelique.com
#4 – Teany
Why: So many vegan options! Sandwiches and desserts are awesome! Teany Sandwich Review.
*see above for location info
#5 – Liquiteria
Why: Lots of goodies, juices, vegan cookies and sandwiches. A Liquiteria Review: Soy Gouda.
*see above for location info
#6 – Aroma
Why: Health Mushroom Sandwich on wheat – yum! Aroma Sandwich Review.
*see above for location info
#7 – The Bean
Why: Kinda annoyed about the "Soy Chai" confusion (See below) but I adore the vegan muffins and treats they have here. Vegan Red Velvet Cake? Yes, please.
Neighborhood: East Village
49 ½ 1st Ave
New York, NY 10003
(212) 353-1477
www.thebeancoffeeandtea.com
*Honorable Mention Goodies:
Babycakes
Why: Trust me…you'll be hearing all about my obsession of Babycakes when I get to the desserts section of this nyc-eats series – but since they DO serve bevies at Babycakes, you can always pop in for a goodie and bevie to-go. Muffins, cookies, brownies, biscuits, etc, etc, bliss, yum, fun, etc.
Neighborhood: Lower East Side
248 Broome St
(between Ludlow St & Orchard St)
New York, NY 10002
(212) 677-5047
www.babycakesnyc.com
Birdbath
Why: They had the best vegan chocolate chip cookies I had tasted in a while. They serve bevies, though I've only tried the goodies… My Review.
Neighborhood: East Village
223 1st Ave
(between 13th St & 14th St)
New York, NY 10003
(646) 722-6565
www.buildagreenbakery.com
Whole Foods
Why: Because the vegan muffins aren't half bad. And you can always find something to drink and eat (that's vegan) at WF.
*many many locations*
www.wholefoods.com
List 6) A Few Disappointments:
*note, these are NOT 'the worst' places I've been. Just a few spots that didn't live up to my expectations, or in general bored me even though I come across them often.
*In no particular order*
La Columbe
Why: Super annoyed when they said that they "don't offer soy milk" Boooooooo. My post: Coffee Purists or Snobs?
Neighborhoods: SoHo, Nolita
270 Lafayette St
(between Prince St & Spring St)
New York, NY 10012
(212) 625-1717
www.lacolombe.com
The Bean
Why: I used to love this place for soy chai. Until I found out that their chai mix contains dairy! I can't believe I didn't ask sooner. However, they do serve dairy-free chai tea bags... The quote they gave me over the phone: "we have a tea bag, but yes (our chai mix) does contain dairy" The brand the use: http://www.davidrio.com/
ps. I still adore The Bean for their vegan goodies and soy lattes…
OK, OK…now what did I miss? Why am I wrong and what do YOU think???
I'd love to hear your opinions, thoughts, experiences and reviews!

PS, here's another awesome list of "best of NYC coffee" from the New York Times.
**special diet bevie note: Always double check with the business before ordering a special diet bevie.**