I'm vegan, my husband isn't. People always ask me, "How does that work? Doesn't your family get sick of all your vegan food? How do you balance cooking meals for two different diets?"
Nothing Beats Homemade. I wanted at-home meals to be soul-warming and tummy-pleasing for both my husband and I, and easy for me. And not even my favorite take-out meal can compete with a home cooked meal. So for a cozy mealtime for everyone made by you, here are my four go-to ideas for cooking for your non-vegan family members…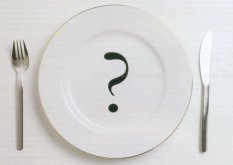 Fish is Healthy. The truth is, my husband luckily loves many vegan foods like tempeh, seitan and even soy instead of regular milk. And lucky for me, he isn't much of a meat or poultry fan, but he does love fish: mostly salmon, oysters, shrimp and sushi.

You're Not Alone! There are a lot of families out there with similar situations as you and me. I often get emails from moms whose teenager decided to 'go vegan' and now they have no idea what to cook for them! For that problem, I say "peruse my recipe index." But my situation is the complete opposite. I needed a few stand-by recipes that I could make to appease my husband's non-vegan food cravings.

One Serving Wonders. Easy Clean-up. I stick with meals that I can make in one serving size and require minimal clean up. It's easy to buy one serving of fish or make one bowl of non-vegan soup.
Here are my four go-to meals to make my non-vegan family members:
1) Smoked Salmon Platter.
OK, so I live in the same city as Russ and Daughters, foodie mecca for smoked salmon at its best. So I can easily stop in, pick up a quarter pound of smoked salmon, a few bialy's, some spicy mustard, tofu cream cheese (for me) and a few bagels and I'm set!
Here's what I do:
Smoked Salmon Platter
¼ pound sliced smoked salmon
2 bialy's
1 avocado
¼ cup sauteed mushrooms
1 cup fresh green
2 tablespoon chopped parsley
1 slice vegan or regular cheese
1 tablespoon spicy mustard
2 tomato slices
2 onion circle slices
1 lemon, sliced and juiced
sea salt
black pepper
Using the above ingredients, make a nice platter spread. Sometimes I'll put together a salmon sandwich, or make it a DIY platter.
2) Baked Salmon Pockets
The great thing about fresh wild fish is that it really needs very little seasoning-if it is indeed fresh wild fish. And I make clean up a snap by preparing the fish in a single serve foil pocket. No mess, super easy.
Baked Salmon Pockets
1 de-skinned, bone-free cut of salmon, not farmed (other fish works too)
½ red bell pepper, sliced
1 cup chopped mushrooms
2 tablespoon olive oil
1 large onion circle slice, loosened
2 tablespoon lemon juice
1-2 teaspoon sea salt, rough
1 teaspoon black pepper
optional herbs/spices on hand
1 large sheet of foil, about a 12 inch square
Marinate all the veggies in a mixture of lemon juice, olive oil and a pinch of salt and pepper. Rub some of the same liquid mixture/salt/pepper directly on the fish. Place the fish on a greased piece of foil. Arrange the veggies around the fish. Fold up the foil into a secure pocket.
Place the pocket in a 400 degree oven and bake for 20-30 minutes. (Depending on size of fish.) I like to crack open the foil and broil it for an additional few minutes for a nice crisp top crust to the fish.
Serve over pasta or rice. Throw away foil. Easy.
3) Soup is On!
In the winter months I made my husband non-vegan soup probably every night! It's easy. Lots of spicy cayenne and he is happy. I'll buy a good brand of canned, bottled or to-go store soup (chicken noodle, clam chowder, spicy noodle or any favorite) then I will do a one bowl wonder. I'll use the pre-made soup and spruce it up to homemade perfection!
"Spruced Up" Soup
1 can soup, any flavor
add-in ingredients:
fresh herbs (rosemary, thyme, bay leaf, oregano)
chopped garlic
mushrooms
onion
parsley
bell pepper
cayenne
black pepper
olive oil
harissa
tomatoes
scallions
carrots
spinach
and more!
I simply heat the soup and ingredient add-ins, (sometimes together, sometimes I'll saute the veggies separately.)
Then add them all together, cover with a plate and let sit for a few minutes to 'marinate the flavors' and spruce up the soup!
I'll serve it steaming hot with a side of crusty bread or crackers. Chowder can even go in a bread bowl, if you are that handy with bread!
4) Deli Counter Sandwiches and Melty's
You can easily get really high quality slices of turkey and cheese from your deli. And in as small of portions as you wish! I'll get a few slices of turkey and non-vegan cheese and make my husband an easy sandwich. Sometimes I'll even melt the cheese and make it a melty. Since sandwiches are made to-order, this is a fun and easy answer to a 'different diets' family lunch or dinner.
Made-to-Order Sandwiches
Ingredients:
Good bread, your choice
1 few slices meat or cheese or both
Toppings:
avocado, sprouts, onion, tomatoes, you know the sandwich toppings list right?…
Those are my four ideas. It's so satisfying to cook your family a meal, whatever their diet may be. I know some vegans have a problem cooking with animal products like meat and fish, and like I always say, if they can eat it, I can at least cook with it (out of love). And of course I wish EVERYONE was vegan, but I am not one to push my diet belief's on others.
I always hope that non-vegans will respect vegans and that vegans will respect them.