Holiday season baking time. And while I could easily rotate between my two faves: banana and pumpkin loaf all "winter" long, this is another favorite: Cranberry Sparkle Loaf. I adore the zesty, sweet-tart taste and texture of cranberries in a fluffy bread. I add a hint of orange zest and cinnamon too. You could add in some walnuts or pecans if you are feeling nutty.
Oh and I say "winter" because while it is still technically fall here in LA, it is in the 80's and 90's lately — which is cray-zee. Ack. Bring me fresh snowfall and crackling fireplaces soon, please. Oh and Thanksgiving is so soon! Here is the recipe and what I am feeling thankful for..
With this crazy week I am in a mood to list off a few things I am grateful for.
Thanks to my kitties. For the unconditional love and happiness.
Thanks to my friends who have been a shiny light for me through this weird and heavy year. I am thankful that when I text, talk or hang with my small and close circle of girlfriends I don't feel heavy at all. I feel light, lovely and hopeful about everything.
Thanks to my husband who continues to be my favorite person to be with in this crazy world. Every adventure, both amazing and routine.
Thanks to you guys. Who keep showing up here to my blog. I love talking to you and sharing.
Thanks to the brands that want to work with me. I am proud to be a voice for you and thank you for helping a small business owner like me!
Thank you to every animal lover. I see you. You make me happy and hopeful.
Thank you to the women out there who know that us girls are on the same team and we are all beautiful every day no matter what our selfie looks like.
Thank you to my steamy tea mug.
Thanks to anyone who bought my book lately.
Thanks to strangers who give big smiles.
Thanks to art and Netfilx and Disneyland and music and every other thing that allows me to escape reality for a while.
Thanks to my mom.
Thanks to happy days when everything feels warm, glowy and safe.
Thanks to the ocean.
Thanks to hope.
Ok that's all I could think of now.
This bread is pretty delicious. I tried to make it 'not too sweet' and I think I succeeded!
Gluten-free? I have had a few people ask me about my gluten-free status lately. I have been trying gluten-free the last year because I have Hashimotos, a thyroid autoimmune disease and a lot of experts say gluten-free is helpful in controlling the negative symptoms of it. I don't know if it has been doing anything but I do like leaning gluten-free. However, I have been adding more gluten to my diet lately just to see how I feel back on it again. I love gluten and gluten-free for life is NOT for me. So I think everything in moderation applies for me here.
For this bread I used half gf flour and half whole wheat flour. You can use either all gf or all wheat. Your call. The wheat does tend to be a bit fluffier, the gluten-free a bit more dense.
Gobs of cranberries is my preference..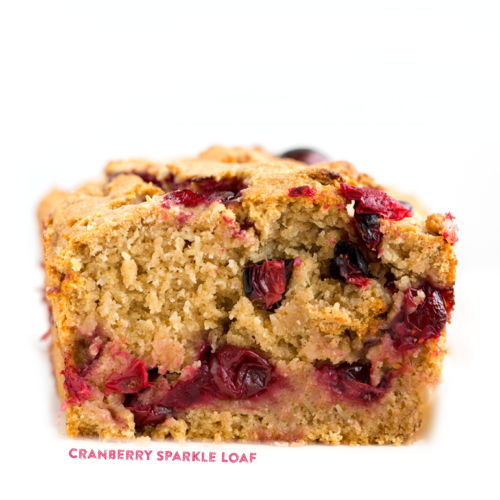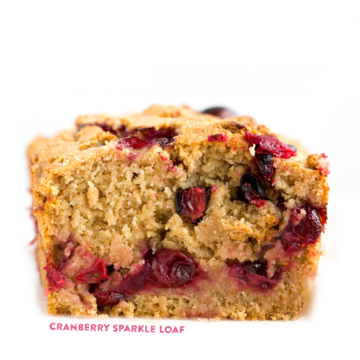 Cranberry Sparkle Loaf
This fluffy, lovely cranberry loaf is perfect weekend baking for the holidays. Serve it as a snack or as a light breakfast or tea or coffee pairing.
Print
Pin
Ingredients
Dry:
1 ½ cups gluten-free flour (or you can use all gluten-free or all wheat flour — texture will vary a bit though)

1 cup wheat flour

¾ cups fine coconut shreds, unsweetened

1 tablespoon baking powder

½ teaspoon sea salt

1 teaspoon cinnamon

2 tablespoon maple syrup
Wet:
1 teaspoon vanilla extract

½ cup water

½ cup vegan butter, melted

1 small apple, chopped

1 tablespoon flax seeds
Fold-in:
1 teaspoon orange zest

1 ½ cups fresh cranberries (fresh or frozen)

½ cup chopped nuts (optional)
Instructions
Preheat oven to 350 degrees.

Combine dry ingredients in large mixing bowl.

Add all wet ingredients to a blender and blend until smooth.

Stir the wet mixture into the dry mixture.

Fold in the cranberries, orange and optional nuts.

Pour mixture into a greased loaf pan.

Bake at 350 degrees for 55-65 minutes, or until cooked through. Use the toothpick test to check for doneness.

Allow loaf to cool at least and hour before removing from the pan.