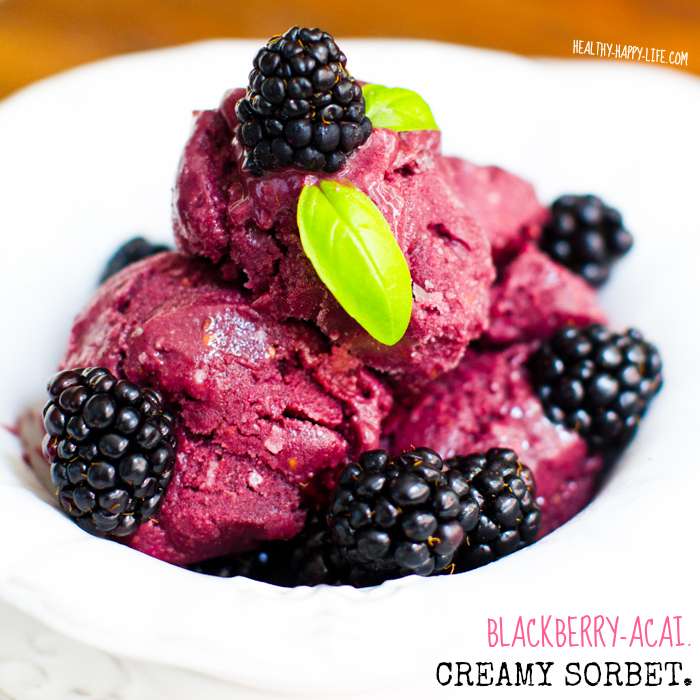 I don't care who you are or what your taste buds tell you on a normal day. When a HOT weather day hits your city and the beaming sun zonks you into a sweltering zombie, you will suddenly find yourself face first, perched at your open freezer. Peering past the frozen peas, you will be in search of something cool and creamy to scoop into a bowl. Spoon in hand, you will rustle past the frozen spinach, under the frozen pizza, hoping and wishing that you hid away some sort of a frosty, creamy, frozen dessert treat long ago that you simply forgot about.
Well stop searching and start blending. The answer to your creamy-frosty spoonful dreams is right under your nose. Make sure you have frozen bananas and a few other goodies in your kitchen and you are just a few minutes away from cool bliss. And the best part is that this creamy sorbet is incredibly healthy and totally guilt-free. Eat a giant, mountainous bowlful and feel GOOD about it. Antioxidants, fiber, vitamins and fresh fruit energy.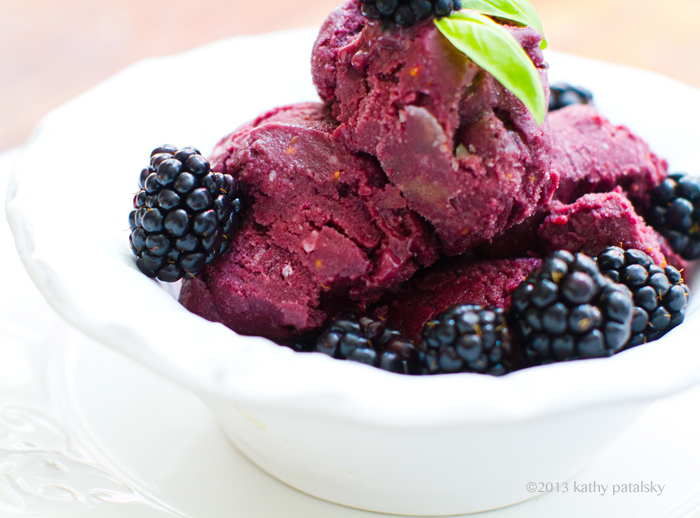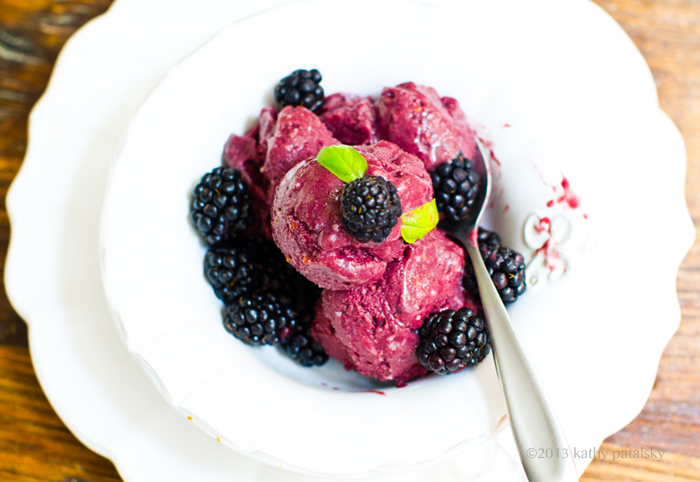 Flavor. A few years ago I shared a nice handful of various blender-method sorbet recipes. Summer Sorbets: Strawberry Banana, Blueberry, Spicy Mango, Pine-Banana…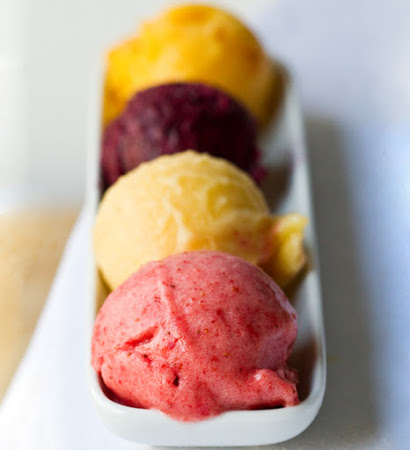 But this is a new flavor that I just love so much because it uses fresh spring/summer organic blackberries as the main flavor ingredient. Not frozen berries – but fresh ones – big difference. Sweet-tart-juicy blackberries really make me swoon so I love that I can taste them in every spoonful of this creamy sorbet.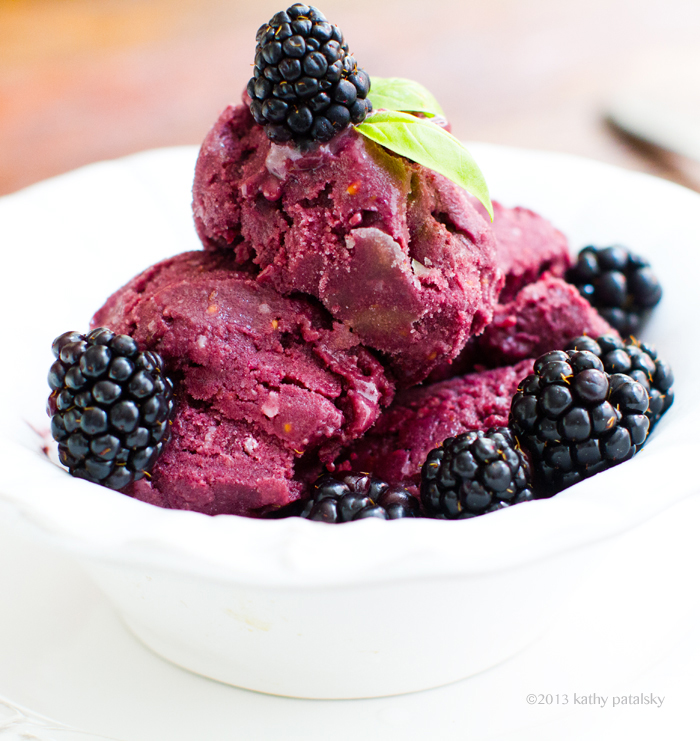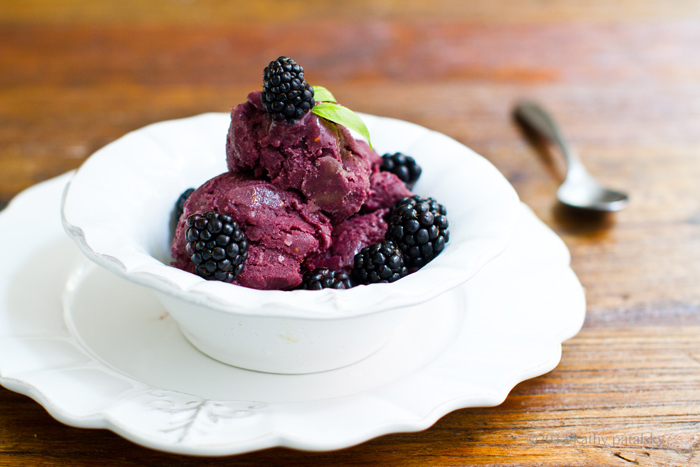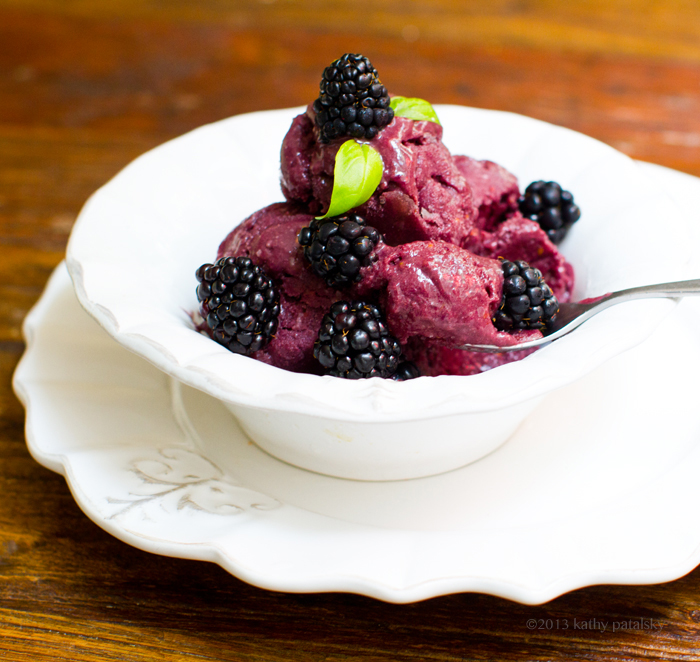 If you don't have fresh blackberries and need to switch out the fresh berry variety, try fresh blueberries, raspberries or even strawberries.
The second flavor I add to this blend is acai. Rich, creamy, deep purple and mild in chocolate-y berry sweetness. (Acai smoothies are delish too.) There are three basic ways to add acai to a recipe: acai powder, acai juice and acai frozen smoothie packs . The best way for this recipe is to use an acai smoothie pack. Brands of frozen acai packs: sambazon, acai roots or amafruits. The "packs" are rectangle shaped packs of concentrated acai puree. More intense than juice and frostier than the powder. You can find them in the frozen fruit section of most health food stores including Whole Foods. If you do not find them or do not have them on hand you can do a few substitutions (but try to find them because they really serve an important purpose towards creating the color and flavor of this recipe!)
Acai Pack Subs:
* 1-2 scoops acai powder + ¼ cup frozen fruit (your choice) + 1-2 ice cubes
* ⅓ cup fruit puree or fruit juice "ice cubes" – freeze into ice cube trays
* ¼ cup frozen blueberries + 1 teaspoon agave syrup + 1-2 ice cubes
* ⅓ cup any other frozen fruit (if you get desperate for an easy sub)
Creamy Blackberry-Acai Sorbet
vegan, serves 1-2
½ cup fresh organic blackberries, washed
1 frozen acai smoothie pack
1 large frozen banana
1 teaspoon fresh lemon juice + a few pinches of lemon zest
1-4 tablespoon non-dairy milk (best options: vanilla soy or almond milk) (Or try coconut milk for a richer blend)
optional: 1 teaspoon agave or maple syrup if you want a sweeter sorbet
garnish: fresh basil (important because just that accent flavor brings so much to the dessert! Sub mint if needed.)
Directions:
Before you begin: place a stainless steel dish in the freezer. This will hold your blended sorbet and chill it very quickly. I used a medium stainless steel bowl.
1. Add the blackberries, acai pack and banana to a high speed blender or food processor. Blend until the berries are crushed and things start to crumble down.
2. While blending on low, slowly pour in the splash of lemon juice, zest and 1 tablespoon creamy liquid/vegan milk. If your blend begins to swirl into a creamy state after 1 tablespoon you can stop there. Otherwise, keep adding in spoonfuls until things blend creamy yet still as thick as possible. Do not rush to adding in liquid. Let the blender do its job for a good minute or so.
If things get too wet and your blend starts to look like a smoothie, toss in another ½-3/4 of a frozen banana.
Too thick? Too loosen the blend you can toss in a few extra fresh berries – this is a gentler way of loosening the blend compared to liquid.
creamy-sorbet-soft-serve process does take some practice, but the key is to let your blender do all the work and really not underestimate its powder. Even with very little liquid, a Vitamix can crush those fruit ingredients and turn them into a thick swirl. Those few splashes of liquid help move things along and ease the stress on the blender just a bit.
3. Using a small rubber spatula, quickly spoon your thick mixture into your chilled container and place it in the freezer. Your creamy sorbet should be at a perfectly "soft serve" state to scoop in jut about 10-15 minutes depending on how cold your freezer is. If you are keeping this blend in the freezer for longer than that (say overnight) the texture upon serving will not be as fluffy, but still doable – just be sure to allow enough thaw time in order to be able to scoop.
4. Serve with fresh basil on top.I like to add another pinch of lemon zest too. You can even add a drizzle or maple or agave syrup for extra dessert-y sweetness.
Tool: I prefer Vitamix.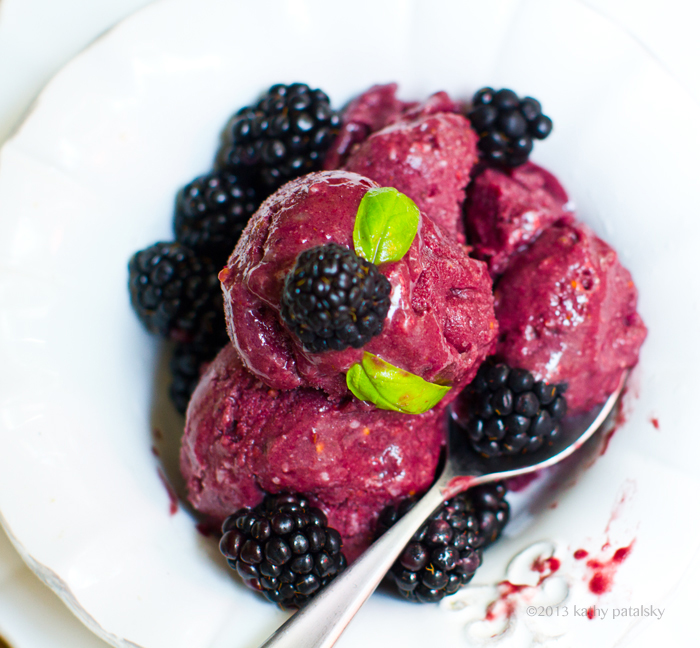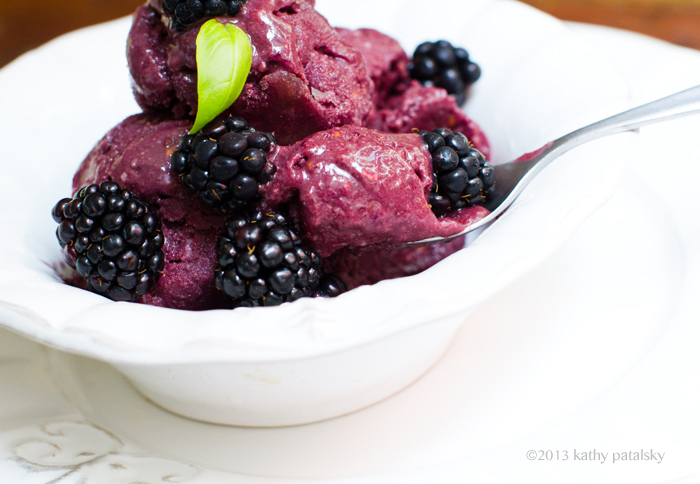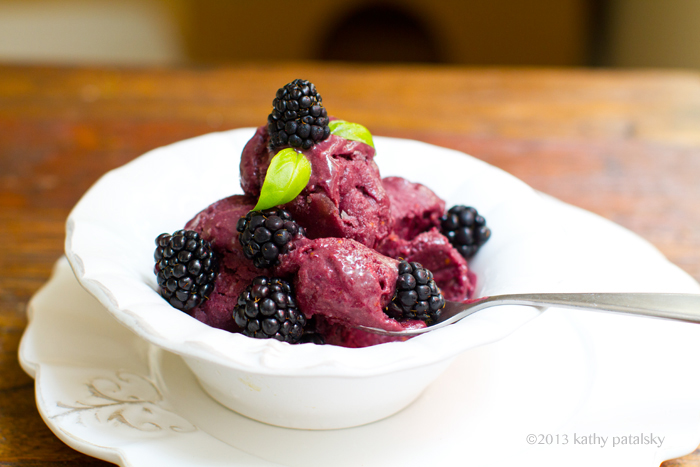 *disclosure: This post contains a Vitamix affiliate link. Ready to buy the best blender ever? Get free shipping by using my link!