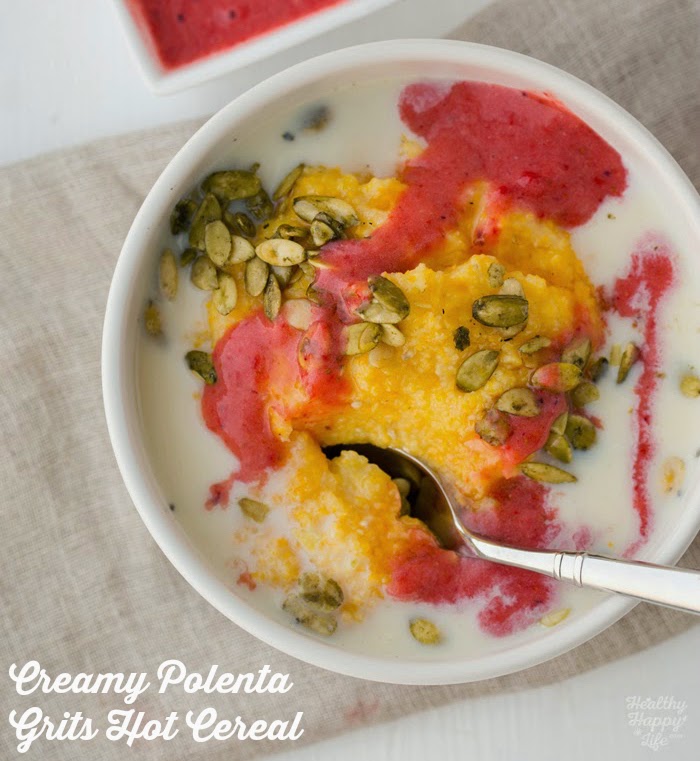 Polenta for breakfast is my new thing. It cooks up quickly, has a nutty-amazing texture and can be jazzed up with a variety of toppings. It is a fabulous break from oatmeal boredom.
But before I share today's toasty warm, super cozy recipe, I want to dedicate this post to all of you who are wearing snow boots, puffy coats, double socks, scarves and/or long sleeves. Because after a birthday trip to New York City last weekend, I was reminded of what a real winter feels like. And how warm tea, hot soup and steamy bowls of breakfast cereal mean so much more when you are coming in from grey, icy weather. Red noses, frosty fingertips. So today's recipe is for you guys. May your commutes be short and your kitchens warm, welcoming and filled with delicious aromas. Warm up your morning with my Creamy Polenta Grits Hot Cereal Bowl with Berry Swirl…
Polenta vs Grits. Both made from corn. Both, coarsely milled corn. So what is the difference? It is a bit confusing. Grits have a Southern, low brow connotation. While polenta lingers with essences of Italy and fine restaurants, high brow in style. Well even after buying my package titled, "Polenta Grits" by Bob's Red Mill, I was still a bit confused as to whether or not I was buying grits or polenta. And after making this dish I basically settled on thinking I was making a fancy polenta breakfast cereal, when really, it was basically the same main ingredient as found in those low brow grits. So what am I eating anyways?
After researching online and reading article after article on this very debate, I have come to my own conclusion. Grits that I have purchased in the past never had the hearty, nutty, thick texture that this "polenta grits" cereal has. Those "grits" always came out a bit on the silky and mushy side. But today's recipe is hearty and dense. It thickens up into a firm shape when it cools, firm enough to slice and sautè for a savory dish. I will explain the difference as a combination of: ingredient quality, variety of corn and grind. Basically, when you find a grits or polenta corn meal that works for you, keep buying it.
I like this explanation too, regarding the variety of corn as the main difference,
"Because of the different type of corn, grits can even come across as almost mushy while polenta is often more coarse and toothsome."
And then there is this advice,
"In reality, the differences are relatively slim. Buy coarse cornmeal at the store and call it a day."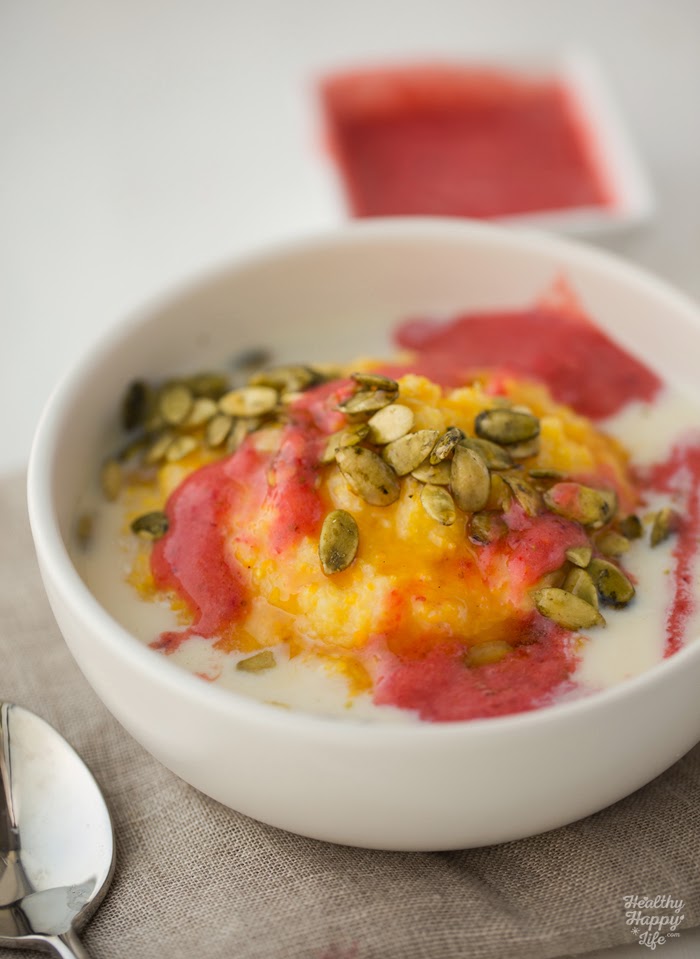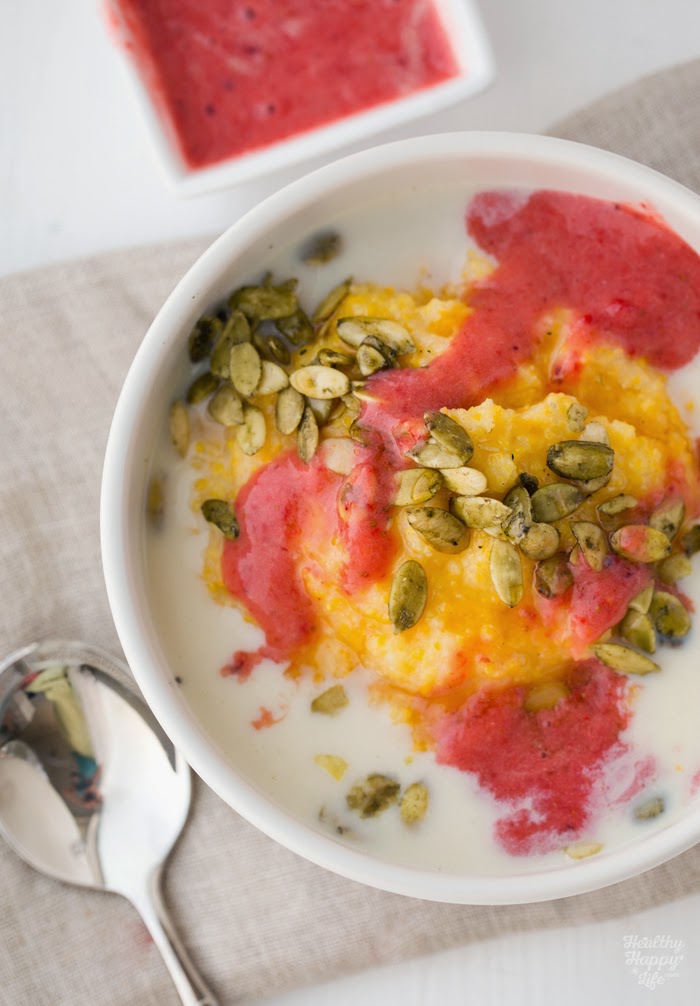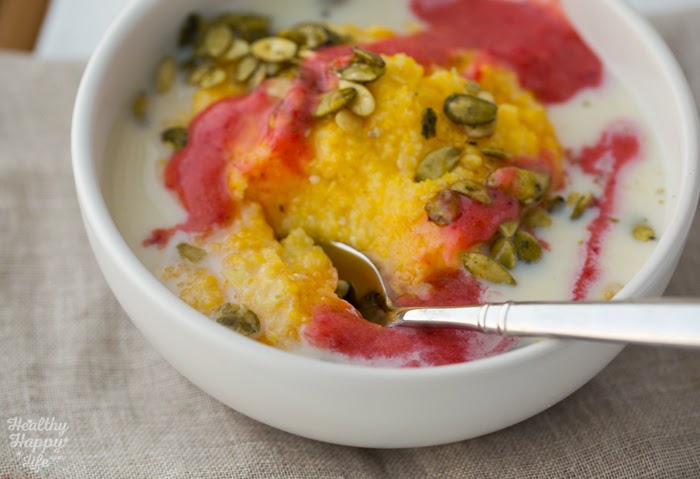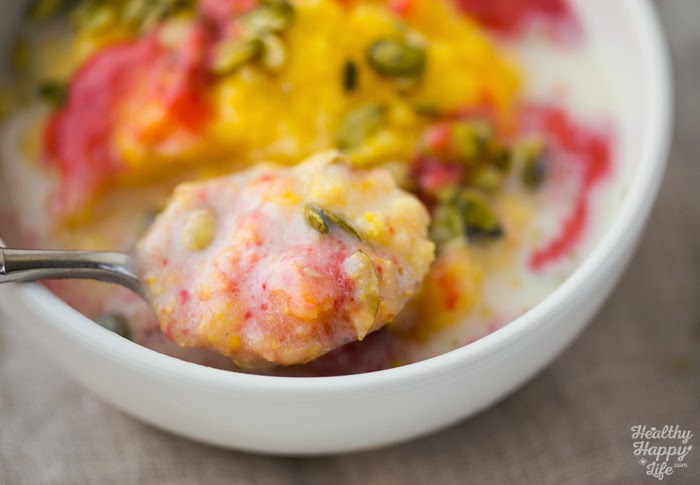 NYC. I had such an amazing few days in NYC, despite the bitter cold and slushy sidewalks. For my birthday I wanted to see a few NYC friends, eat some fave NYC food, take long city walks and see as many Broadway shows as possible, because those are the four things I miss most about living in NYC. I effectively accomplished all these things. Some of my pics are on Instagram.
As for the shows, I saw Cabaret, Aladdin and Les Miz. They were all amazing. I would see any of them again and the actors were all incredible. Nothing beats filing into a warm, crowded Broadway theater, humming with life, on a cold frosty January day.
So to warm up, I offer you this bowl.
Another version..
Polenta is a brilliant ingredient to add to your kitchen. I have experimented with both savory and sweet dishes. You can serve it as traditional polenta rounds, polenta cereal or get creative and make dishes like polenta fritters and more. This is what I am working with…
Creamy Polenta Hot Cereal with Berry Swirl
By Kathy PatalskyPublished 02/04/2015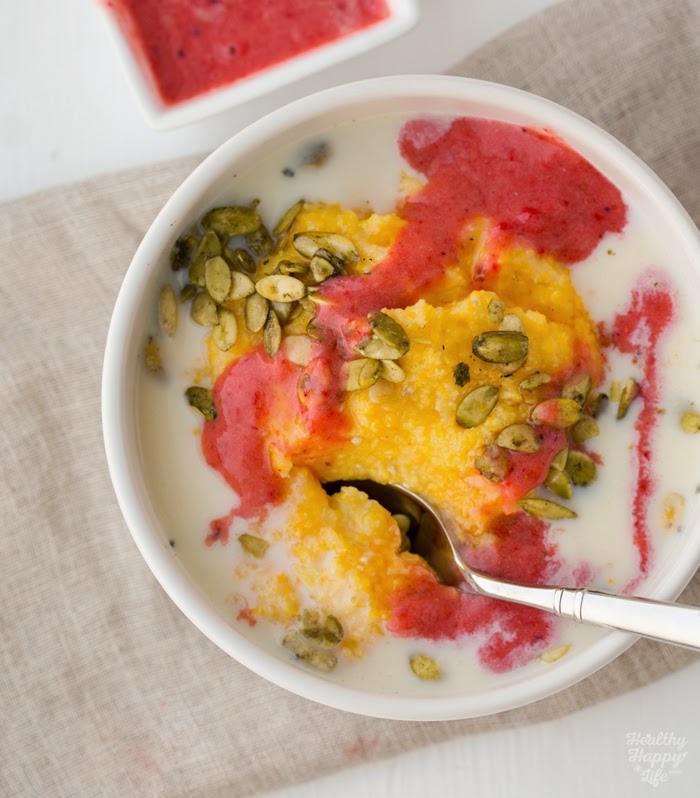 This creamy, delicious, hearty warm corn polenta bowl, aka corn grits, is a nice way to change up your morning hot cereal routine.
Ingredients
Basic corn polenta grits cereal:
½ cup corn polenta / corn grits, organic (Bob's Red Mill used)
2 cups water***
⅛ teaspoon salt
Red Berry Swirl:
1 cup strawberries or raspberries, or a mixture of berries (fresh or frozen)
½ banana (fresh or frozen)
½ cup non-dairy milk (if using fresh fruit, you only need ¼ cup non-dairy milk to blend)
optional: vegan butter and additional sweetener (maple or coconut sugar are my favorites)
Cereal Toppings (for each bowl):
1 tablespoon pumpkin seeds
¼ cup non-dairy milk
***most recipes call for about 3 cups water to 1 cup dry grits, but I usually use a bit more water for my cereal, I like the moisture it adds and softness it creates.
Instructions
Add the water, salt and polenta grits to a medium soup pot and warm over high heat. Bring to a boil while constantly stirring with a spoon.
When the mixture starts boiling you may want to reduce heat to medium-high or medium, to help prevent splattering from the bubbling cereal. Keep stirring and watch as the grits thicken. The cereal will be cooked in about 5-6 minutes. To be sure, taste test a small spoonful. If the grits are still a bit chewy and crunchy, keep cooking until they soften.
Set aside the pot of grits and blend your berry sauce by adding the berries and liquid to a blender. Blend until smooth and thick.
Turn off heat and pour polenta grits into two serving bowls. Top with the pumpkin seeds, non-dairy milk and swirl strawberry sauce over top.
Yield: 2 servingsCook time: 00 hrs. 10 mins. Total time: 10 mins. Tags: breakfast,cereal,polenta,corn,grits,glutenfree,berries,brunch