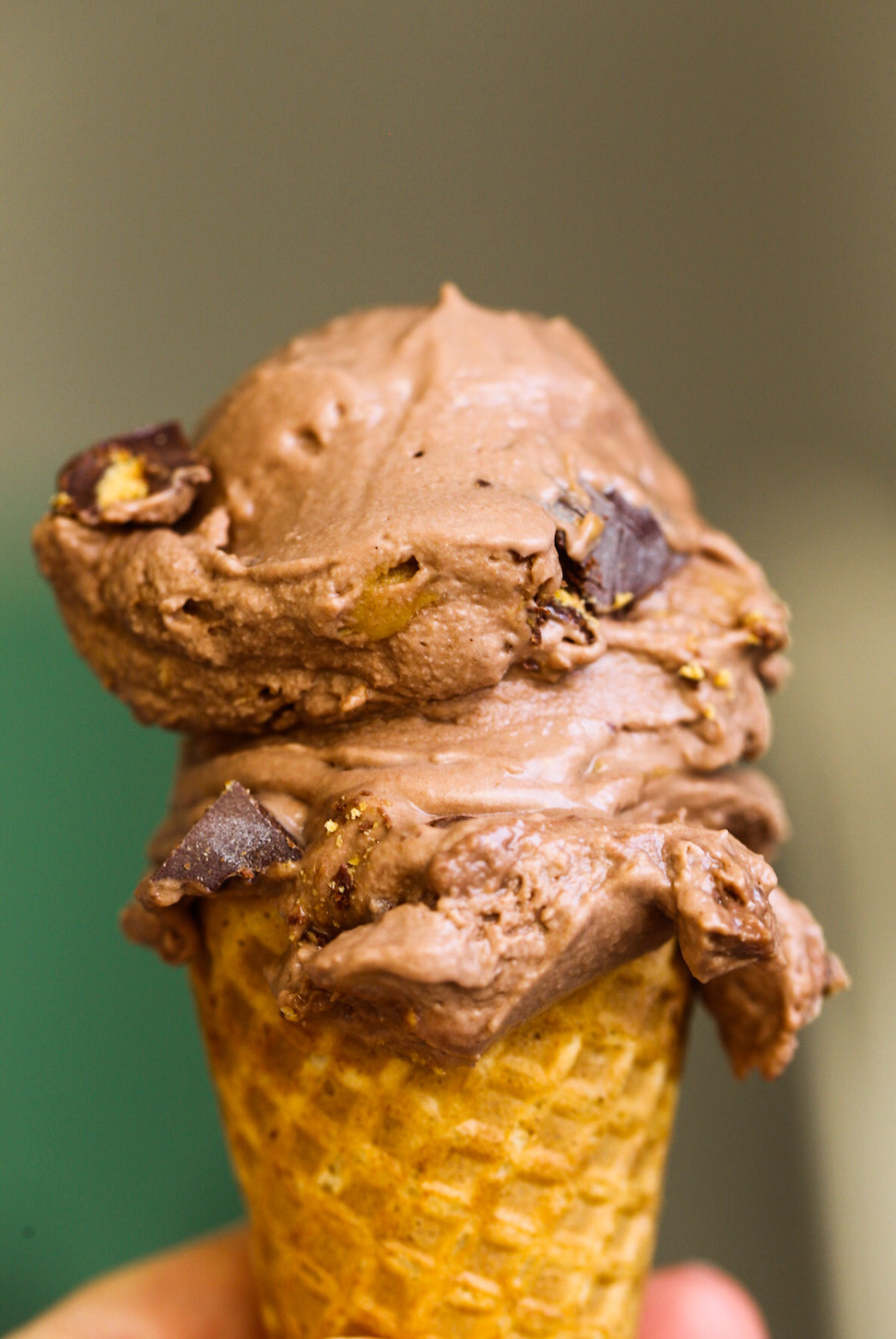 So there's a bit of a heatwave going on in LA this weekend, so it was perfect timing for me to be testing out this recipe for vegan, Dairy-Free Chocolate Peanut Butter Ice Cream. I have made this ice cream four times now in the past week and finally settled on the most perfect ratios of ingredients.
This flavor! I'm so in love with it. That clash of rich chocolate and nutty, savory peanut butter is a total summertime swoon.
So if you love all things chocolate and are up for a special summertime dessert, break out the blender and ice cream maker for this Dairy-Free Chocolate Peanut Butter Ice Cream…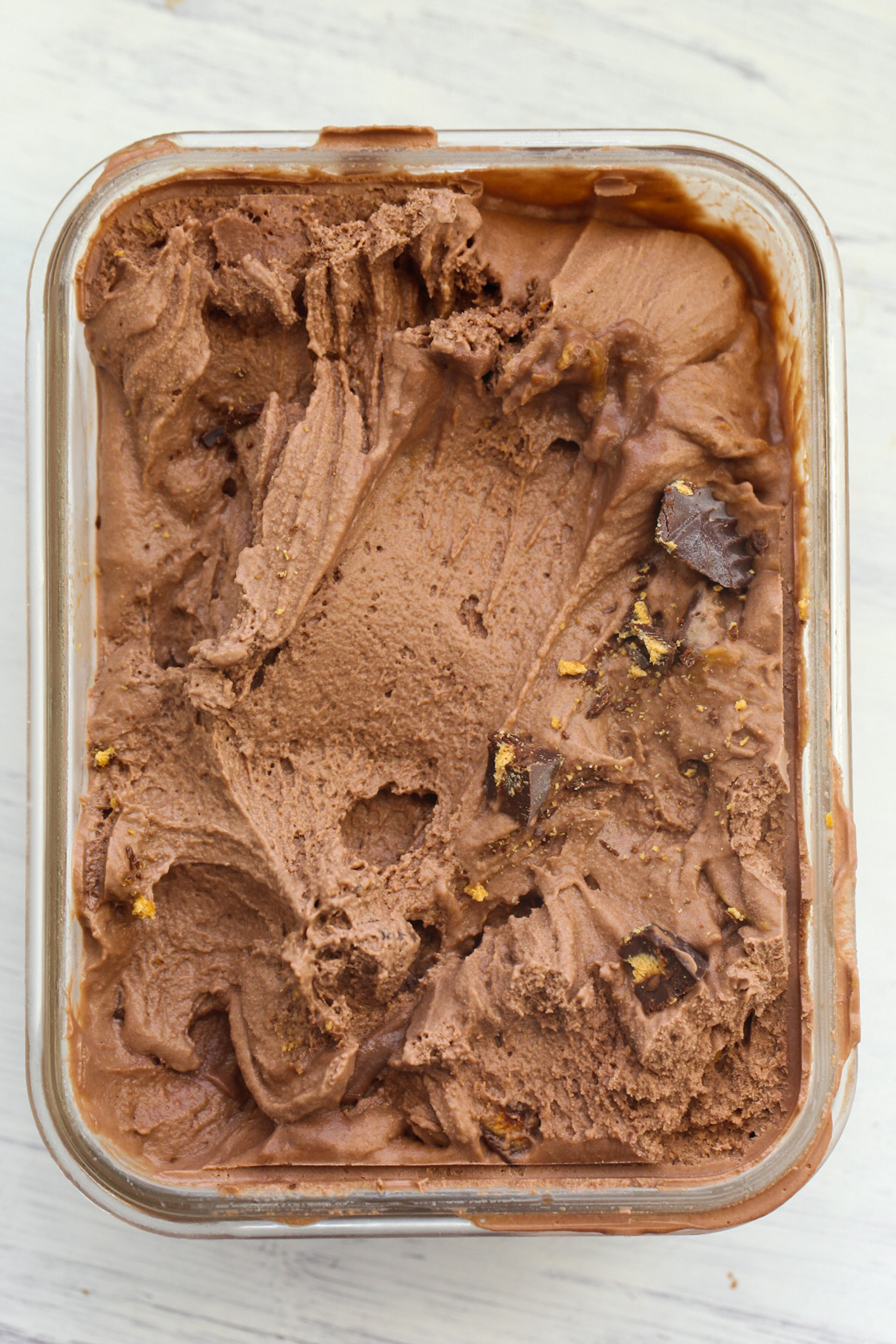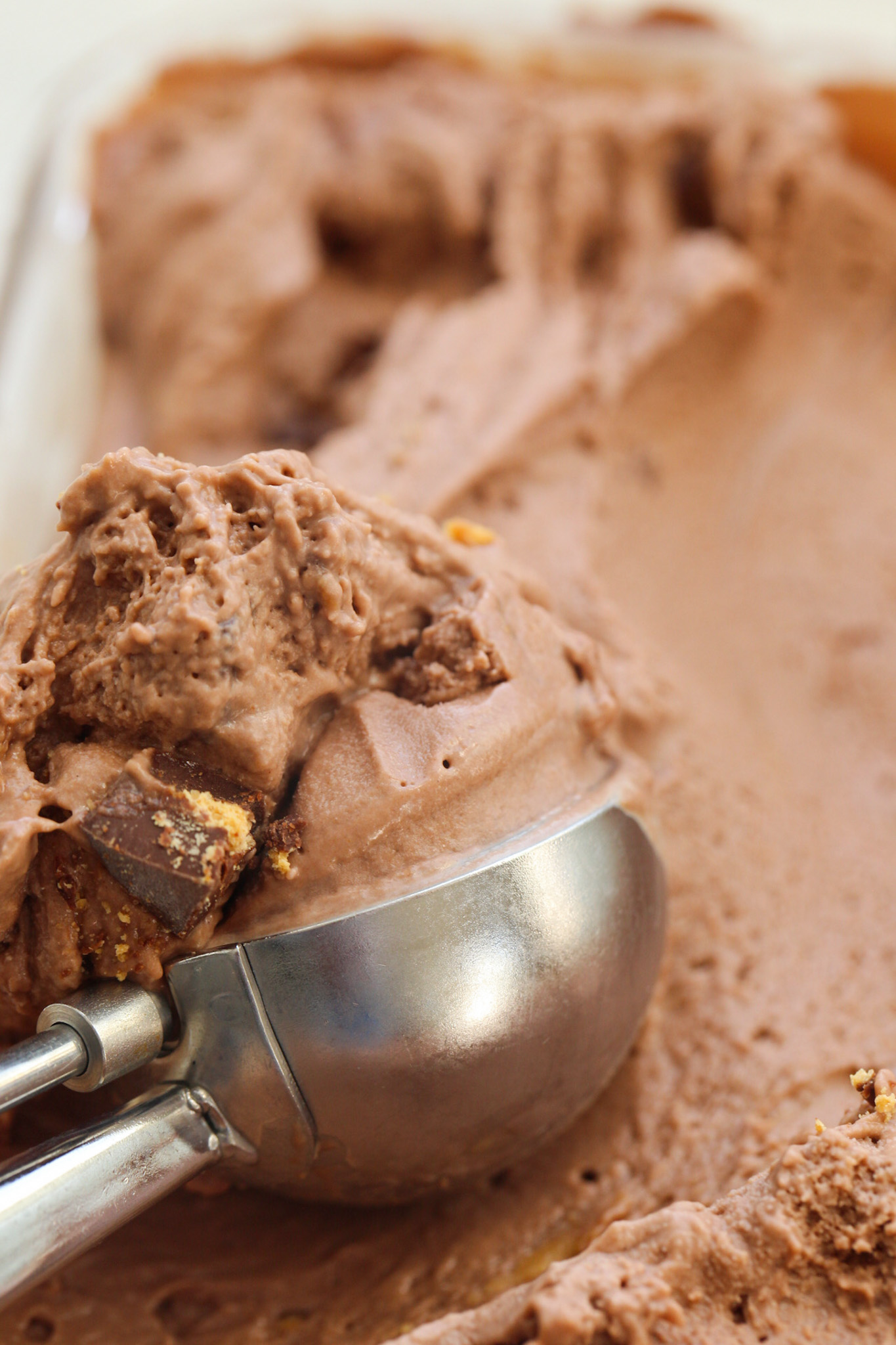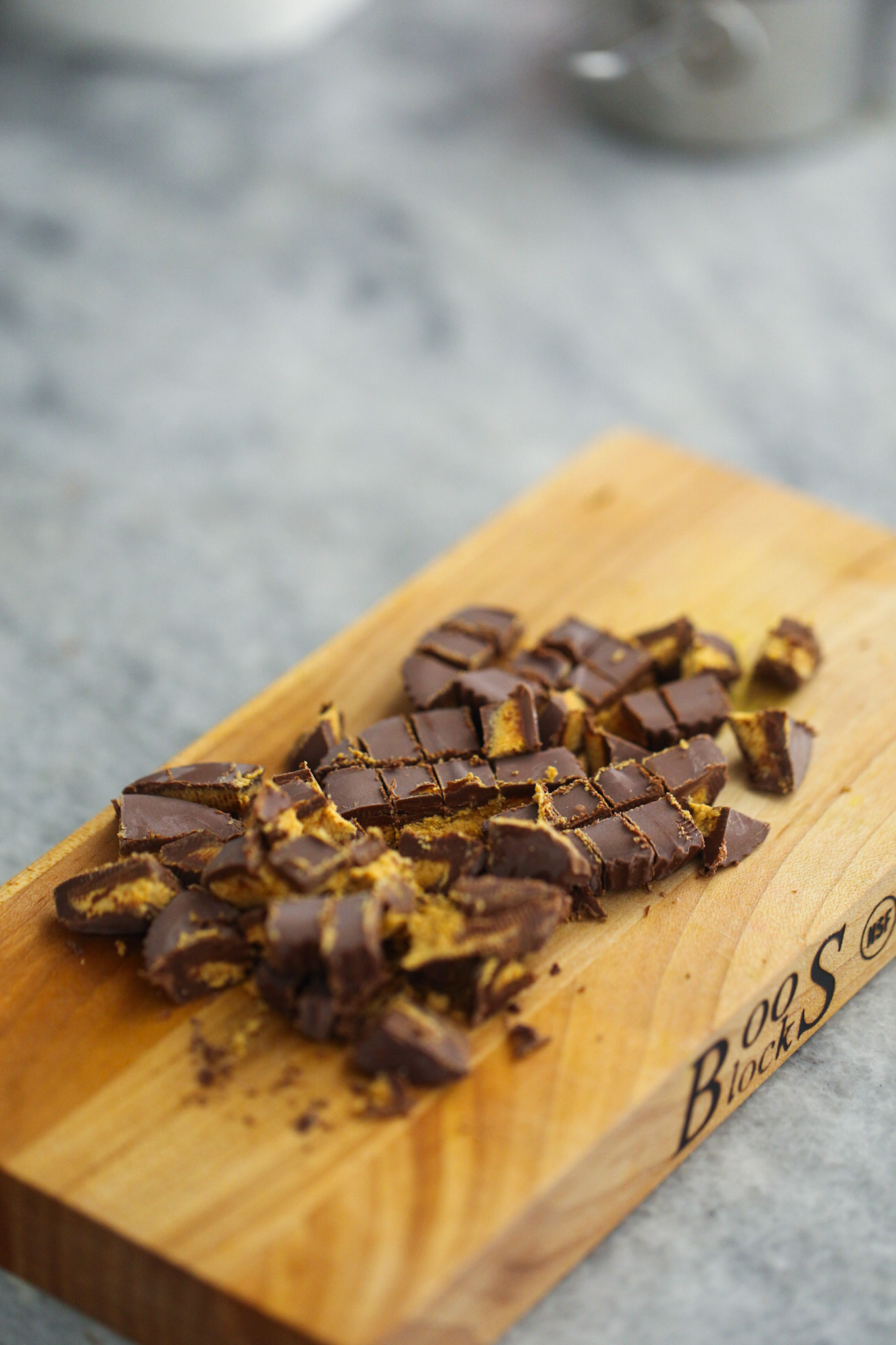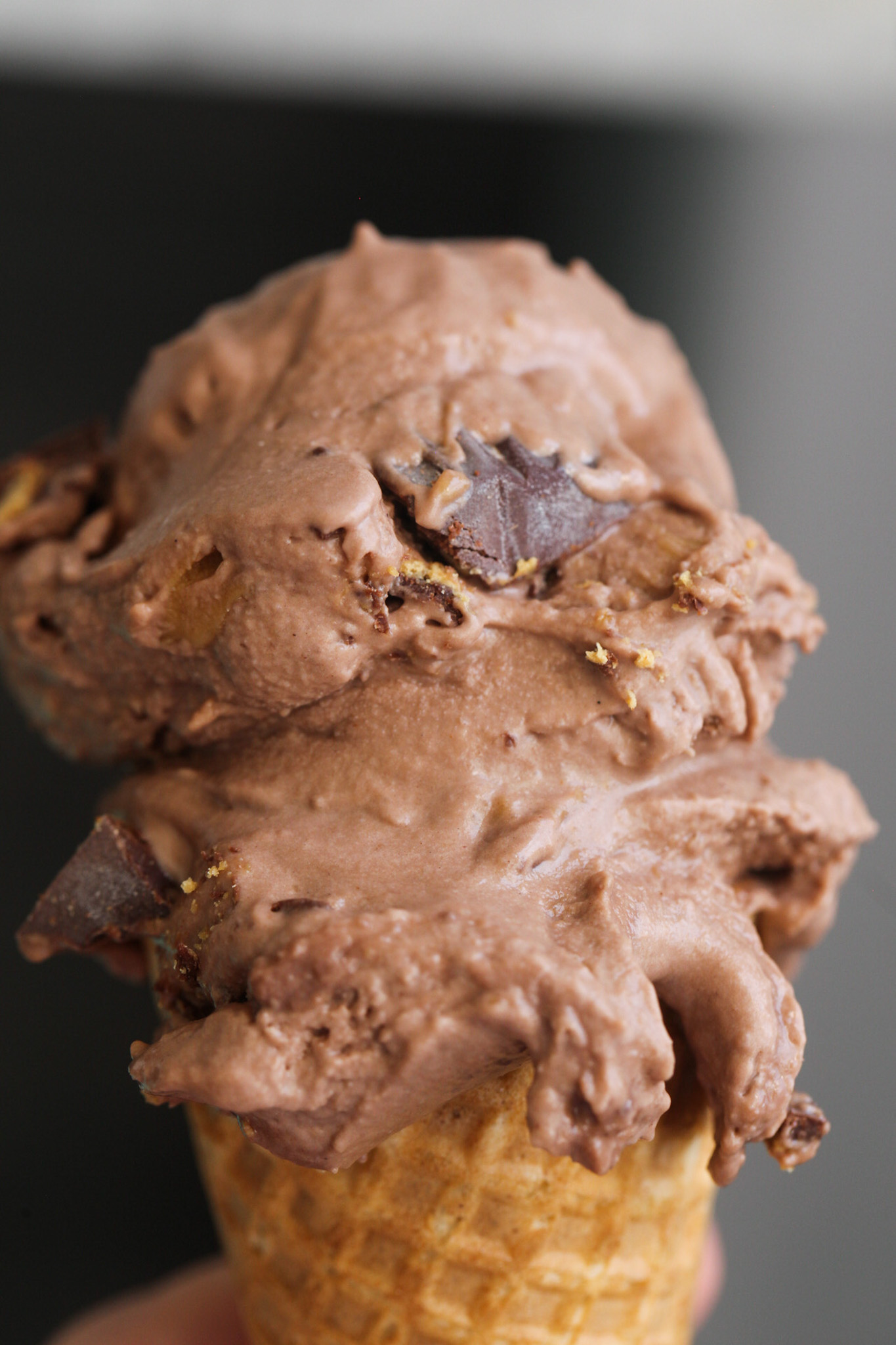 Chocolate and Peanut Butter
One of the best duos in the culinary world! Chocolate and peanut butter is always a good idea.
This flavor is inspired by my love of peanut butter cups. Chocolate and giant chunks or melty swirls of peanut butter. Not overly sweet, candy-type 'peanut butter,' but like 100% peanuts churned, rich and nutty peanut butter.
A Chocolate Peanut Butter Pop Culture Moment…
I remember when I was watching one of the very first seasons of Survivor and they had an immunity challenge of some sorts. One of the treats was a chocolate bar dolloped in peanut butter. That was it. And I was like, "Oh yes, please!!"
And yup, a quick google search and I found the Survivor reference…
"Elisabeth was the original chocolate and peanut butter connoisseur. She made her love known during the first individual immunity challenge of the season, when a jar of peanut butter was offered as a temptation, but she turned it down in fear of being voted out of the game.

A few episodes later, during the first ever Survivor auction, one of the items up for bid was a small dab of peanut butter and a few pieces of a chocolate bar. Elisabeth lost her ever-loving mind, giving up almost half the money she had for what amounted to maybe 300-400 calories of food."

– tag after the credits
So yeah, I'm pretty sure this Dairy-Free Chocolate Peanut Butter Ice Cream would be scooped up on a desert island. I would give all my tokens and shelter for a tall-stacked cone of this creamy, rich, crazy-amazing dessert.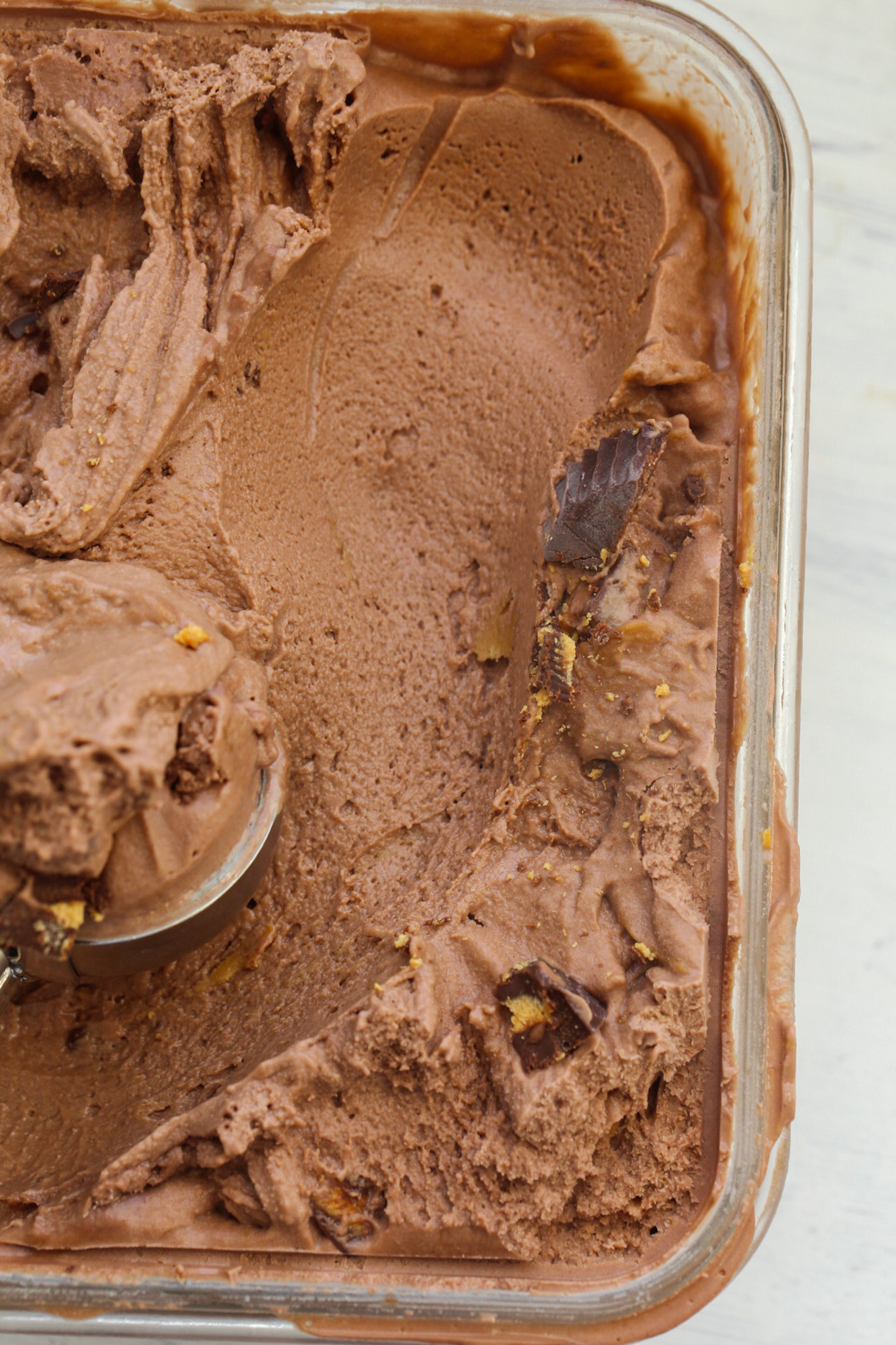 Dairy Free Ice Cream
As a vegan, I love experimenting with different ways to make plant-based, dairy-free ice cream. Here are a few of the ingredient bases I enjoy…
soaked cashews
coconut milk
frozen bananas
For the most traditional ice cream, I prefer cashews. The cashews do not interrupt the flavor at all, and add some natural sweetness. The base flavor is very pure and very creamy and rich.
Coconut milk is also awesome for richness and creaminess, but the coconut does give off a mild flavor the soaks through whatever flavor you have created. And sometimes the coconut really compliments the flavor. Like in this Matcha Coconut Milk ice cream. The coconut enhances the matcha flavor.
Banana ice cream also has it's own flavor, but it is the healthiest option, since bananas are just fruit! For giant smoothie bowls of 'ice cream' I love bananas.
So yeah, as usual, for my traditional ice cream flavors, like today's Dairy-Free Chocolate Peanut Butter Ice Cream, I chose cashews as the base.
VIDEO: Watch me make it…
Click through to my IGTV channel to watch the video!..
Recipe Testing! Getting it Perfect.
This Dairy-Free Chocolate Peanut Butter Ice Cream was one ice cream where I knew exactly how I wanted the flavor to taste and the texture to be. So I definitely wouldn't have perfected it on the first shot. Luckily, DIY vegan ice cream is actually so easy to make, so it was pretty to test this recipe over and over the past week. Of course, not our freezer is loaded up with ice cream – some of it less than perfect. But that's ok by me!
The first batch I made was a bit too heavy. It needed more milk and a bit more sweetener. It tasted more like a frozen mousse dessert. It would be perfect in a fudgesicle mold! I need to get some popsicle molds for something like that!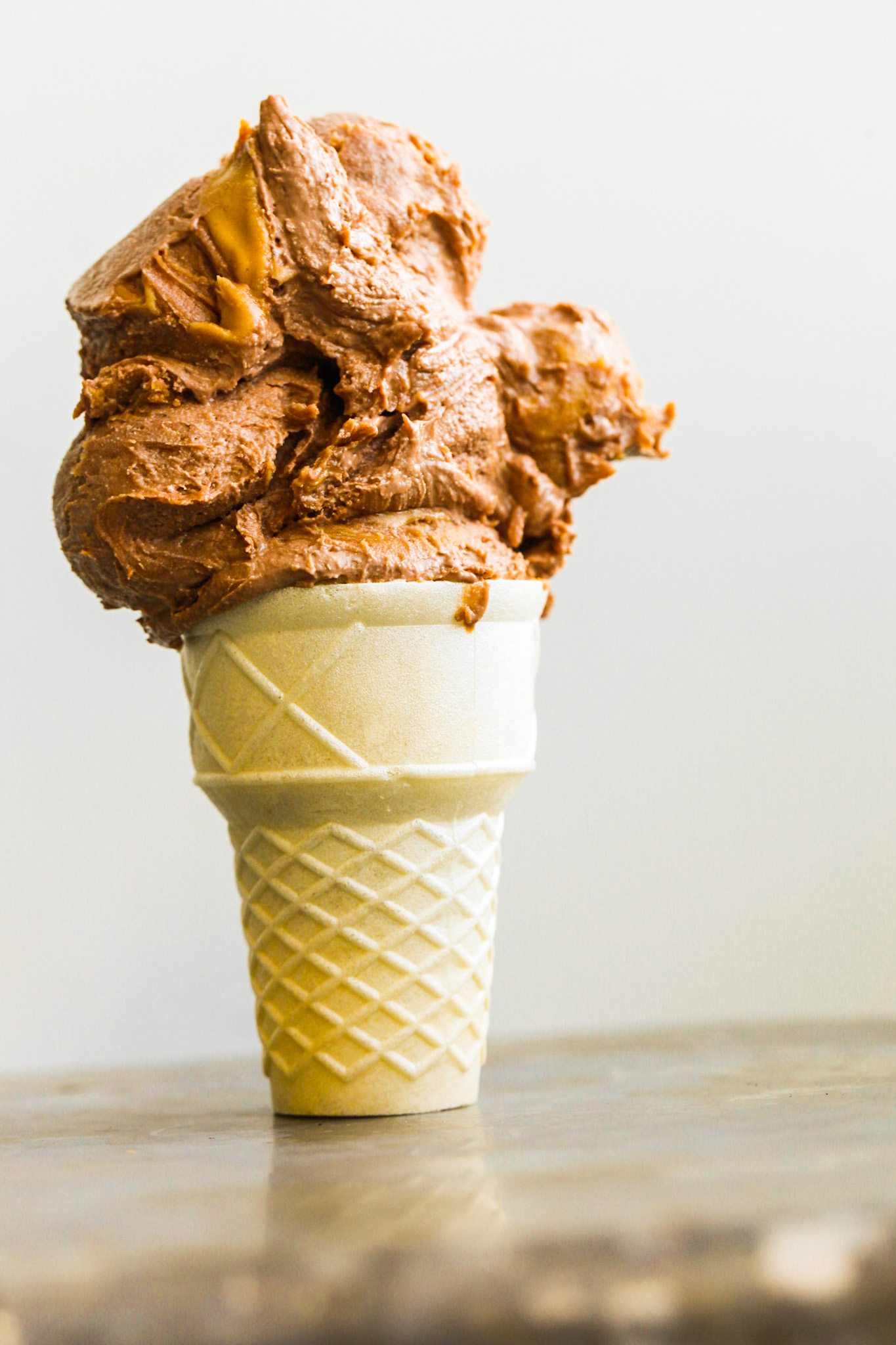 The second batch I overdid the milk a tiny bit as well as the sweetness. I just don't like overly sweet ice cream, so I had to dial a few ingredients for my next try. The increase in milk and sweetener made it melt a bit faster too….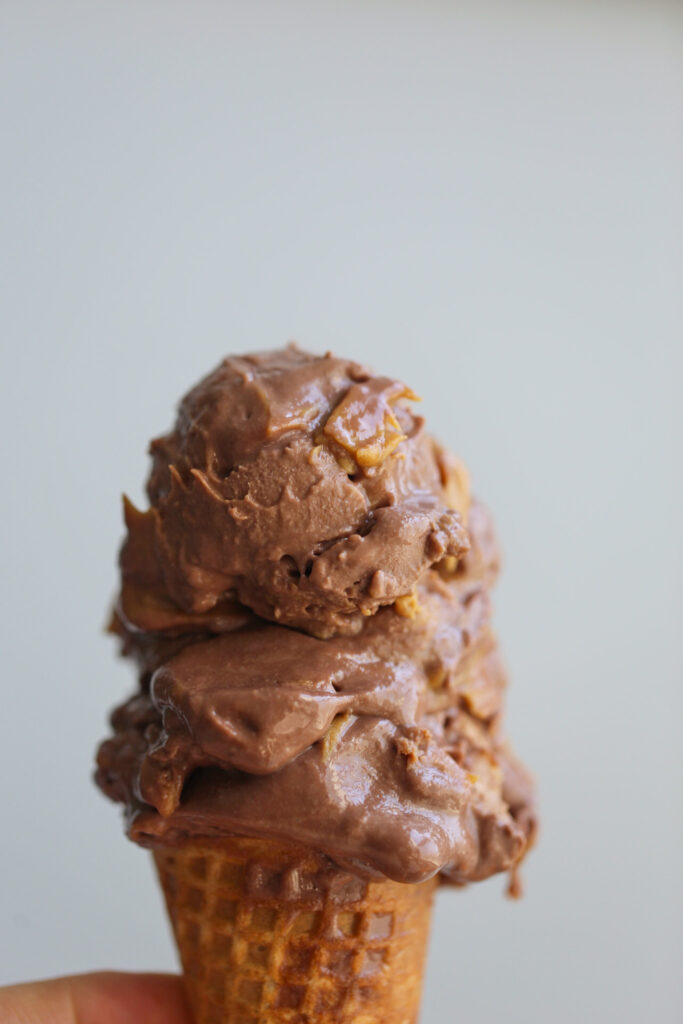 The next batch was pretty perfect! Perfect fluffy, melty, rich texture. Perfect chocolate richness and perfect sweetness! I was happy. I made one more small batch using this recipe to make sure it was perfect. And this time I even added in some chopped peanut butter cups for texture and extra-decadence.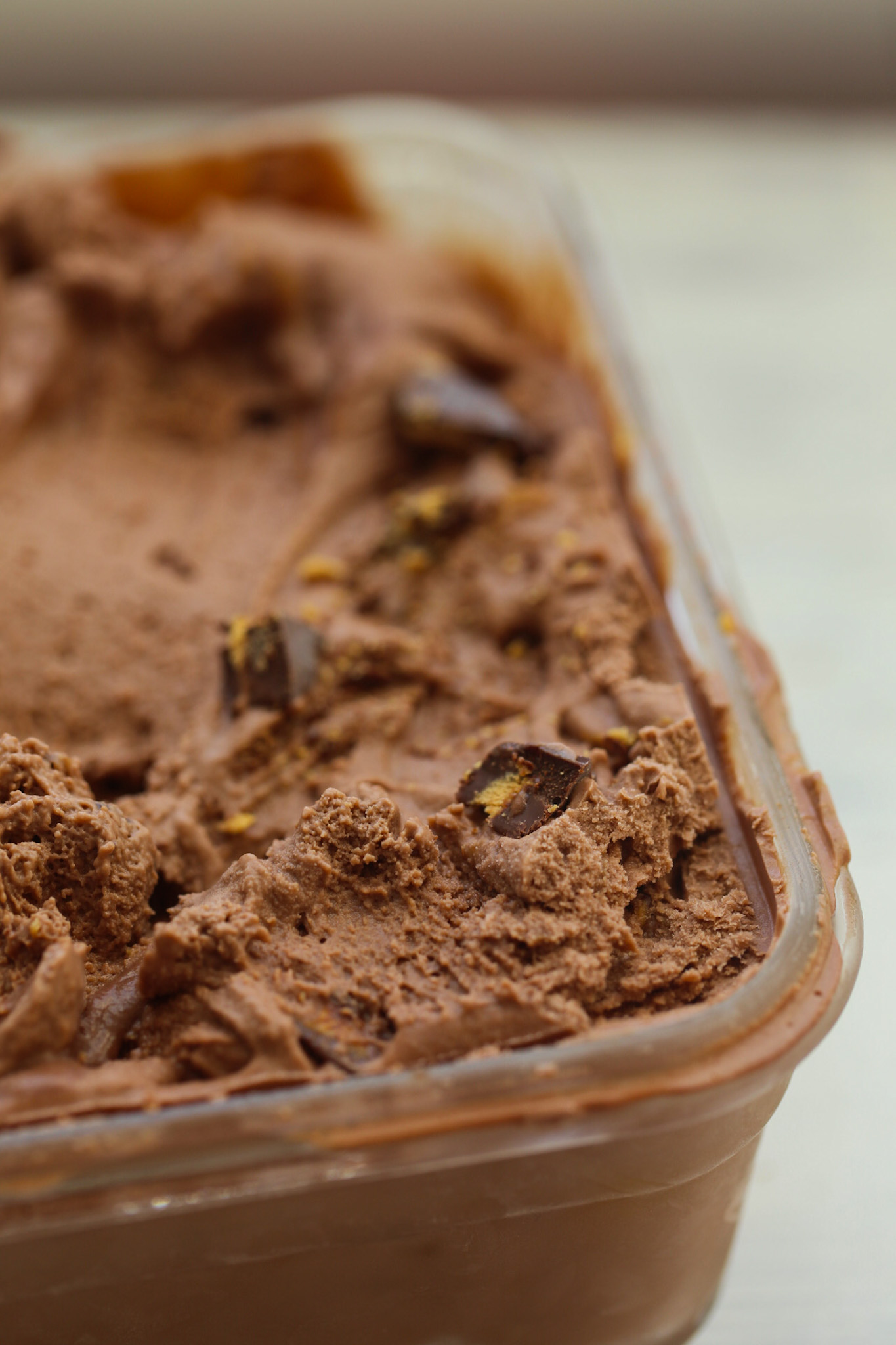 ..And note, the chopped peanut butter cups are totally optional, but fun if you want a more candy-infused flavor.
Peanut Butter Ripples
Ok, so the most challenging part of this Dairy-Free Chocolate Peanut Butter Ice Cream recipe is figuring out how to add in the peanut butter. There are a few options…
Churning in soft peanut butter
Churning in hardened (fridge-chilled) peanut butter chunks
Swirling in soft peanut butter after churning
Folding in hard peanut butter (fridge-chilled) chunks after churning
So we all know that peanut butter firms up in the fridge due to the high fat content. It's harder to handle when chilled, but also holds its shape better. So you have to decide for yourself which peanut butter you want to use…
The first batch I made, I did the swirl in after-churning technique….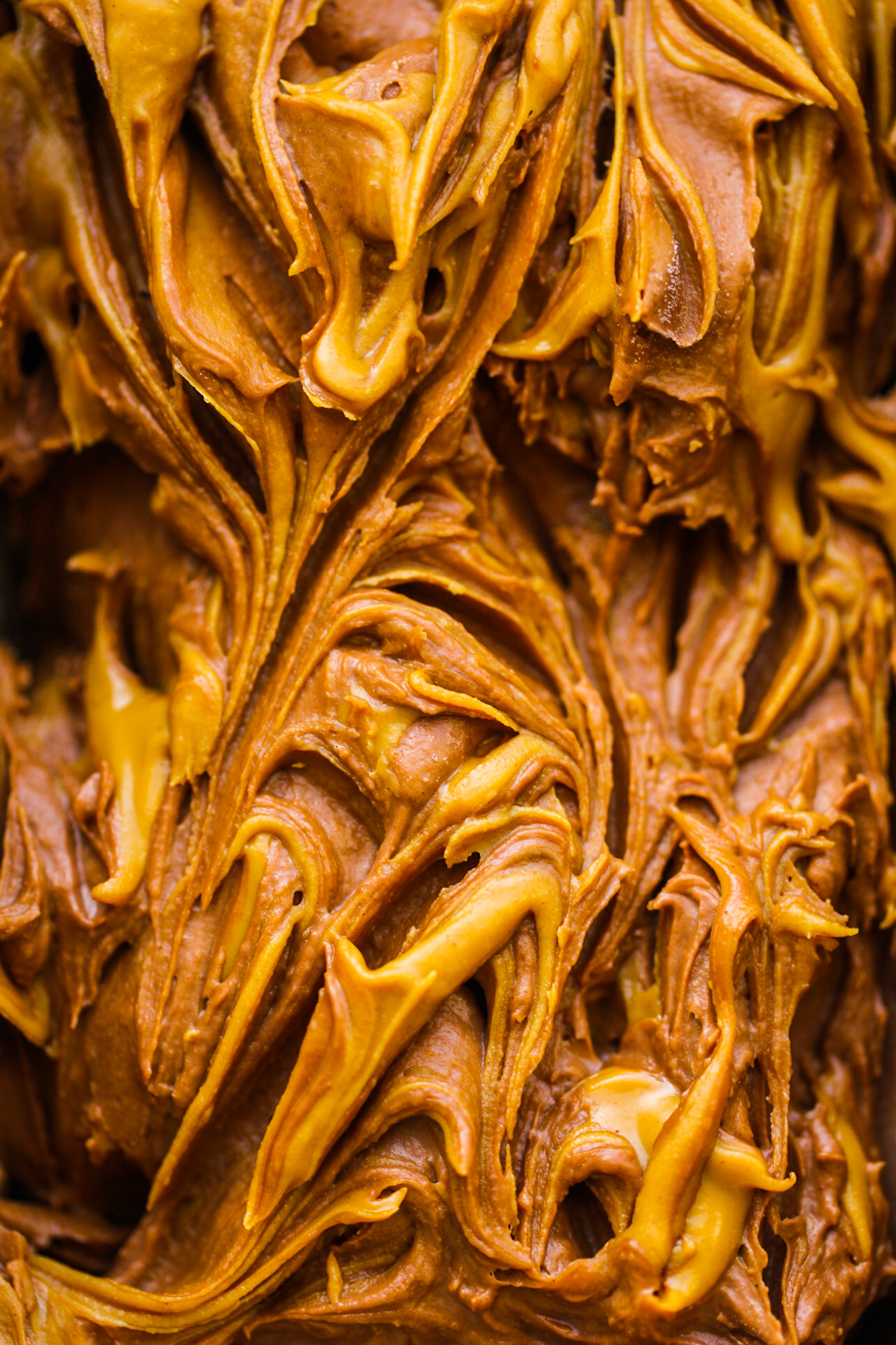 Chilled or Soft Peanut Butter?
Soft / Room Temperature Peanut Butter
The soft peanut butter is just SO easy to add to this Dairy-Free Chocolate Peanut Butter Ice Cream. You just spoon it into the ice cream when it is almost done churning. Boom, done. The downside of this method is that you don't really get those big visible chunks of peanut butter.
The other way to use soft peanut butter is to scoop your churned ice cream into your freezer storage container and then simply swirl it into the top and throughout the ice cream.
Chilled Peanut Butter
The chilled, firm peanut butter can be scooped out in bits and added to the ice cream while almost done churning or folded in after you scoop the ice cream into it's freezer storage container. Chilled peanut butter is harder to work with, so this method is a bit trickier, but does allow some larger peanut butter chunks.
You can also fold chunks of the chilled peanut butter right into the churned ice cream. But the chunks tend to be on the larger side, which made not be what you are going for with peanut butter-swirled ice cream…
What I Prefer…
I like easy and yummy. And the method that did that for me was to simply add in soft peanut butter right at the end of the churn. Sure, you can't see the swirls as well, but you can still taste them! Then to add some texture and contrast, I will swirl a few spoonfuls of peanut butter right over the top of the ice cream, in the freezer storage container. So a little of both.
Don't Skimp on Peanut Butter!
This Dairy-Free Chocolate Peanut Butter Ice Cream is both deliciously chocolate, and swoonably peanut butter. I add in about a full cup of peanut butter to this ice cream! That gives a nice balance of chocolate and a bold contrast of peanut.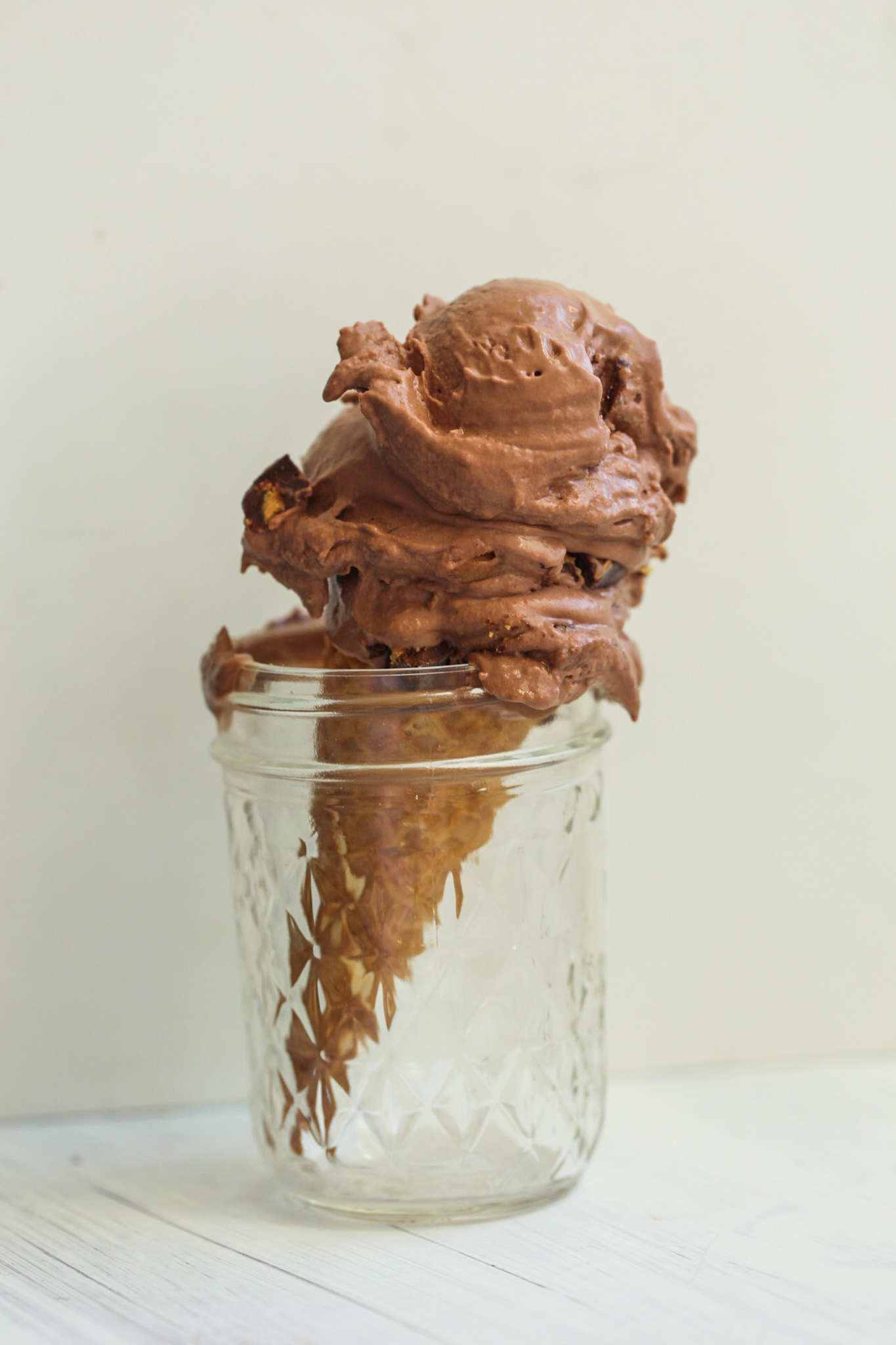 Which Brand of Peanut Butter?
And unsweetened or lightly sweetened peanut butter will work – chunky or creamy! Just remember if you use chunky, those peanut chunks will be visible in your ice cream.
I like the MaraNatha peanut butter a lot for this recipe. But so many brands would work. Santa Cruz, 365, Trader Joe's. Whatever. You just want it to be stirred well – so the oil is combined with the peanuts. And you also want it to be easy to scoop and handle both when it is chilled or room temp. Some peanut butters get rock hard in the fridge, which will just be more trouble.
We're going for easy here! So try the no-stir MaraNatha, it was my fave for this.
Perfect Scooping Temperature for Cashew Ice Cream?
The higher the ratio of cashews, the harder your ice cream will get in the freezer – and in turn, longer thaw time. Thus why upping the agave and soy milk makes it a bit more melty – and easier to thaw.
But in general, you want to allow at least 10-20 minutes of counter time for your ice cream to thaw before it is scoopable. Depending on how warm your kitchen is too… Just don't expect to pull cashew ice cream right out of the freezer and scoop it perfectly. This is true for a lot of store-bought dairy-free brands too.
The Ice Cream Recipe!
Ok, enough recipe chat! Let's get to this Dairy-Free Chocolate Peanut Butter Ice Cream!… Cones ready???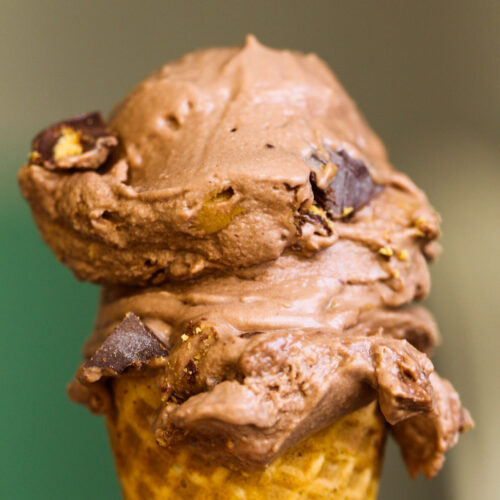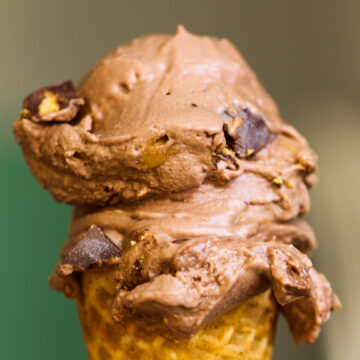 Dairy-Free Chocolate Peanut Butter Ice Cream
This rich and creamy, fluffy chocolate ice cream is swirled with rich peanut butter. Vegan, dairy-free, cashew-based recipe.
Print
Pin
Ingredients
2 ½

cups

cashews

,

raw, soaked until soft + drained – about 3 cups when soaked

¾

cup

agave syrup

1 ⅔

cups

soy milk

,

unsweetened

1

teaspoon

vanilla extract

¼

teaspoon

salt

¼ – ⅓

cup

cocoa powder

,

unsweetened
Instructions
Prepare by soaking a little over 2 ½ cups of raw cashews in warm water. Soak for at least 8 hours or overnight. When done soaking, cashews will be plumped up and soft. Drain and rinse well. You should have about 3 cups of soaked cashews.

Also prep by making sure your ice cream maker container is fully frozen – or place in the freezer for overnight freezing.

The next day or later in the day… Blend the cashews, soy milk, agave, vanilla, salt, cocoa powder in a high speed blender until silky smooth.

For the coca powder: Start with ¼ cup of cocoa and add another tablespoon to increase chocolate richness if desired. The color and darkness of the blend will help you measure how rich the chocolate flavor will be. I like to use ⅓ cup in my ice cream, but you may prefer it a bit lighter, so I gave a range measurement.

Assemble ice cream maker and turn on. Pour in the blended ice cream base.

Churn ice cream until firmed and fluffy, usually around 20 minutes for me.

Peanut Butter: See blog post for options, but the easiest method is to add room temperature peanut butter right to the ice cream making during the last minute of churning. Other options include: dolloping in chilled peanut butter or swirling the peanut butter into the ice cream after you transfer it to your freezer storage container.

Transfer ice cream to your freezer storage container, cover and chill for at least a half hour for a more scoopable consistency. Store leftovers in the freezer and allow thaw time before serving.
Equipment
ice cream maker

blender

large mixing bowl

freezer storage container (glass or steel/metal)
nutrition estimate | per serving
Calories:
308
kcal
|
Carbohydrates:
25
g
|
Protein:
11
g
|
Fat:
21
g
|
Saturated Fat:
4
g
|
Sodium:
140
mg
|
Potassium:
386
mg
|
Fiber:
3
g
|
Sugar:
13
g
|
Vitamin A:
70
IU
|
Vitamin C:
1
mg
|
Calcium:
64
mg
|
Iron:
3
mg