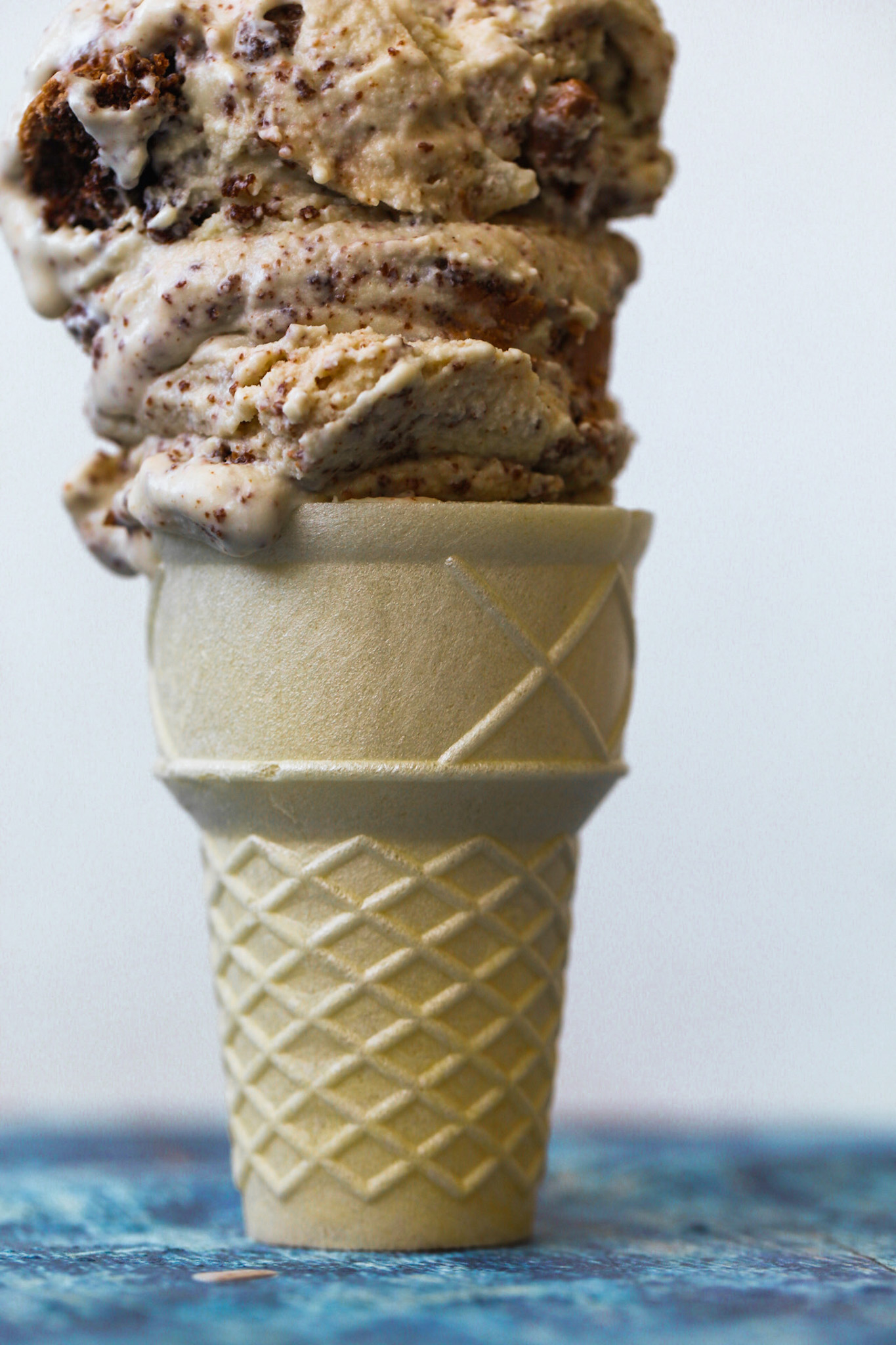 I posted about my fave super easy ice cream last week on Instagram and received a lot of questions about it! SO even though I already have a whole bunch of cashew ice cream posts up, I wanted to share the most basic recipe for Vanilla Cashew Ice Cream. Plus, my little spin on it: Cake and Ice Cream Cashew Ice Cream — made using the leftovers from my chocolate cake recipe.
I mean, what's better than cake and ice cream, guys?…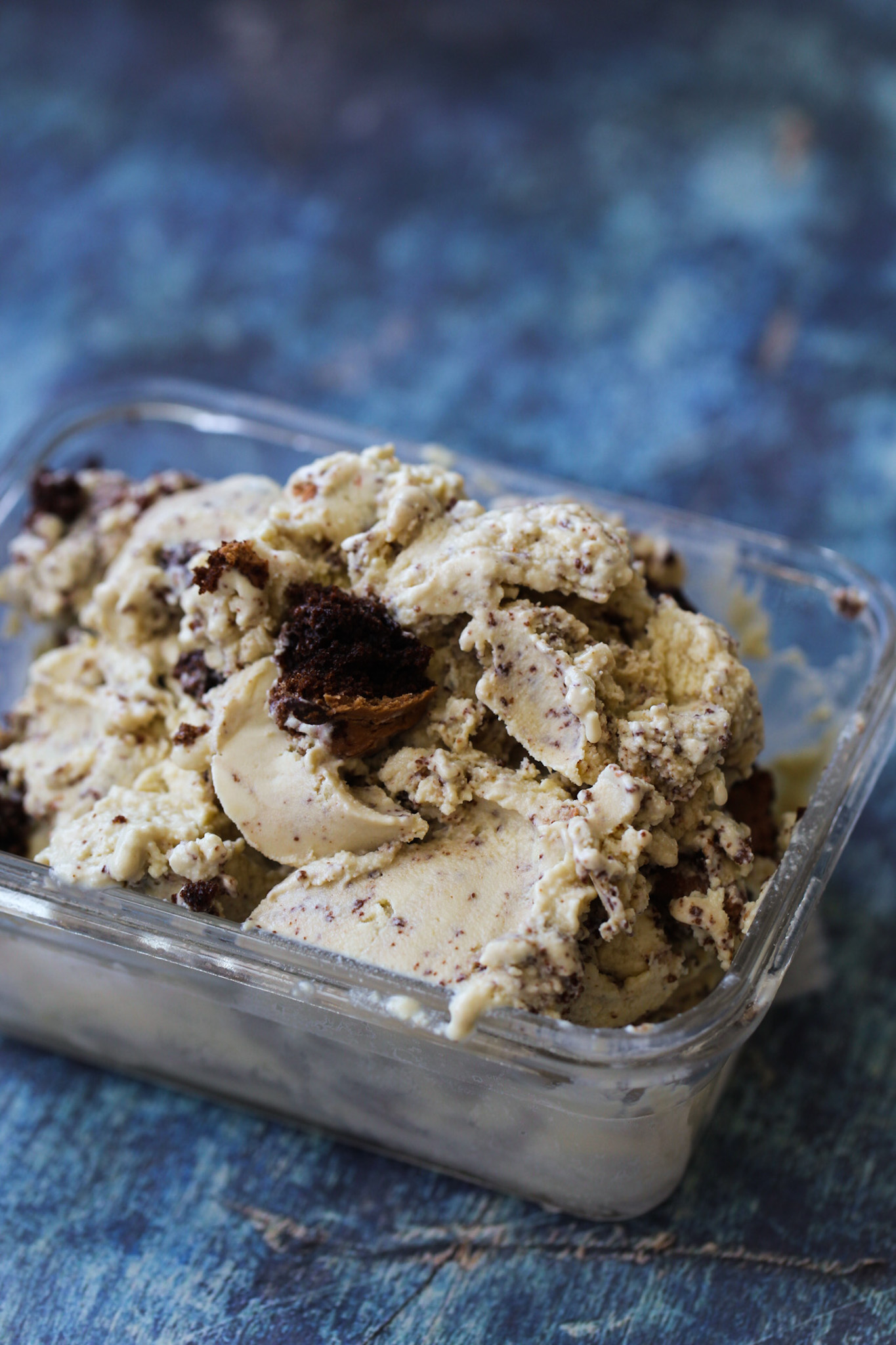 Ice Cream On Demand: Here's How!..
So here's how I do this…
I wake up.
Grab my cashews — and start soaking them.
Then by after-dinner time I know I will have fully soaked cashews, ready for making the best soft serve ice cream – on demand. Basically in about ten minutes. Cake and Ice Cream ice cream on demand.
And to me, when I crave ice cream or fro-yo, nothing tastes better than freshly churned, homemade cashew ice cream. I also make sure my ice cream maker container is fully chilled in the freezer. But I can also put that in my freezer in the morning and have it ready by dinnertime – if needed.
Watch me make this ice cream…
…via TikTok – follow me to stay in touch on there!
Why Do I Need An Ice Cream Maker?
Ok, so I put off getting an ice cream maker for years too. I was like, that seems like a big clunky thing that is probably a lot of work, and maybe doesn't even work half the time. Well one day I bought a $40 maker on Amazon and I haven't looked back since! This thing has definitely paid for itself and it makes the best ice cream ever! (Even though there are so many amazing vegan ice cream brands in stores, nothing beats the fluffy texture of homemade, freshly chruned, IMHO.)
So which machine?
Mine is a simple Cuisinart. I very often see them available anywhere from $35-$60 online. Basic white works, or some pretty colors are out there too. It's basically a machine that spins around while a plastic handle sort of churns your liquid – all surrounded by the frozen container. the container is just a container filled with water along the rims and sides. Once frozen, it's super cold – especially with the steel/metal core. Make sense?
Trust me, just buy one and thank me later. If you love cashew and coconut milk ice cream – this thing will be worth it. Amazon always has at least one color in stock…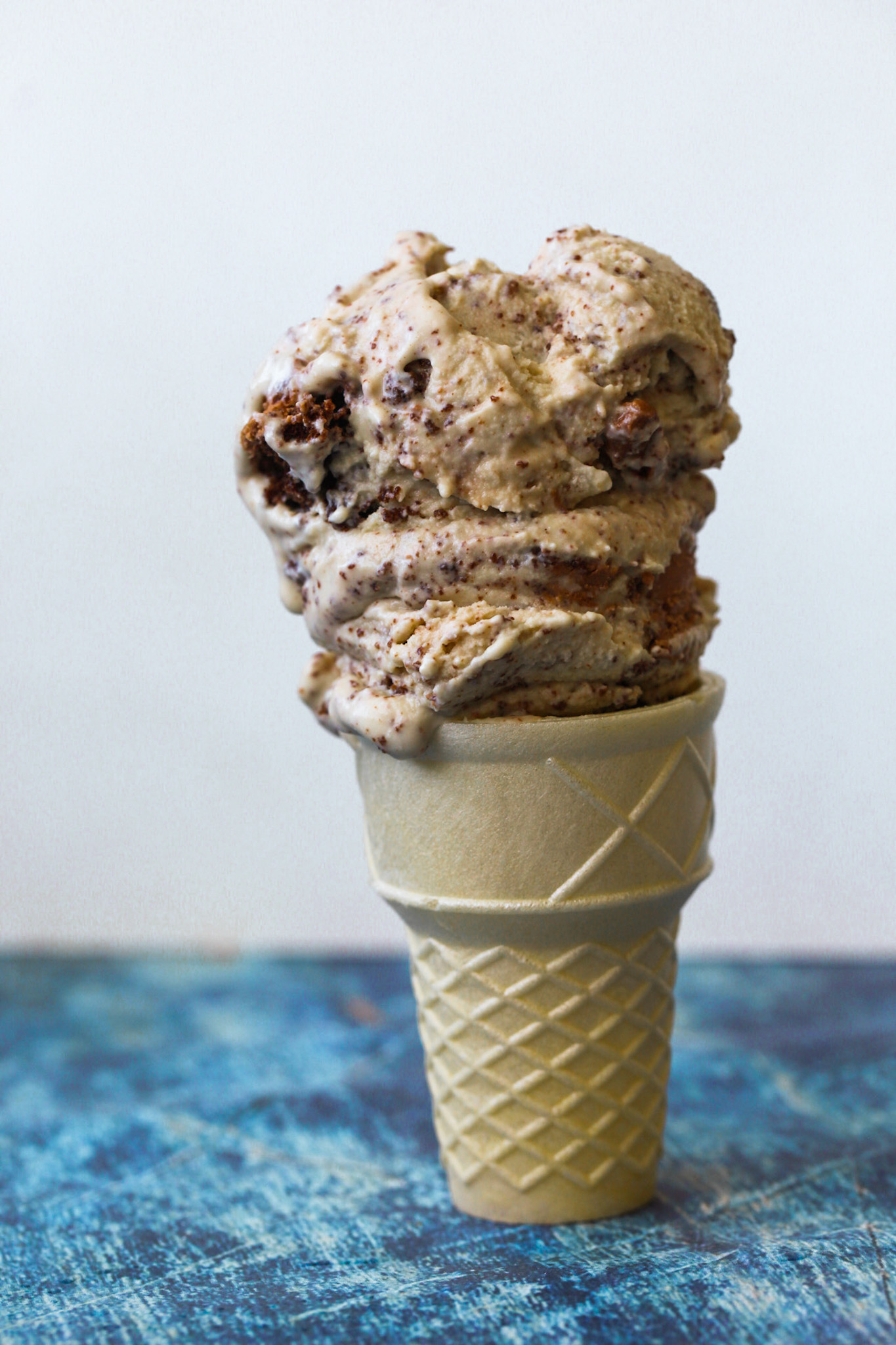 My Easiest Cashew Ice Cream Recipe..
My easiest recipe is for basic vanilla bean. And I actually crave and make it quite often – no toppings or add-ins, just pure vanilla flavor…
The recipe below is my vanilla bean recipe, with some cake folded in. Thus the Cake and Ice Cream creation.
Cake, you say???
YES! So I made this amazing Chocolate Layer Cake last week and of course we didn't make our way through the whole thing, so I froze about half of it and decided to chop a good amount of it into cubes for ice cream toppings. Then toppings, turned into: Why Don't I Just Churn it With The Cubes????
YES.
Cake and Ice Cream Flavor it was.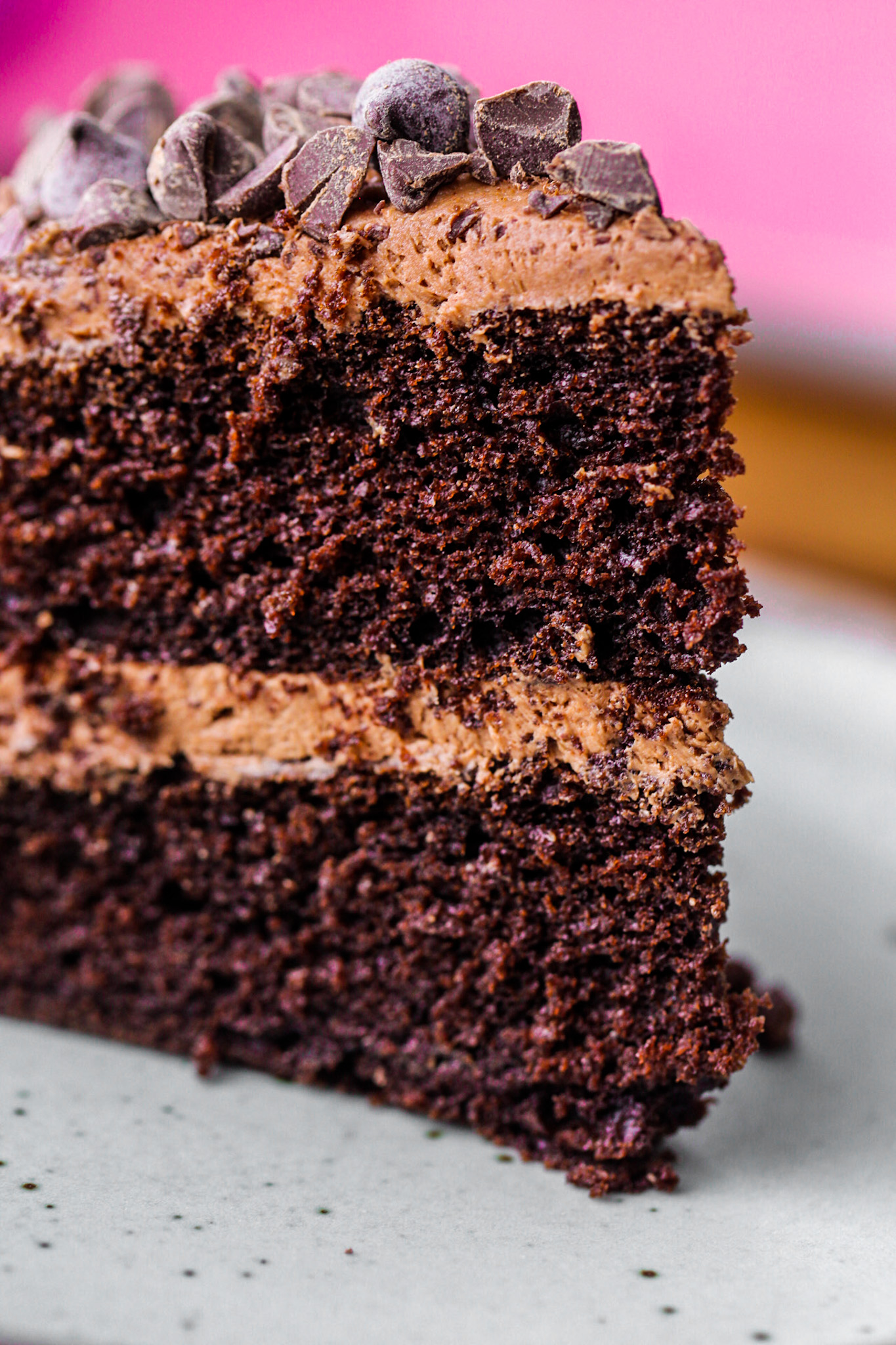 Cake + Ice Cream
One bite of this Cake and Ice Cream ice cream and I am taken back to basically any elementary school birthday party. There was always cake. And usually ice cream too. The best way to eat it was to let the ice cream melt a bit and sop up all those cake bits in a sort of dreamy dessert soup on your plate. Cake and ice cream in one bite.
This flavor captures all that. Give it a go…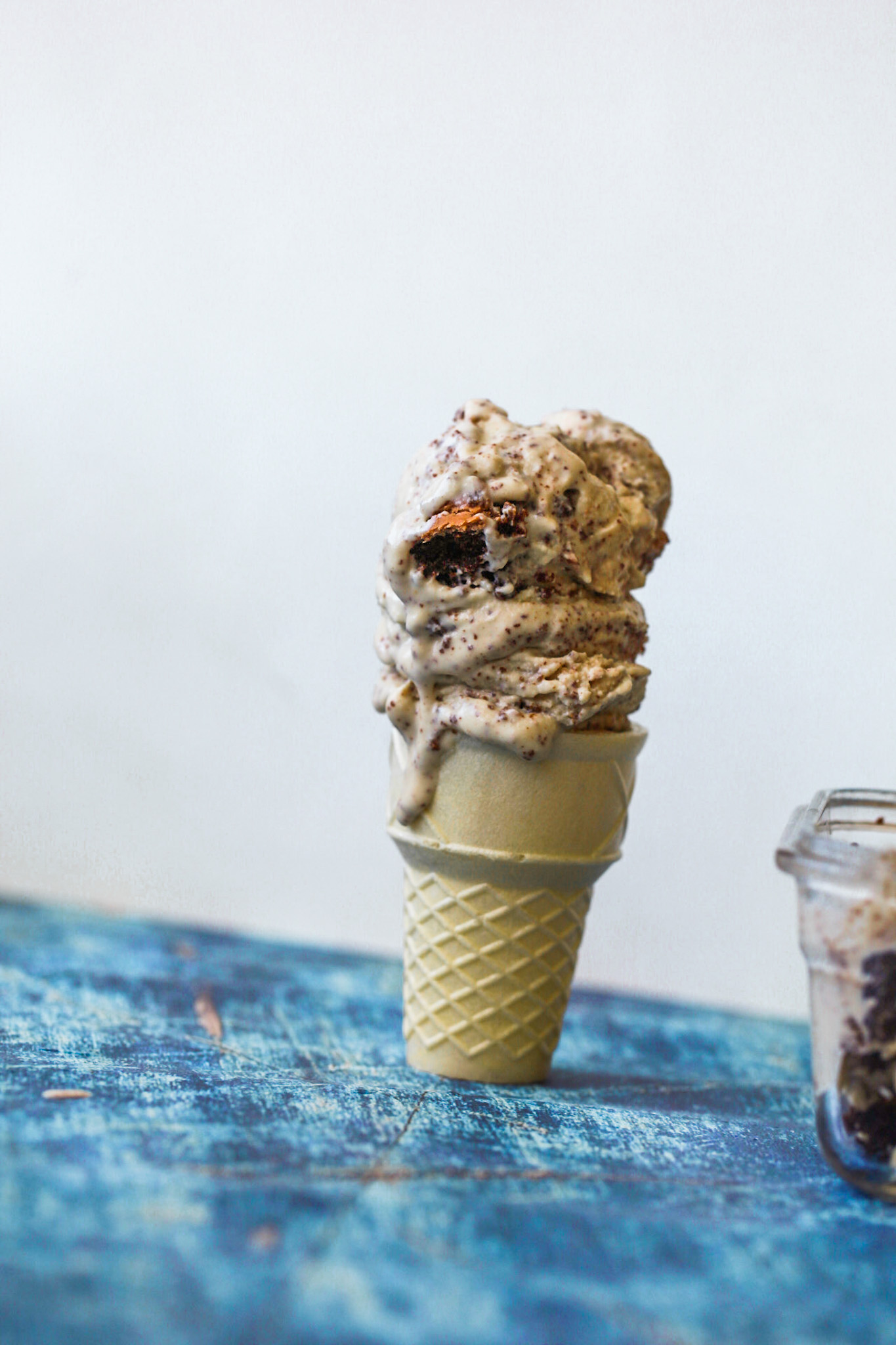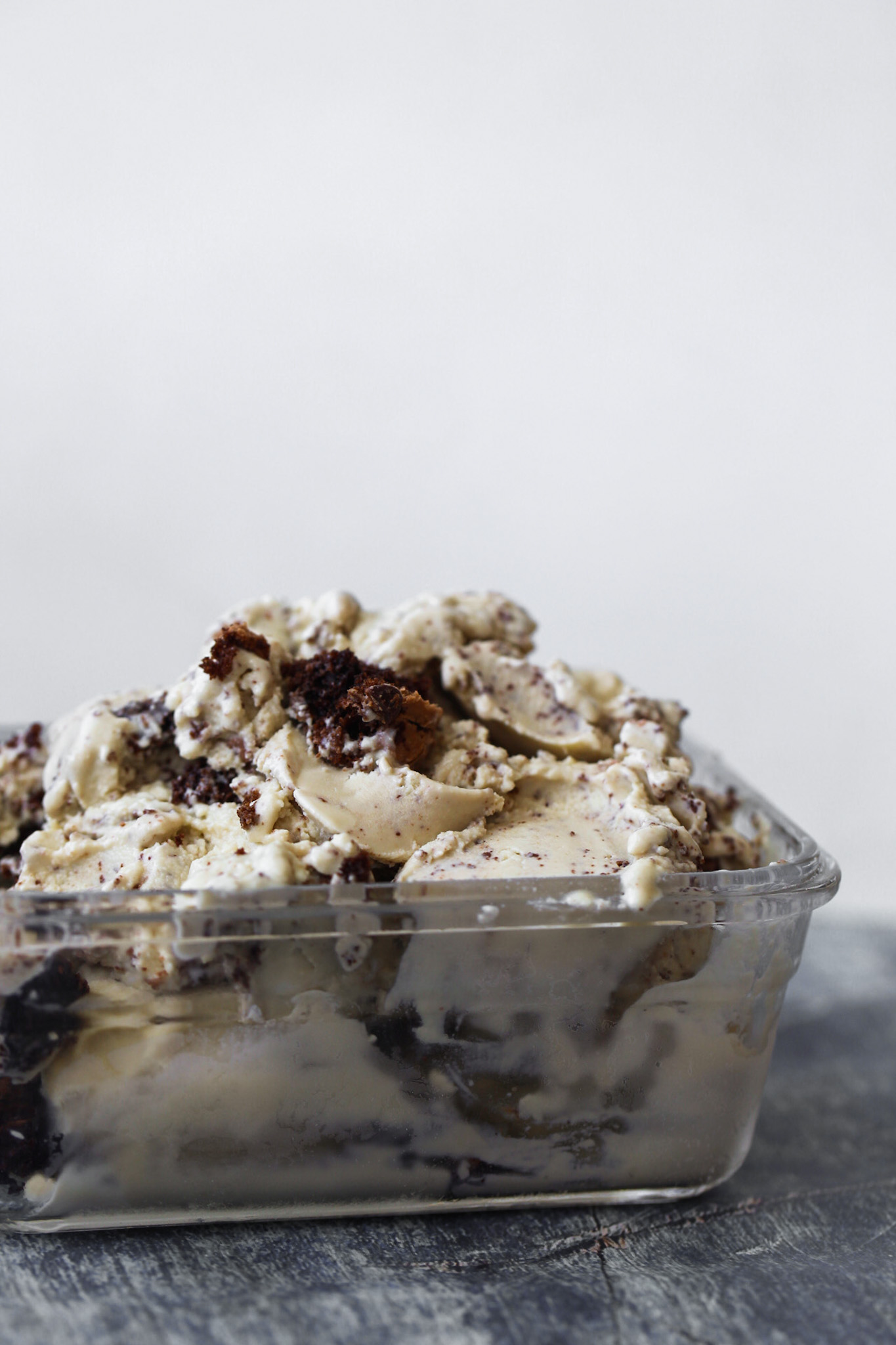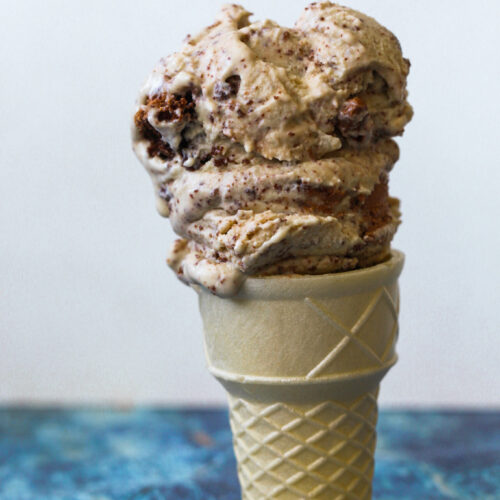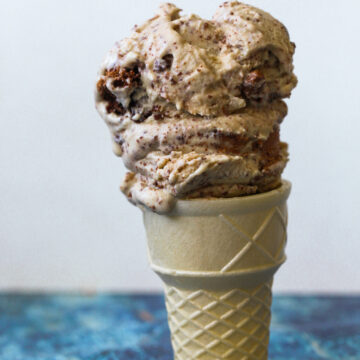 Cake and Ice Cream Cashew Ice Cream
Take simple vegan, vanilla cashew ice cream and add some leftover cake for the best treat on a cone!
Print
Pin
Ingredients
1 ½

cups

raw cashews

water to cover cashews

1

cup

non-dairy milk

1

teaspoon

vanilla extract

,

or one vanilla bean pod, seeds scraped

¼

cup

maple syrup

,

or agave

pinch

sea salt
Fold in:
1

cup

leftover vegan cake

,

crumbled or cubed – optional – plain vanilla is delicious too!
Instructions
Prep: Soak cashews in enough water to fully cover them – for at least six hours for best results. I usually just start soaking the night before and make the next day. Or soak morning of – for on-demand ice cream after dinner. Also prep: Make sure your ice cream maker container is fully chilled! This should also take a good few hours or overnight.

Drain and rinse soaked cashews.

Add cashews, maple syrup, vanilla and non-dairy milk to a blender. Blend from low to high until smooth.

Assemble and turn on ice cream maker. Pour the blended mixture into the maker. Cover with something to keep the cold in the maker. Churn for about ten minutes.

Add the cake crumbles to the churned ice cream. You can add chunks or crumbles. Use a spoon to mix through if the ice cream is a bit too firm in the maker at this point. Fold together.

Serve soft serve style right away! Or spoon into a glass container and chill until at a scoopable state. Store leftovers in the freezer and allow 20 minutes of thaw time before serving.
Equipment
ice cream maker

blender

glass container for ice cream – freezer safe
Notes
nutritional info is for the basic vanilla ice cream without cake folded in.
nutrition estimate | per serving
Calories:
351
kcal
|
Carbohydrates:
30
g
|
Protein:
11
g
|
Fat:
22
g
|
Saturated Fat:
4
g
|
Sodium:
37
mg
|
Potassium:
448
mg
|
Fiber:
2
g
|
Sugar:
17
g
|
Vitamin A:
232
IU
|
Vitamin C:
4
mg
|
Calcium:
122
mg
|
Iron:
4
mg
Pin it for later!…