Sometimes you just want cake. Chocolate cake. Chocolate Layer Cake. And today was one of those days. Not only is eating chocolate cake a delicious addition to any day – actually making chocolate cake also gives any day a cheery lift! From the silky chocolate batter to the whipped chocolate buttercream frosting and slathering it over the fluffy layers of cake. Yup, if you are looking for a fool-proof, crowd-pleasing, happiness-inducing baking recipe, this is it!…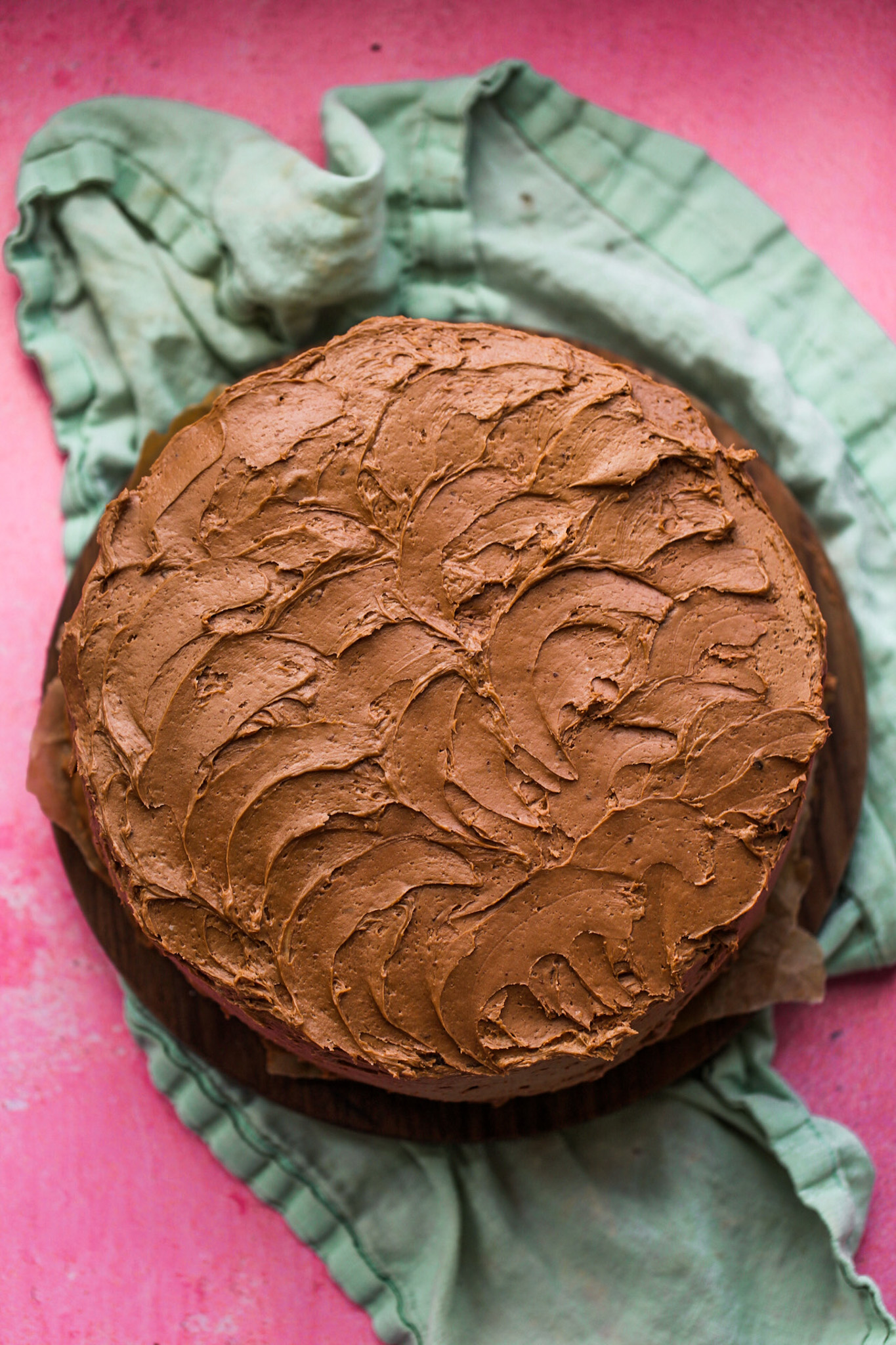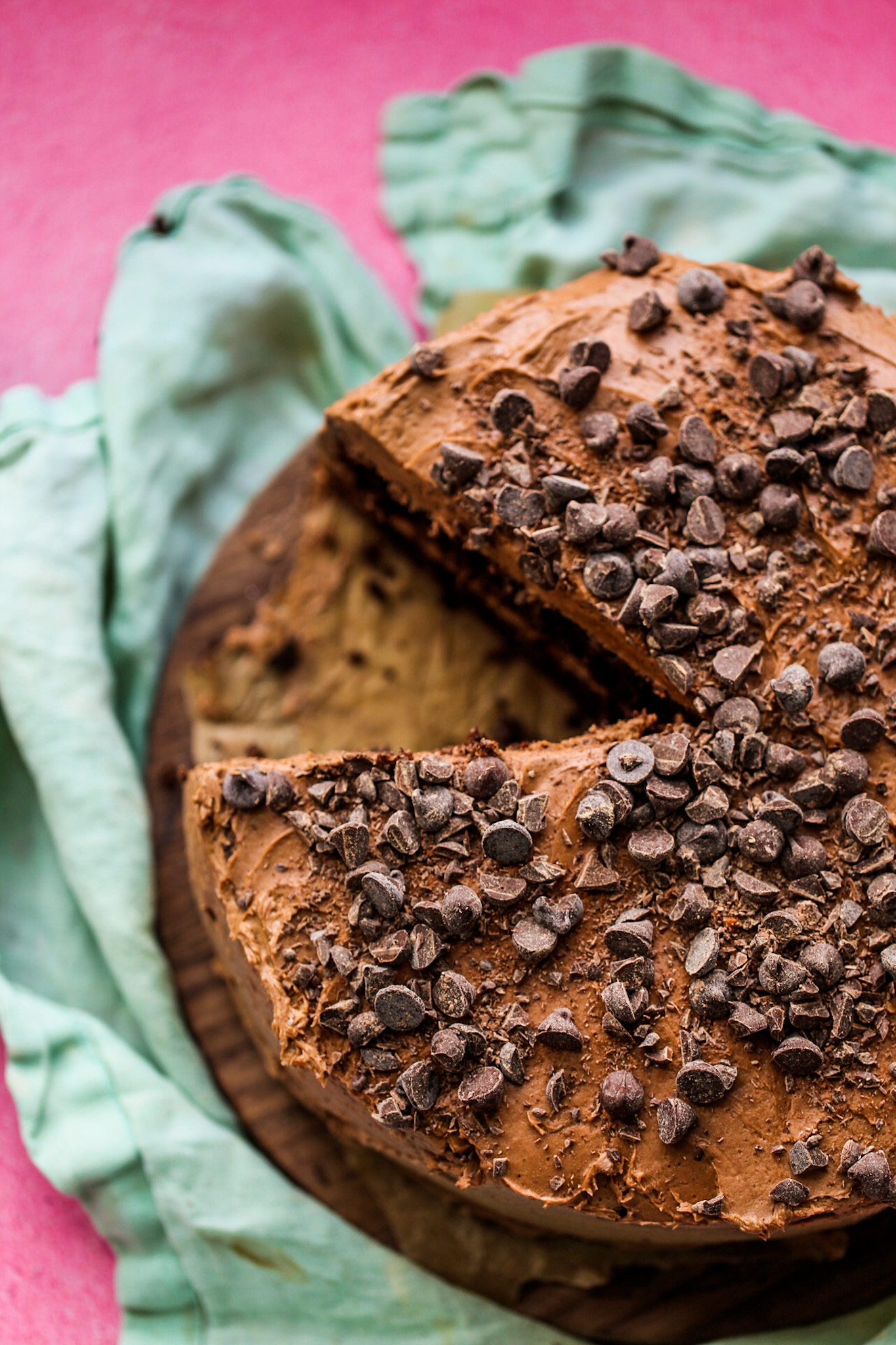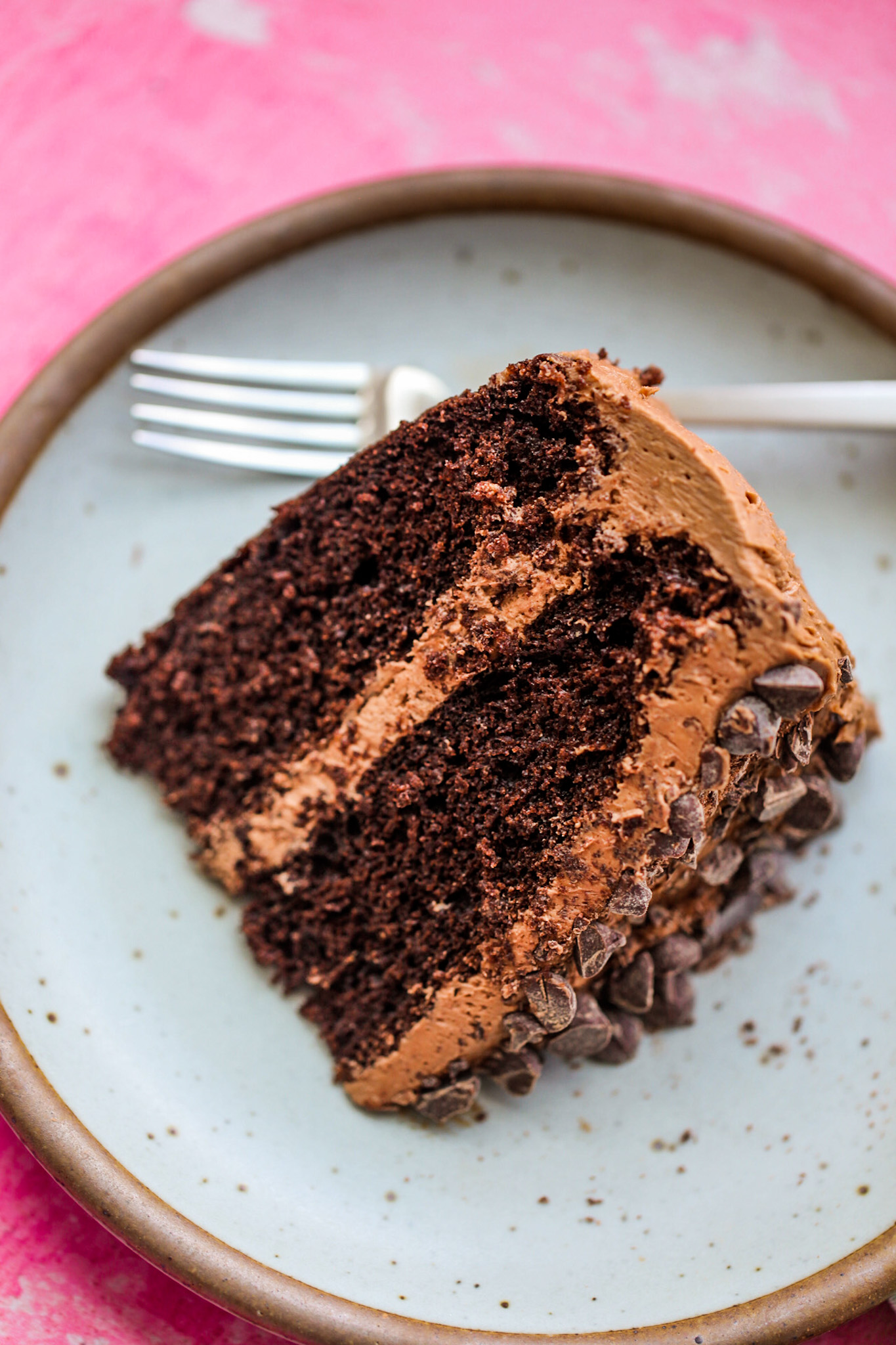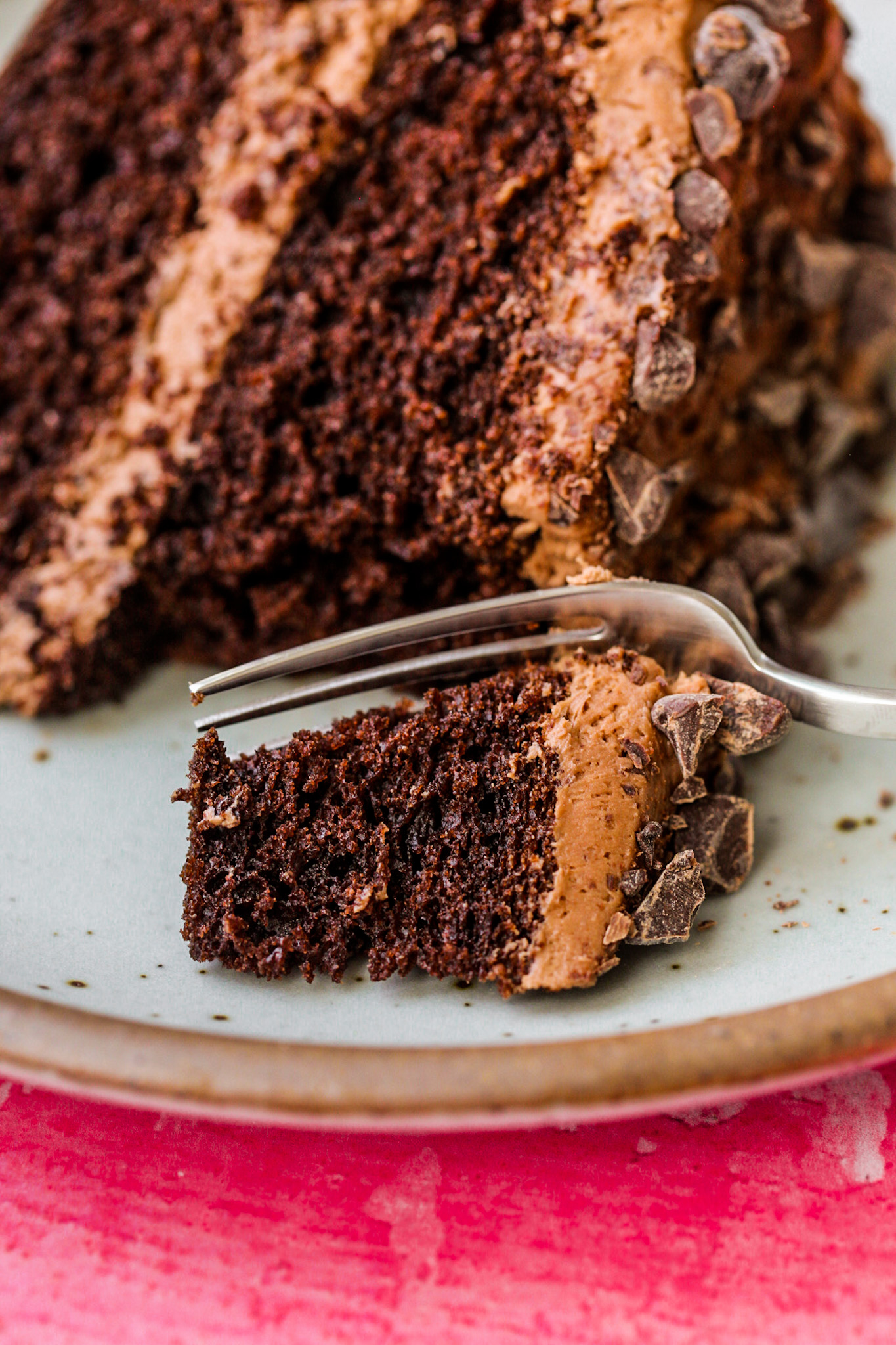 Whipped Frosting
My favorite part of a 100% chocolate cake is using a frosting that is slightly less dark chocolate and rich than the cake – something that has a very fluffy and light whipped texture. I've never been a fan of super rich, chocolate ganache style frostings. I love them fluffy! So this cake is my kind of dessert.
I love the subtle contrast between the dark chocolate of the cake and the lighter chocolate of the frosting.
To get a truly fluffy frosting, I use a mixture of vegan shortening – by Spectrum -and of course vegan butter. Then I use melted bittersweet chocolate for the best chocolate flavor possible.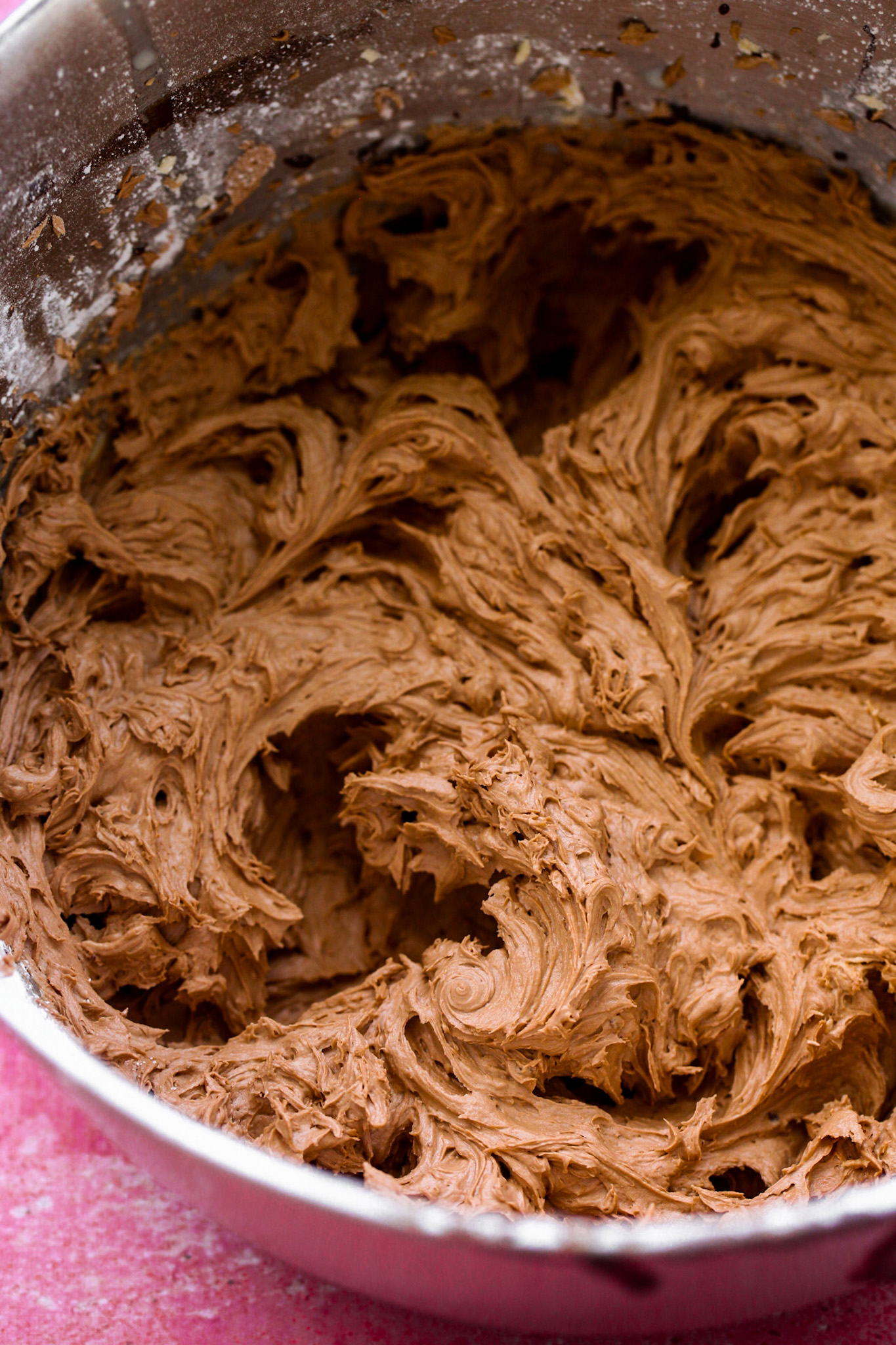 Shortening Substitutions…
If you hate the idea of using shortening, you can substitute with basic virgin coconut oil or coconut cream – or even a higher-in-fat vegan cream cheese! Flavor will vary, but it will work well.
Just make sure the coconut oil is soft enough to whip, but not melted. Vegan plain cream cheese at room temp is a super easy sub.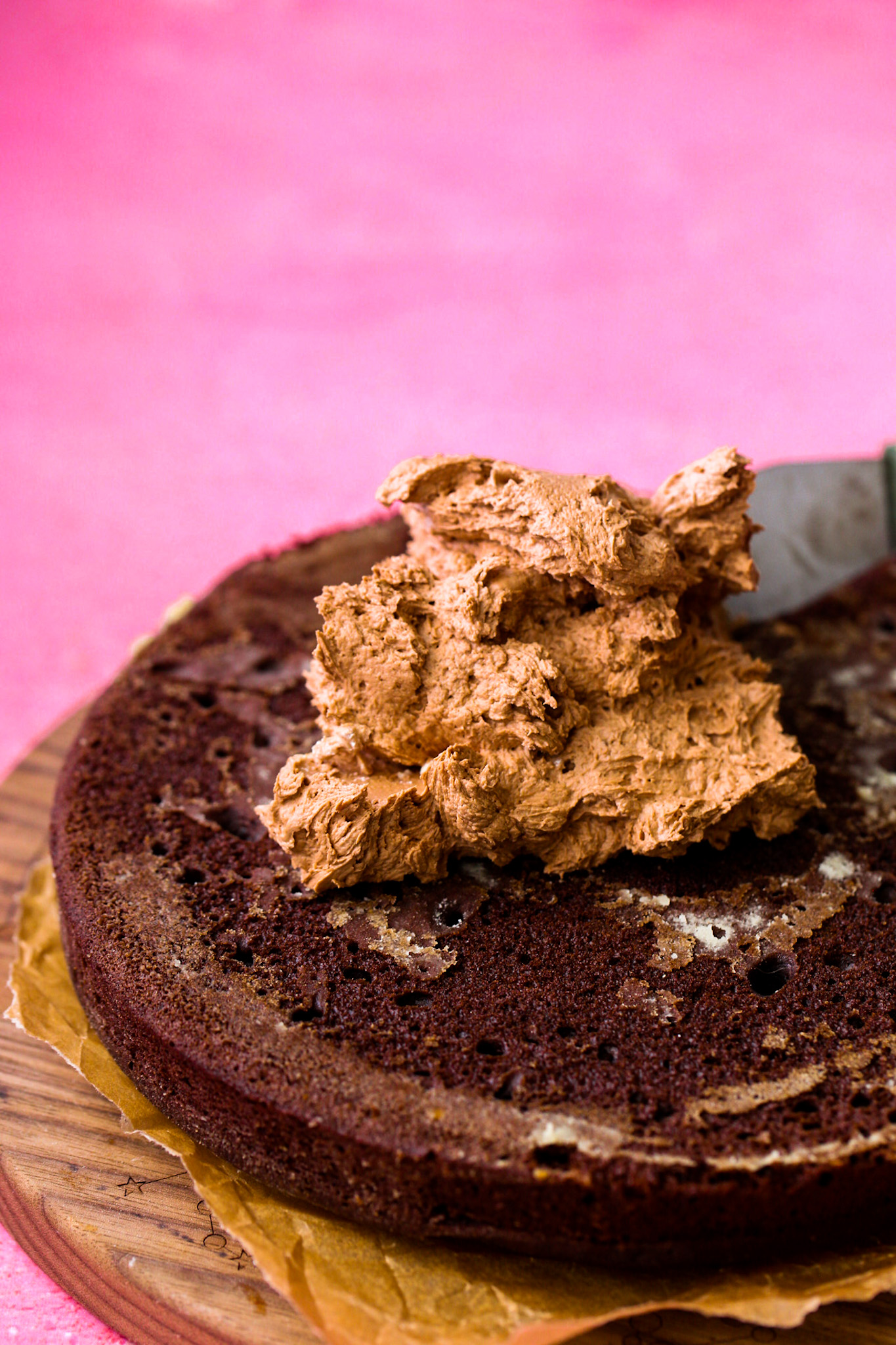 Cocoa Quality Matters
The brand of cocoa powder absolutely matters for this cake — and while we're here – yes, the brand of chocolate for the frosting matters too!
I personally love Navitas Naturals Cocoa powder. But just try and find something you love that you can use in your chocolate recipes.
For the bittersweet chocolate, I used Theo 70% dark chocolate for baking. A bittersweet chocolate could also work. I also love the Guittard brand. And if you get stuck, you can absolutely use semi-sweet vegan chocolate chips, just be porepared for a slightly less rich chocolate flavor.
Chocolate is Good For You!
Don't forget this fact: chocolate contains loads of healthy antioxidants! And minerals like magnesium. Cacao nibs, raw chocolate, which you could totally add to the top of this cake, contain fiber, iron and magnesium. Learn more about chocolate in my All About chocolate post!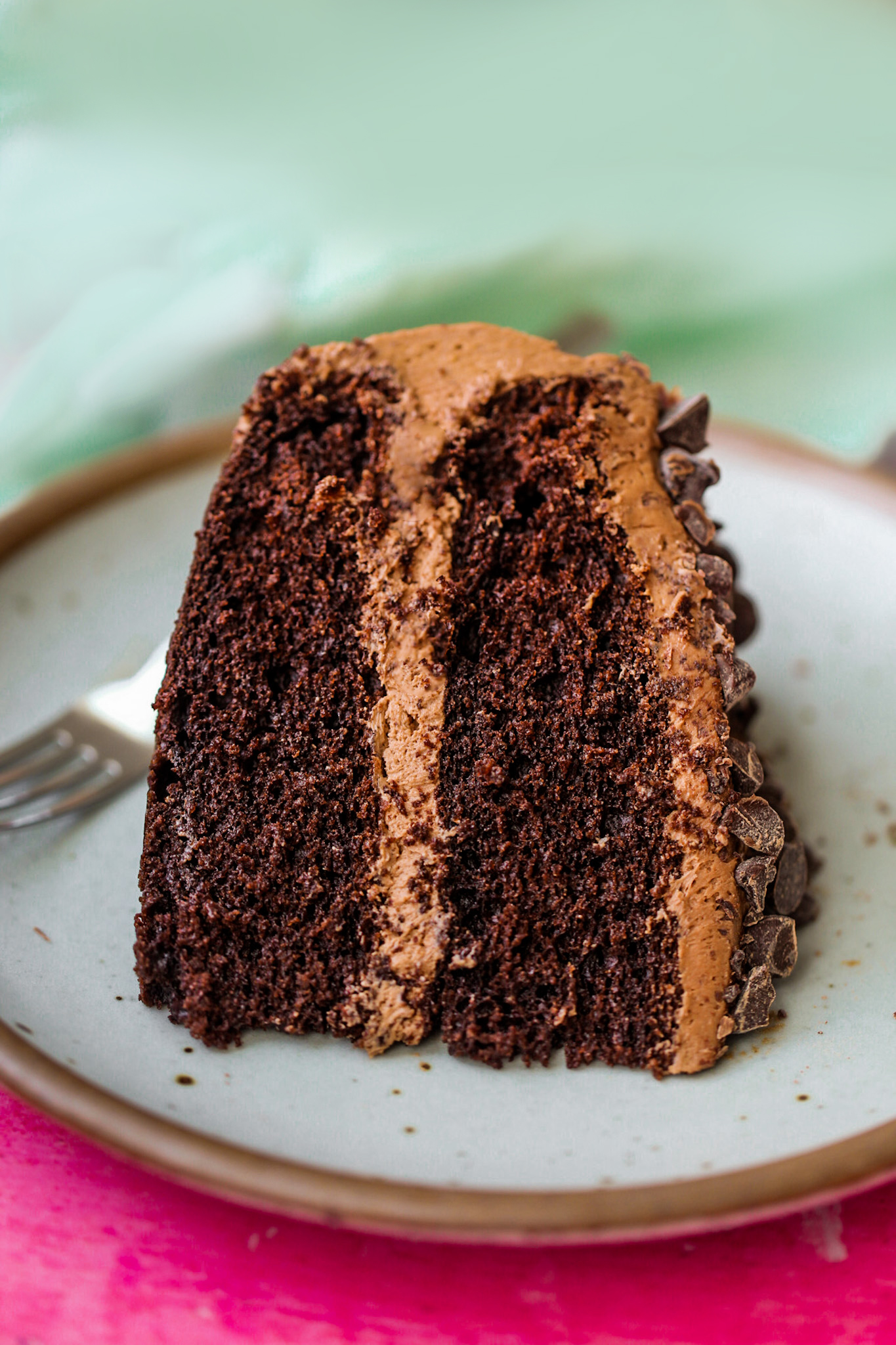 Wacky Cake
Since we are in pandemic/quarantine mode right now, I thought I would pay tribute to Wacky Chocolate Cake. The naturally vegan depression-era cake that was famous for using only water, vinegar and baking soda to achieve it's fluffiness – no eggs.
This is really one of my favorite chocolate cakes and I use it whenever I want a chocolate cake base. It's really my go-to chocolate cake. And it works so well in this or any Chocolate Layer Cake.
For this version of my wacky cake, I used all purpose flour and safflower oil. I always use coconut sugar as my sweetener because I love the vanilla-y aroma of it. And using a good vanilla extract really helps with this cake too.
Vegan Birthday Cake – Funfetti
I also used the wacky chocolate cake recipe in my vegan birthday cake – which is chocolate cake and funfetti vanilla frosting.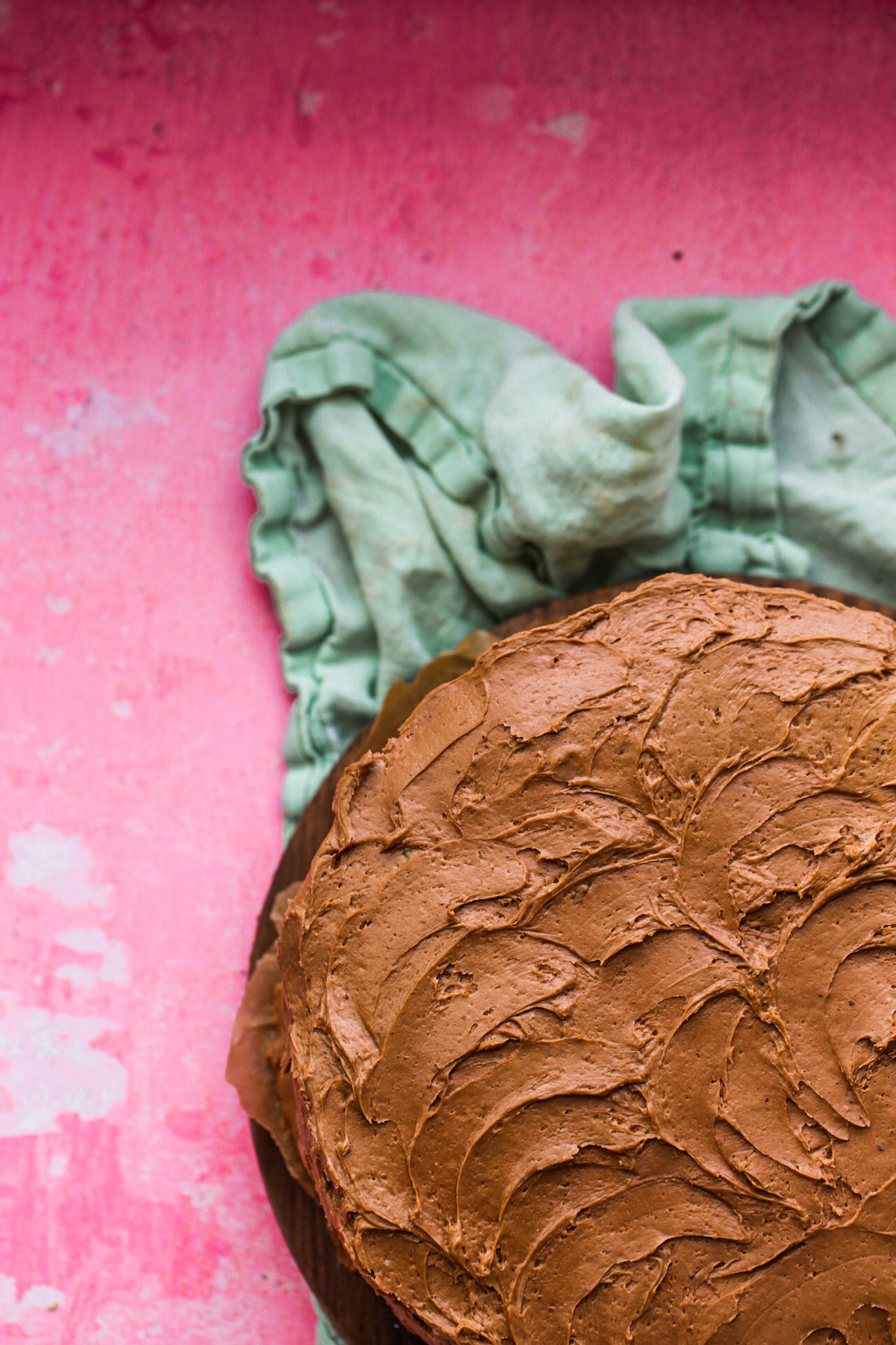 Cake Toppings
To add texture to your chocolate layer cake, you can add chocolate shavings, chocolate chips, sprinkles, chopped nuts or a variety of other toppings! A clean and simple cake where you can see the pretty whip marks is nice too.
Cake Filling
Another fun spin is to add slices of fresh strawberry to the middle layer. Or even a layer of strawberry or raspberry jam. Get creative and sparkle up this chocolate layer cake however you'd like!
…Or keep it totally simple and classic.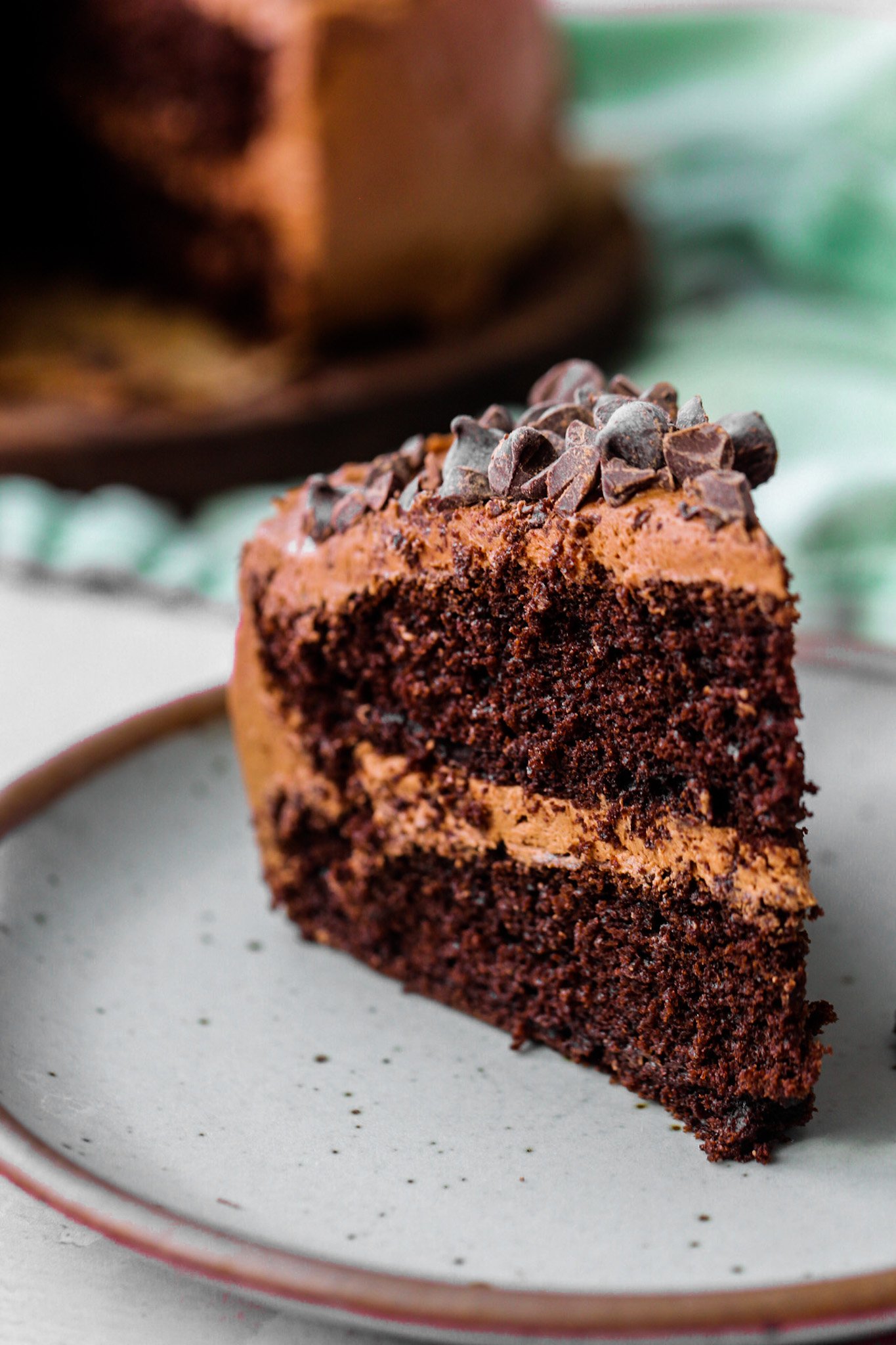 Egg-Free Cake
Usually vegan cakes get really fancy with their egg replacer. Tofu, flax eggs, apple sauce and even mashed sweet potato or bananas can be great egg replacers in cake. But I really love that this wacky chocolate layer cake doesn't even have an egg replacer! It just works.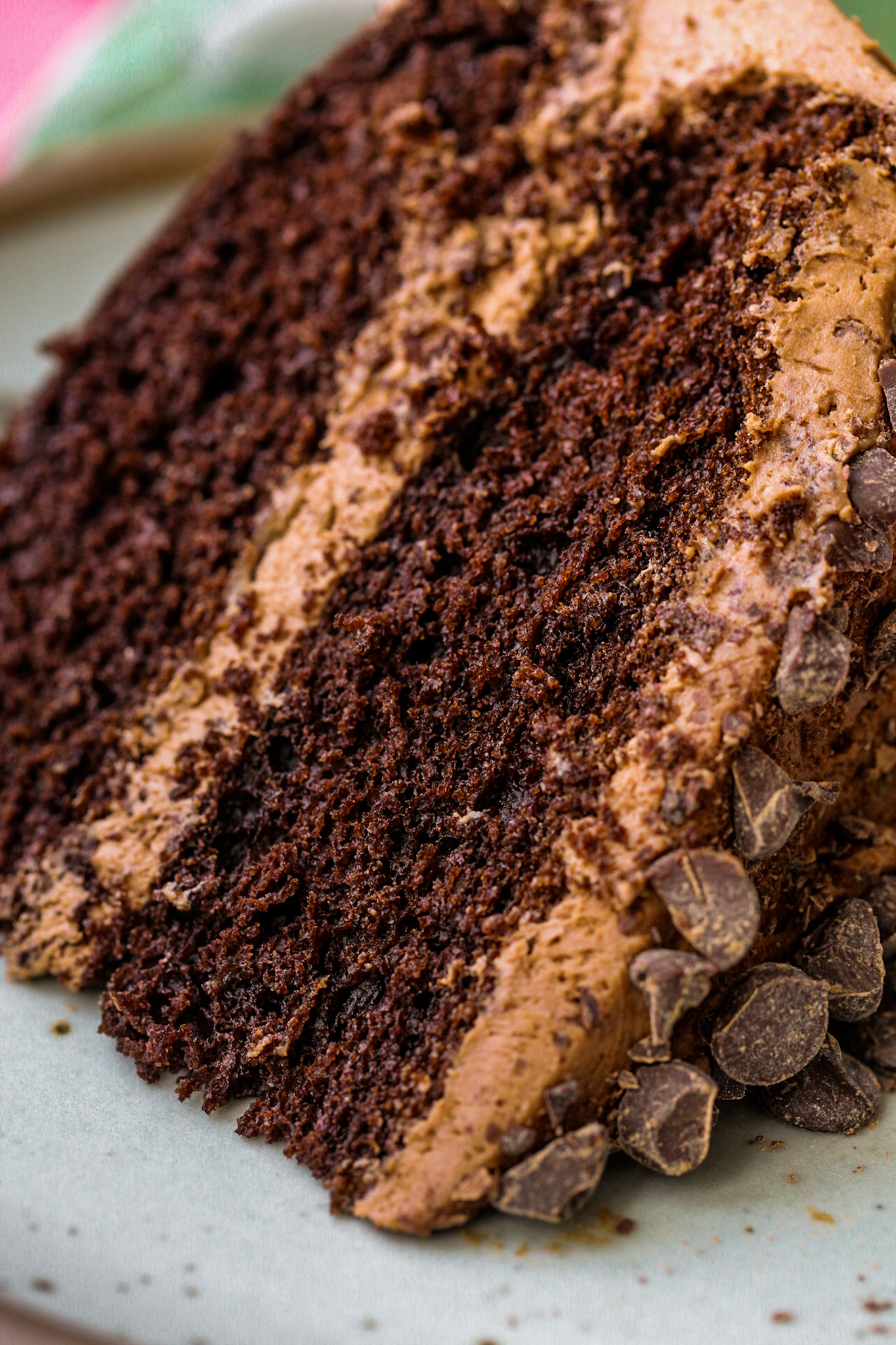 Apologies for the scrolling, but I can't get enough of these chocolate layer cake close-ups. Wish I could stick a fork through my screen any time I wanted.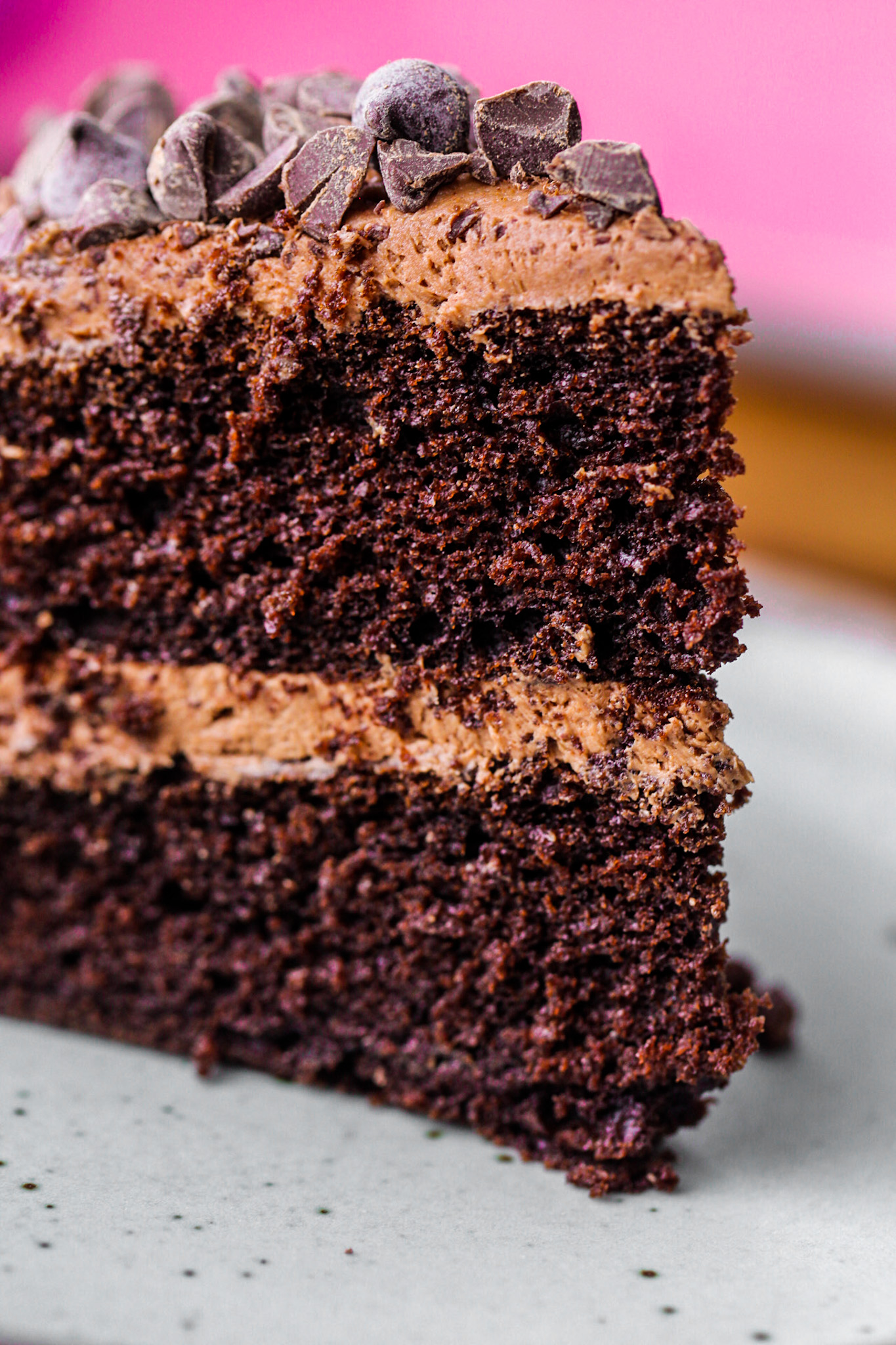 Birthday Cake Approved
Yup, this chocolate layer cake is absolutely special day approved. Birthday, anniversaries, graduations or just any old happy day. You could even turn this cake into chocolate cupcakes! Or just stick a few sparkly candles on top of this and call it a day…..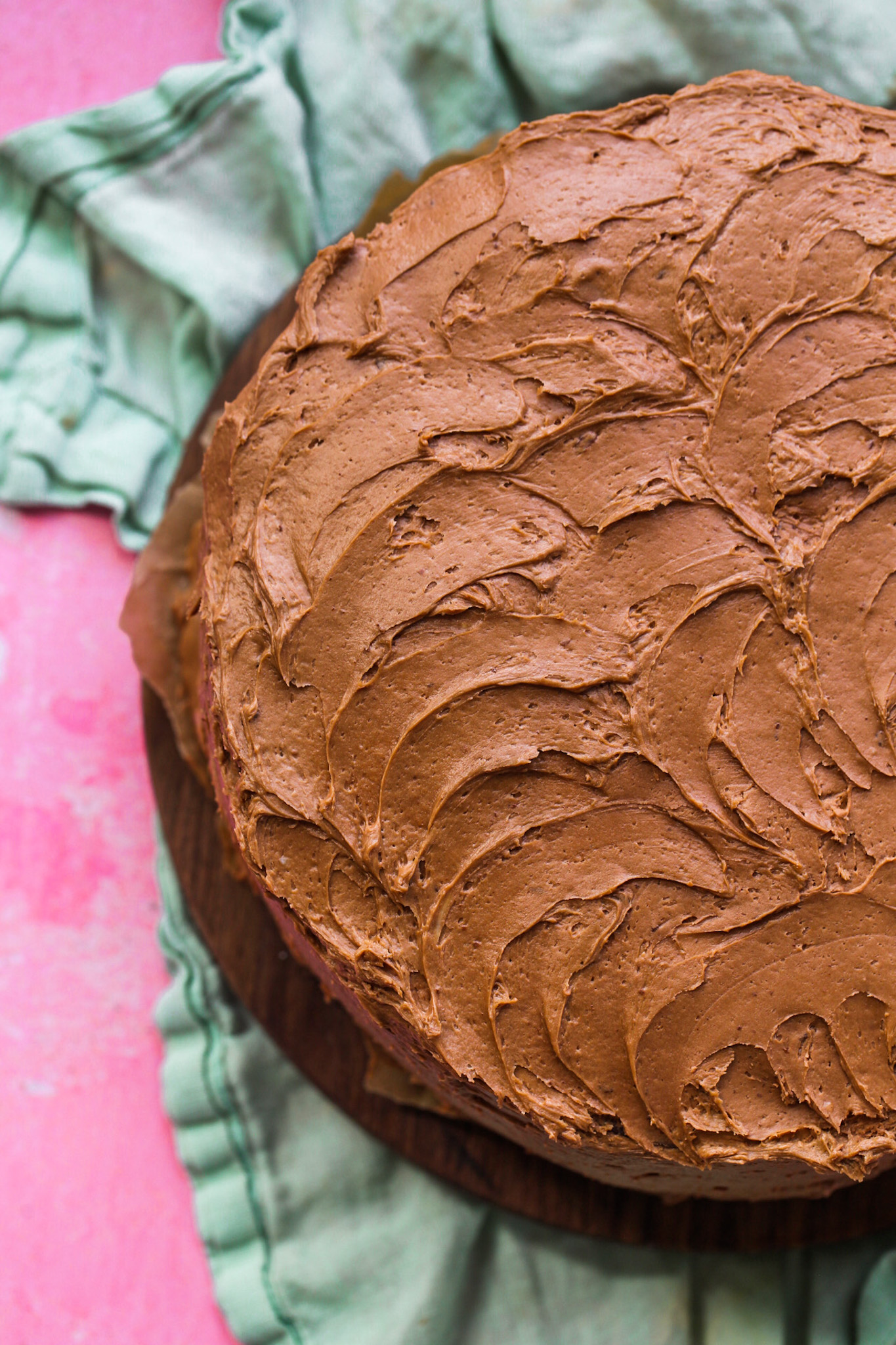 Alright enough pics, let's bake this gorgeous thing!!…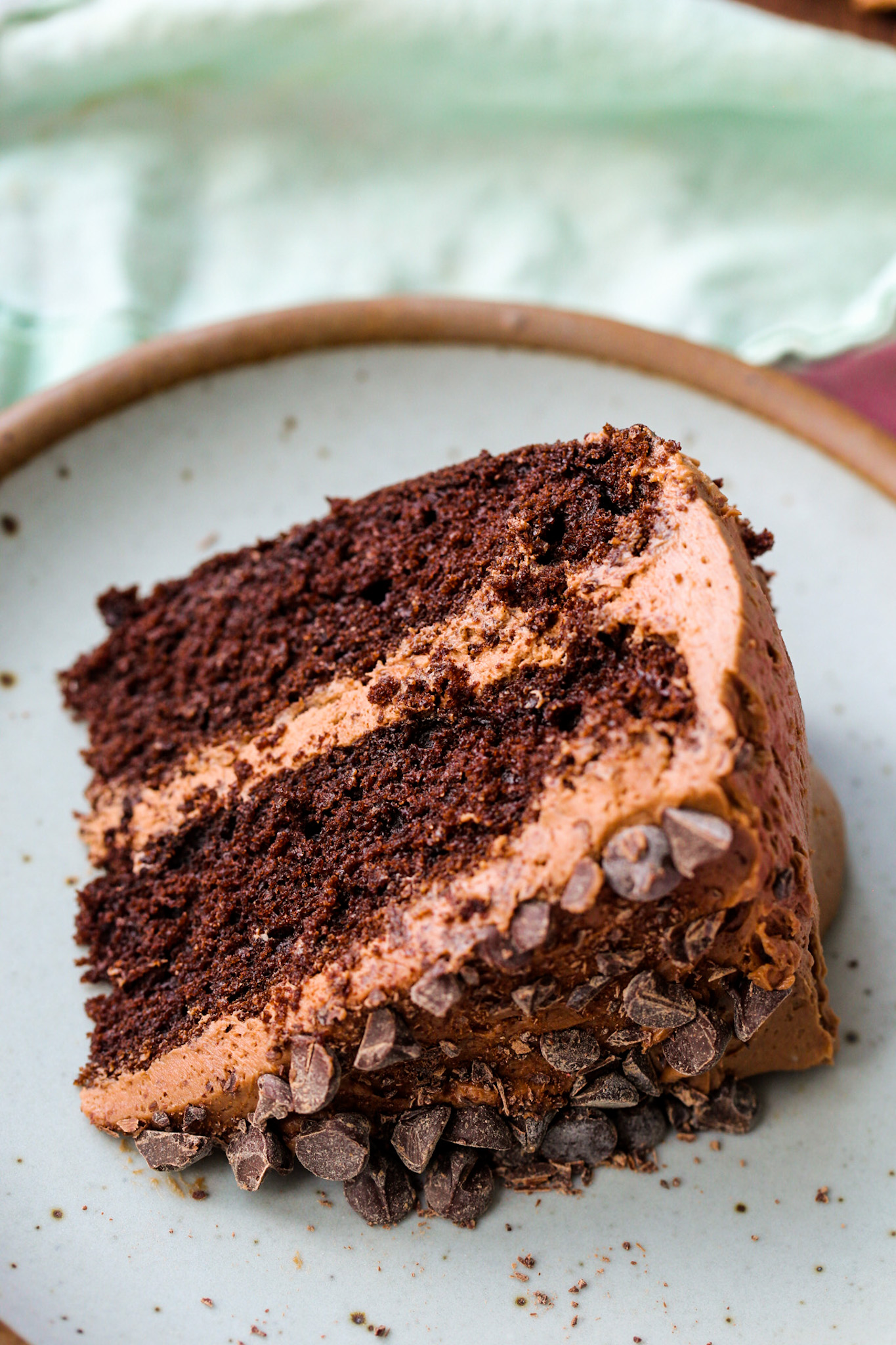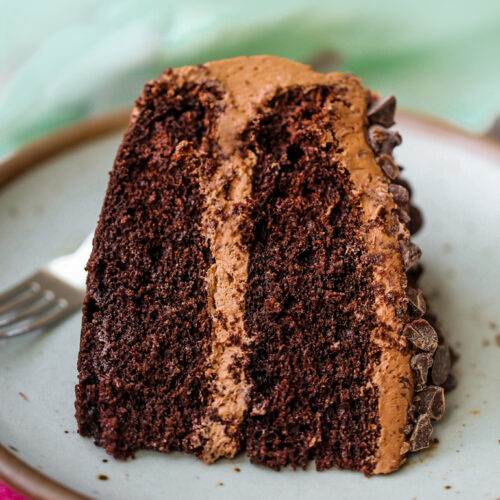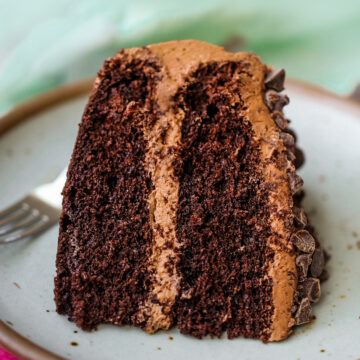 Chocolate Layer Cake
This fluffy chocolate cake it slathered in a whipper chocolate buttercream frosting. Classic cake, gone vegan.
Print
Pin
Ingredients
Chocolate Cake:
1

cup

cocoa powder

,

unsweetened

3

cups

all purpose flour

,

+ 3 tablespoon additional

1 ½

teaspoon

baking soda

1 ½

teaspoon

salt

1 ¾

cups

coconut sugar

2

cups

water

,

room temperature + 3 tablespoon additional

¾

cup

safflower oil

1

Tbsp

vanilla extract

2

tablespoon

apple cider vinegar
Chocolate Frosting:
¾

cup

vegan shortening

1 ¾

cups

vegan butter

,

1 stick + 6 Tbsp

3

cups

powdered sugar

,

sifted — (+ ½ additional if needed)

3-5

tablespoon

soy milk

1

teaspoon

vanilla extract

8

oz

bittersweet baking chocolate

,

melted
Instructions
Preheat oven to 350 degrees and grease and flour two 8 or 9" round cake pans.

In a large mixing bowl, combine the flour, cocoa powder, baking soda, salt and sugar. Stir well to combine.

Add in the oil, water, vinegar and vanilla extract. Using a large whisk or hand mixer, whip until smooth, silky and combined.

Pour the batter into the two pans – divided equally.

Bake cakes at 350 degrees for about 25-30 minutes – or until tops are shiny and firm, and cakes pass a toothpick test.

When cakes are done, cool on the counter until cool enough to handle, then remove from pans and cool completely – usually for 30-60 minutes or more.

When cakes are cool, you can whip up your frosting! Add the vegan butter and shortening to a large mixing bowl. Using a mixer, beat until fluffy and smooth. Tip: Use vegan butter that is slightly warmed – not rock hard, but not melted.

Add in half of the powdered sugar, vanilla and soy milk. Beat again until smooth. Then add in remaining sugar and beat until whipped and fluffy.

Melt the chocolate in the microwave or using a double broiler. Let the chocolate come to room temp before using. This should only take a few minutes. Transfer chocolate to a cool bowl to speed up cooling.

Pour the chocolate into the frosting mixture and whip with a mixture to combine. Keep whipping until smooth and fluffy.

Lay one layer of cake down and slather it in frosting. Smooth out frosting and place second layer over top. Then frost the top and sides of the cake. Serve right away or let sit on the counter up until a half hour. If making ahead of time, cover gently with plastic wrap , parchment or foil and store in the fridge until ready to serve. Tip: Let the frosting warm a bit to room temp before serving for fluffy frosting texture.

Cake will keep in the fridge for a few days, but after that the texture will dry out. For long-term saving, you can freeze leftover sliced of this cake!
Equipment
two 9" round cake pans

whisk

mixer

spatula for frosting
Notes
frosting note: I doubled my usual frosting amount. This is a generously frosted cake! IF you do not want as much frosting – and to save a good chunk of calories –  you could half this frosting recipe.
nutrition estimate | per serving
Calories:
854
kcal
|
Carbohydrates:
101
g
|
Protein:
9
g
|
Fat:
53
g
|
Saturated Fat:
15
g
|
Sodium:
679
mg
|
Potassium:
365
mg
|
Fiber:
8
g
|
Sugar:
54
g
|
Vitamin A:
441
IU
|
Calcium:
46
mg
|
Iron:
7
mg