It's my birthday month! So, cake. Chocolate layer cake.
Vegan Birthday Cake. Birthday month on the brain, I have been craving an epic funfetti cake. I don't like too much chocolate, (I know, I know) and I love an accent of vanilla – so this cake did the trick. Plus, those cheery sprinkles added a mood-lifting vibe.
If you have a special celebration coming up or just need a happy cake to perch on your kitchen counter, give this recipe a try! Plus find out my cake-spiration…
Birthday cake or any day cake.
Vanilla frosting paired with chocolate gives an "Oreo" style flavor.
Cake-spiration.
We have been late to the game watching this show, but I am currently in love with Masterchef Junior! Have you guys seen it? I love the judges and these kids are so incredibly talented they have been inspiring ME to take my recipes to the next level. And one of the judges in the later seasons is Christina Tosi. Who I admit, I had to google to figure out who she was. Then I realized that she was the genius behind the famously popular Milk Bar in NYC, and I knew instantly who she was and was curious to learn more.
I lived in NYC when Milk Bar came onto the scene and everyone in the food blogging world seemed to be talking about it. Not vegan-friendly, but I was still impressed with the fun, girly, creative brand that Milk Bar created!
Recently, I watched the Chef's Table on Christina Tosi. Great watch on Netflix! So one of her most-famous creations is the Milk Bar Birthday Cake. …It's gorgeous and fun and just so HAPPY to look at. I'm guessing it tastes amazing too. I wonder if she has ever had a special request to veganize it. I'm sure she could, she is so talented, but for now, I am happy creating my own rift on funfetti birthday cake goodness.
Today's cake was inspired by Christina, but made my own by using chocolate cake instead of vanilla-funfetti and I frosted all the sides – unlike her cake. I want to experiment with her unfrosted method because it is so pretty. The Chef's Table show shows you how she gets those signature unfrosted sides – and why she leaves her cake that way.
Today's Vegan Birthday Cake is so incredibly delicious. The chocolate cake is light and fluffy and the frosting, rich, yet also fluffy. The cake recipe I used is my Wacky Chocolate Cake – tripled – to have enough batter for three layers.
My vegan buttercream frosting, is made using some vegan shortening. This is for ultra-silky texture and a room temperature-stable consistency.
Brands that I used for this recipe:
Cake Baking Tips:
– Fresh Flour. A brand new bag is a good idea when making a cake as important as a birthday cake!
– Room Temp. Be extra careful about making sure the water, butter, milk and shortening are all at room temp. You do not want that coconut oil clumping up from cold water – or the frosting clumping up from rock hard butter.
– Perfect Your Cake. If you are making this for the first time, before diving into making a full layer cake, I would suggest making this cake via cupcakes! You can follow this recipe here. Once you are happy with your cupcakes, you will be more confident moving into a layer cake.
– Frosting. Frosting is one of those things that comes together quite easily, but technique is pretty important. Getting the butter/shortening mixture nice and soft and smooth from the start is key. Then gently, yet briskly whipping in the sugar. You want things fluffy and light and sometimes you may need an extra splash of milk or extra spoonful or two of sugar, so being flexible is important.
– Flat Cake. My tip is to cool the cakes upside down to press that fluffy rounded part down a bit. A flat cake is sturdier to stack, though my layers were not perfectly flat and we still loved it. If your cake is perfectly flat your frosting will be more evenly layered. You can see in my photos, my frosting is thicker on the ends where the cake rounded in a bit. If your cake has a really puffy top, you can always trim off a bit of cake to make it flat.
– Pro Tools. Highly advised to have when making a layer cake: a frosting paddle, turntable, some sort of large spatula… I bought this 72-piece cake decorating set from Amazon and it has everything in it and more. Pretty good deal for around $22.
– Color it? If you want to color your frosting in addition to or instead of sprinkles, I love this vegan food coloring set.
– Springform Pans. I love my springform pans. I simply pop off the sides and gently wiggle the cake bottom loose, flip and remove the bottom layer of the pan. Cake pan on Amazon.
Cake Toppers? I usually buy my cake toppers from Paper Source, but you can always make your own or check out Etsy. I also looooooove the birthday sparkler candles – like I used on these cupcakes.
Size of Pans? I did three 7″ layers.
Sprinkles. Love the Funfetti Cake flavor? Use Vegan rainbow sprinkles. Chocolate sprinkles or even crushed cookie pieces could also be used!
But Vegan Birthday Cakes Have to Look Perfect, right??
…Oh but wait. My last word of advice when baking a cake for someone you love. (And yes, that could include yourself!)..
It does NOT have to look perfect!
There are so many perfection-filled cakes on the internet these days, Instagram especially, cake baking can become quite intimidating. Well, if you can achieve perfectly smooth sides and equally spread frosting layers and bakery-looking everything – awesome! But if you do not achieve perfection – that's ok too.
My Chocolate Layer Cake here today is far from "Instagram perfect," but I as super proud of it. And it tastes AH-mazing. We all want to improve our skills, but don't let that stop you from diving in in the first place – no matter what your first attempt looks like.
So I hope you can make this Vegan Birthday Cake for someone you love, or yourself! On a birthday, or any day.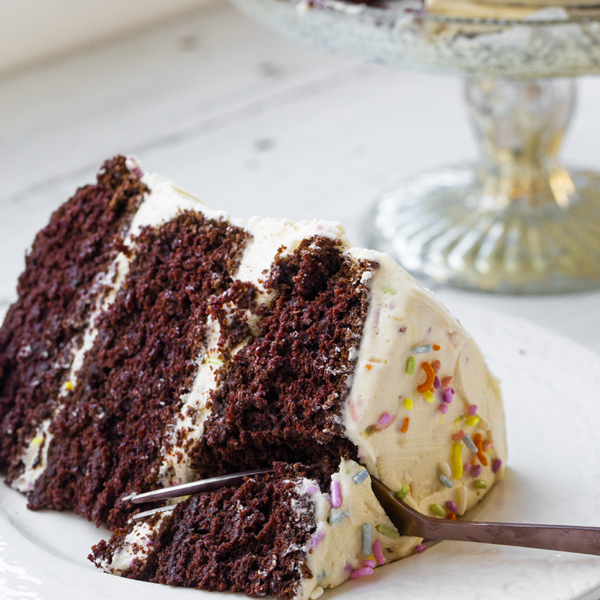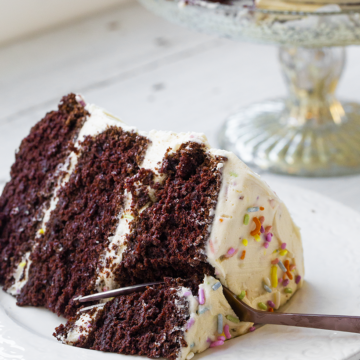 Vegan Birthday Funfetti Cake
This fluffy chocolate cake is paired with a creamy vanilla funfetti frosting. Vegan and whole wheat.
Print
Pin
Ingredients
Chocolate Cake:
¾

cup

cocoa powder

,

unsweetened

3

cups

whole wheat flour

3

tablespoon

whole wheat flour

1 ½

teaspoon

baking soda

1 ½

teaspoon

salt

2

cups

coconut sugar

2

cups

water

,

room temperature

3

tablespoon

water

,

– additional

¾

cup

virgin coconut oil

,

melted

3

teaspoon

vanilla extract

2

tablespoon

apple cider vinegar
Funfetti Frosting:
½

cup

vegan butter

,

– (1 stick), room temperature

⅓

cup

shortening – Nutiva used

,

– room temperature

¼

cup

non-dairy milk

,

higher-fat variety – room temperature

½

teaspoon

vanilla extract

3 ½-4

cups

powdered sugar

,

organic

vegan rainbow sprinkles

,

to taste – India Tree used
Instructions
Preheat oven to 350 degrees. Grease three, seven-inch round cake pans with a bit of coconut oil.

To a large mixing bowl add: cocoa powder, flour, baking soda, salt and coconut sugar. Stir well to combine.

Scoop two wells in the flour. In one well, add the vanilla extract. In the other well, add the vinegar. Next, pour in the water and oil. Briskly whisk by hand or beat on low with a mixer, until combined and fluffy. Do not over-beat.

Pour the batter into the three greased pans, dividing it evenly between them.

Bake the cakes at 350 degrees for 25 minutes or until fluffy and cooked through. Remove from the oven and cool for at least twenty minutes before turning upside down onto a cooling rack for the remainder of the cooling process. Tip: Placing then puffy side down when cooling helps to flatten the cakes a bit to make frosting easier.

Flash-Forward method: Instead of cooling at room temp for hours, place the cakes in the fridge – they should chill completely in about 30-60 minutes.

Just before you are ready to frost your cooled cakes, whip up your frosting. Add the shortening and vegan butter to a medium mixing bowl Whip with a beater for a minute to smooth things together. Add in the vanilla and non-dairy milk and whip to create a smooth and creamy butter mixture. Now ¾ cup at a time, beat in the powdered sugar until everything is combined and you have a fluffy, silky, rich frosting – ready to spread! Fold in the rainbow sprinkles.

Frost your cakes. Place your first layer on a cake turntable and frost the top. Place the second cake on top of that and frost. Then finally your third cake layer on top and frost the top of that. Then smooth our the sides with the remaining frosting. Tip: Do not over-fill the center layers so you do not run out of frosting. Also: If you like A LOT of frosting, you may want to make another HALF batch of the frosting recipe. But the amount I had was just enough for my cake.

Serve same day. You can store this cake at room temp for a few hours, but any longer and you will want to place it in the fridge.
nutrition estimate | per serving
Calories:
663
kcal
|
Carbohydrates:
95
g
|
Protein:
6
g
|
Fat:
32
g
|
Saturated Fat:
18
g
|
Sodium:
658
mg
|
Potassium:
245
mg
|
Fiber:
6
g
|
Sugar:
57
g
|
Vitamin A:
455
IU
|
Vitamin C:
1
mg
|
Calcium:
30
mg
|
Iron:
2
mg
Vegan Birthday Cake. Pin it for later..
ps. And if you want to get me a "birthday gift," sharing this post with a friend or on social media – or pinning it on Pinterest would mean so much to me! I am so proud of this cake, and hope as many people as possible can see and try it!