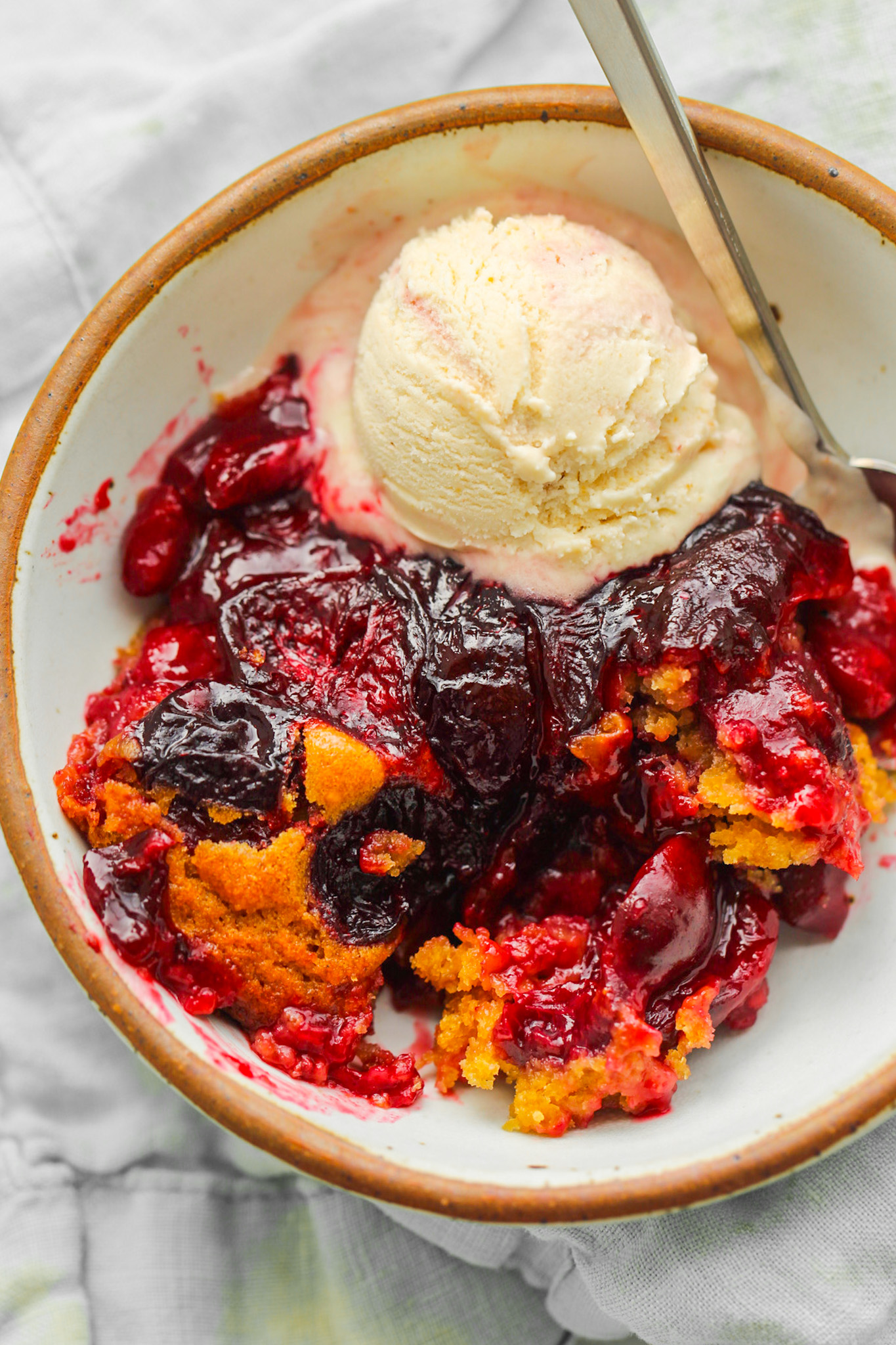 I have been buying a lot of cherries this summer and eating them by the bowl-ful. But I also wanted to make something sweet and lovely using fresh summer cherries, so this Fresh Cherry Cobbler it was!
Make it extra amazing by serving warm with your fave vegan ice cream…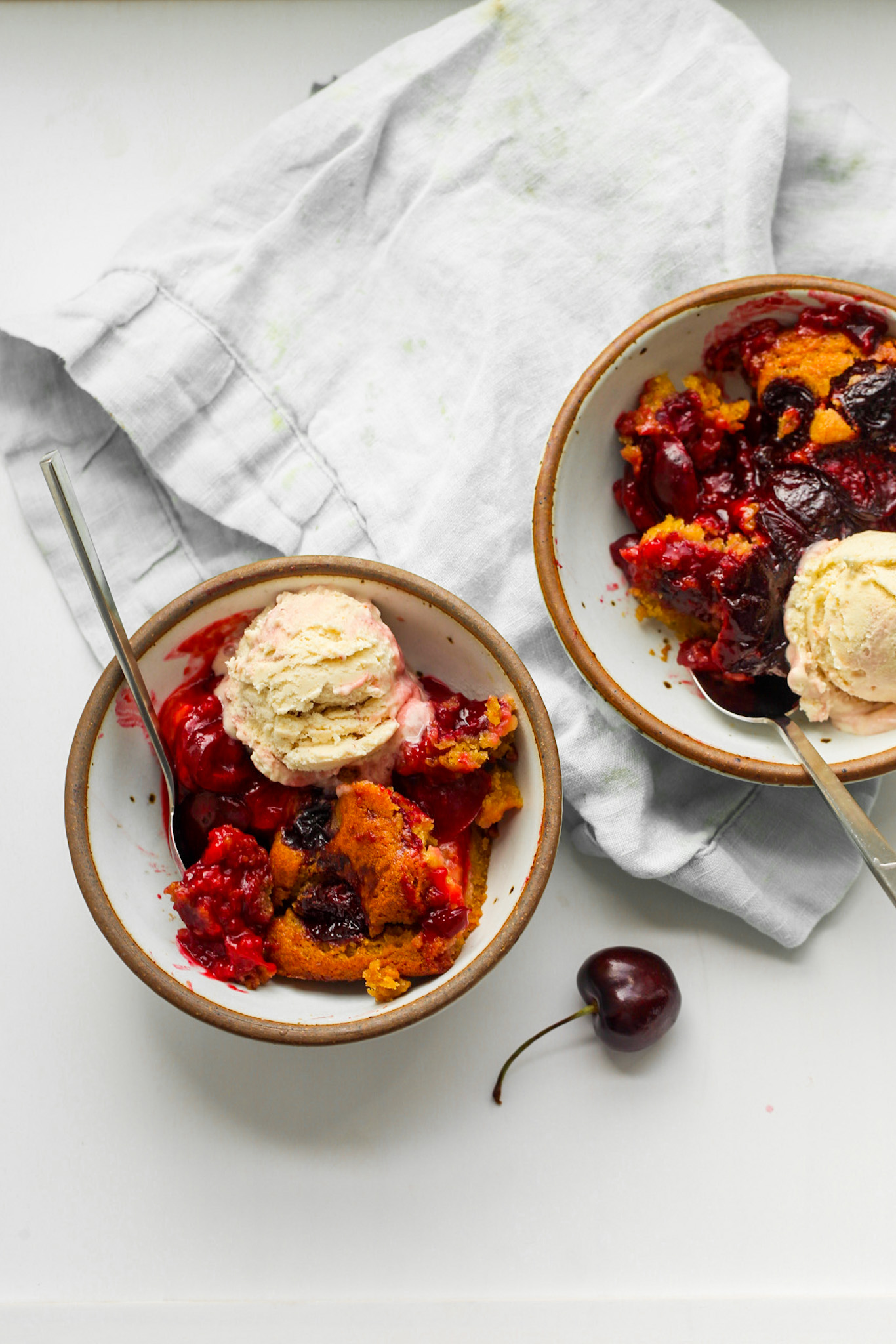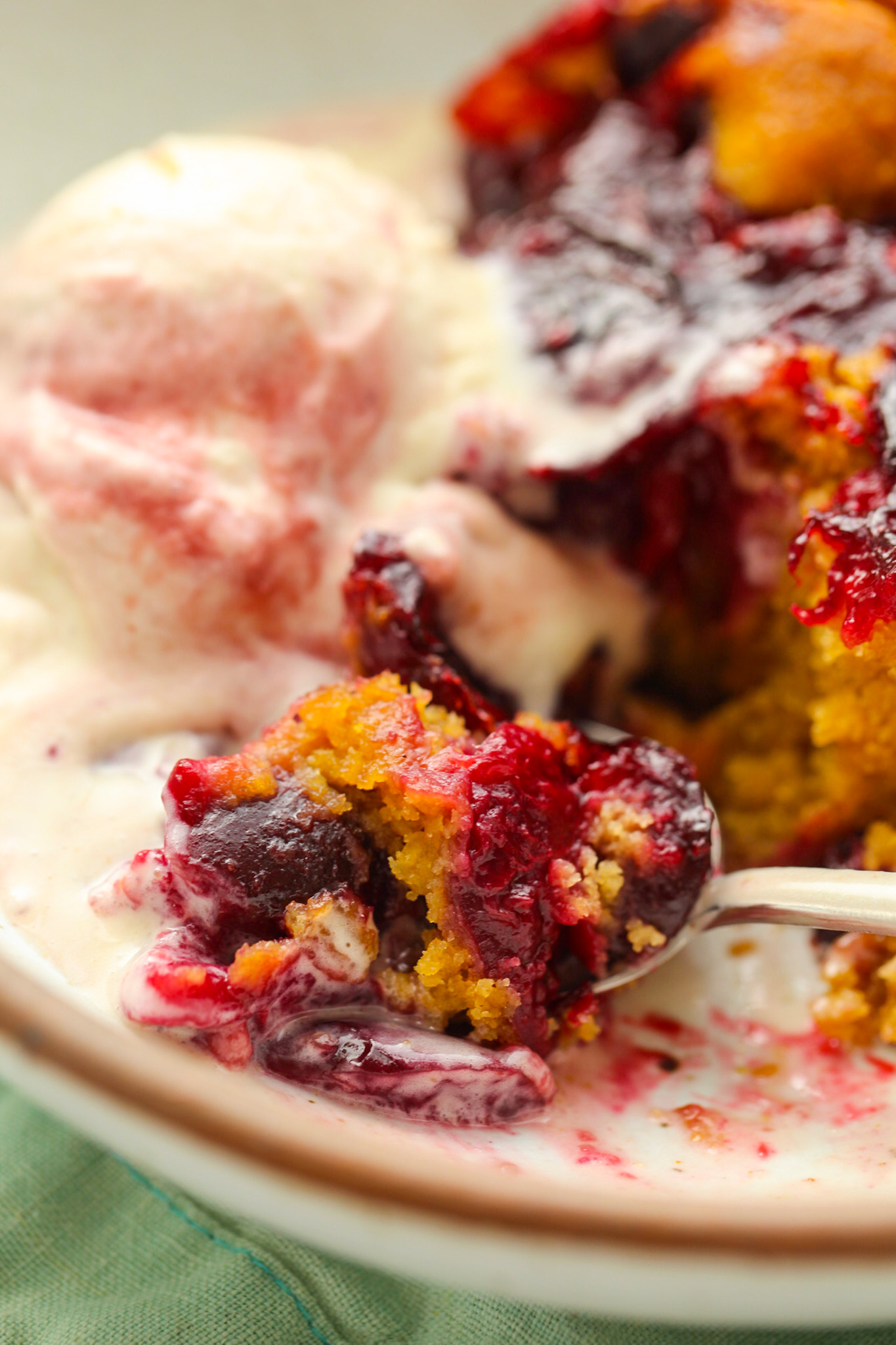 Cobble Me this
This fluffy, cake-y cobbler is studded with deep red cherry pie filling. It's the perfect mix of buttery, fluffy cake and sweet, sticky cherries. To make it even more amazing, serve it warm, with a scoop of vanilla bean ice cream. I actually only had some peanut butter ice cream on hand and it was beyond yummy too!
But Really, What is a Cobbler?
"Cobbler refers to a variety of dishes consisting of a fruit filling, covered with a batter, biscuit or pie crust that is then baked." – source
Basically, you take a pie-like fruit filling and combine it with a rustic cake, biscuit or crust and you have a cobbler. Bakers love cobblers because they are less detailed than say a cherry pie, and there is a lot of room for imperfections with a rustic cobbler! This is a dessert that is hard to mess up!
Cobbler History
Fun fact for ya, May 17th is National Cherry Cobbler Day! Here is how they came to be…
"Cobblers originated in the early British American colonies. Due to the lack of suitable ingredients and proper cooking equipment, English settlers were unable to make their traditional suet puddings. They improvised by covering a stewed filling with a layer of uncooked biscuits or dumplings."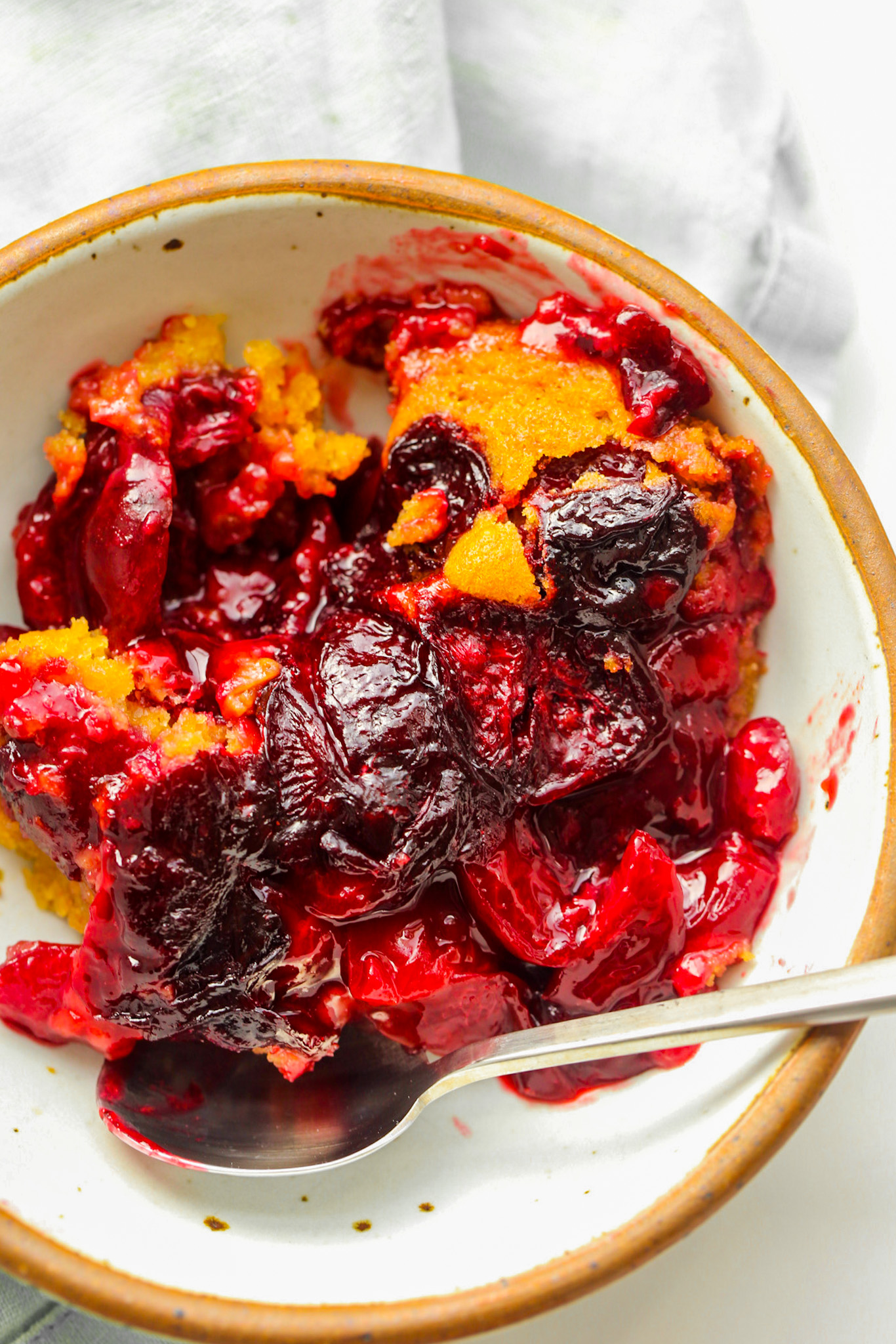 Why Cherries?
You can actually make this Fresh Cherry Cobbler recipe using other fruit. Strawberries, peaches, blueberries or blackberries! But I love cherries so much because they have that unique, naturally sweet-tart punch and that gorgeous color.
Cherries are loaded with nutrients and fiber! Eating more cherries is a great idea.
How to Make it Vegan
This is a vegan Fresh Cherry Cobbler and it was super simple to veganize. Instead of eggs, I used JUST Egg. But a silken tofu mixture would also work as an egg sub. And vegan versions of butter and milk and super easy.
I was really happy with the lift and bounce of the cake part of my cobbler!
While some cobblers like to do a more biscuit-y, dry and buttery filling, my non-fruit part of this recipe is less "biscuity" and more like cake.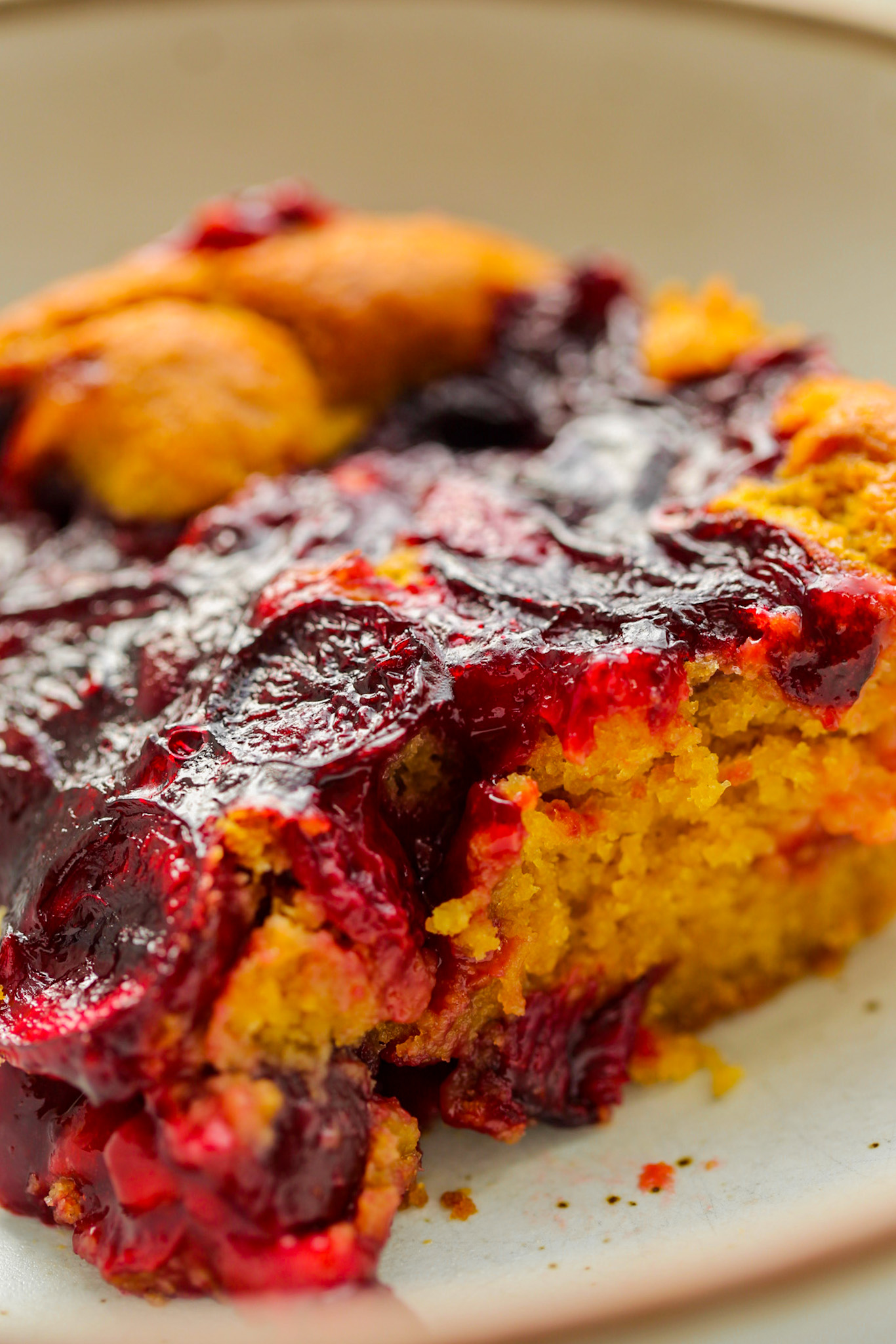 Summer Dessert
This is the perfect summer dessert to make when fresh cherries are in season! It is a special treat that you simply cannot have year round – in the same way.
Can You Use Frozen Cherries?
Yes, you could use frozen cherries as a sub, but trust me, Fresh Cherry Cobbler is something special!
Make ahead?
You can make this dessert ahead of time and warm to serve the next day or two. But ideally, you will make it the same day you serve it and serve warm from the oven. That is how you get the fluffiest filling. This cobbler will dry out and 'wilt' slightly in the fridge. Still delicious, but not that scoop of fluff bliss I so love about cobbler recipes.
Cherry Pitter?
Want to speed up your prep time and help stop those red-stained cherry hands? USe a cherry pitter! You can even wear kitchen gloves if the red stains really bother you. But yes, cherries have those gorgeous rich red pigments – loaded with antioxidants – so this could get messy.
You can snag a cherry pitter on Amazon. There are a bunch of options to try!
More Cherry Desserts
Looking for more of my fave cherry desserts? Check these out!..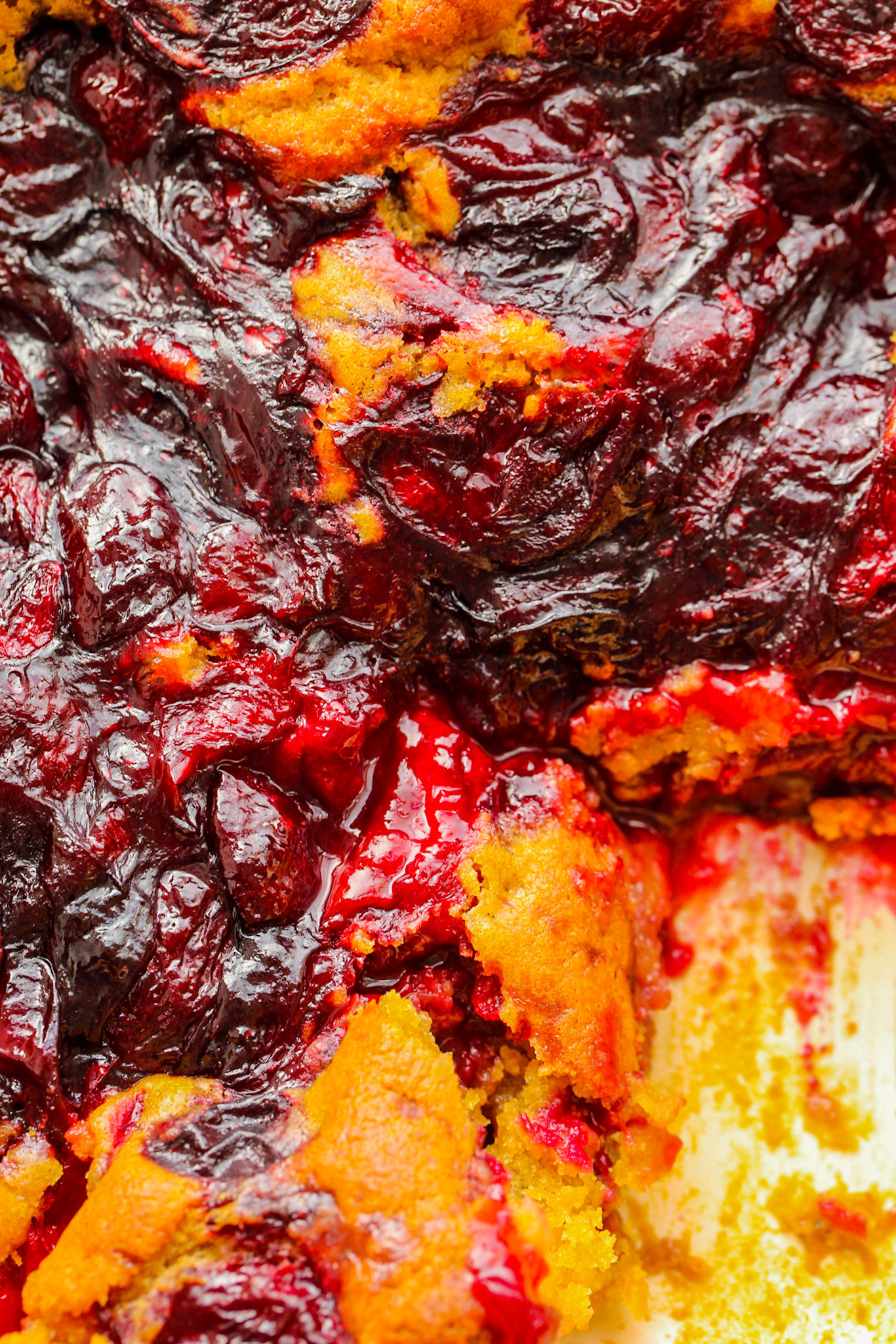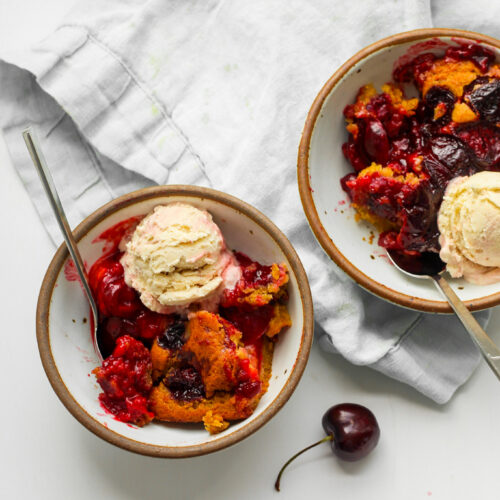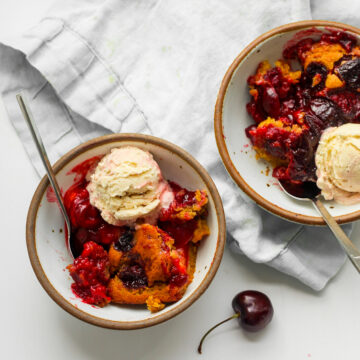 Fresh Cherry Cobbler
Fluffy cake and sticky-sweet cherry pie filling create this rustic, classic dessert – gone vegan!
Print
Pin
Ingredients
Cake:
1

cup

all-purpose flour

1

tablespoon

baking powder

⅛

teaspoon

salt

⅔

cup

coconut or cane sugar

⅓

cup

vegan egg replacer

,

JUST Egg or silken tofu pureed

⅔

cup

soy milk

½

cup

vegan butter

,

melted
Cherry Mixture:
4

cups

fresh cherries

,

pitted

1

tablespoon

corn starch

¼

cup

lemon juice

¼

cup

coconut or cane sugar

⅛

teaspoon

salt
Instructions
Pit your cherries. This will take you a while if you do not have a cherry pitter. A knife can be used, but a cherry pitter speeds things up!

Grease your baking dish with vegan butter or vegetable oil. Set aside. Preheat oven to 375 degrees.

Cherries: In a large soup pot on the stove, add the cherries, starch, lemon, sugar and salt. Stir to dissolve the sugar and starch. Turn heat on to medium. Bring the cherries to a bubble and close pot with lid. Reduce heat to low. Allow the cherries to cook and thicken into a pie-filling like mixture for a good 5-7 minutes. Stir every few minutes to mash the cherry juices a bit. When mixture has thickened a bit and juices reduced, turn heat off. Cover with lid and set aside.

Cake: In a large mixing bowl, combine the melted vegan butter, soy milk, sugar, vegan egg substitute and salt. Whisk or beat to combine. The add on the flour and baking powder. Whisk or mix until combined and fluffy.

Pour the cake batter into your baking dish. Then top with the cherry mixture. Pour over top. Some of the cherries will stay on top and some will sink down as it bakes.

Bake cobbler at 375 degrees for 35-45 minutes.

Pull cobbler from the oven and let cool in pan for ten minutes before scooping and serving. Serve with vegan ice cream for the yummiest dessert combo!
Equipment
cherry pitter or substitute

mixing bowl

whisk or mixer

8-9" baking dish

soup pot with lid
nutrition estimate | per serving
Calories:
258
kcal
|
Carbohydrates:
44
g
|
Protein:
3
g
|
Fat:
9
g
|
Saturated Fat:
2
g
|
Sodium:
202
mg
|
Potassium:
330
mg
|
Fiber:
2
g
|
Sugar:
24
g
|
Vitamin A:
556
IU
|
Vitamin C:
7
mg
|
Calcium:
93
mg
|
Iron:
1
mg