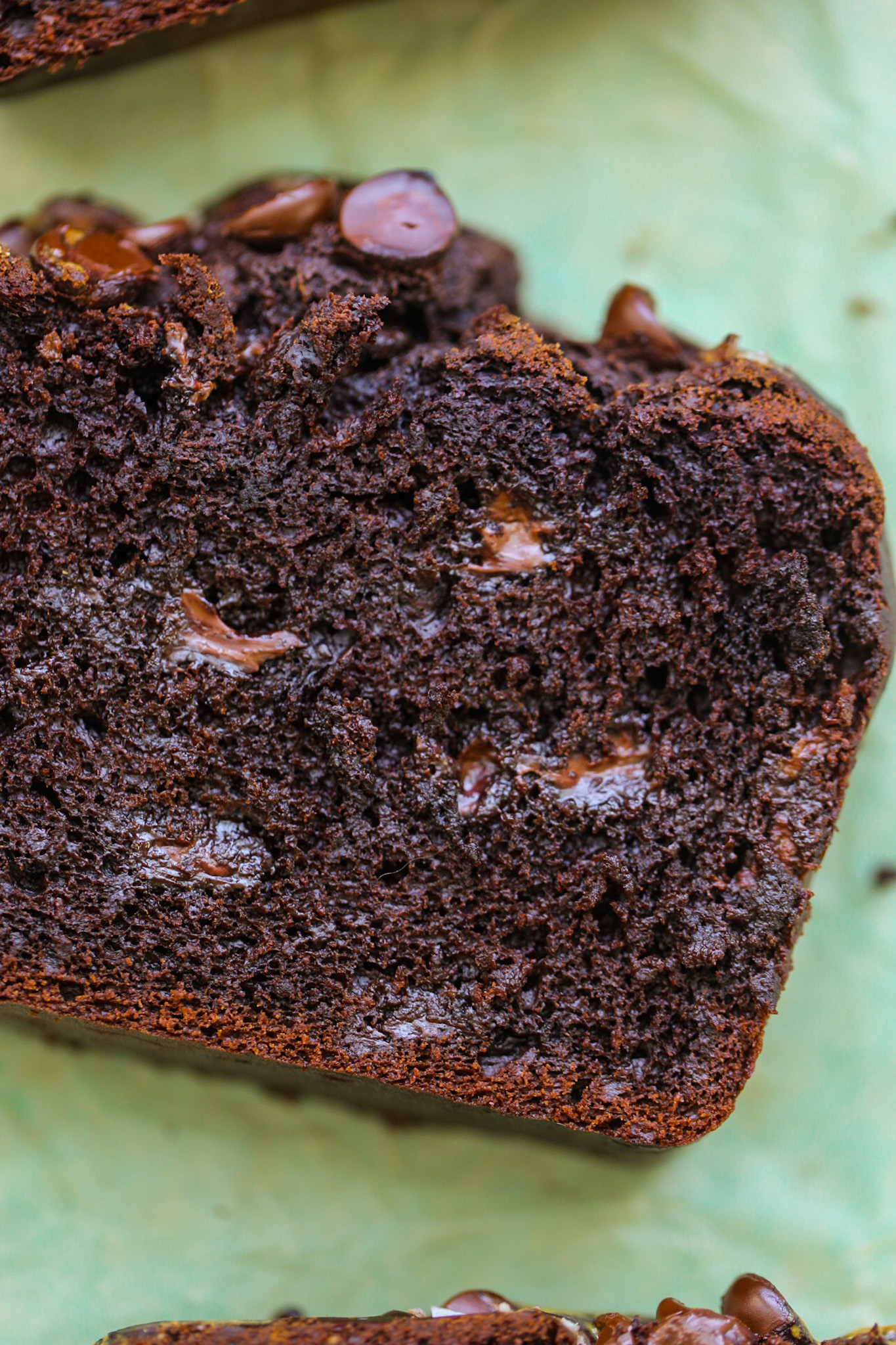 Today I am sharing my recipe for this Double Chocolate Chip Loaf, vegan, totally fluffy and spongy, studded with melty chocolate chips.
I was craving a chocolate muffin, but decided to go with a chocolate loaf instead, and so glad I did! This beautiful chocolate loaf bakes up like a dream and while definitely has a chocolate cake flavor, isn't overly sweet. Pairs so well with coffee, tea or even a strawberry banana smoothie — which is what I just ate mine with. Strawberry + chocolate flavors for the win….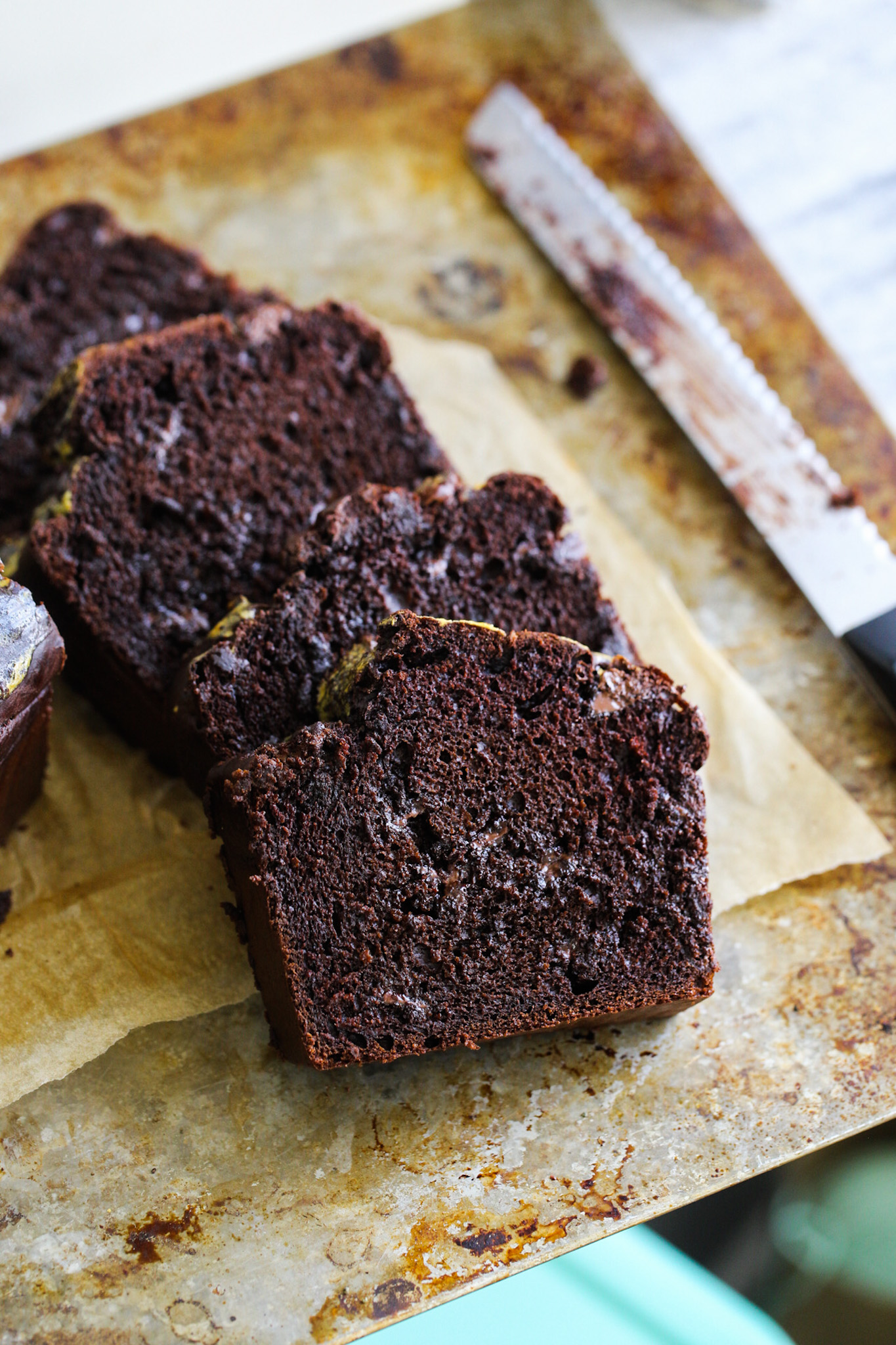 Vegan Chocolate Loaf
This Double Chocolate Chip Loaf also slices very well and can easily be stored in the fridge – pre-sliced – for a few days and warmed up on demand. For longer storage, simply freeze your slices. I popped my chilled slice in the microwave for twenty seconds and it was perfect.
Egg Replacers for Vegan Baking
For this loaf, I used JUST Egg, which has been my go-to lately for baking cookies and cakes and treats like this. But as always, I like to give other options! Here are a few…
flax eggs
silken tofu, pureed
mashed banana
apple sauce
powdered egg replacers
chickpeas! (pureed with wet ingredients)
…while I have not tested this specific recipe with those options, I have made muffins and loaf breads with all of the above with success.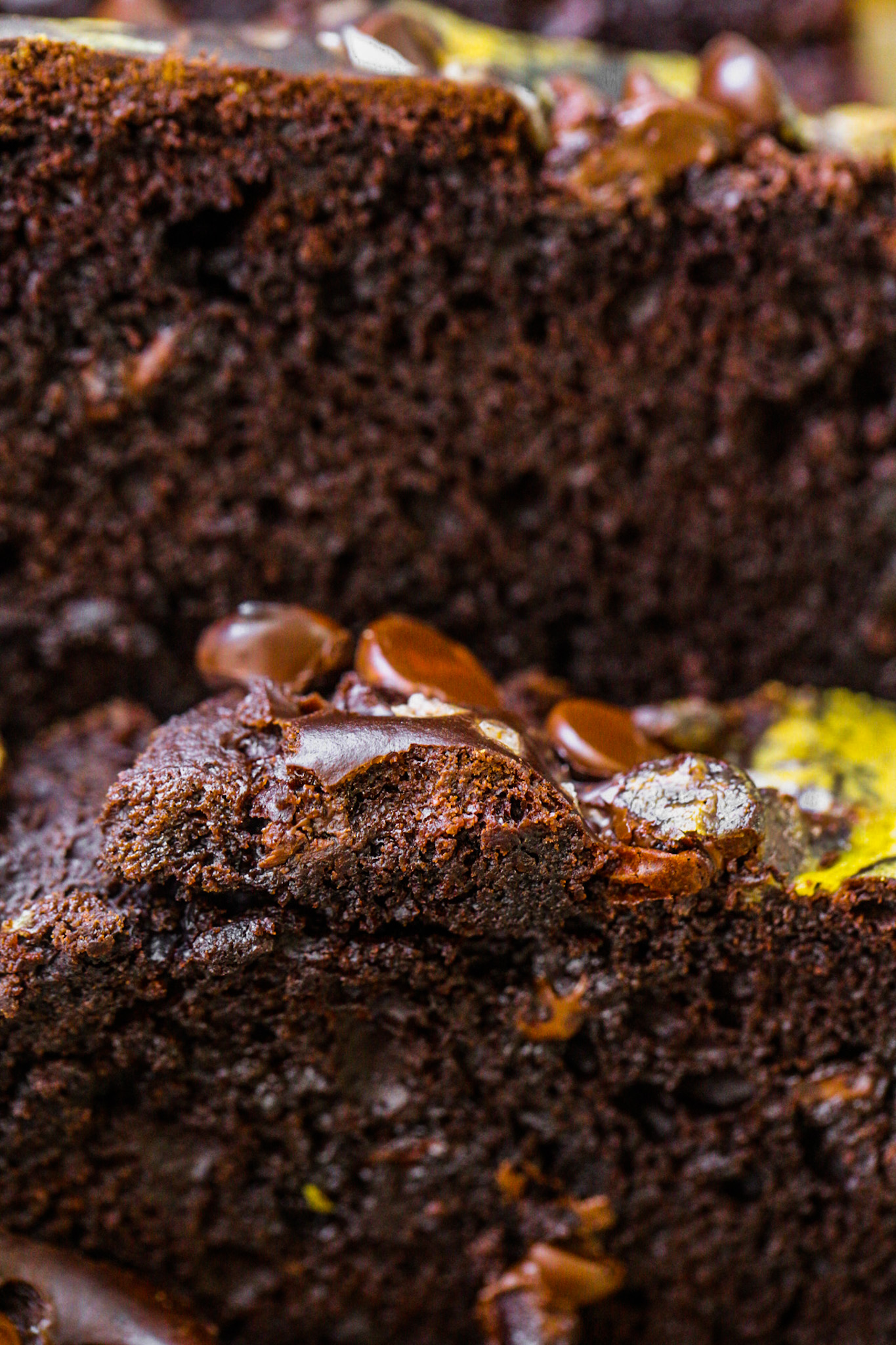 This Double Chocolate Chip Loaf pairs very well with fresh strawberries!..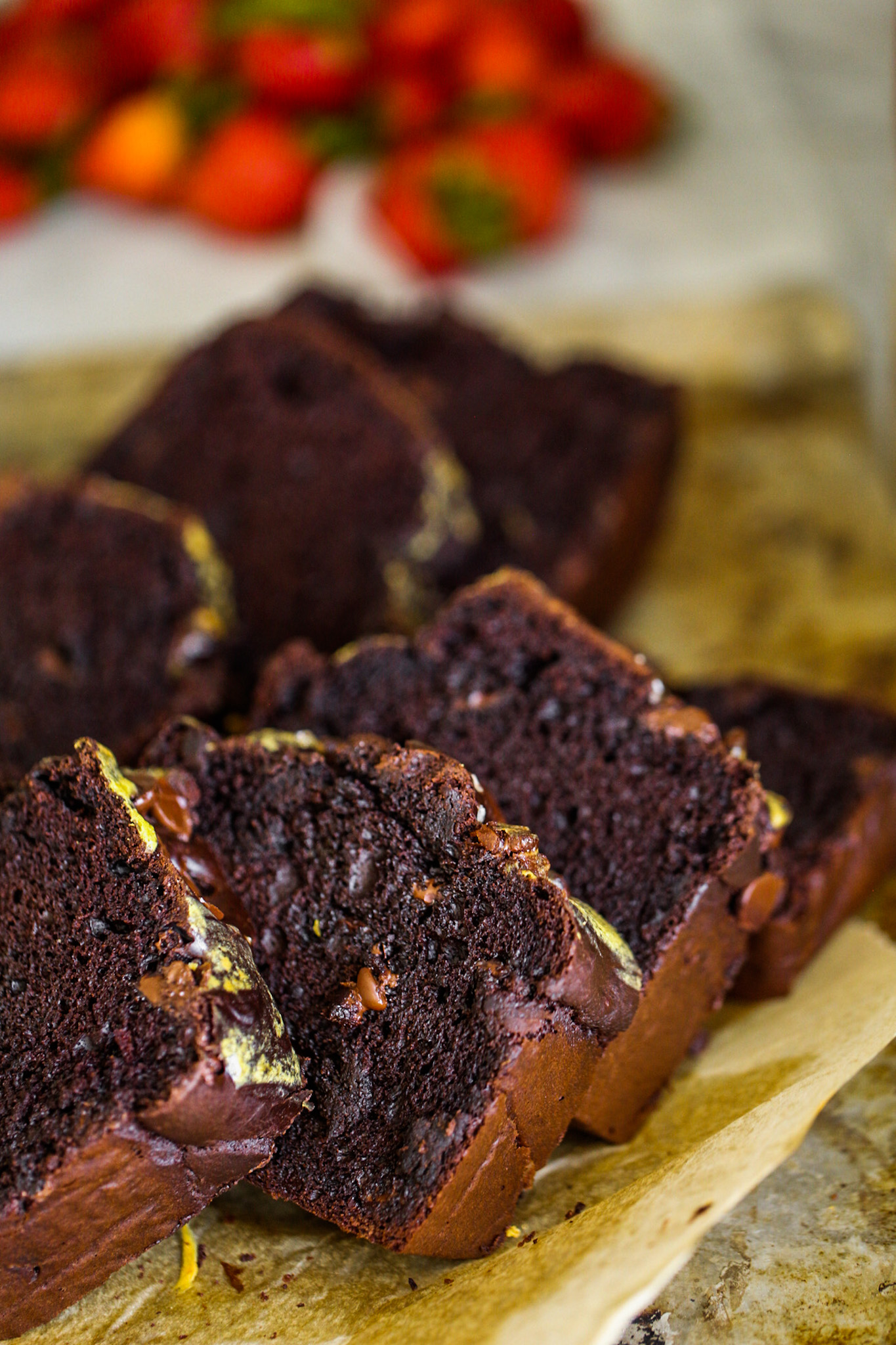 Serving Suggestions:
And yup, oh my goodness would a warm slice of this be yummy with a scoop of vanilla ice cream or even crumbled over top banana ice cream of some sort.
Add it over top a vegan chocolate shake for the yummiest snack ever!
Chocolate Snack Loaf
I'm sitting here in my cozy Beyond Skin onesie and my favorite little chocolate loaf (my black kitty MrWhite) sitting on my lap. I'm nibbling this bread and it's making me so happy. It's satisfying my chocolate craving without being too sweet or overbearing in richness. Those gooey chocolate chips are everything!
Chocolate Chips
Definitely don't skimp on your chocolate chips. We love the Guittard brand for baking. These semi-sweets (on Amazon and Whole Foods has them too) are my go-to chocolate chip for my pantry. I love Guittard because they have a rich and gorgeous cocoa flavor and are not make with milkfat or any dairy – or GMO ingredients.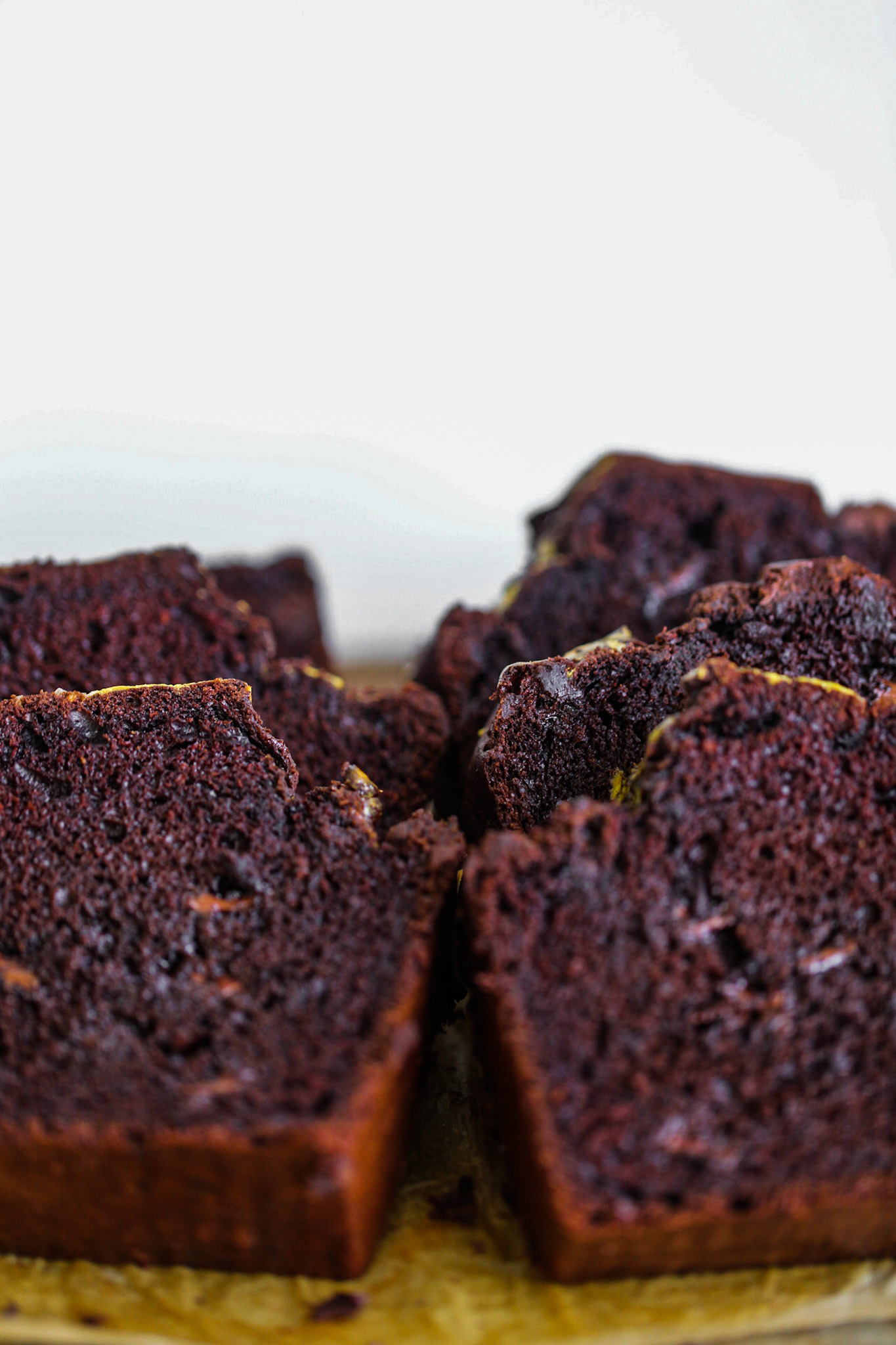 My Happy Weekend…
It's all about tiny adventures right now, guys…
Yesterday we drove up the coast to Malibu. Got out for two minutes on the side of the road. Ocean air. Sun sparkles. Back in. Drove home. It was perfect.
We got home and both plopped on the couch agreeing that it felt like we spent a day at the beach. Yup, a little ocean air is magic.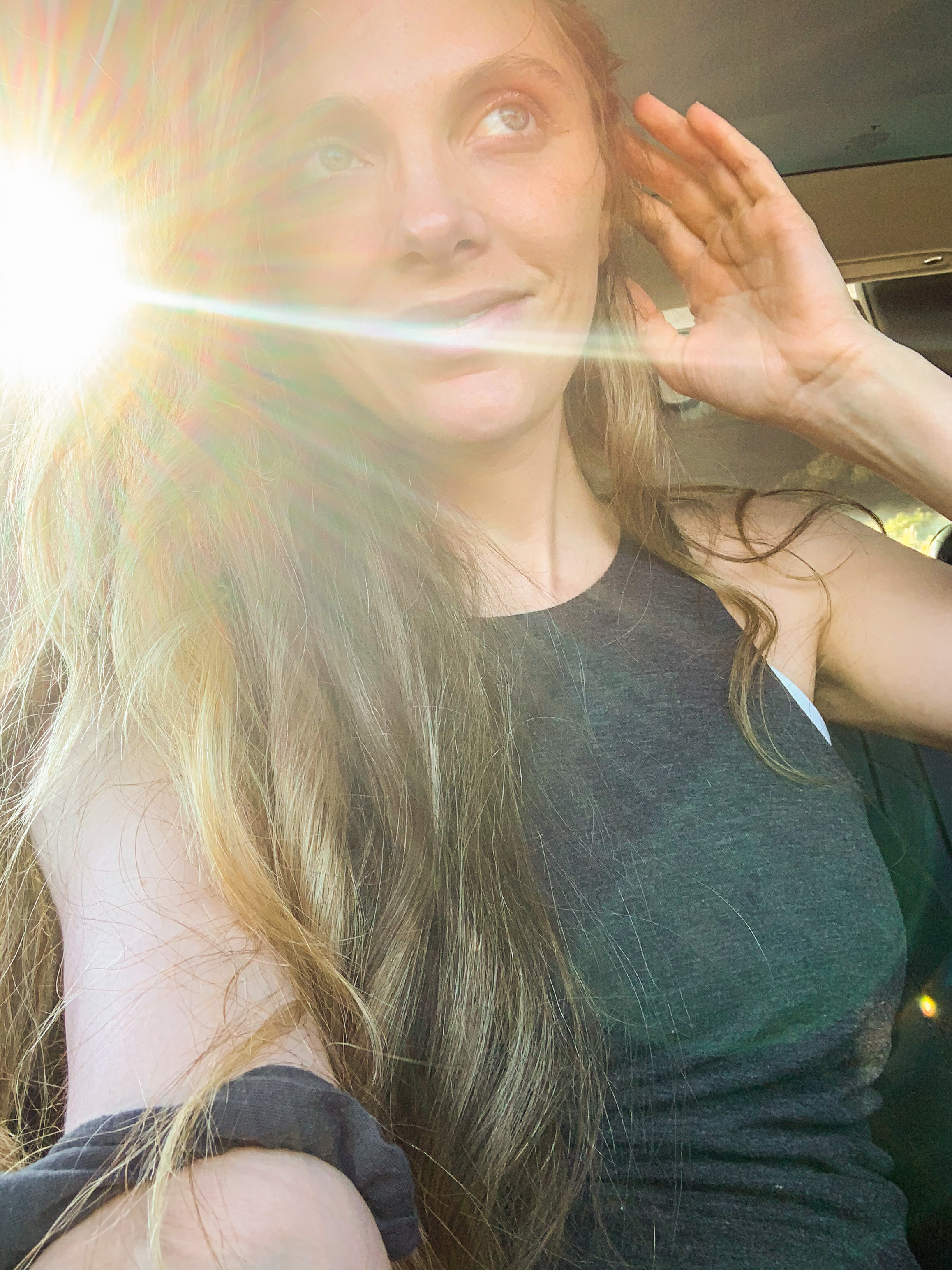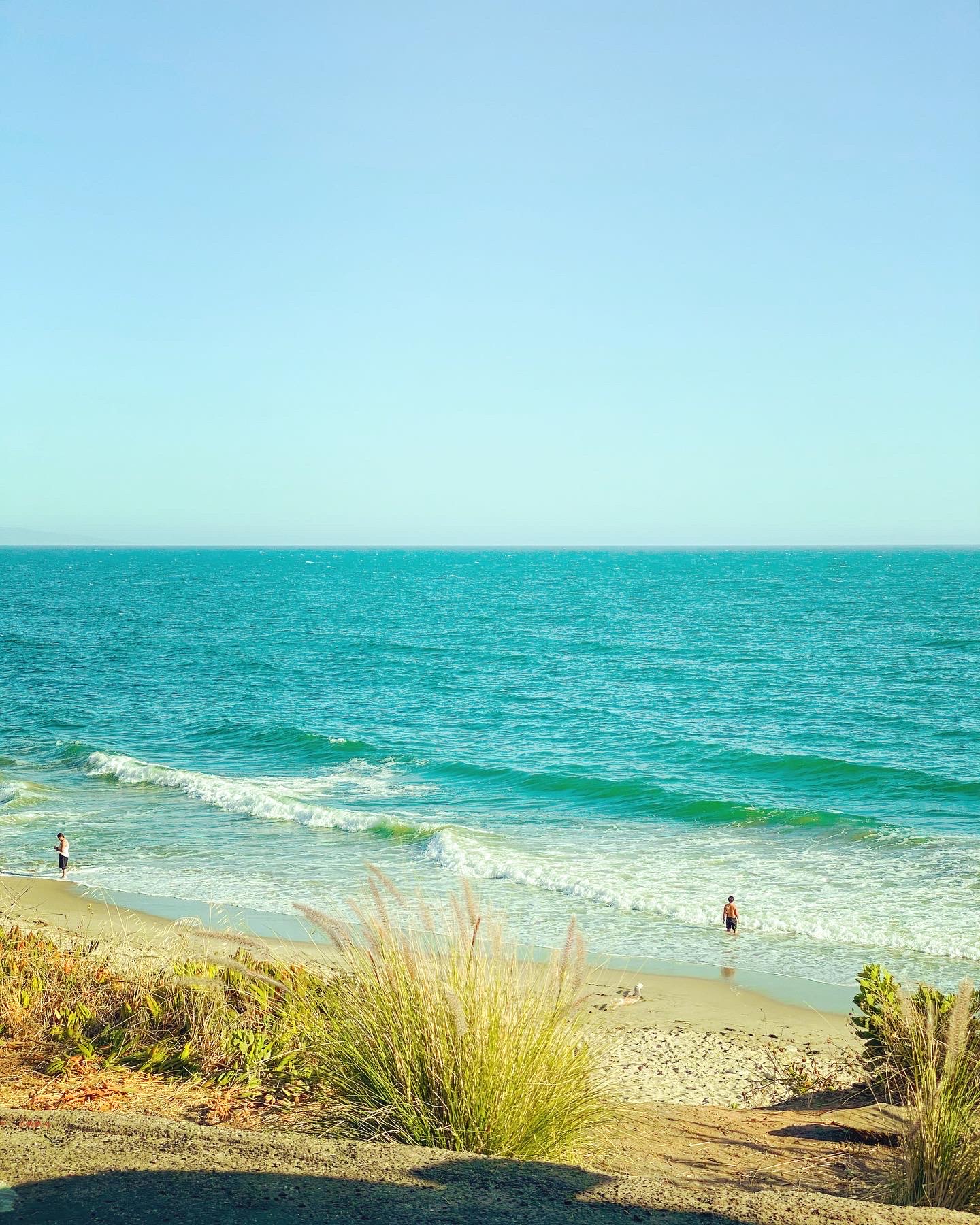 I haven't had ANY photos outside without a mask on, so I slipped mine off for those two minutes outside – don't worry the side of the road in Malibu means we were a foot from our car and no one was near us. So glad I got a few shots like this to remember this time.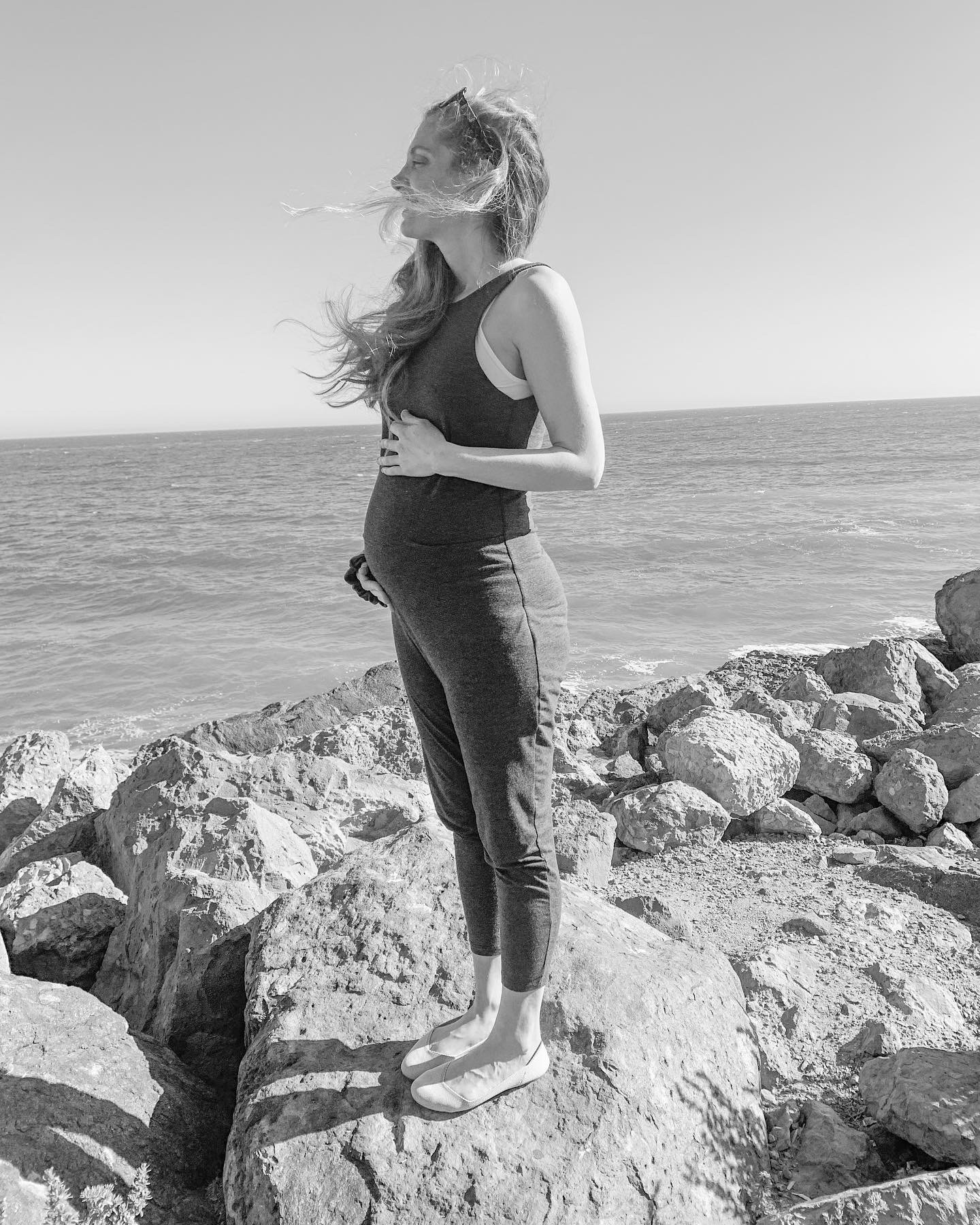 Flour for Vegan Loaf?
I actually used bread flour for this recipe, though I usually use all purpose flour for recipes like since it's easier for most people to find.
When you use bread flour in recipes like this, you get a slightly sturdier bread. Which I personally always like for vegan baking! If this was an actual chocolate cake, I would recommend using bread flour, but for this loaf I love it.
If you are curious about the differences between bread flour and all purpose flour, this post from Bob's Red Mill is helpful. But overall, bread flour has a higher protein and gluten content making it sturdier and has the ability to be chewier and even fluffier when paired with yeast.
I actually really love bread flour for vegan baking because when you are not using eggs, a bit of extra structure is a good idea!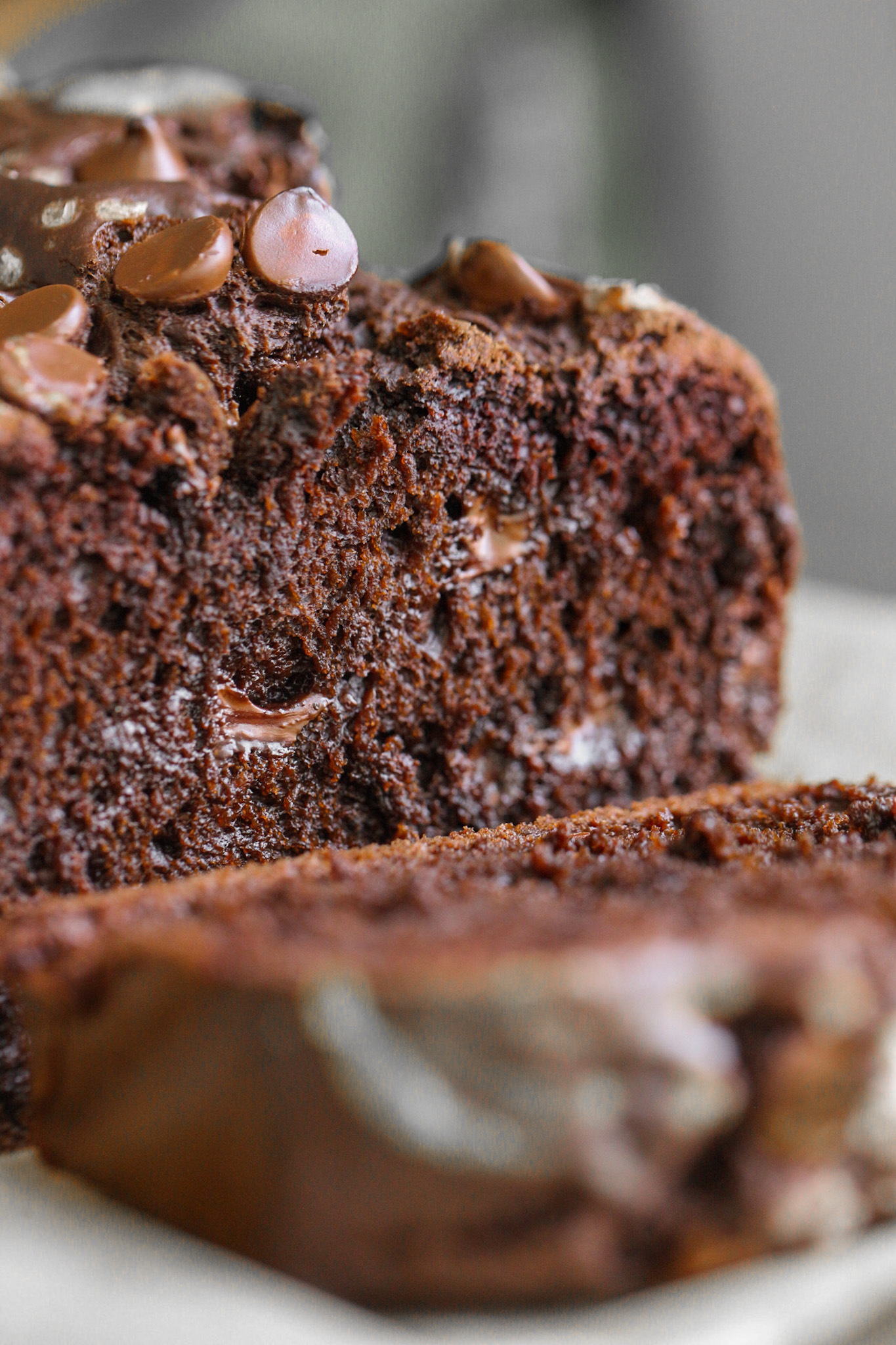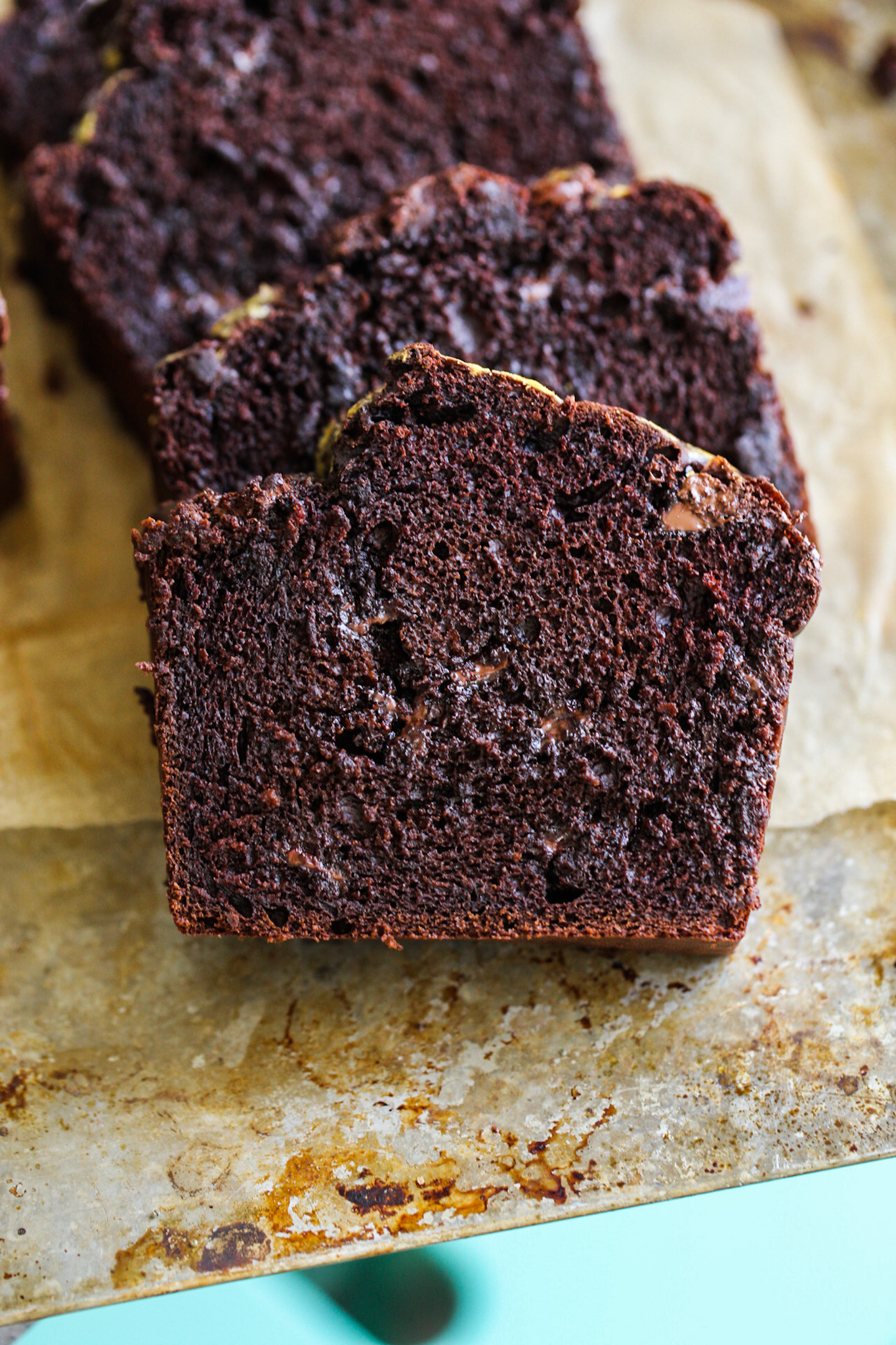 This Loaf…
Wait, what's the yellow stuff on top? Probably a question you are asking if looking at the photos closely. Well it was my experiment/ mistake, lol.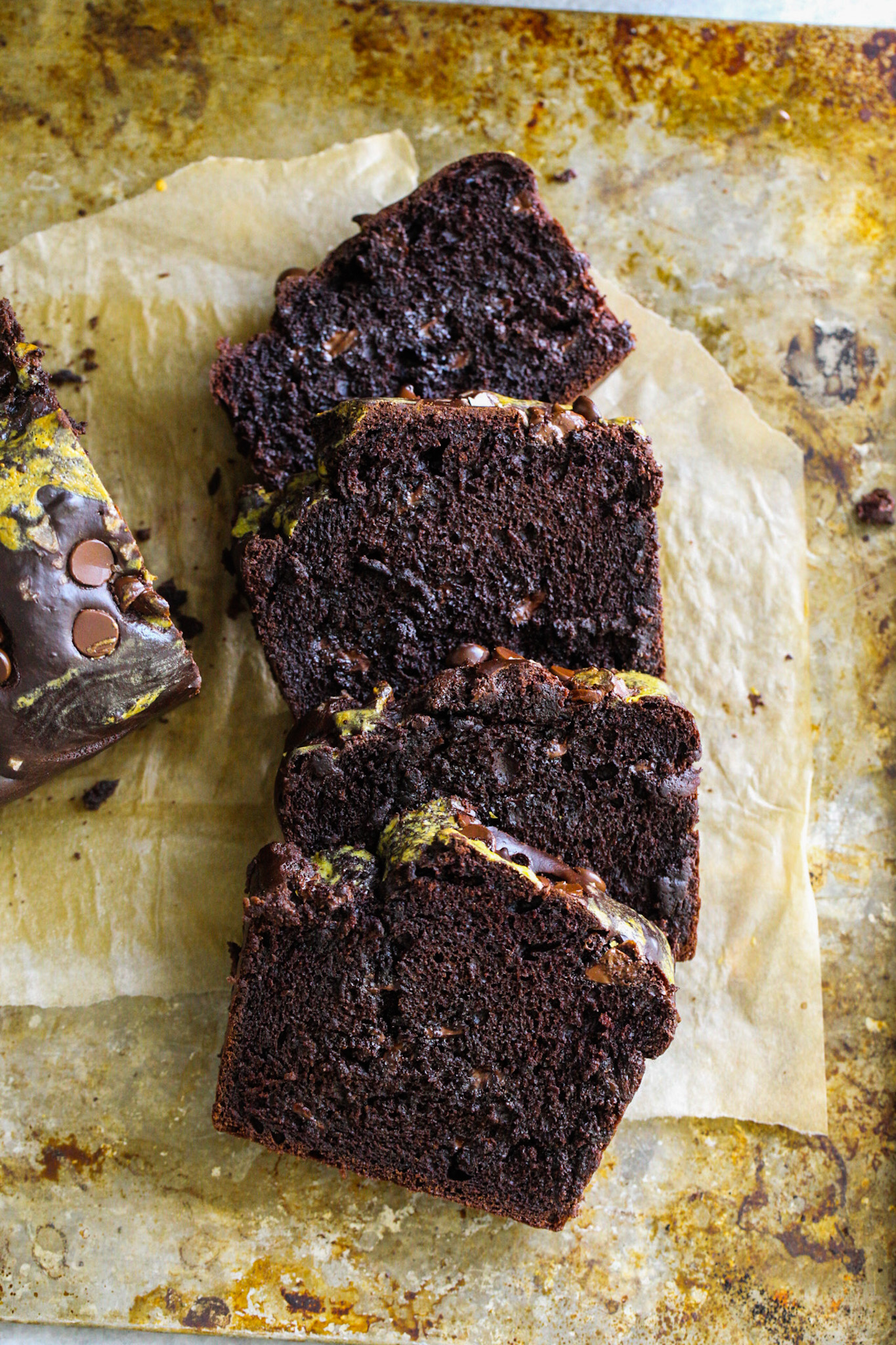 I wanted to get a nice a shiny top to this loaf, but since you cannot brush an "egg wash" on a loaf batter, I decided to brush it on top about midway through baking. Unfortunately, that only created a yellow crust on the parts I got to. I kinda realized as soon as I started brushing that I made the wrong decision, but oh well. Honestly it didn't mess with the flavor at all and just added a silly yellow color in sections. The "egg wash" was the same vegan JUST Egg.
So anyways, ignore it! Next time, I'll skip adding anything to the top besides those chocolate chips and coarse flakes of sea salt. Yum!
The funny thing is that this loaf totally got shiny on top all on it's own!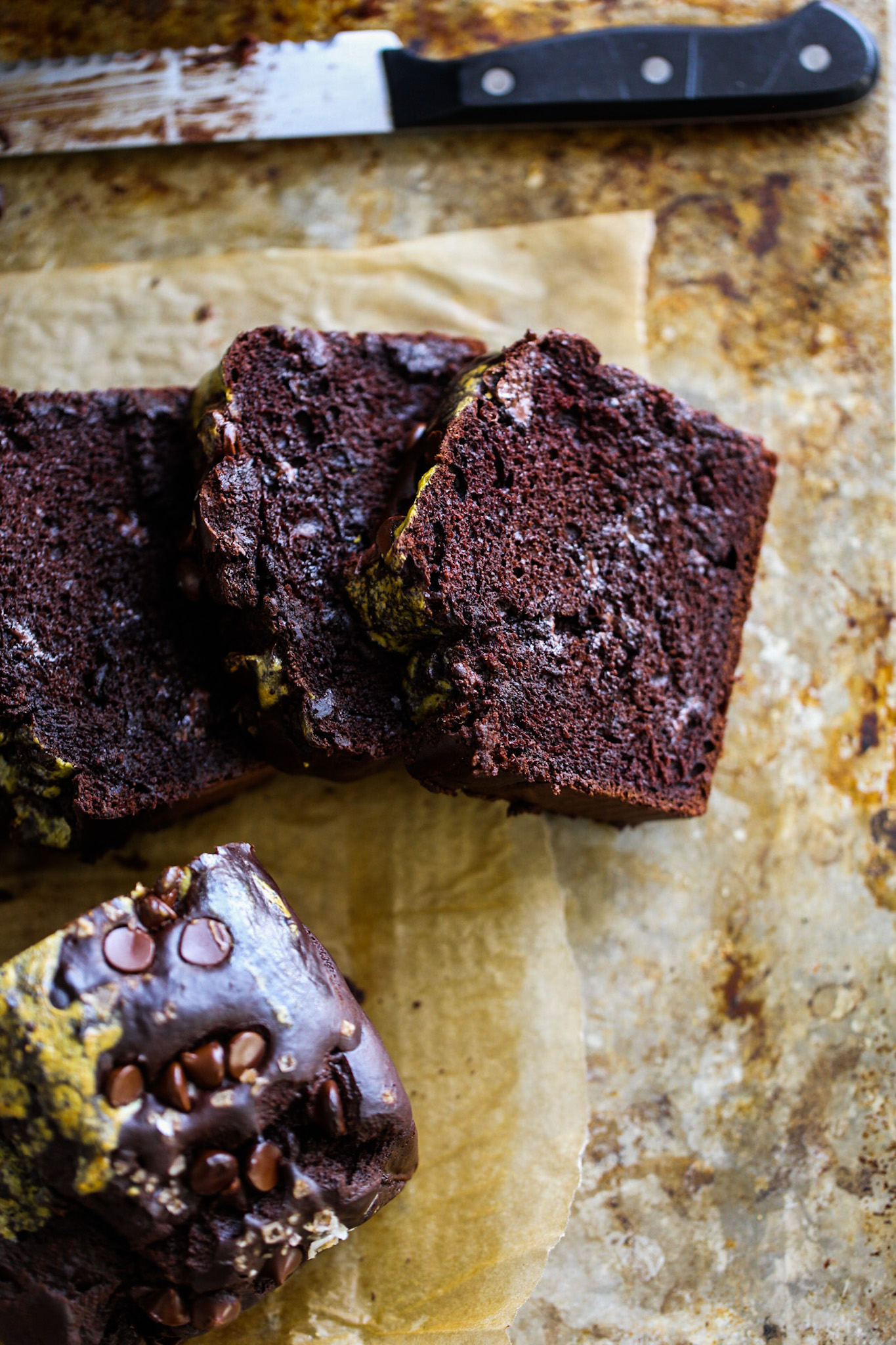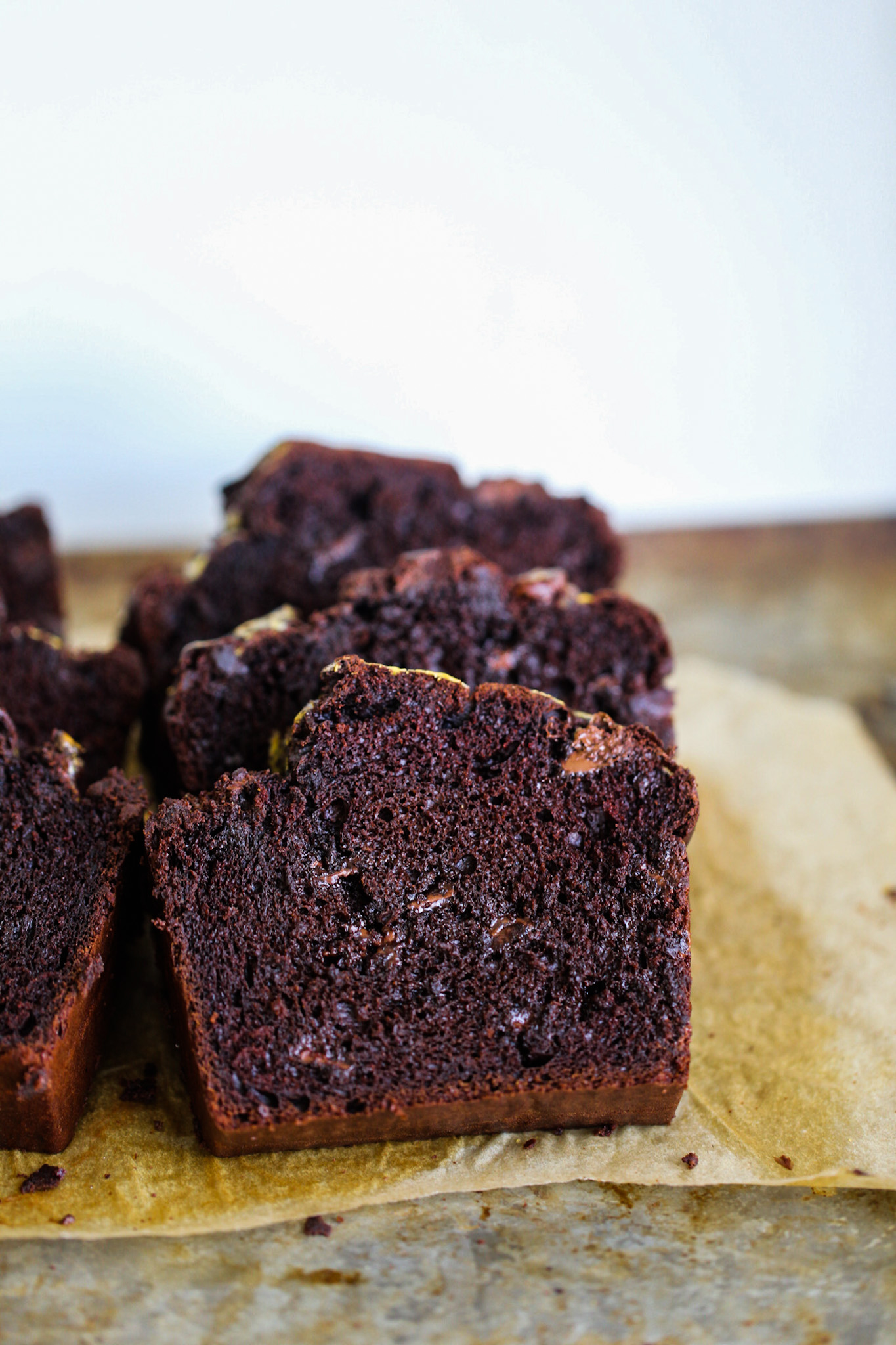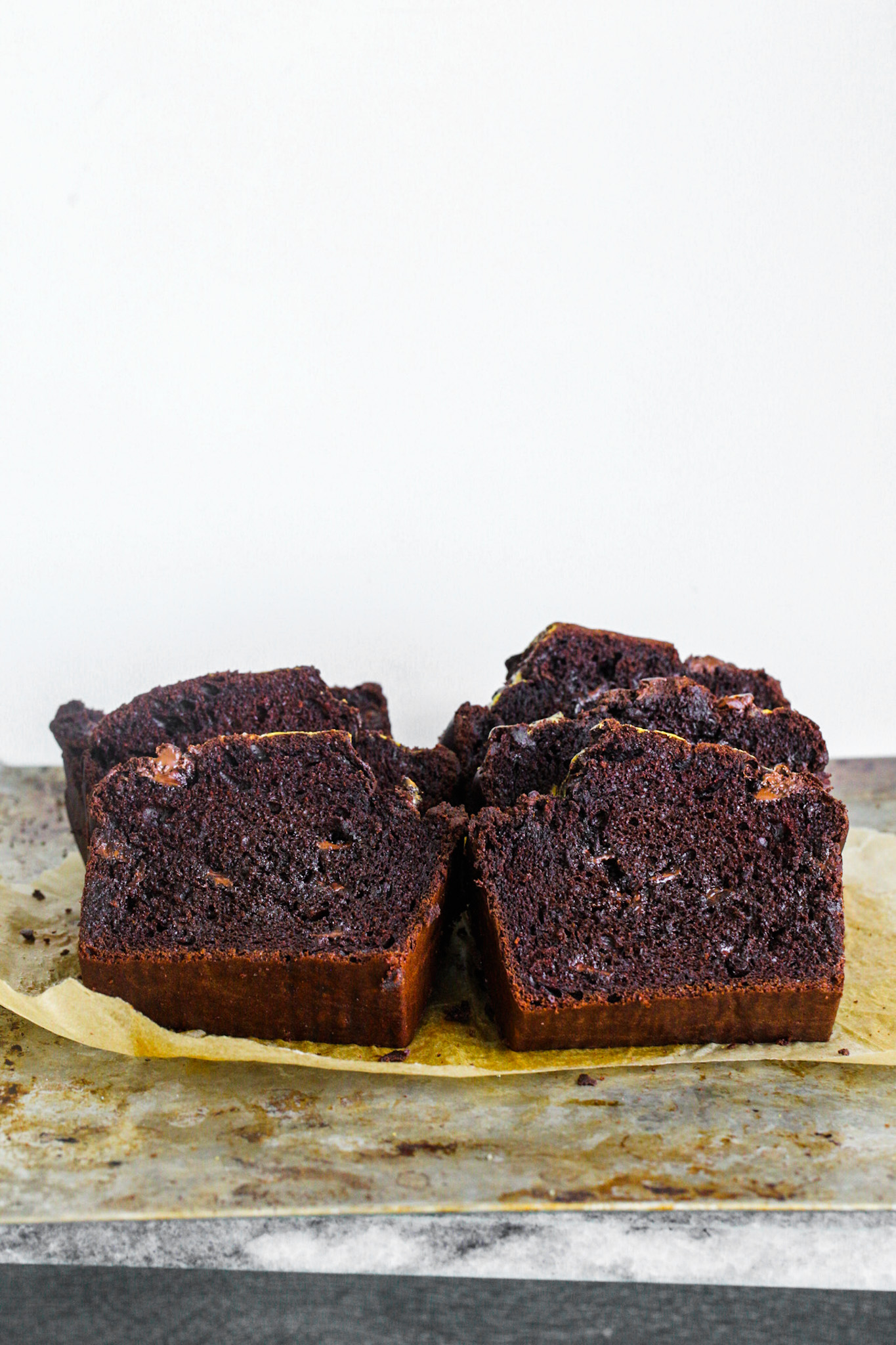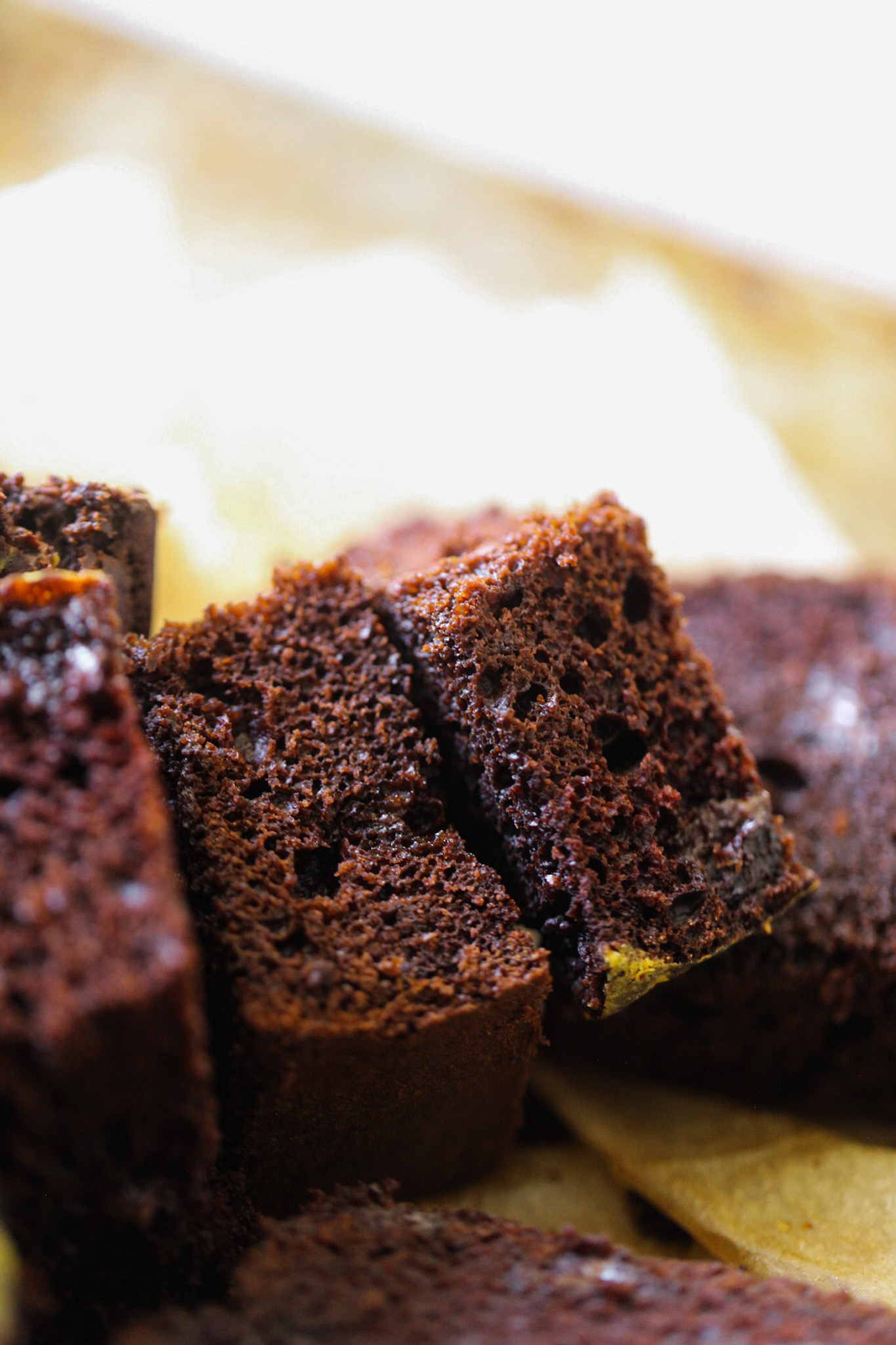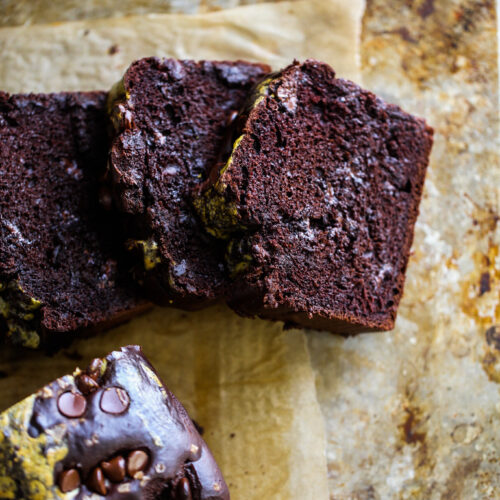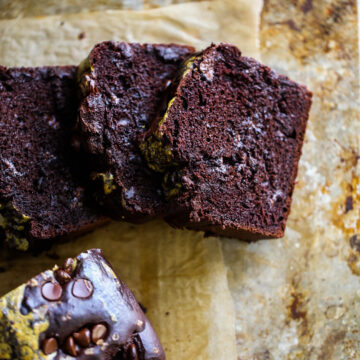 Double Chocolate Chip Loaf
This is a fluffy chocolate loaf, studded with melty chocolate chips. Vegan.
Print
Pin
Ingredients
Wet:
½

cup

egg replacer

,

+ 3 tablespoon — JUST Egg used (see notes)

1

teaspoon

vanilla extract

⅓

cup

sunflower oil

,

High Oleic preferred

¾

cup

coconut sugar

1

oz

decaf espresso

,

one shot

¾

cup

filtered water
Dry:
½

teaspoon

salt

½

cup

cacao powder

,

unsweetened, raw

1 ½

cups

bread flour

1

teaspoon

baking soda
Fold in:
1

cup

chocolate chips

,

semi-sweet, vegan
On Top:
2

tablespoon

chocolate chips

sprinkle

coarse or flaked sea salt
Instructions
Preheat oven to 350 degrees and line a standard loaf pan with parchment paper. You can also do a traditional grease + light flour if preferred. You can use vegan butter oil oil.

In a large mixing bowl, beat or whisk together all the wet ingredients.

Add in the salt and baking soda and half of the flour. Whisk or beat to combine. Add in the last bit of flour. Briskly whisk until smooth and shiny – a mixer works too but isn't necessary.

Fold in the chocolate chips.

Pour the batter into the loaf pan. Top with chocolate chips and sea salt.

Bake at 350 for 40-50 minutes — or until a toothpick comes out clean.

Allow to cool in pan for ten minutes. Lift out parchment paper. Cool another five minutes and slice to serve. Chill leftovers in the fridge for up to three days. Freeze for longer storage.
Equipment
loaf baking pan

large mixing bowl

whisk or mixer (hand or stand)

parchment paper
Notes
Possible egg replacers:
JUST Egg
apple sauce
silken tofu, pureed
flax eggs
nutrition estimate | per serving
Calories:
267
kcal
|
Carbohydrates:
39
g
|
Protein:
5
g
|
Fat:
12
g
|
Saturated Fat:
4
g
|
Sodium:
298
mg
|
Potassium:
117
mg
|
Fiber:
3
g
|
Sugar:
16
g
|
Calcium:
33
mg
|
Iron:
2
mg