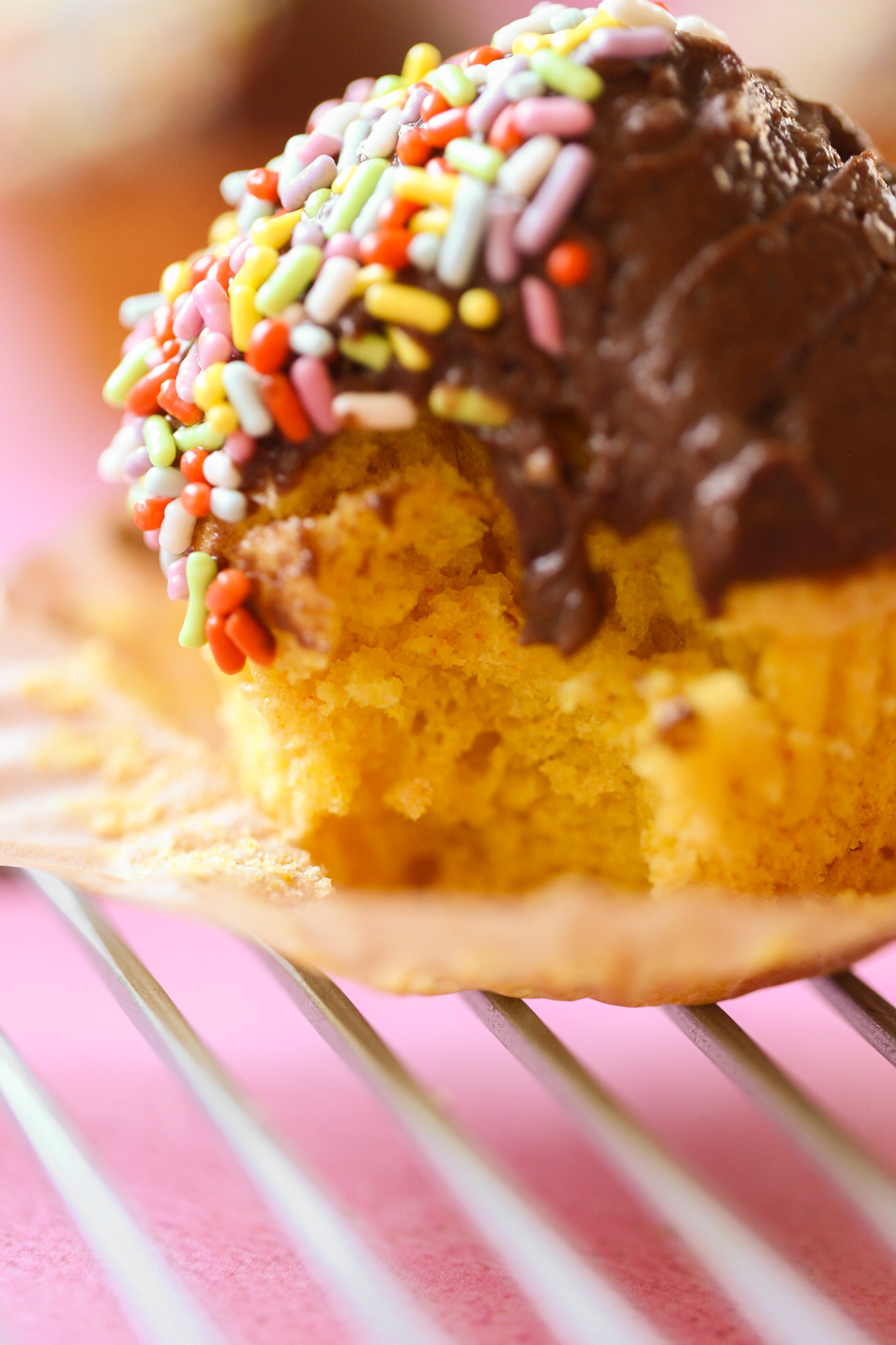 One of my absolute favorite desserts, since I was a kid making cake with boxed mixes and plastic-container frostings, is yellow cake with chocolate frosting. And since it's my birthday week, I am in the mood to share these Yellow Cake Cupcakes with you guys!
These yellow cake cupcakes baked up so incredibly fluffy and perfect. They have a classic vanilla-y flavor, but a gorgeous golden yellow color to them. All that golden color without any eggs! Get the recipe ahead…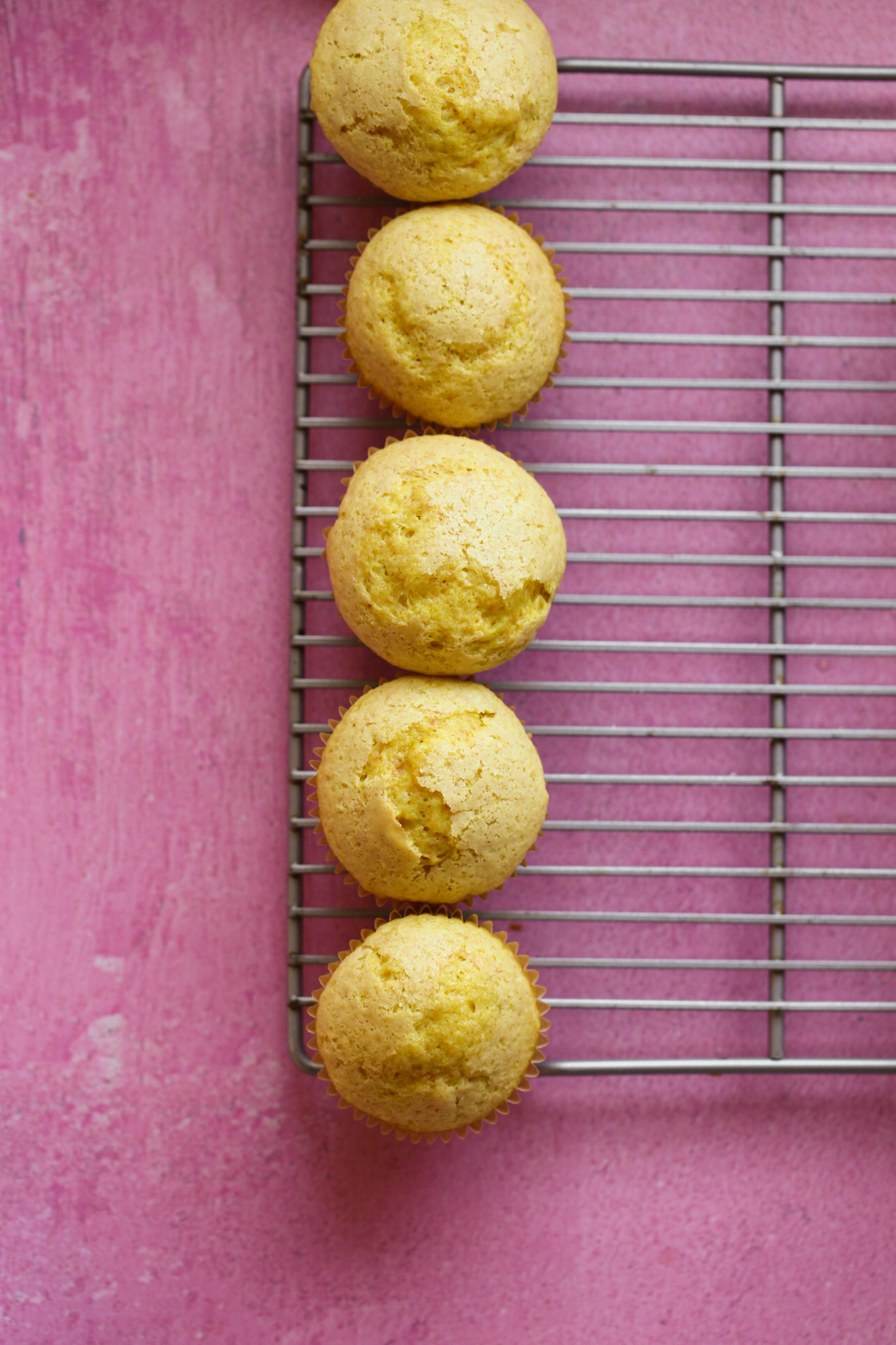 Classic Yellow Cake (Cupcakes)
Pretty sure the first cake I ever baked on my own was a boxed yellow cake with a tub of chocolate frosting. Fluffy and moist, spongy and rich. Something about that yellow color against chocolate brings back all those childhood cake memories for me.
But for this recipe, you certainly don't need a box.
Veganized yellow cake..
Classic yellow cake uses a sturdy dose of egg yolks, both for richness and that signature yellow color. Well I am super happy to say that that yellow color can be achieved using a vegan cake recipe.
To get the yellow color in my yellow cake cupcakes, I used sunflower oil – which has a mild yellow hue – and a pinch of turmeric. Yes, turmeric. Now don't worry, I use such a small amount that you cannot taste it unless you really really try. And even then, it just seems like the cupcakes have a complexity that is very welcoming.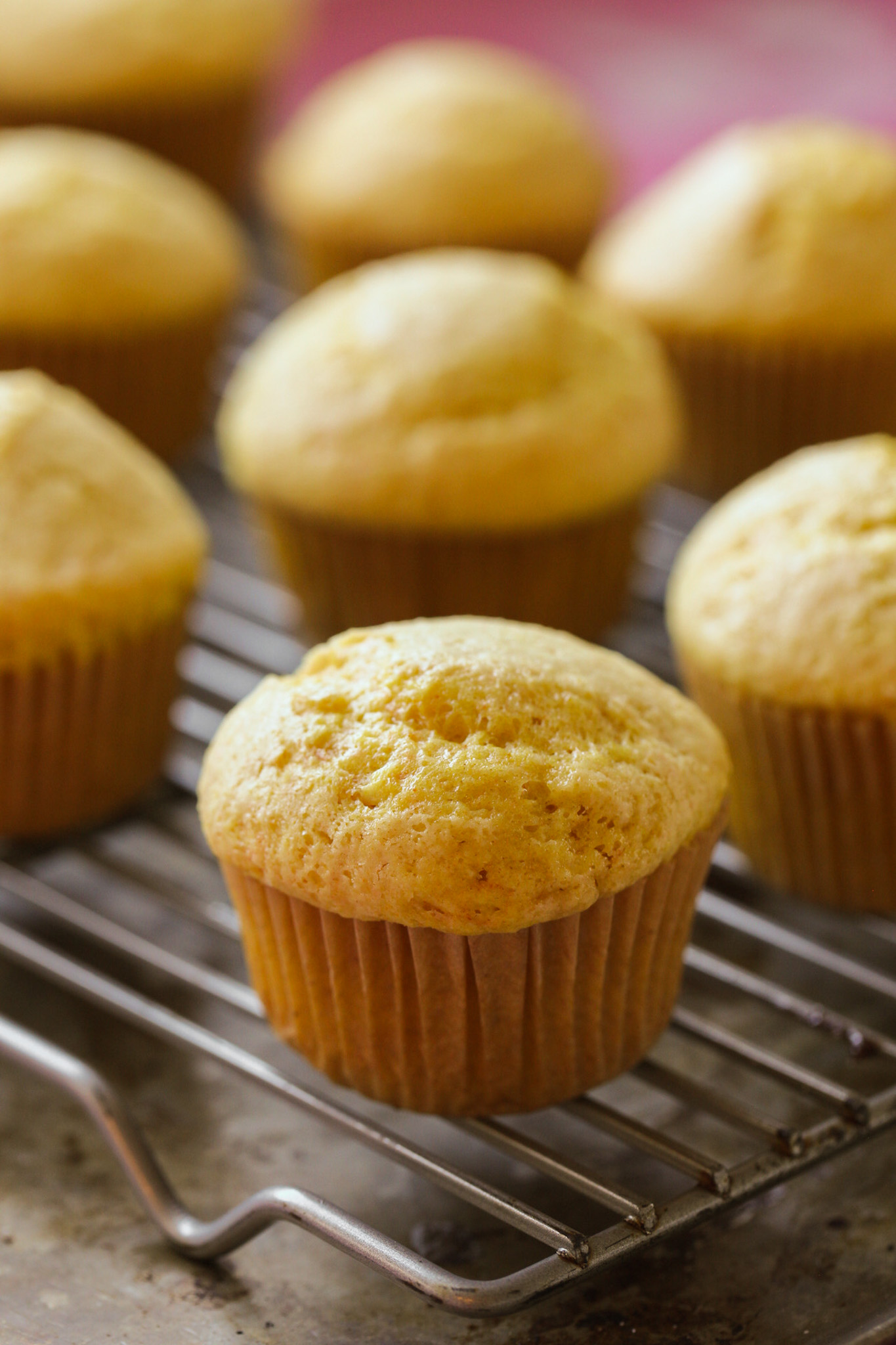 Egg Replacer in Yellow Cake
The egg replacer I used in this recipe: silken tofu. Silken tofu is probably my favorite egg replacer for any baking recipe. Not only does it mimic the texture and nutritional content (protein, fats) of eggs, but it very easily blends into most recipes without altering the flavor. As we all know, tofu is well known for being pretty flavor-free right out of the box.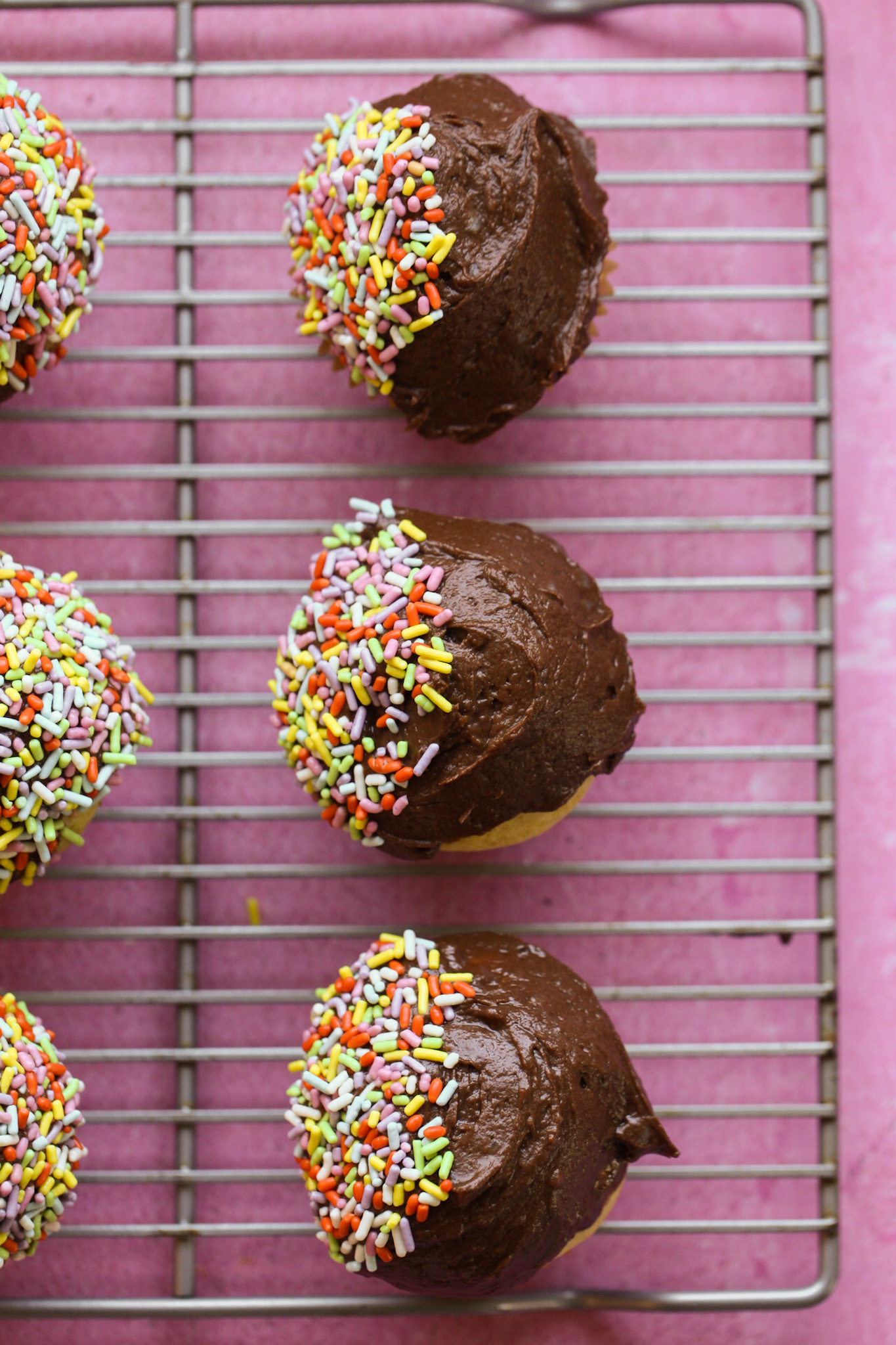 Flour for Yellow Cake Cupcakes
The flour that I used is a fine pastry flour from Bob's Red Mill. The same one I used in my biscuits. You can use an all purpose flour, but I really love the pink bag pastry flour from Bob's as my cake-baking go-to flour. I find it has a bit more body than a basic all purpose flour. I always choose unbleached flours – even for my cakes. And even for a cake like this that needs to be a pale color tone.
Turmeric for Cake Color
For these yellow cake cupcakes, I used about ½ teaspoon of turmeric. As you can see, the color came out nice and bright – just what I wanted. But my sensitive palate could taste a tiny bit of spice — when I was really searching for it.
So, if you are really looking for a bold yellow color, go with the ½ tsp. If you are ok with a more subtle tone, go with ¼ tsp. Using the minimal amount possible will ensure that you don't mess with your basic vanilla cupcake flavor.
Rainbow Sprinkles
I was so excited when I found these plant-based rainbow sprinkles at Whole Foods! I used to have to buy them online. But good job WF for stepping up your vegan options!
Cupcake Mixer
I almost bought a KitchenAid stand mixer last fall, but I decided to just stick to my sturdy little (under $50) aqua hand mixer than I love. Both will work for perfectly fluffy and smooth vegan cupcakes. Using a mixer creates a bit more "fluff" compared to just mixing by hand – IMHO. And my hand mixer effectively smoothed out all the silken tofu, which you certainly cannot do by hand. Do you use a stand or hand mixer for your baked goods??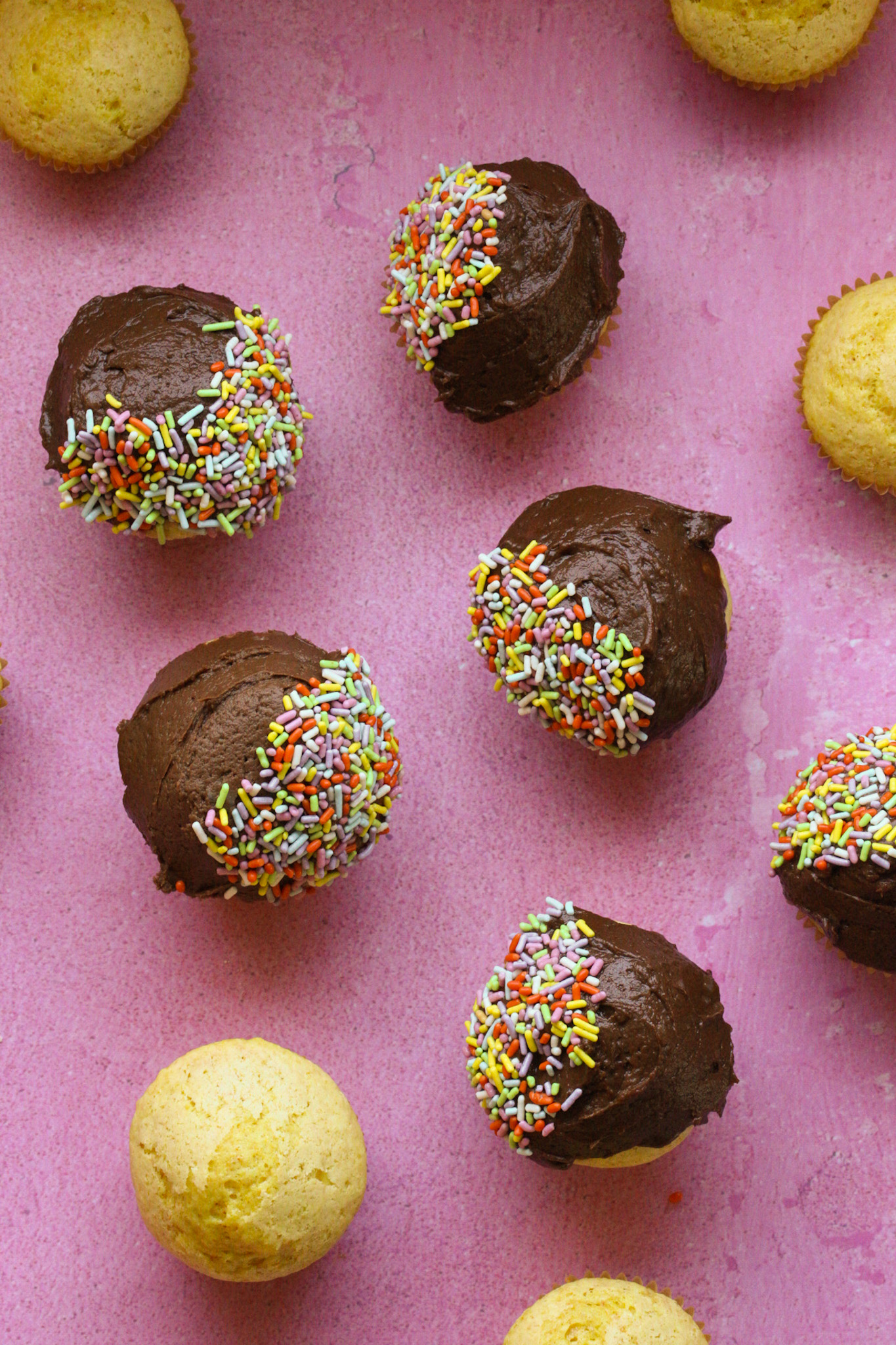 Chocolate Frosting Recipe?
The cupcakes in the photo used a coconut oil-based frosting. I was playing around, experimenting with a new recipe. But here is what I suggest for these cupcakes..
My fave chocolate frosting recipe to date has to be this one. I make this buttercream-esque chocolate frosting for some double chocolate cupcakes a few years ago. But if you want to sub out the cream cheese and use all vegan butter, you can do that too.
This vanilla funfetti frosting would also be really fun with these cupcakes.
Or if you have your own fave chocolate frosting recipe, go with that!
Birthday Cupcakes + Plans?
So what am I doing for my birthday???? Well, ha, I'm not exactly sure about any fun stuff, nothing is planned. But we are actually getting a new fridge delivered that day so I am very excited. Our fridge has been on it's last legs the past few months. The freezer handle broke off and then the entire freezer door came unhinged. Yup. And it basically looks like the north pole from all the freezer burn going on right now. The struggle has been real for this home cook and food blogger!!! So I am so excited to get a shiny new fridge on my b-day. I mean, what's better than rearranging a brand new fridge?? Ha. No, seriously.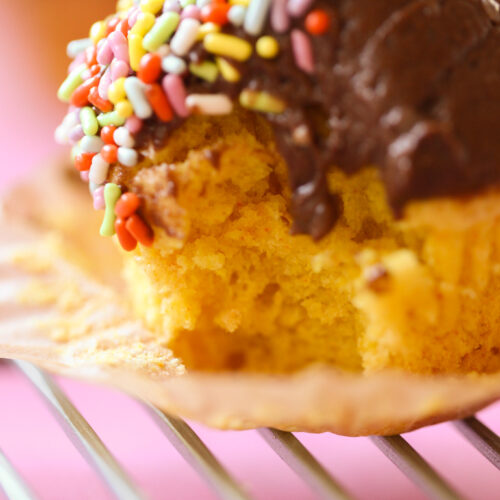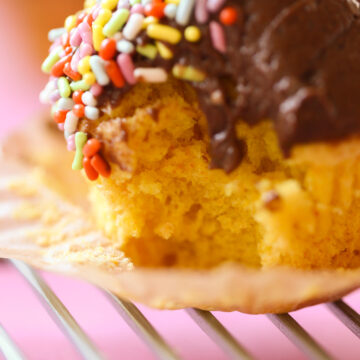 Vegan Yellow Cake
These fluffy, amazing yellow cupcakes pair perfectly with a rich chocolate frosting. Vegan using tofu and turmeric for color.
Print
Pin
Ingredients
Dry:
2 ¼

cups

flour

,

fine pastry flour or AP

½

teaspoon

salt

3

teaspoon

baking powder

¼-1/2

teaspoon

turmeric
Wet:
1

cup

soy milk

½

cup + 2 Tbsp

silken tofu

,

room temperature or slightly cooler

2

teaspoon

vanilla extract

½

cup

sunflower oil

,

organic

1 ½

cups

cane sugar

,

organic
Instructions
Preheat oven to 350 degrees and line a cupcake tin.

Add all the dry ingredients to a large mixing bowl. stir to combine.

Pour in the milk, oil, sugar, vanilla and scoop in the silken tofu. Using a hand of stand mixer, start mixing the batter until it is smooth and fluffy. It should have a glossy sheen to it and light yellow color. The color will darken as the cupcakes bake.

Scoop the batter into the cupcake tins. If you want puffy, high cupcakes, fill to the brim. If you want short just slightly rounded cupcakes – the best for frosting – fill about ¾ of the way full.

Bake cupcakes for 18-22 minutes at 350 degrees. when done, the tops will be fluffy and the inside should come out clean doing a toothpick test.

Allow cupcakes to fully cool before frosting.
Equipment
cupcake tin

mixing bowl

mixer

cupcake liners
Notes
** If baking a cake instead of cupcakes, baking time will vary.
nutrition estimate | per serving
Calories:
206
kcal
|
Carbohydrates:
33
g
|
Protein:
2
g
|
Fat:
7
g
|
Saturated Fat:
1
g
|
Sodium:
80
mg
|
Potassium:
118
mg
|
Fiber:
1
g
|
Sugar:
19
g
|
Vitamin A:
31
IU
|
Calcium:
55
mg
|
Iron:
1
mg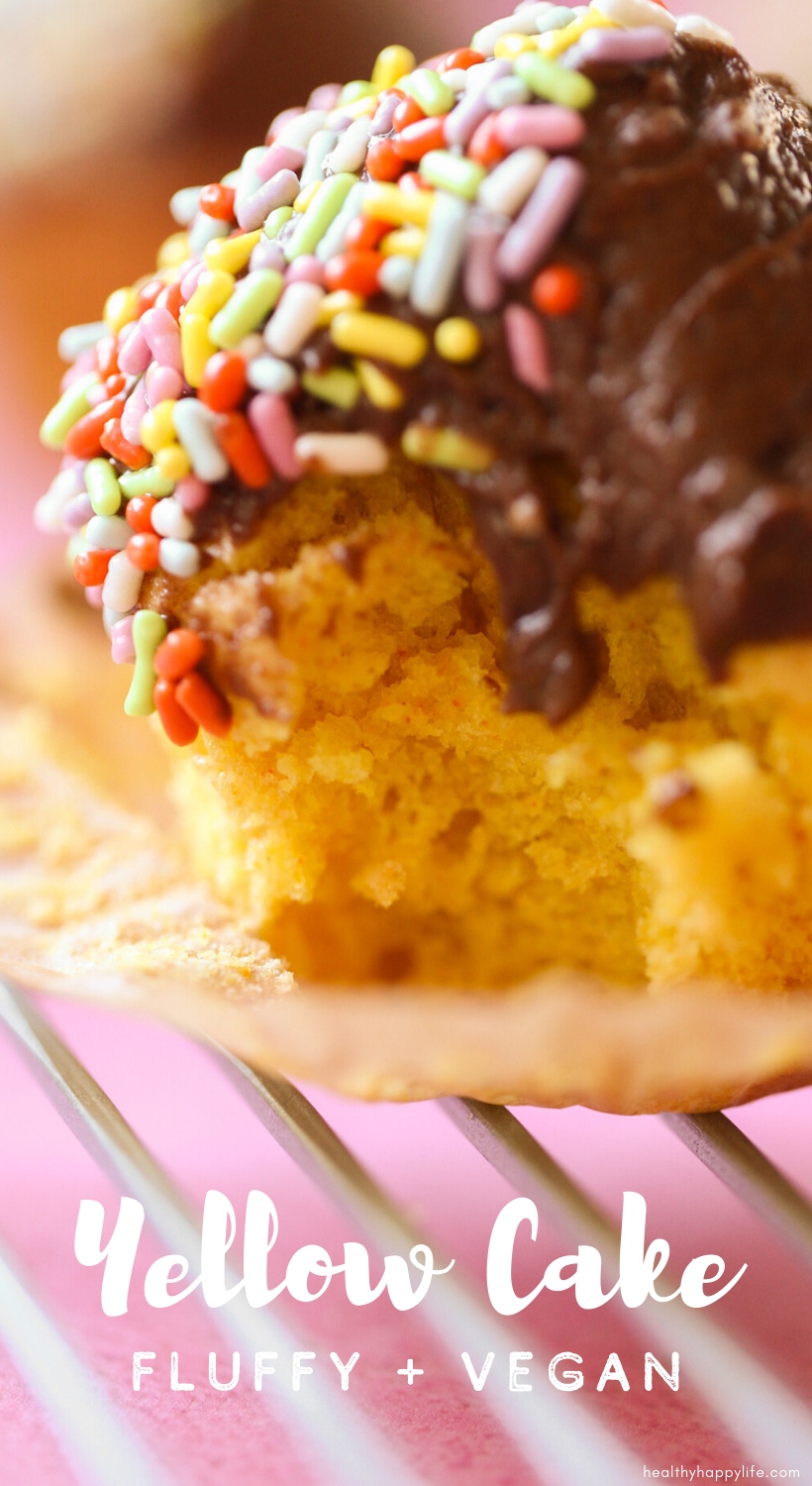 disclosure: this post contains affiliate links