Today's recipe is a new fave, Vegan Double Chocolate Birthday Cupcakes. Rainbow sprinkles on top. Fluffy and rich, cozy and perfect. These cupcakes were made for celebrating.
Sprinkles on top…
I am convinced that sprinkles are a good metaphor for life. Representing all the things in your life that bring you joy. Things outside of food and air and sleep and shelter..
Things like love and sunsets and cozy blankets and starry skies and movie nights, and snowflakes on your eyelashes, and hope and dreams and friends who make you laugh even when you are crying, and family and pets and silliness and art and music and drama, and favorite TV shows and beach vacations, freshly washed sheets and raindrops on roses. (And whiskers on kittens..) All those sorts of things. Those things are totally sprinkles in this little metaphor of mine.
Life is just better with "sprinkles." And even though these cupcakes don't "need" the sprinkles on top, they also kinda do.
My India Tree rainbow sprinkles for this recipe almost didn't make it on the cupcakes (Amazon shipment delay!) and I was so incredibly bummed about that. I was surprised how much this recipe needed sprinkles to be complete. So that felt a lot like life. Sprinkles on top please! Never forget how much the little (and big) happy things pepper your life and truly make you who you are and who you want to be.
Double Chocolate Cupcakes
These Double Chocolate Cupcakes have a Creamy Chocolate Cream Cheese Frosting. The cupcakes even contain a little boost of veggies from the zucchini – which helps keep things moist. I love them because they are not too sweet, and they even sneak in some veggies and a bit of a complex flavor from the cream cheese frosting and zucchini-accented chocolate cake. Decadent and sweet meets a bit of savory and sophistication. And rainbow sprinkles on top of course…
Happy Birthday. And to my husband, who I made these yummy cupcakes for, here is my bday PDA a la my facebook page…
"Happy birthday GP, aka my fave ever. Loved baking cupcakes for you today and dressing up for a Wednesday night out and opening presents and strolling the sparkly lit streets after dinner and being us and celebrating all the good stuff like happiness and cats and rainbow sprinkles and adventures and most importantly YOU. Love you"
Double Chocolate Cupcakes Ingredients.
These birthday cupcakes are vegan of course. I used a whole wheat pastry flour, but you can sub with a gluten-free flour if needed. For the vegan cream cheese, I used the plain Kite Hill brand, but you could try any of the vegan plain flavored options out there.
If for some reason you hate the idea of a chocolate cream cheese frosting, you could substitute the cream cheese with:
1. avocado – sub with one whole avocado (pitted, just the flesh, mashed) or
2. chilled coconut cream from coconut milk
But I really LOVED the cream cheese accent in this frosting. It is a nice and thick frosting that is not too sweet – worked so well with my piping bag.
And if you hate the zucchini add-in idea you can try subbing with more tofu or even another fruit or veggie like apple or sweet potato or even black bean. (None of these have been tested, but they are a few ideas off the top of my head.)
No sprinkles.. still good but missing something, yes? 🙂
Cupcakes by you!
There is something so happy about baking cakes or cupcakes for someone on their birthday. They might not look as 'perfect' as bakery-bought cakes or treats but I swear there is so much love in there! So even if you think your homemade creations might not measure up, give it a whirl and I promise the extra scoop of love you add will make them taste and look amazing. I would rather eat slightly burnt, totally-not-round, homemade cookies over store bought, just about any day of the week.
Other Birthday Celebration Dessert Ideas:
I just loved these so much and hope you do too!!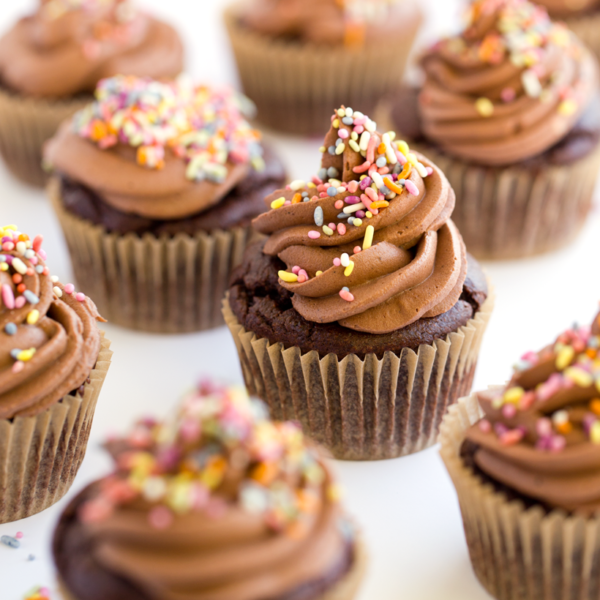 Double Chocolate Cupcakes
These rich and fudgy vegan chocolate cupcakes are delicious and have a secret boost of veggies from zucchini. This also makes a yummy loaf or layer cake.
Print
Pin
Ingredients
Dry:
1 ½

cups

whole wheat pastry flour

,

+ 2 Tbsp

½

cup

cocoa powder

,

unsweetened

2

teaspoon

baking powder

¾

teaspoon

sea salt
Wet (blend):
1 ¼

cups

zucchini

,

chopped

6

oz.

silken tofu

¼

cup

non-dairy milk

1

teaspoon

vanilla extract

1

cup

organic sugar

¼

cup

vegan butter

1

teaspoon

apple cider vinegar

,

or sub espresso
Frosting:
¾

cup

vegan dark chocolate

,

melted

½

cup

vegan butter

,

room temp but not melted

8

oz

vegan cream cheese

,

room temp

2-3

tablespoon

non-dairy milk

2-3

cups

organic powdered sugar

¼

teaspoon

vanilla extract
Instructions
Preheat oven to 350 degrees and line a muffin tin.

Combine all dry ingredients in a large mixing bowl.

All all wet ingredients to a blender and blend until smooth.

Pour the wet ingredients into the dry bowl and beat using a hand or stand mixer. (Hand mixer works too, but may not be as fluffy).

Spoon the batter into the lined muffin tine, filling almost to the top. The muffins will puff up nicely while baking.

Bake at 350 degrees for 18-22 minutes, or until the tops are puffy and firm to touch in the center. Do the toothpick test to confirm doneness.

Allow the cupcakes to completely cool before working on the frosting.
Frosting:
Add the vegan butter, melted chocolate and vegan cream cheese to a mixing bowl and beat until smooth – using a hand or stand mixer. Add in the powdered sugar and beat until fluffy. Add the almond milk as needed, usually 2-3 tablespoon to lighten up the texture a bit.

Place the frosting in the fridge to chill up a bit.
Back to the cupcakes:
Frost your cupcakes. Add optional sprinkles. Serve! They keep at room temp for a good hour, but after that I would suggest placing in the fridge. Store leftovers in the fridge.
Notes
Frosting Amount: You may have some leftover frosting, depending on how high your frosting swirls go. For lightly frosted cupcakes, you could even bake two dozen cupcakes and lightly frost the tops.
nutrition estimate | per serving
Calories:
360
kcal
|
Carbohydrates:
57
g
|
Protein:
5
g
|
Fat:
14
g
|
Saturated Fat:
6
g
|
Cholesterol:
1
mg
|
Sodium:
256
mg
|
Potassium:
317
mg
|
Fiber:
3
g
|
Sugar:
41
g
|
Vitamin A:
594
IU
|
Vitamin C:
3
mg
|
Calcium:
89
mg
|
Iron:
1
mg
Pin it for Later!


More pins to share: