This vegan California Carrot Cake with Fluffy Coconut Cream Cheese Frosting is beyond dreamy. It is studded with walnuts, hearty carrot shreds and accented with cinnamon, vanilla and citrus. It bakes up with the perfect fork-diving texture. And it is delicious a few days later as leftovers. Midnight snack approved!
Carrot cake has always been one of my favorite desserts and today's recipe impressed my very high standards.
And every dreamy cake-eating-sesh deserves a good moody scene. Midnight cake craving, the light of the fridge and a fork in your hand. Or maybe a Sunday brunch with girlfriends, carrot cake muffins all around. Or a boring old Monday, made better by baking a cake, eaten after dinner while watching Netflix in your PJs. For me today, it is fog and movie music (soundtracks are my fave to work to), cats napping, the gently whoosh of my IQAir and the hum of my Roomba spinning in the other room. Romantic, eh? I'll take it.
Foggy Days. Looking outside my window, 4:40pm on a Friday, I can see thick white fog rolling in, again. There has been an abundance of fog the past few weeks here in Los Angeles and oh-my-goodness "beach fog" is my favorite kind of weather. Mostly because it reminds me of the neighborhood I grew up in, in NorCal. Fog on most mornings, or at least a dewey beach mist in the air.
Don't get me wrong, I love sunshine, who doesn't? But the fog is almost magical to me. It reminds me of far off places, fairytales, moody scenes and deep thoughts. No wonder they have a 'fog machine' as a thing for movie making! One of my favorite photos I have ever shot is of a foggy scene in Lucerne, Switzerland, an ancient bridge and tower in the background, a swan swirling in a still, mirrored lake. White sky, fog hovering. The photo sits right above my desk in a frame.
But enough fog, back to this cake! Oh wow. I have no shame in the fact that I had three carrot cake donuts for lunch yesterday — and nibbled some last night after dinner and again today. I will have more tonight and hopefully get my husband to eat more of this stuff because I certainly cannot eat it all! (He is a more chocolate-dessert person, but he did taste this and loved it.) If all else fails, I will freeze a few slices. Cake actually freezes very well, so for tiny families like ours, you can bake a whole cake and enjoy it slowly.
Donuts or cake? Your choice!..

This cake is a classic carrot cake, gone vegan and with some healthy upgrades. To sweeten things, I went with Medjool dates and some maple syrup. For flour, I did a mix of whole wheat and oat flour. For the egg replacer I went with silken tofu and also the fiber from the dates and orange help bind things too. The walnuts add healthy fats add even more texture. This cake is loaded with amazing texture!

Frosting. For the frosting, I went simple. I used coconut milk and vegan cream cheese and a bit of powdered sugar – but not too much, as frosting recipes come. The result is a very light and fluffy, sweet, yet cream-cheese-tart frosting. I used Kite Hill Cream Cheese, which I highly recommend. The tart cheesy flavor and texture is the best I have tried as vegan cream cheeses come.
Donuts or cake or muffins? The beauty of this recipe is that you can use the batter however you'd like. You can do muffins, a round cake, sheet cake, donuts, loaf – whatever! I used an 8 x 8 inch baking dish for one part and then used the leftover batter for about 4 donuts. I guess the only trouble with this is really paying attention to the baking time for your cake. It will vary based on the size of vessel.
Ok, ok enough rambling.. go make and eat this! And happy almost-spring bunnies! Or kitties..
California Carrot Cake with Fluffy Coconut Cream Cheese Frosting
By Kathy PatalskyPublished 03/17/2017

This fluffy and deliciously textured vegan carrot cake contains walnuts, loads of carrot shreds and a hint of cinnamon, citrus and vanilla. Coconut cream cheese frosting on top.
Ingredients
dry:
1 ½ cups whole wheat pastry flour
1 ½ cups oat flour
1 ½ tablespoon baking powder
1 tablespoon cinnamon
1 teaspoon sea salt
wet – blender:
7 Medjool Dates, pitted and lightly soaked in hot water
7oz. silken tofu
1 medium orange, peeled (about 1 cup of segments) **
¼ cup vegetable oil (I used virgin melted coconut oil)
½ cup maple syrup
¼ – ½ teaspoon fresh orange zest
1 cup raw walnuts
2 cups shredded organic carrots, packed well
optional: ⅓ cup organic raisins
1 14oz. can full fat coconut milk, fully chilled in fridge
1 8oz. package vegan cream cheese, plain (Kite Hill Used)
2 cups organic powdered sugar
optional: ⅛ teaspoon cream of tarter (to help stabilize the frosting)
optional: ⅛ teaspoon vanilla extract or a vanilla bean (super fancy option)
Grease pan: vegan butter or coconut oil
** I used a Sumo mandarin orange citrus, which is seedless and sweet. Seedless or low seed oranges are preferred here.
Instructions
Preheat oven to 350 degree. Grease your pan, generously. I used an 8 x 8 inch square baking dish and also made three donuts.
Grate your carrots, set aside. If you carrots were wet or really moist, you may want to squeeze any excess water out of them with a paper towel, but in general, carrots from the store tend to be on the dry side – which is good for carrot cake.
Soak your pitted dates in hot tap water for at least two minutes. Drain water.
Add all the wet ingredients to a blender container, including the soaked dates. Blend from high to low until smooth.
In a large mixing bowl, combine all the dry ingredients, toss well.
Pour the wet mixture into the dry bowl. Using a mixer, beat on low until the batter is thick and smooth. It should be a bit thicker than a normal cake better from all the fiber we have added so far – from the orange and dates and whole grain flours. Plus, adding the carrots will soften things up a bit.
Fold in the carrots and the walnuts and optional raisins.
Pour the batter into the baking dish(es). For an 8 x 8 pan, I baked at 350 degrees for about 35 minutes. The donuts baked in just about ten minutes. (Note: I was used a convection bake setting which bakes a tiny bit faster than a normal bake setting.)
Yield: 1 square cakePrep Time: 00 hrs. 20 mins. Cook time: 00 hrs. 35 mins. Total time: 55 mins. Tags: cake,carrot cake,spring,dessert,vegan,cream cheese frosting,easter,vegan dessert,carrots,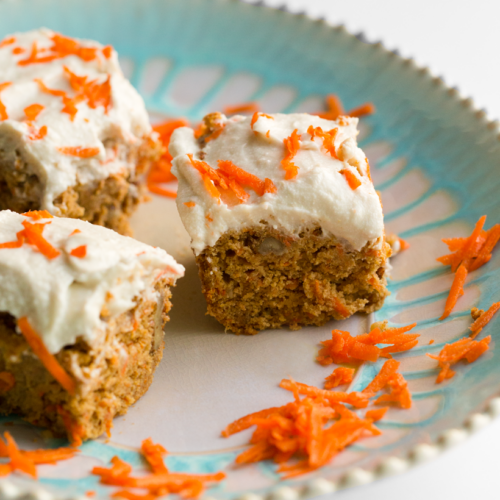 California Carrot Cake with Fluffy Coconut Cream Cheese Frosting
This fluffy and deliciously textured vegan carrot cake contains walnuts, loads of carrot shreds and a hint of cinnamon, citrus and vanilla. Coconut cream cheese frosting on top.
Print
Pin
Ingredients
Dry:
1 ½ cups whole wheat pastry flour

1 ½ cups oat flour

1 ½ tablespoon baking powder

1 tablespoon cinnamon

1 teaspoon sea salt
Wet:
7 Medjool Dates, pitted and lightly soaked in hot water

7oz. silken tofu

1 medium orange, peeled (about 1 cup of segments) **I used a Sumo mandarin orange citrus, which is seedless and sweet. Seedless or low seed oranges are preferred here.

¼ cup vegetable oil (I used virgin melted coconut oil)

½ cup maple syrup

¼ – ½ teaspoon fresh orange zest
Fold in:
1 cup raw walnuts

2 cups shredded organic carrots, packed well

optional: ⅓ cup organic raisins
Frosting:
1 14oz. can full fat coconut milk, fully chilled in fridge

1 8oz. package vegan cream cheese, plain (Kite Hill Used)

2 cups organic powdered sugar

optional: ⅛ teaspoon cream of tarter (to help stabilize the frosting)

optional: ⅛ teaspoon vanilla extract or a vanilla bean (super fancy option)

Grease pan: vegan butter or coconut oil
Instructions
Preheat oven to 350 degree. Grease your pan, generously. I used an 8 x 8 inch square baking dish and also made three donuts.

Grate your carrots, set aside. If you carrots were wet or really moist, you may want to squeeze any excess water out of them with a paper towel, but in general, carrots from the store tend to be on the dry side – which is good for carrot cake.

Soak your pitted dates in hot tap water for at least two minutes. Drain water.

Add all the wet ingredients to a blender container, including the soaked dates. Blend from high to low until smooth.

In a large mixing bowl, combine all the dry ingredients, toss well.

Pour the wet mixture into the dry bowl. Using a mixer, beat on low until the batter is thick and smooth. It should be a bit thicker than a normal cake better from all the fiber we have added so far – from the orange and dates and whole grain flours. Plus, adding the carrots will soften things up a bit.

Fold in the carrots and the walnuts and optional raisins.

Pour the batter into the baking dish(es). For an 8 x 8 pan, I baked at 350 degrees for about 35 minutes. The donuts baked in just about ten minutes. (Note: I was used a convection bake setting which bakes a tiny bit faster than a normal bake setting.)