I have been baking cookies all morning. Not a bad way to spend a Monday. Noon rolled around and I completed my usual morning work tasks like approving Finding Vegan submissions and doing some social media posts. Then I paused and said, hm, bake cookies or go work out for an hour? Bake cookies? Work out? Bake cookies? Work out? You know how this story ended up..
So today I share these Vegan Cherry Pie Cookies. These are the perfect cookie dessert for anyone who loves the flavor and coziness of summer cherry pie … without the entire pie baking process. Cookies are much easier and quicker than pie, this I know. #Summer15hhl continues!..
Oh and yes ok, I did actually get in a good 30 minutes of cardio later in the day. So I didn't feel completely kitchen-bound all day. Baking cookies is a cozy Monday activity, but so is flipping on your fave podcasts and sweating out your stress. Some of my fave podcasts include Chopped by Namely Marly, The Sexy Vegan Radidio and don't laugh, but GOT podcasts .. yes Game of Thrones.. haha they are so entertaining! My two faves are Game of Owns and A Cast of Kings. So good.
Cherry Pie Cookies. These cookies have sweet baked cherry flavor with cinnamon, vanilla and a hint of coconut and nutty almond. I loved them! They actually reminded me a lot of those Nutri-grain bars I used to love as a teenager. Only without so much sugar. And gluten free. Etc.
So cheers to summer cherry season with these cookies!..
Life is like a bowl of cherry pie cookies. (Or at least it should be!) Cozy and sweet and ready for you.
Oh! Update from my last post. Last night's Sunday-night TV watching was pretty satisfying. We made big bowls of broccoli potato soup and dove onto the couch to just do nothing. The Tony Awards with Hamilton winning and performing were excellent and soul-soothing, despite the horrible news of the Orlando shooting making everything feel just sad and awful and heartbreaking. But the show did an excellent job addressing the tragedy and really sending a spirit of love and hope. Something we can all use a bit more of each day.
Then Game of Thrones was pretty great, as usual. After all that TV watching and thoughts swirling through my head from the day, I curled up to a tall mug of chamomile bedtime tea around 12:30am and finally went to sleep.
Actually, one of these cookies would pair really well with a mug of bedtime or chamomile tea. Hope you all have a peaceful night and can try these cookies!
This is recipe #7 in the Summer 15!..

Summer15 HHL Recipes:
1. Corn Fritters with avocado salsa.
2. Pink Flamingo Cheesecake Bars
3. Summer Salad in a Jar
4. Copycat Green Tea Frappuccino
5. Sticky-Sweet BBQ Apricot Tempeh Salad with avocado
6. Avocado Hamil-toast (avocado toast with skillet plantains)
7. Cherry Pie Cookies
8. Mother of Dragonfruit Smoothie Bowl
9. Almond Butter S'mores
10. DIY Pink Drink
11. Cheezy Sauce for Pasta with Kale
12. Summer Salad: Chili-Lime Mango-Avocado Quinoa Power Salad
13. Vegan Peanut Butter Cookie Ice Cream
Q of the Day. What are some of your favorite podcasts I may be missing?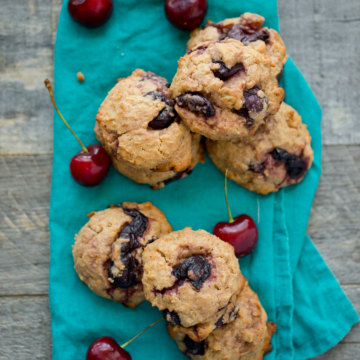 Vegan Cherry Pie Cookies
These tender, buttery cherry pie cookies have oats, coconut, cinnamon, vanilla and gluten free flour to make them a delicious, vegan summer spin on a cherry pie dessert.
Print
Pin
Ingredients
Wet – blend:
⅓ cup almond butter

¾ cup silken tofu

½ cup maple syrup, dark

1 stick of vegan butter, Earth Balance (room temp or lightly melted)

1 teaspoon vanilla extract

1 teaspoon apple cider vinegar
Dry:
1 cup gluten-free flour blend (I used Bob's Red Mill 1:1 flour)

1 ½ teaspoon baking powder

½ teaspoon salt

1 teaspoon cinnamon

⅓ cup reduced fat coconut flakes

½ cup rolled oats

22g (or about 2 Tbsp) vegan protein powder (I used pea protein — unsweetened)
Fold in:
1 cup pitted organic cherries, room temperature (fresh or frozen and thawed)

NOTE: You can use whole pitted cherries or chop them for smaller bits
Instructions
Preheat oven to 350 degrees. Line a baking sheet with parchment paper or grease lightly.

Blend all the wet ingredients until smooth.

Combine all the dry ingredients in a large mixing bowl, then fold in the wet ingredients.

Scoop the cookies out onto the greased or lines baking sheet. I like to use a small "ice cream scoop" tool for even cookie sizes.

Bake at 350 degrees for 15-18 minutes — or until the cookies lightly brown along the edges and tops.

Cool on a cooling rack for ten minutes before serving. Store leftovers in the fridge or freezer.