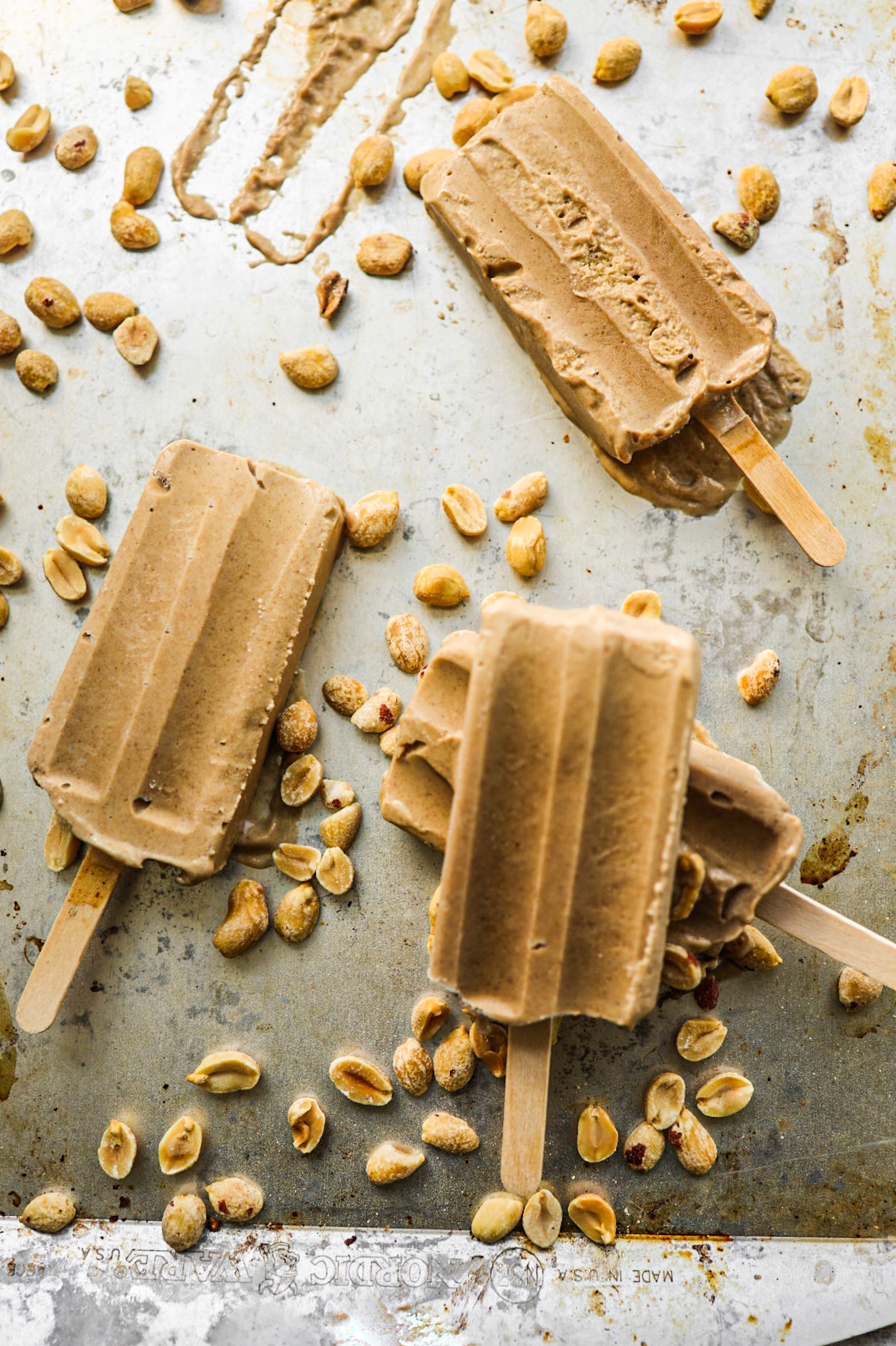 These no sugar added, protein-packed Peanut Butter Popsicles are super simple to whip up and freeze up super rich and creamy, but with just enough icy chill to be super refreshing. I blended up peanut butter, Medjool dates, almond yogurt and a few more goodies to create these practically perfect pops. Get the recipe and read more about why I love them!….
Protein Popsicles
Since these Peanut Butter Popsicles are loaded with nut butter, nut-based yogurt and soy milk, they have a good amount of protein per pop! I also love how they are packed with healthy fats too to really satisfy your hunger. I actually think that if you dipped these in chocolate they would taste a lot like a "Snickers" popsicle … in case you want to try that!
Melty Creamy Popsicles
My favorite thing about these popsicles is that while they freeze up hard and keep their shape, once you pull them from the freezer and start eating, they melt quickly. Kinda how you would want a fudgesicle to melt. They actually have a very fudge texture, minus the chocolate.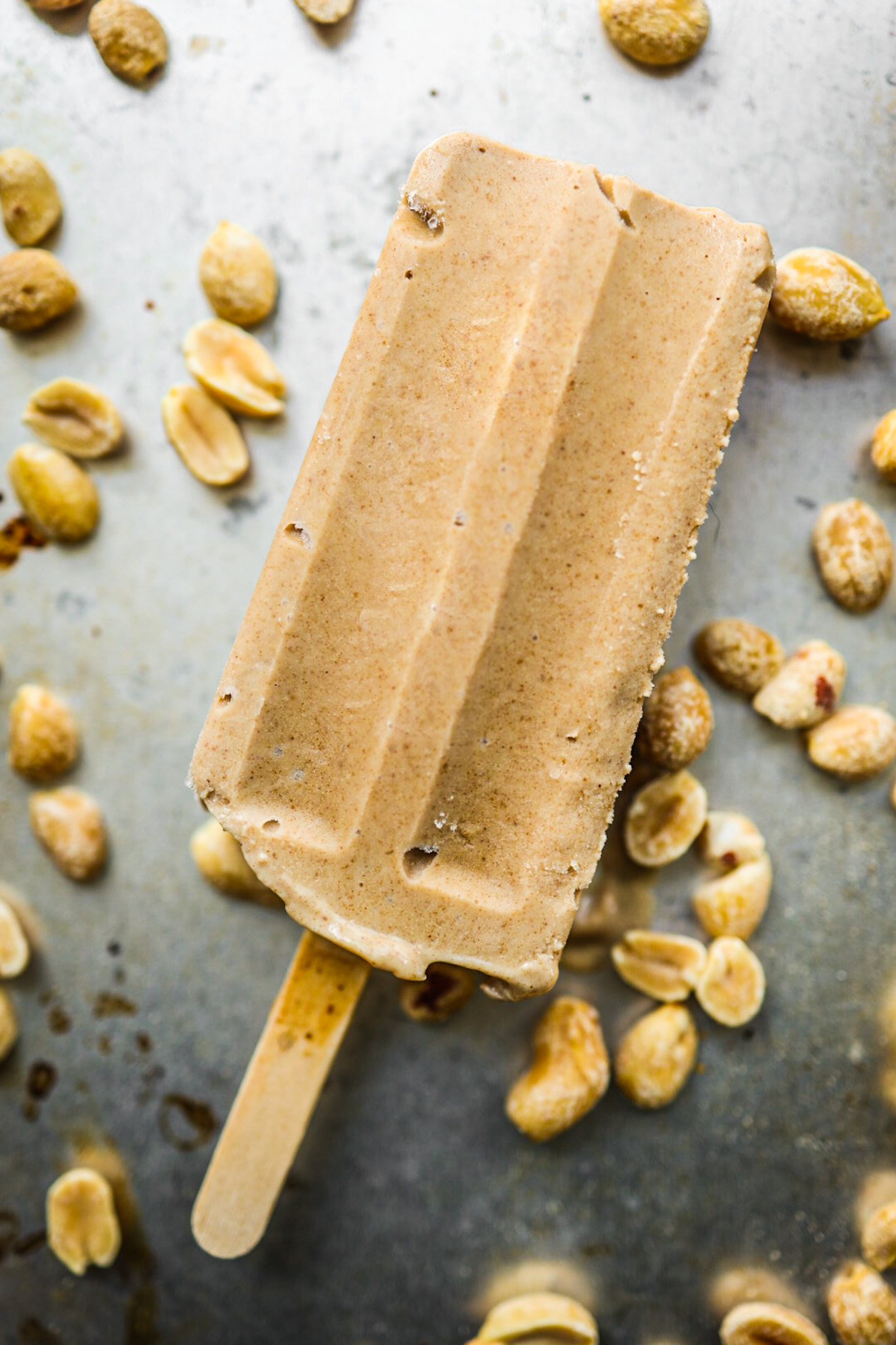 Baby-Approved Popsicles
These popsicles are Rosalie's favorite treat right now! I give her one after a meal, or occasionally for a breakfast snack when she is being fussy about other foods. She devours them! Yes they are sweet and contain plant-based sugars, but they do not contain any refined sugar – all that sweetness is from fruit. The creamy Medjool dates and banana.
Natural Delights Thank You!
I was actually inspired to make these Peanut Butter Popsicles because my friends at Natural Delights sent me a really fun summer care package with the fun silicon popsicle mold, as well as a bunch of their pitted Medjool dates. You may recall, I was lucky enough to be able to visit their factory and treat groves a few years ago with a bunch of blogger friends.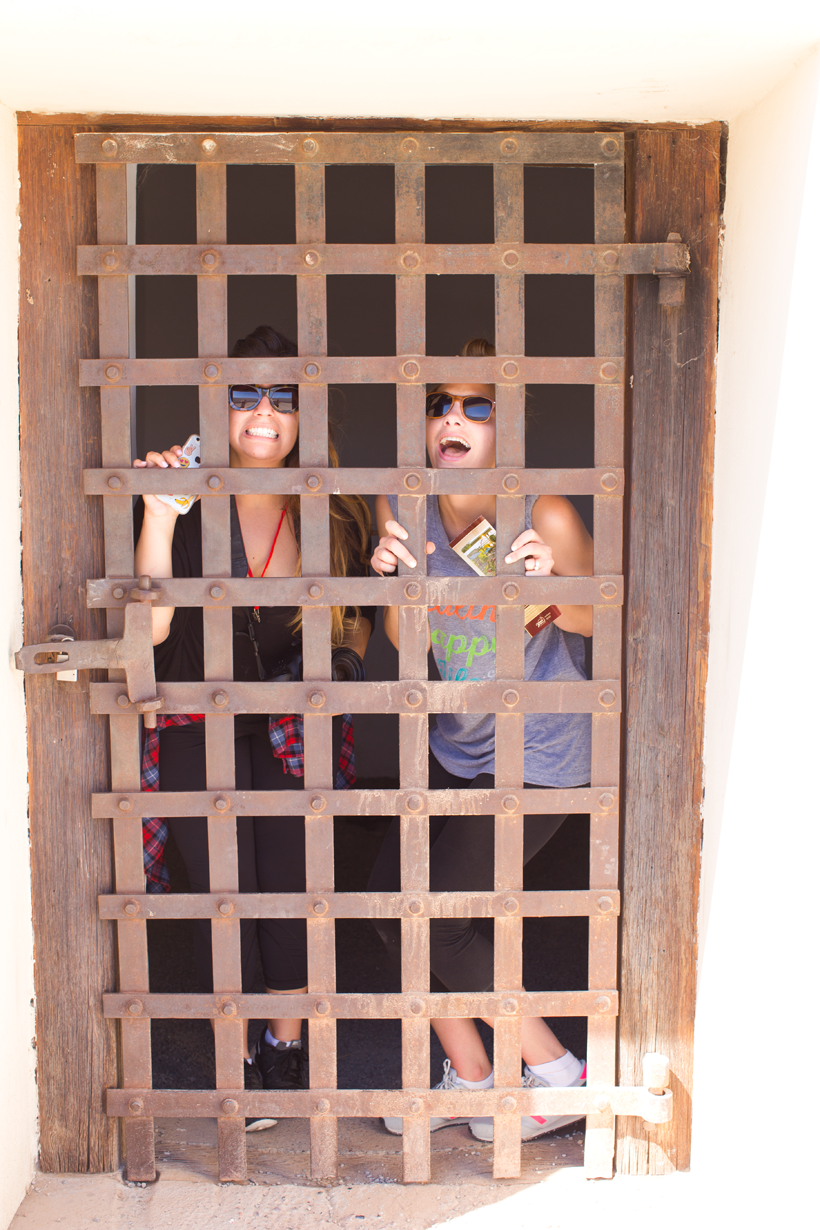 That trip was sooooo fun! So yeah, I adore the Natural Delights brand and I am thankful they thought of me for this gift so that I could create this recipe. I will absolutely be making these popsicles again and again for Rosalie.

(Ps. This is NOT a sponsored post, just giving a shoutout for the goodies they sent that inspired this recipe.)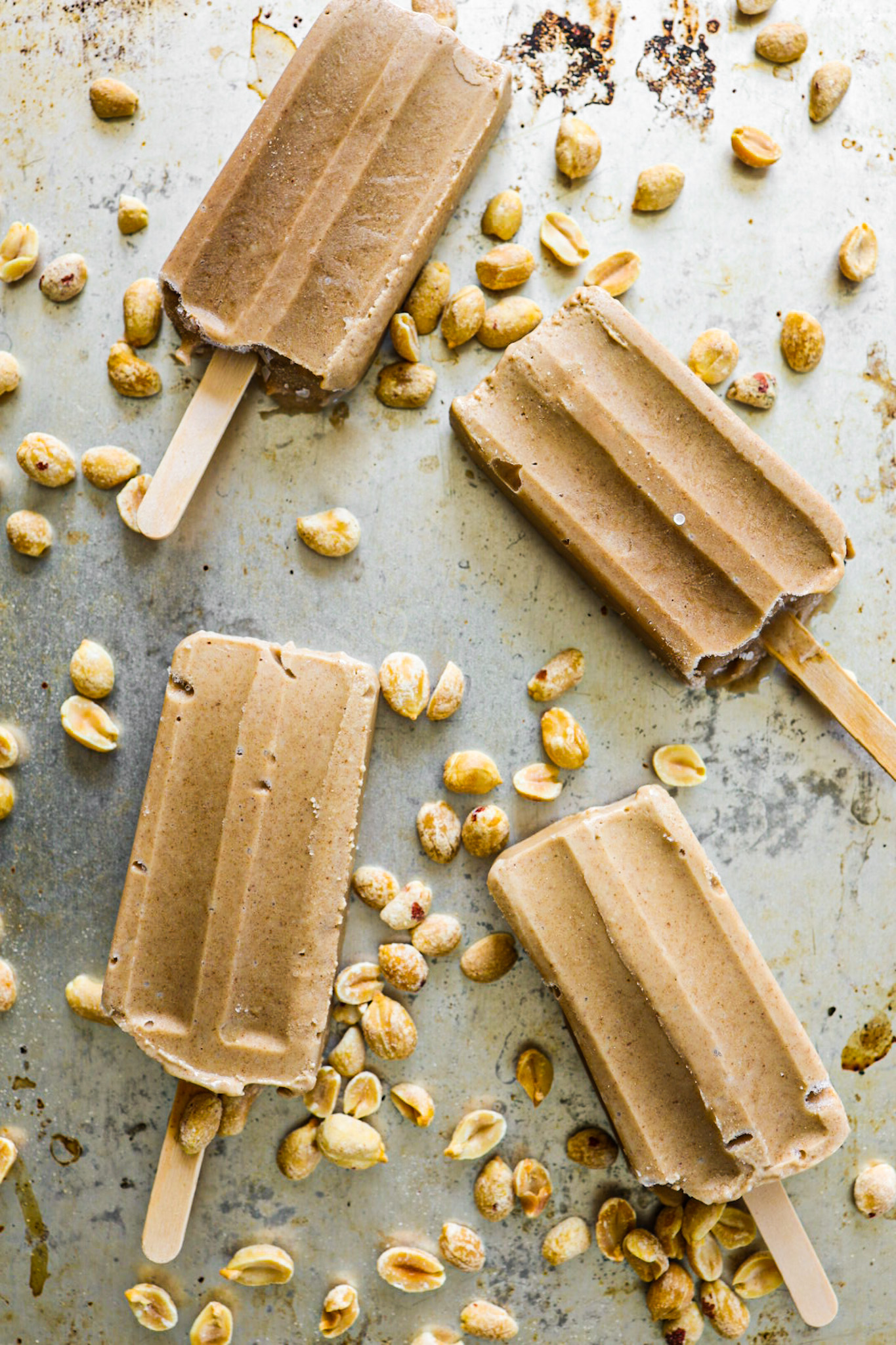 Churn-Free Ice Cream Vibes
These Peanut Butter Popsicles are so creamy that they really remind me of ice cream popsicles. Churn free, you just need a blender to smooth out all the ingredients – especially those dates.
Blending Tip: If you do not have a high speed blender like a Vitamin, that's ok! My tip is to actually soak the pitted dates in hot water for five minutes before blending. That can help soften them up. Also, chilled dates are usually rock hard, while room temperature dates are a bit softer. Do allow your dates to warm to at least room temp before blending, for the smoothest popsicles possible.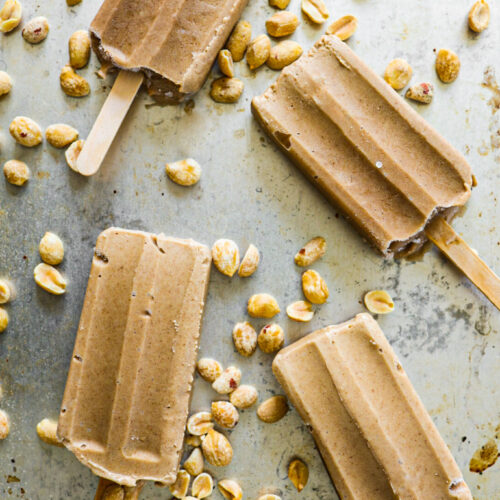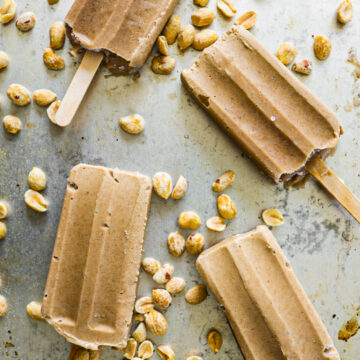 Peanut Butter Popsicles
Creamy, rich peanut butter popsicles, sweetened with fruit!
Print
Pin
Ingredients
⅓

cup

peanut butter

⅔

cup

almond yogurt

,

full-fat like Kite Hill Protein version

1

whole

banana

1

cup

soy milk

9

whole

Medjool dates

,

pitted

⅛

teaspoon

salt

⅛

teaspoon

cinnamon

,

ground
Instructions
Add all the ingredients to a blender.

Blend from low to high until silky smooth.

Pour the mixture into your popsicle mold.

Freeze until firm. Overnight is best, but they usually firm up in an hour since they have a high fat content.
Equipment
blender

popsicle mold

wooden sticks
nutrition estimate | per serving
Calories:
119
kcal
|
Carbohydrates:
7
g
|
Protein:
5
g
|
Fat:
8
g
|
Saturated Fat:
2
g
|
Polyunsaturated Fat:
2
g
|
Monounsaturated Fat:
4
g
|
Sodium:
133
mg
|
Potassium:
153
mg
|
Fiber:
1
g
|
Sugar:
4
g
|
Vitamin A:
86
IU
|
Vitamin C:
3
mg
|
Calcium:
91
mg
|
Iron:
1
mg
Another Medjool Date Recipe to try…
If you love these popsicles, you will love this super easy snack idea using peanut butter and dates.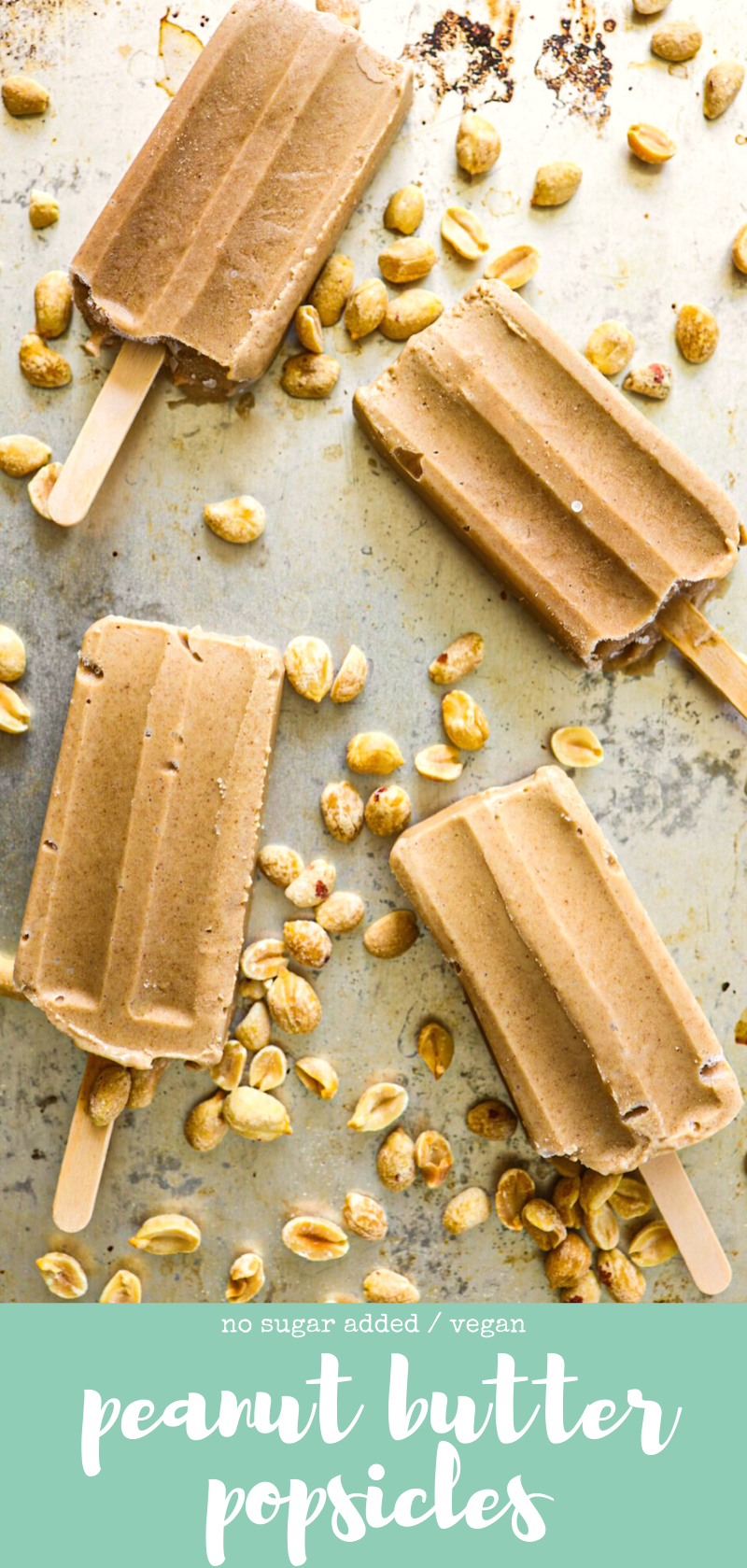 disclosure: Natural Delights sent me a summer care package with some dates and popsicle supplies. Thank you!