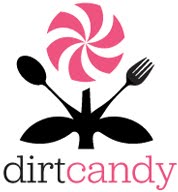 There are a few restaurants in New York City where from the moment you step inside, you feel as though you have just discovered a tiny, hidden, sparkling gem, and you say to yourself, "so this is where the cool people hang out." Dirt Candy, an east village vegetarian (vegan-friendly) eatery is one of those unique places. I dined there a few months back and have been raving about it ever since. I suggest you bring your non-veg friends, they'll never look at 'vegetarian dining' the same way again. It's palate-changing. Read my full Dirt Candy review here.
Vegetarian Rising Star Chef Award: Chef Amanda Cohen. The headline reads: Dirt Candy The First New York Vegetarian Restaurant To Win Starchefs.com Prize! Awesome. Dirt Candy's founder and executive Chef, Amanda Cohen, is the winner of the StarChefs Sustainability Award. Amanda and other rising stars from restaurants like Morimoto and Blue Hill, will be honored at the StarChefs Rising Stars Revue ceremony on September 22nd 2009 at the Mandarin Oriental Hotel in NYC. And that's not all, Bon Appetit named her one of the top 10 "Modern Vegetarian" restaurants in the country. Congrats Amanda! With creative menu items like Kimchi Watermelon Radish Donuts, Asparagus Paella and Popcorn Pudding, no wonder she is making waves in the foodie world. More…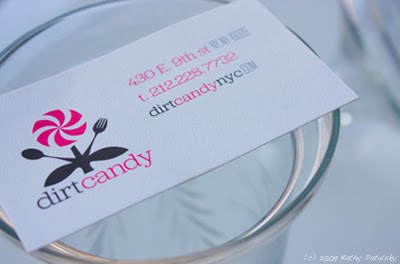 Want to attend the StarChefs Awards Gala at the Mandarin? Tickets here.
Here is more official info on this news:
Dirt Candy The First New York Vegetarian Restaurant To Win Starchefs.com Prize: Chef Amanda Cohen is the first New York based vegetarian chef to win the coveted "Rising Star" award from Starchefs.com. With input from food media, past winners, and an illustrious advisory board, the premier culinary website Starchefs.com assembles a list of nominees from among the many thousands of talented New York chefs.
About Dirt Candy: Open less than a year, Cohen's east village eatery has won popular and media praise from the blogoshere to local and national media. (Bon Appetit listed Dirt Candy as one of the top 10 "Modern Vegetarian" restaurants in the country, and the New York Daily news review named it the best new vegetarian restaurant in New York .) Now, with the Rising Star award, Cohen has added industry recognition of her culinary talent. Amanda notes that, "It's really exciting to see vegetarian restaurants around the country getting recognized and appreciated, and I'm proud to be a part of that."
Dirt Candy, 430 E. 9th St (Between Ave A & 1st ), (212) 228-7732