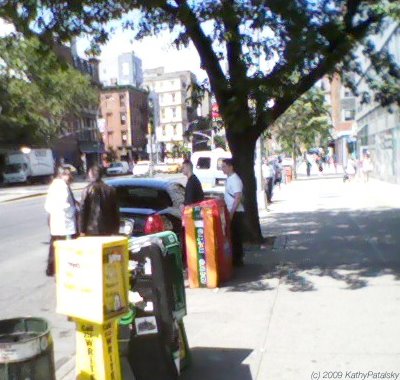 Veg*n foodies, lets chat. I was thrilled, excited and all around stoked when I found out that the new 'low-brow' Daniel Boulud restaurant, DBGB was opening up at Bowery and Houston streets in NYC-easy access for this downtown chica. And right across the street from vegan mecca, Whole Foods Market, I might add. But my excitement turned to disappointment as I perused the newly unveiled menu posted on the windows of the DBGB building. Vegetarian option: declined. And as one DBGB customer commented on Yelp.com:
"…the menu was a nightmare for vegetarians, which isn't good."
Sigh. Daniel B, I am such a big fan, I love your culinary creations and witty personality. I adored After Hours, your awesome 'foodie dream dinner party' series on TV. So I have to ask, why do you hate veg*ns like me? (And yes, the pic above is a cell phone photo of Daniel when I spotted him outside DBGB one afternoon.) So, fine dining, veggie-options and chefs that seem oblivious. Let's Chat…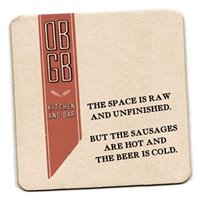 DBGB Buzz. I'd stroll by the ever-evolving restaurant waiting and watching for any signs of life, or more importantly, any signs of a menu. And one day I even spotted Daniel B himself, getting into his Town car as he excited the side doorway of the restaurant. He was wearing his elegant eyeglasses, chef's coat and a big smile on his face. Love Daniel the chef, but wait does he hate me? If his not-vegan-friendly-at-all menu is any indication, it seems so.
Boulud's Wild Side. I get it. Chef Boulud wanted to take on the down turned economy by introducing a 'low-brow' burger-ized, 'casual fine dining' restaurant into his repertoire. On DB's website are images splashed across my screen of DB and his head chef wearing jeans, casual shirts and grubby shoes while strolling the Bowery. How chic. How so…Tony Bourdain of him. But I have to wonder why a lax attitude in fine dining doesn't mean a lax attitude in culinary offerings. Why not take chic a step further and offer, gasp, a hip Bowery Veggie Burger. What would Bourdain say?…
DBGB has opened, and the menu is in full view, posted outside and on the web. Let's see, sausages, hamburgers, meat, meat, more meat. Wait, where are the veggies? Where is the vegetarian option? Where is the side note about a vegetarian option available each night (even Michelin-Starred restaurant WD-50 has that. Ugh. Sigh. Sniff. Whimper. Nothing. Nada. I can usually swing something at a non-vegan place like this, but as one Yelper reviewed: "I also thought the menu was a nightmare for vegetarians, which isn't good."
Nightmare indeed. So what's up with these anti-veg*n chefs? And why do Ilove them, but they seem to hate me? Anthony Bourdain, Gordon Ramsey. Love them both. Talented authors, charismatic personalities and bold chefs. But they are never shy about voicing their hate for vegetarian food.
But JG Likes me! Thank you Jean-Georges. He is a big believer in eating healthy and accommodating all types of diets. I also dined at Le Bernardin, where they made a silly little vegan like me (at a notably seafood-heavy restaurant) feel incredibly comfortable and satisfied. My vegan meal was amazing at Le B. So, why do Eric Ripert and Jean-Georges find it appropriate to accommodate vegans, but Daniel B seems to have forgotten his veggie fans completely, via his menu. I'm not asking for a whole section on the menu for vegans, but one veg-friendly, vegan modifiable entree would be nice. If you haven't noticed, the veg-friendly establishments do quite well in this part of town. And DB, your new DBGB joint is right across the street from Whole Foods, vegan mecca.
Special Diets Everywhere. I would think that the first-or heck the last- thing that a chef thinks about when designing a menu is how to accommodate people with special diets or acknowledge the people with food allergies. Look at all the different diets out there: gluten-free, organic, low-fat, low-sodium, vegan, vegetarian, kosher, diabetic, non-dairy and more. I would think that restaurants would want to open their doors to all types of diets. A true chef can cook an amazing meal-for anyone. But really, why would a chef shy away from creating a meal out of seasonal, organic local produce and grains. A vegan entree would be an easy add-on and quite frankly, veggies are cheap! I'm not asking for truffles here. Just a simple micro-green salad and a creative pasta, grain or veggie burger dish.
If you are interested in this 'special diets' topic, you may be interested in signing my Food Network Show petition to increase programming involving special diets: Petition Here.