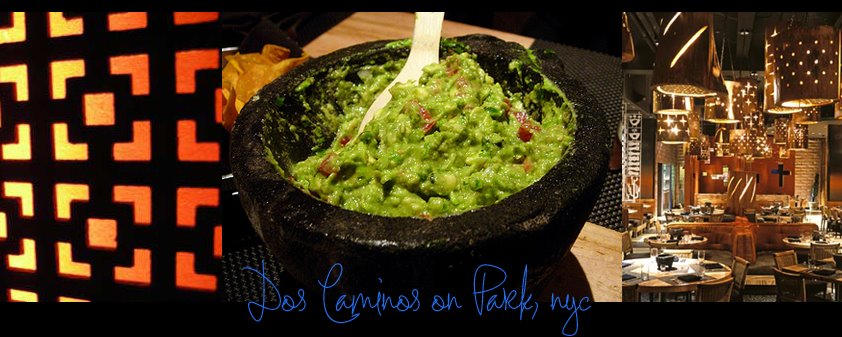 So I promised you a birthday-adventure rundown of events. So here it is. But it's not the quiet, sweet-toned night out I first imagined! ….And that's good.
The planned events included a 9PM dinner at an elegant, intimate, quiet and delicious vegan restaurant in the city. One of my fave restaurants. But it came upon 8 PM and I had a bold, pit-of-my-stomach craving for two things: an energetic scene and a big lava rock bowl filled with fresh, spicy, table side guacamole. And no we didn't go to Rosa Mexicana because I've had too many screaming kids/they took the one veggie dish off the menu experiences there. So-in the cab to our original destination- we grabbed the blackberry and cancelled our vegan-dining-bliss reservation.  We shouted to our taxi driver the location of our new destination address: 26th and Park: Dos Caminos. (Iwhispered to my understanding husband,  "Isn't life with me excitingly spontaneous?"  He smirked.  No doubt he agreed with my guac craving,  and being a seafood lover,  I'm sure he was dreaming of lime-marinated ceviche. 
Dos Caminos
is probably my favorite Mexican restaurant
chain
in Manhattan. It's no
Palapas
(a favorite Santa Cruz, Cali hometown place) but
DC
does make an excellent table side guac.
And an energetic scene is always a safe bet.
So our cabbie did a quick detour route to the 26th and Park Dos Caminos and the birthday deliciousness began…..
Dos Caminos,  Friday Night
Well my first craving for an

energetic scene

was indeed met. We could barely fit in the door of the Park Ave. Dos Caminos. The bar was filled to the brim with NYU students, young professionals and OK, a few of the touristy restaurant week crowd. (It is restaurant week here in NYC.) No Madonna and A-Rod in sight.  Although back in October they dined here,  as 

reported by all the TMZ-er's of the internet world.

Having no reservation, we hoped to get a table. This would thoroughly suck if they were all booked.  But they weren't.  They don't do opentable.com,  so it's easier to just walk in off the freezing street. Luckily, the wait was only 30 minutes, said the host. Real time wait: about 45 minutes. Not bad.  And I did like my company,  so the pre-dinner chat was welcomed. Squashed in the small entryway/bar area, we waited, our tummies growling and our limbs still frozen from the twenty degree air. Each opening of the door brought in a swift gust of chilly air. And I was getting a little sick of the 'bag bumps' and "excuse me's" from push-n-shuvey bar bound patrons. But thoughts of guacamole kept my spirits high.

SEATED

Yay. We were seated in a cozy table on the far end of the center of the dining room. This main room was packed with a lively bunch of diners. Just what I craved for my festive birthday dinner. A huge party of twenty-something girls to our left and a huge party of night–on-the-town guys to our right. Loud, but not too loud, music was playing on the speakers. A Counting Crows cover of Mr. Jones was my favorite bop-around-in-my-seat song,  but the eclectic mix of tunes was complimentary to the scene.  Great energy for a cold Friday night in the city.

I'LL HAVE THE GUAC, PLEASE

So we immediately ordered a bowl of guac, spicy. And a pitcher of classic red sangria. My favorite celebration beverage. Oh and a salsa trio sampler and a side of corn tortillas. And some water, sparkling.

OH, I'M VEGAN, FYI.

It's always an adventure ordering vegan food from a non-vegan friendly menu. Not even a vegetarian main entree dish.  And no asteriks of *can be made vegan.  Well duh.  I already knew this is the case here.  But I've ordered successfully  at DOS Caminos many times before, so I knew I'd be OK. And my husband eats anything on the menu except beans and rice.  (Yes he has his own food issues.)  My hubby got the tuna ceviche to start, white wine braised short ribs. A meat splurge for him,  since I so often bombard him with tempeh-infused Caravan of Dreams nights.  I got the pomegranate, beet, jicama salad, no cheese to start. And the tacos, done vegan style, lots of veggies and citrus tones. And a side of the red Mexican rice. We also ordered our favorite to share, the fried plantains, no cheese.

WAITING GAME

The wait was long for our food. But that was very OK because we were savoring the guac, and the trio of salsas was equally appealing. Something about the salsas tasted extra fresh today. And the red sangria-so easy to drink. And perfect to cool off a hot mouth.  "Sangria always hits me later." (I say this out loud to my husband as I chug down my first two glasses.)

YUM! DINNER IS SERVED.

So again, everything was extra delicious this evening at DC. The plantains were extra moist on the inside and charred crisply on the outside. The veggies in my tacos were extra flavorful. They had a Asian flair to them. My corn tortillas were definitely handmade-which has not always been the case here! And the second round of salsas were just as tasty as the first. Delicious! I had that spicy taste of lime, cilantro, chipotle and chile's on my palate and I was a happy camper. Just cool the tongue burn off with some sangria and I was in the zone of appetite-zen.

We finished the meal with some guava and pineapple lime sorbet.

THE MORAL OF THE STORY…
So the moral of the story my friends,

listen to your intuition.
(Especially if it origins out of your growling tummy.) And go with those cravings. I will definitely be back to the vegan place I flaked on, and I do apologize for the last minute cancellation,  but for this birthday feast, Dos Caminos was

sublime.

I got that yummy 'bowl of guacamole' I had been craving all day.

Happy Birthday indeed.