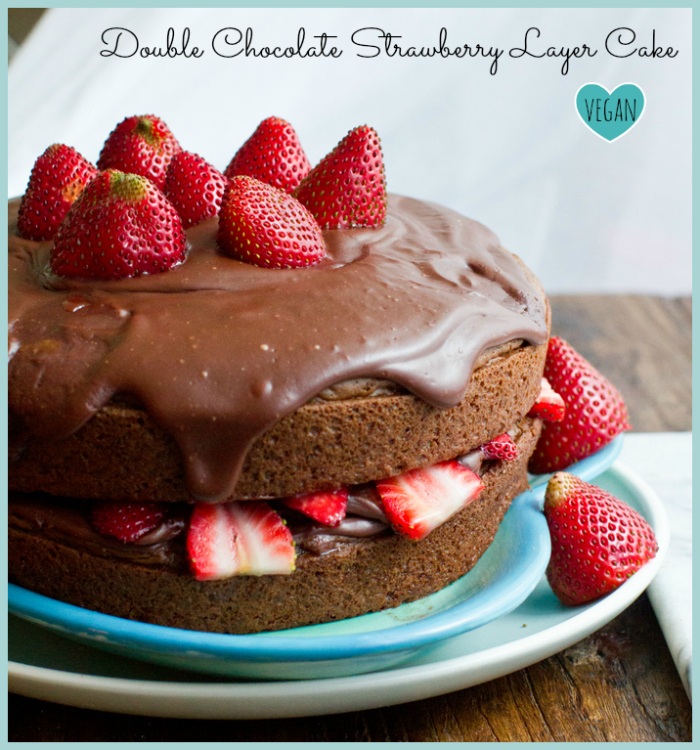 This Double Chocolate Ganache Strawberry Cake is perfect for some well-deserved Valentine's Day decadence.
I already did some cute heart-shaped sugar cookies. And some chocolate-frosted banana cupcakes with pretty pink sprinkles. So why in the world would I need to do another recipe? Well, as usually happens when I browse the internet, I came across this post on BuzzFeed: 71 Reasons Candy Hearts are Stupid – and was immediately inspired. I mean oh-my-goodness look at all that decadent chocolate bliss! I needed to do a vegan version of some double chocolate, fluffy cake, drizzly chocolate, rich buttery-ness, strawberry-accented dessert heaven…
After the cake cools a bit, the ganache turns its melty satin layers into firmed up ripples of chocolate art..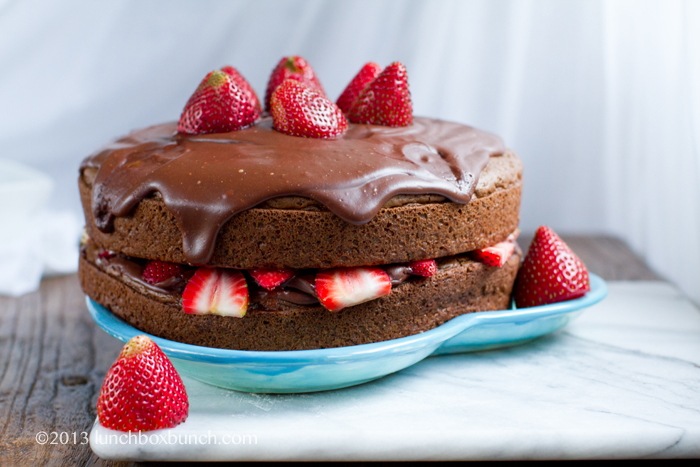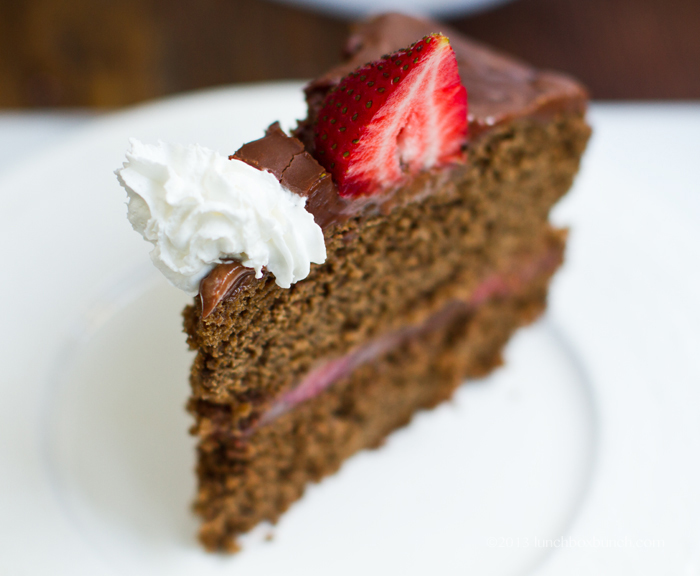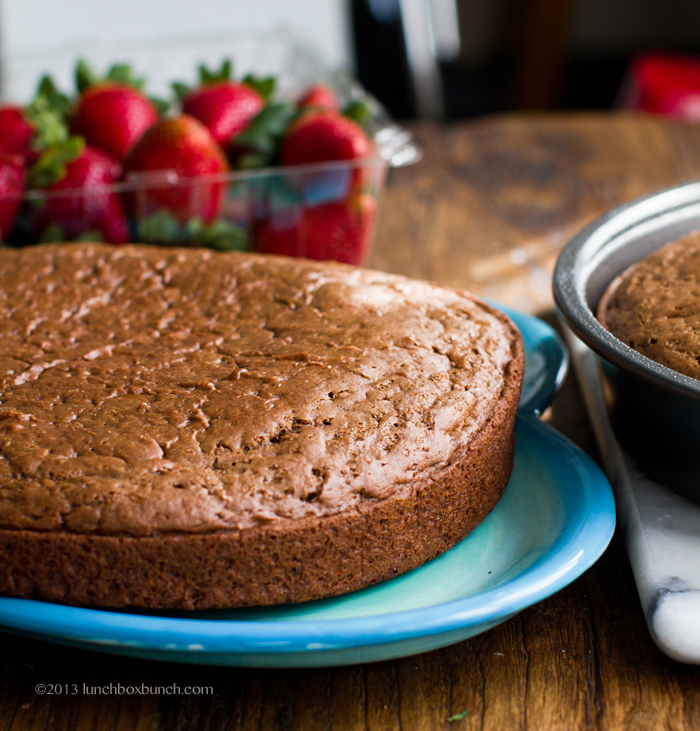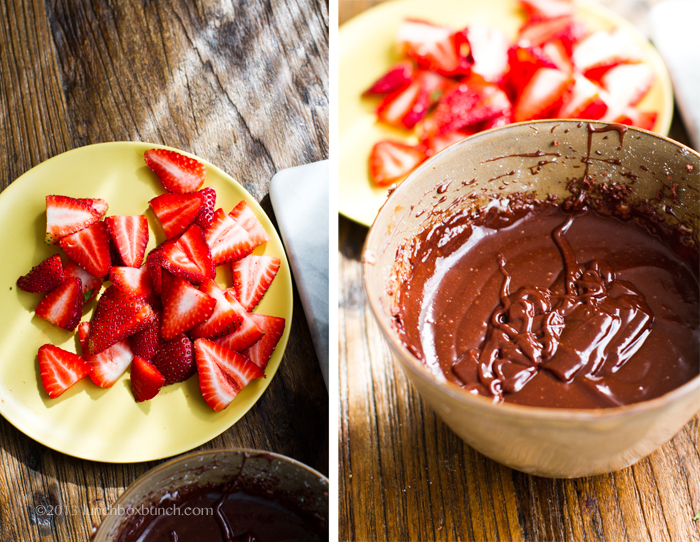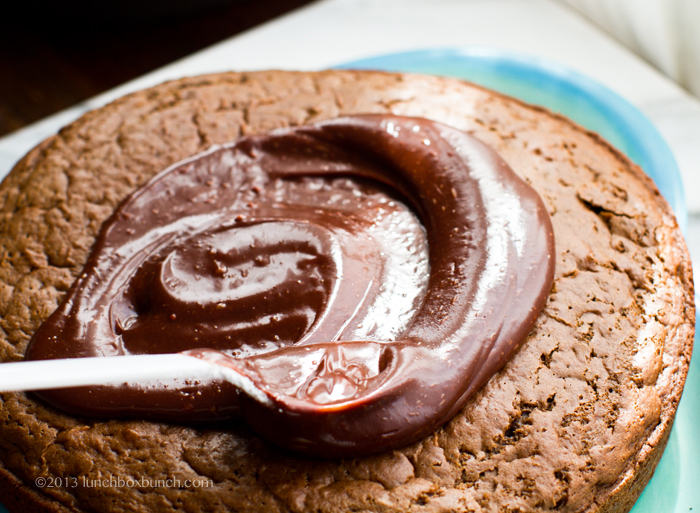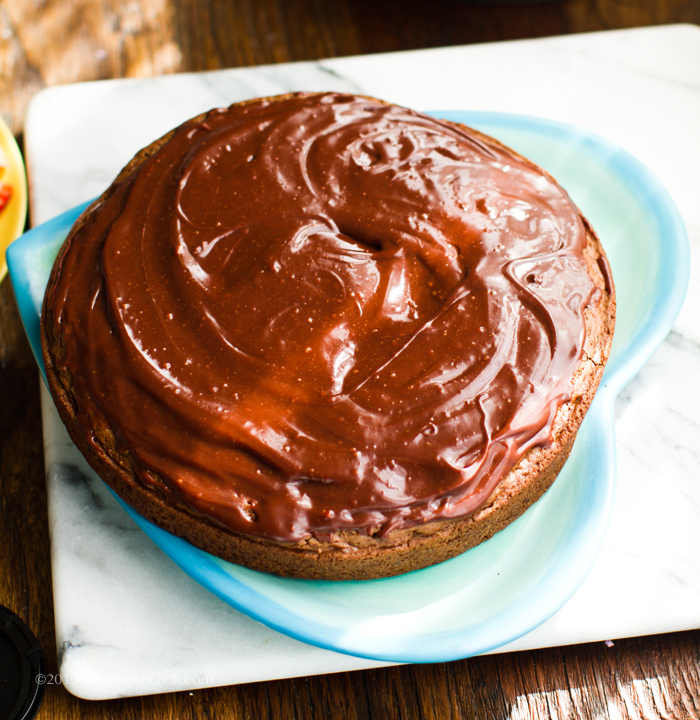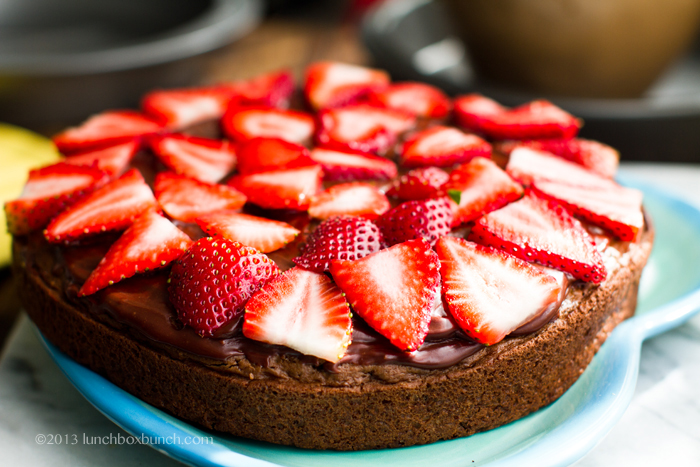 The cake is not too sweet, which I really love. The fresh berries and chocolate richness really takes the flavor lead here. The creamy chocolate ganache frosting compliments the sweet, juicy strawberries perfectly!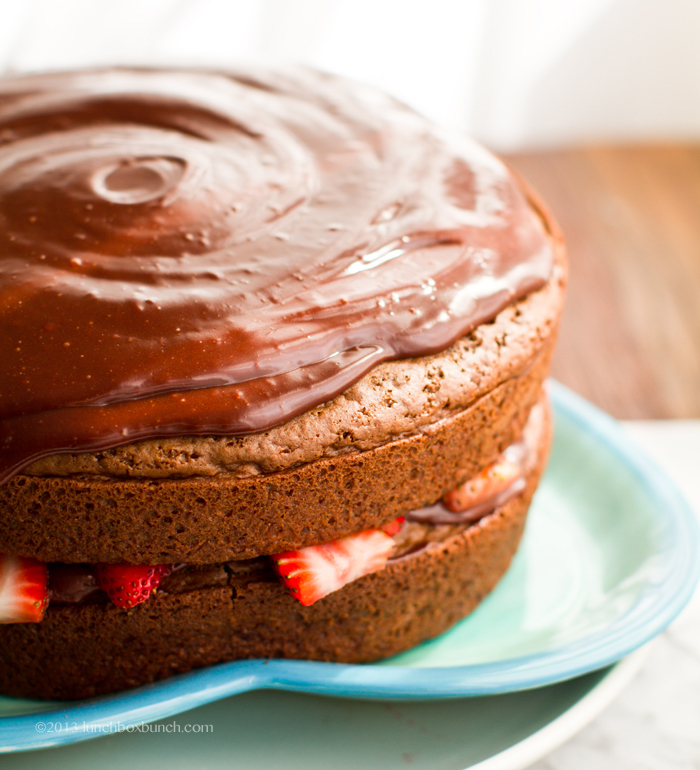 Slices of leftovers are super delicious too..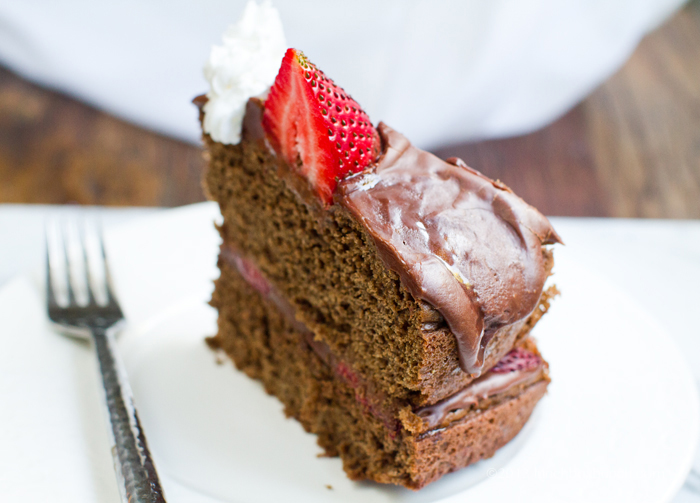 A few videos of me making this cake, be sure to follow me on Vine App!
(Update: I do not really post Vines anymore, but I am active on Instagram!)
Double Chocolate Ganache Strawberry Cake
By Kathy PatalskyPublished 02/13/2013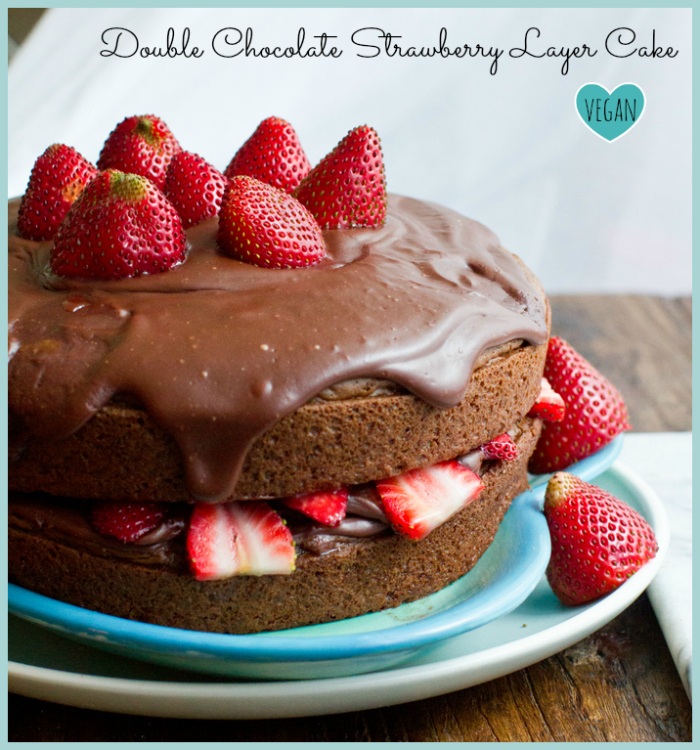 Rich and fluffy layer cake mingles with chocolate ganache frosting and freshly sliced, sweet strawberries. Tools: 2 9″ cake rounds.
Ingredients
dry:
2 ½ cups flour, organic (white used, substitutions ok if needed)
½ cup unsweetened cocoa powder
1 ½ teaspoon salt
1 ½ tablespoon baking powder
2-3 pinches cayenne pepper (optional)
wet:
2 teaspoon vanilla extract
2 ½ teaspoon freshly ground flax or chia seeds + ⅓ cup warm water
1 cup water
1 cup almond or soy milk
1 ⅓ cups sugar, organic (I love coconut sugar)
½ cup virgin coconut oil, melted (or sub with safflower oil)
1 tablespoon apple cider vinegar
chocolate ganache frosting:
1 cup dark chocolate chips
½ cup sour cream, vegan (yes sounds weird, but it works!)
¾ – 1 cup powdered sugar, organic
2 tablespoon virgin coconut oil, melted
pinch of salt
Also:
2 cups organic strawberries, thinly sliced
Instructions
Preheat oven to 375 degrees.
Grease your two round cake pans with coconut oil and set aside.
cCombine dry ingredients in a large mixing bowl, mix well.
Combine the flax (or chia) egg ingredients and stir briskly. Set aside to thicken for 2-3 minutes.
After 2-3 minutes, add all the liquid ingredients to the dry bowl and fold in the flax egg. Using a hand beater, whip the batter until smooth and silky, about 1-2 minutes on medium speed.
Pour the batter into the cake pans.
Bake cakes at 375 degrees for 25-30 minutes, or until they appear to bake through. Do the toothpick test if needed.
Remove baked cakes from oven and allow them to fully cool before assembling cakes. Cakes should be ready to be removed from the pan after about 15 minutes of cooling off. Use a cooling rack if available.
Make your chocolate ganache. Add the chips and coconut oil to a medium bowl. Place in microwave for 30 seconds on high. Remove. Stir, stir, stir as the chips melt with the heated oil. If still lumpy, place back in microwave 10 seconds at a time and stir until creamy. Next, add the powdered sugar to the melted chips. Using a hand or stand mixer, blend until very thick and combined. This will get really thick like a fudge. Now the best part. Heat your vegan sour cream in the microwave for a good 30-60 seconds or until steamy and hot – melted. Add the hot sour cream to the chocolate and blend on low. The mixture will smooth out to a silky consistency within seconds. Blend until smooth. Fold in optional salt and flavorings to ganache. Set aside. Note: you may use a small sauce pan and a stovetop in place of microwave if desired.
Transfer chocolate cake to serving platter and place bottom layer in the freezer for about five minutes while you slice up your berries. You may also want to place the top layer on a separate plate and chill it for a few minutes too so the warm ganache thickens as it hits both layers of chilled cake. (The coconut oil makes the ganache very controllable in consistency, based on temperature.)
Pour the slightly warm ganache over top the chilled from the freezer bottom cake layer. Then add a layer of sliced strawberries over top. Then add the other layer of cake and drizzle more ganache over top. And add more berries on top. If you want the ganache fully chilled for serving, place cake in the fridge to chill. Otherwise, serve warm for rich and melty ganache.
Yield: 10 slices – 1 layer cakePrep Time: 00 hrs. 15 mins. Cook time: 00 hrs. 20 mins. Total time: 35 mins. Tags: dessert,cake,valentines day,vegan,strawberries,chocolate
Store on your counter (covered if you have a cake display cover) for up to 24 hours. After that time, store in the fridge for up to a few days or freeze for longer storage.