This week in Los Angeles, it has been so perfectly gloomy. There is a strange symphony of sounds outside my window. Birds happily chirping to the cloudy grey skies, as busy cars splash through puddles along the slick streets. It is a slow and cozy start to spring, with yes ok, a few patches of blue sky and sunshine. And I looooove it.
This wet weather (and maybe cold weather if you are out east!) is perfect for curling up with a new book, cradling a mug of matcha or ginger tea, and nibbling freshly baked muffins. Muffins like these I am sharing today..
Vegan, gluten-free, no-sugar-added Double Coconut Maui Muffins. They are super simple to make and have the most luscious, rich and moist coconut texture. They taste like a tropical island feels to your skin and senses. Get my recipe and find out which three books I am excited about this week!
If you can't hop a plane to Maui this weekend, at least you can bake these.
Banana, coconut, vanilla bean, cinnamon and optional vegan white chocolate and macadamia nuts.
3 Books I Love Right Now!

1. Eaternity. This new wellness cookbook by my friend Jason Wrobel just hit stores this week. You can read my full review here on the blog and also in that post, get a recipe for Jason's no-bake/raw superfood fudge brownies. (SO GOOD.)
2. The Longevity Book by Cameron Diaz. Cameron's followup to The Body Book. I am about half way through it and love it so far! I am going to do a post about it when I finish. And dabble in some "woman's health" chatter and some personal stuff too. I love Cameron's message that her book is NOT an "anti-aging," book but so much more. She gives hard science, practical advice and personal stories about how to embrace the aging process through your life span. (This book is geared towards girls, but boys you could learn a few things from it too!!)

3. Hamilton: The Revolution. I just pre-ordered this one. As you may have read in this post, I am obsessed with the Broadway show Hamilton. So this book was a must. From Amazon.. "The book does more than tell the surprising story of how a Broadway musical became a national phenomenon: It demonstrates that America has always been renewed by the brash upstarts and brilliant outsiders, the men and women who don't throw away their shot."
What are YOU reading right now?


Now for this yummy coconut muffin recipe!..


Optional white chocolate, aka raw cacao..

You could also add some coconut butter in chunks into the batter and let it melt into the muffins. I love my friend Sophie's Superfood Butters. Seriously addicted to the Berry Bliss flavor.
Warm Mug Pairings.. Pair these lovely muffins with an Encha Matcha Latte. Or try a warming turmeric-ginger golden mylk style latte. Or roobios. Or a simple fresh mint tea with lemon. Or try chamomile for super chill vibes. (ps. both the golden and green tea latte recipes are in my book HHVK).
Tags: muffins,coconut,maui,tropical,breakfast,snack,vegan,glutenfree
*disclosure: some links are affiliate links for Amazon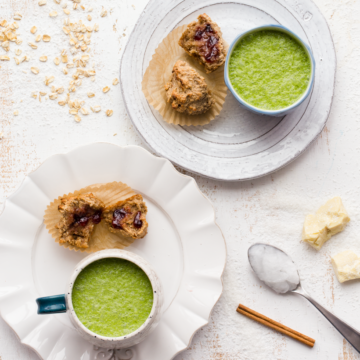 Double Coconut Maui Muffins
These double coconut muffins are tender and moist and have a soothing, tropical flavor reminiscent of an island getaway. Gluten free and vegan.
Print
Pin
Ingredients
Dry:
1 ½ cups gluten-free oat flour (I did homemade from rolled oats – blended in my Vitamix)

2 teaspoon baking powder

¾ teaspoon pink salt

1 cup reduced fat fine coconut shreds

1 teaspoon cinnamon
Wet:
1 large banana (or 1 ½ medium bananas)

½ cup virgin coconut oil

1 tablespoon ground flax seed (finely ground)

⅓ cup warm water

1 teaspoon vanilla extract or ½ teaspoon vanilla bean paste

1 small apple, chopped (organic Honeycrisp used)

optional: 2 tablespoon raw cocoa butter (aka vegan white chocolate, finely chopped)

optional: ¼ cup macadamia nuts, finely chopped
Instructions
Preheat oven to 350 degrees and line or grease a muffin tin.

Add all the wet ingredients to a blender and process on low for 1-3 minutes to allow the flax seeds to thicken the mixture.

Add all the dry ingredients to a large mixing bowl. Stir to combine.

Pour the wet into the dry mixture and stir until a wet fluffy batter forms. Fold in the optional nuts and/or raw cacao butter. I added the cocoa but not the nuts.

Scoop the batter into the muffin tins.

Bake at 350 for 22 minutes, or until the edges of the muffins start to brown slightly. Cool a few minutes before serving.