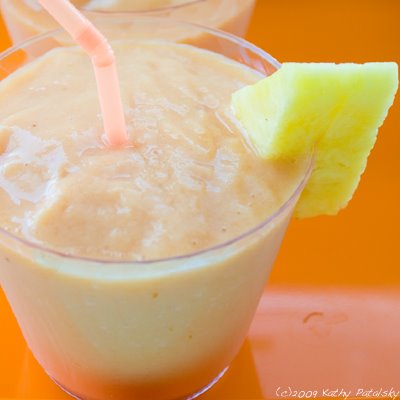 My recipe for this Double Fruit Enzyme Smoothie is called the P3B2 Smoothie. Here's why:
Papaya, Papain
Pineapple, Bromelain
Banana
Fruit Enzyme Power. This smoothie combines the best of two fruit enzymes: papain from papayas and bromelain from pineapples. It has double the enzyme power to revitalize your digestive system…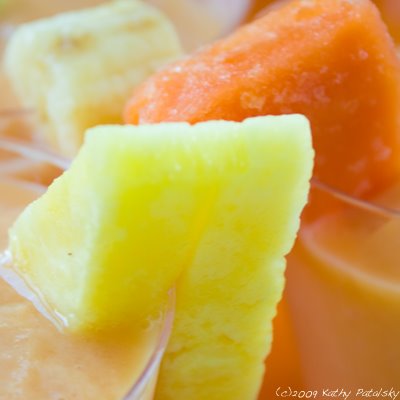 I love my bold Pineapple Enzyme smoothie.
And my creamy Peach Papaya Smoothie is dreamy bliss.
So now I combine the two for the ultimate in fruit enzymes smoothies. Here's the recipe…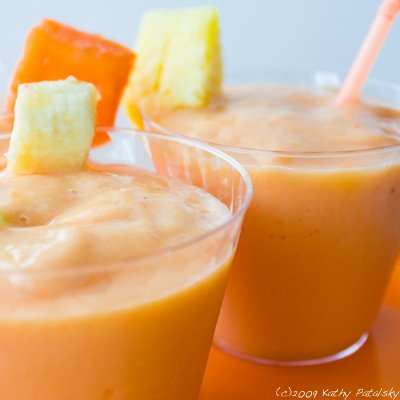 Double Enzyme Smoothie
serves 2, vegan
1 cup frozen papaya*
1 cup fresh pineapple (not canned)
1 large banana, raw or frozen
½ cup coconut water ice cubes
1 cup soy milk
½ cup liquid of your choice (apple, cashew, orange juice or soy yogurt)
*using half fresh/half frozen papaya is also a great option-if using fresh papaya, simply add more coconut water ice cubes and/or a tad less liquid)
optional: dash of sea salt, 1 teaspoon agave syrup
To make:
Add all liquids to blender.
Add frozen fruit.
Add ice.
Add fresh fruit.
Blend until smooth.
Delicious add-in: raw unsweetened shredded coconut.