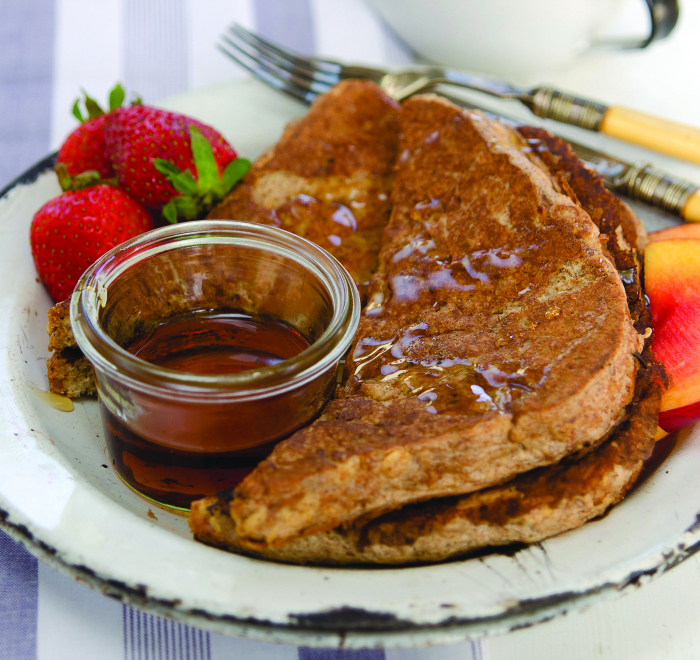 Today I am happy to be sharing a delicious recipe from Dreena Burton's new cookbook, Plant Powered Families! Plus I chat about my fave meal of the day and family meals. And you can enter a giveaway to win a copy of PPF!..
My Favorite Meal of the Day. If you follow me on Instagram, you may be able to guess this, but my favorite meal is brunch. I would say breakfast, but brunch sounds better because it implies that you are not eating breakfast until late in the morning or afternoon, which means you have most likely relaxed or slept in all morning, which means by the time brunch rolls around you are feeling pretty calm, blissful – and hungry.
That is why whenever I am given an opportunity to share a recipe from someone's cookbook, I always turn to the breakfast section first. Er, brunch.
Why breakfast? It took me a while to come for terms with it, but I am a total morning person. Sunrise, fresh day, crawling from bed. Mornings are my jam.
Family Mornings. Mornings are such a pure time when we fuel ourselves for the day ahead. And for some reason, I look back on my breakfasts growing up as my favorite family meals.
Dinner was nice, but it always felt more hectic and busy. First of all, dinner had to be decided upon, "what's for dinner???" – and that was sometimes a struggle in our house when I was a teenager, starting to embrace vegetarianism and question what I was eating, in a house full of traditional eaters. But I cannot ever remember having that problem at breakfast. No one ever moaned, "What's for breakfast???"
Breakfast just happened. Like a sunrise, it just kinda rolled out onto the table. (My mother may see that a bit differently! haha But not by much.)
At dinnertime, I was always ready to get back to my schoolwork or back to my friends or back to TV watching or back outside to run around with neighborhood kids. But a family breakfast, was never rushed.
Pancake mornings. French toast or even toaster waffle mornings. Cream of Wheat in a warm bowl or steamy oatmeal with fresh fruit. And the best, mornings watching Saturday morning teen TV, ahem, Saved by the Bell anyone? Or mindless 90's cartoons, eating a giant bowl of cold cereal, browsing the games on the back of the Pops or Lucky Charms box. It is all bliss in my memory.
Or maybe I love breakfast because all my favorite foods are found on a breakfast table! Fruit, bread, aka carbs, tea, jams, hot and cold cereal, smoothies etc. I was and still am a total fruit monster.
Me, eating my after-school snack apple…
And that rolls perfectly into today's topic: a new cookbook aimed towards vegan families!
Dreena Burton's Plant Powered Families contains over 100 "kid-tested, whole-foods vegan recipes."
First off, I love that we live in a day when there is demand for vegan cookbooks for families – kids and all! That just makes me so happy. And whenever people ask me for recipes and healthy eating advice for their kids, I will point them straight to this book.
Crazy Brownies from Plant-Powered Families..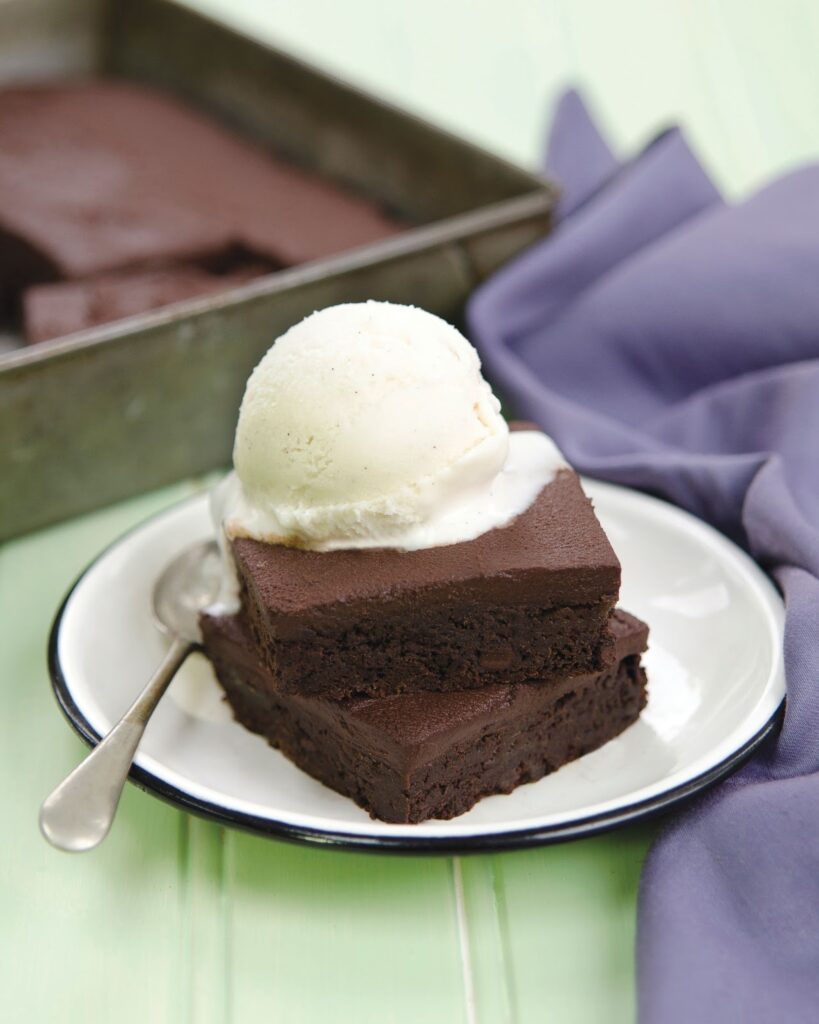 Flipping through the recipes in the book, I love that the recipe line-up basically looks like all my favorite meals as a kid, only veganized. Favorites and go-to recipes that are classic, beloved and totally kid-approved. Recipes like cheesy dip, hummus, french toast, muffins, wraps and sandwiches, comfort soups, taco night, pastas, stir-fry and of course the amazing dessert section with everything from decadent "Crazy Brownies" to fudgesicles, rice krispy treats and cupcakes. Granola bars, puddings and chocolate chip cookies too. All kid-approved!
There is a gorgeous photo for just about every recipe, which makes this a perfect book for kids to flip through and pick out visually what they want to eat.
I also love Part Three in the book which provides "solutions" and advice for things like picky eaters, lunchbox meals and even kids parties.
I cannot wait to visit my niece and nephew this summer and let them pick out a few recipes that they want me to make with them. And that leads me to my last point about this book..
You do not need to have a traditional mom and dad and kids "family" to use this book. Maybe you are a grandparent who cooks for their grandkids. Or maybe you have nieces or nephews, like I do. Or maybe you have friends with kids and you want to be able to cook for their entire family for parties and meals over. Or maybe you simply love simple, comforting recipes and have a very picky eating husband or wife or self! 😉
Or maybe you just love Dreena's recipes and NEED to own all of her books. Yup, that is a perfect reason to buy this book because all of Dreena's cookbooks are amazing.
So to round out my review, I will say this as my grand review statement:

Plant-Powered Families is filled with lovable and delicious, go-to recipes for your whole family, recipes that kids and parents will be able to enjoy together. This book will also inspire you to bring your kids in the kitchen and allow them to take part in the magical experience of cooking cruelty-free, plant-based vegan meals! ~ Kathy
—
And with that, I get to share a breakfast recipe from Dreena's book!
GIVEAWAY. Plus, enter the giveaway, one person will win (1) copy of Plant-Powered Families. (US and CANADA only) Enter by commenting on this post about what your favorite recipe is to make with or for kids! (Giveaway end Friday June 5th, I will reply to the winner's comment to notify them)
Cinnamon French Toast
By Dreena Burton
Published 05/29/2015

I remember French toast fondly from childhood—and so does hubby. It was the "treat" breakfast we had as kids, probably far easier for our parents to make than pancakes, and a great way to use up odds and ends of bread. This version is much healthier than what I ate as a kid, and I tell you our girls love it just the same.
Ingredients
1 cup plus 1–2 tablespoons plain or vanilla unsweetened nondairy milk
1 tablespoon white chia seeds
⅓ cup soaked and drained cashews (see note for nut-free option)
¾ teaspoon cinnamon
¼–½ teaspoon pure vanilla extract
⅛ teaspoon sea salt
Sliced bread of choice (see note)
Instructions
In a blender or using a handheld blender, puree the milk (starting with 1 cup; see note), chia, cashews, cinnamon, vanilla extract, and sea salt until very smooth and thick (it will get thicker as it sits a little while and the chia swells).
Prepare a nonstick skillet by wiping over with a touch of oil (you need a nonstick skillet, or this will be a sticky event!). Turn heat to high for a few minutes to heat up the pan, then reduce to medium/medium-high.
Dip a slice of bread into the batter. Turn over and let it sit in the chia mixture for a few moments to soak, then remove and place in the skillet.
Repeat with other slices, frying 2–3 pieces or more at a time, depending on the size of your skillet.
Fry for 3–5 minutes on each side, until light brown. Keep the heat high enough to get a good sear/crust on the bread, but reduce if it's scorching. Note that the slices will be sticky until they are ready to be flipped, so be patient. Repeat until all bread is used. Serve with fresh fruit and pure maple syrup. Another fun serving idea is to make sandwiches out of the French toast, slathering some nut butter between two slices, then serving with maple syrup.
Nut-Free Option: Replace ⅓ cup of cashews with 3 tablespoons of hemp seeds.

Bread Note: You may use 6–10 slices of bread, depending on the size of the slices.

Milk Note: After the batter sits for a few minutes it can become quite thick. You can stir through another 1–2 tablespoons of milk if it has gotten too thick with standing (if you have less than half the batter left, use just 1 tablespoon).
Yield: 3-4 servings
Tags: breakfast,dreena burton,french toast,vegan,am,