If you love avocado toast and you love pizza, this recipe is for you! Easy Avocado Tortilla Pizzas are a "Mexican pizza" inspired recipe. This meal combines all the goodness of smashing an avocado on a warm base (bread/tortilla) plus adds all the fun and variety of loading on a bunch of healthy pizza toppings. This versatile recipe is easy, fun, delicious and healthy.
Get the recipe and a few variations..
The base of this pizza is a bubbly, crispy-edged, chewy insides tortilla. No baking needed, just warm and top!..

Tortilla. Today I actually used a gluten-free Teff-based medium-sized tortilla. But you could use corn, almond, flour or whatever! There are so many "tortillas" on the market today it is kinda incredible. Actually, you could even use lavash bread or another thin flatbread.
I really liked these gluten-free "Ivory Teff" tortillas because they bubbled up very nicely. I make sure to create a bubbly, warm texture for my tortilla, then the rest is easy. No-oven needed!
Avocado goodness is what makes this recipe so dreamy. Buttery smashed avocado makes everything better. Here, it acts like a "pizza sauce" … sort've..


The Trick… to any good avocado toast is to properly salt (and pepper). That salt brings out the avocado flavor and texture. Don't skip the salt here! Salt to taste with a high quality sea salt.
Toppings! So many options here. Just a few..
– avocados (obvi)
– black beans
– chickpeas
– hummus
– mushrooms
– chopped red cabbage
– onion
– vegan cheese
– tomatoes or chunky salsa
– vegan chick'n or tempeh bacon
– roasted butternut squash or sweet potatoes (cubed)
– plantains
– green onion
…I could go on and on, but you get the picture. There are a lot of options!
I initially really wanted to use mushrooms. It is so funny how we get "inspired" to eat certain foods. Or practive certain healthy habits. I find myself getting inspired when something is in season and looks amazing at the store, or if I read a new nutrition article about a certain food, or see a photo on social media. The craving kicks in.
I was inspired to have mushrooms today because I had dinner last night with a friend who is an excellent authority on vegan nutrition. And she told me some amazing facts about the wellness properties of mushrooms. I don't want to go into detail about them because I don't really have any direct links to the studies, but I was amazed and inspired. So here I am today eating mushroom avocado tortilla pizzas. Funny how our minds work like that. Drop a hint and it will go into action, eventually.

How Can We Use This For Good? I guess you can use this Jedi mind trick with a whole bunch of things in your life. And while my mushroom influence came out of the blue sometimes you can intentionally give yourself little hints of encouragement. Some people like to even call that sort of thing "manifesting what you want." The mind is a powerful thing, and there is so much we do not know about how it truly works.
Some little ideas… Plaster good messages all over your wall. Write down your dreams on a post-it note and place them in your workspace. Think about your dreams, goals, wants – constantly. From wellness habits to big things like falling in love or attaining your dream job or even traveling or having kids or solving a health problem. Visualize the best possible outcome constantly! The good. It just may happen. Mysteriously, but not so mysteriously, too.
Put your favorite running shoes in a place you will see them. Or lay out a cozy workout outfit. Or buy a new yoga mat. Or google the veggies in your fridge and read about all the healthy nutrients in them. Or place a photo of yourself having the biggest belly laugh ever, right where you work to remind yourself of how happy you truly are in life.
Sending yourself good messages, and giving yourself a bit of a head start on challenging goals, or just life in general, is always a great idea.
Also, surrounding yourself with people who will jumpstart those positive, proactive thoughts in your mind is such a great idea! And if the people in your life don't lean the same way as you, maybe YOU can be their kickstart.
And of course, read blogs that motivate you! Especially for meals. Even food bloggers get in healthy eating ruts! We all need some food-spiration from cookbooks, blogs, magazines, restaurants and each other once in a while. The "What's for dinner???" question will never be fully answered!
Not Avocado Toast, But The Same Idea. So anyways, today's recipe is so easy and delicious! I love it because sometimes I am just not craving bread for avocado toast. Or I want to add more toppings than one slice of bread can handle. Well this tortilla pizza completely solves both those problems.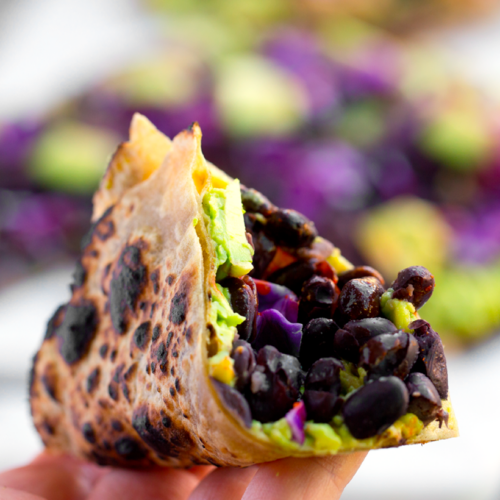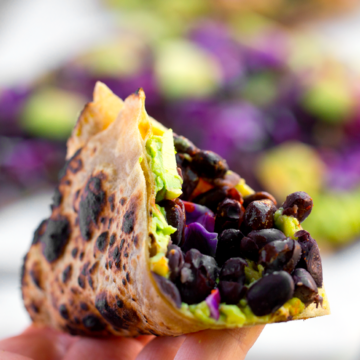 Easy Avocado Tortilla Pizzas!
This easy recipe creates a delicious and fun entree that resembles the ease of avocado toast, but with a few more toppings.
Print
Pin
Ingredients
1 avocado, pit and peel removed

2 medium tortillas (Teff was used)
Toppings:
black beans

1 cup shiitake mushrooms, sliced

red cabbage, chopped

hot sauce

chipotle vegan mayo (optional)

1 lime (or ½ lemon)

For mushrooms: liquid aminos + ½ teaspoon EVOO
Instructions
The best way to warm and bubble and firm up your tortilla is to "toast" it over an open flame on a gas stove. You have to be careful, because you do not want to burn yourself or set the tortilla edges on fire. So proceed with extreme caution! I will place the tortilla right on the burner, turn on the flame for 3-5 seconds, turn off flame, then flip. Then repeat, moving the tortilla around every time I flip to get an even distribution of toasting. Repeat until the tortilla starts to get blackened edges and a bit bubbly.

Using a fork, smash half of an avocado on one tortilla. Squeeze one half of a lime over top the avocado.

Now your toppings. For the beans, you can simply warm them up in the microwave or on the stove and then pour them over top the avocado.

For mushrooms: Warm a skillet to high heat. Add ½-1 teaspoon EVOO and add the sliced mushrooms. Saute for 2-3 minutes until the become tender and shrink in size. Then lower heat to warm and add ½ -1 teaspoon liquid aminos. Toss a bit. Turn off heat. Add salt and pepper to taste. Add these warm mushrooms over top.

Add any other toppings you would like to add! Optional: drizzle some vegan chipotle mayo or vegan sour cream over top for an extra decadent flavor.

To finish, be sure to add salt and pepper to taste. Also add hot sauce and maybe some smoky paprika on top too. Slice into quarters and serve warm.