I have been wanting to make DIY tater tots for a while now, but was always hesitating thinking that it would take me a while to figure out the process and get them just right. Well boy was I wrong! These were so easy to make and literally took me just a few minutes to prep and then a few more minutes to bake. Craving tater tots? Grab these ingredients and hop to it, warm from the oven, crispy, lovely tater tots are in your near future..
Get my recipe for Easy Baked Tater Tots ahead! Two Ways: Sweet Potato and Cheezy Spinach..
One of the best parts about my tater tot recipe is that they have a secret healthy ingredient: beans! Yup, I guess you could say that these tater tots are kind of like mini veggie burgers, in a way. Not only do they contain healthy veggies, but also beans which are a good source of fiber, iron, protein and B vitamins, among other nutrients and depending on which bean you choose to use. I used a simple navy white bean. You could try cannellini beans, butter beans, or even black beans.
I also added some nutritional yeast which is also packed with good stuff like B vitamins and protein.
But enough about the healthy stuff, I mean these cute little tots taste super yummy! Perfect for a side dish, afternoon snack or add on to salads and bowls. I love dipping them in spicy mustard, ketchup or even chipotle vegenaise — yu-uuuum. (Yes, I sung that last yum.)
And no, they do not need ot be 'perfect' in shape and size. These are tater tots. Not perfect tots. 🙂
Before baking..
After baking..
Lovely browned sides, light crispiness without being too oily like a fried tater tot would be..
Before baking, cheezy spinach.
After baking..
Dip..
Cheezy Spinach Spin!
Ingredients:
1 cup frozen spinach, blended
¾ cup white beans, drained and rinsed in hot water
2 tablespoon nutritional yeast
⅛ teaspoon salt
pinch of smoky paprika, optional
To make: use the same method as the sweet potato tots. But to get the spinach in the correct texture, you want to blend the frozen spinach for a minute or so, so that it is in fine little wet bits. Then combine it with the mashed beans and nooch to form the little tots. The spinach tots take a bit less time to cook.
Enjoy your tots! #KidFoodForKidsOfAllAges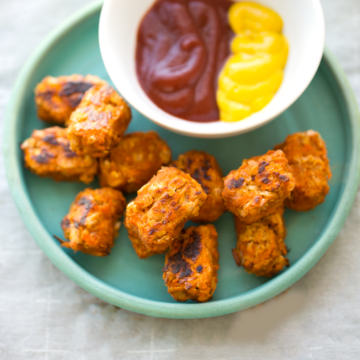 Easy Baked Sweet Potato Tater Tots
These super easy sweet potato tater tots are used using white beans and a bit of maple syrup. Delicious baked vegan snack or side dish.
Print
Pin
Ingredients
1 cup grated sweet potato, peeled

1 cup white beans, drained and rinsed in hot water (I used navy)

½ teaspoon tamari (or ¼ teaspoon salt)

1 teaspoon maple syrup

1 teaspoon nutritional yeast

⅛ teaspoon smoky paprika or cinnamon (optional)

Also: virgin coconut oil or extra virgin olive oil for brushing (optional)

Spinach Version: see blogpost for that version!
Instructions
Preheat oven to 425 degrees. You want the oven nice and hot! Line a baking sheet with parchment paper or grease with oil.

In a large mixing bowl, add the drained and rinsed beans — rinsing them in hot water helps to soften them for mashing. Mash the beans until they are all smashed. You can use a fork or even better, a mini potato masher or avocado masher.

Mash in the nutritional yeast, paprika or cinnamon, maple syrup and tamari. Then fold in the shredded sweet potato and lightly mash everything together.

Using your hands, roll a walnut sized amount of the mixture into a tater tot shape. You can make these a bit smaller or larger to your preference, but the larger they are the longer they take to bake.

Repeat until all the tots are formed. Brush the tops of the tots with EVOO or coconut oil. This is optional though. No oil is needed, the oil just adds a bit of extra crispness and flavor.

Bake the tots at 425 for 20 minutes or until the edges tart to brown. Cool a few minutes before serving, but serve these warm. Store leftovers in a sealed bag in the fridge or freezer — and yes they rheat in the oven very well for make-ahead tots!