This Easy Blueberry Sauce is the perfect topping for waffles, pancakes, a yogurt parfait, oatmeal or basically anything you can think of. It can be made in just a few minutes using fresh or frozen berries, and has the perfect thick, yet (not too thick) consistency.
You can even try this using strawberries, raspberries and more, but blueberries are my fave. I usually use frozen blueberries, because they are super convenient year-round and usually a bit cheaper than fresh, but fresh berries could work too...
Monday morning.
Last night we watched the crazy stressful + intense Game of Thrones episode 8.3. Wow that was just about enough battle for me. No spoilers, so I'll just leave it at that. But this morning I woke up craving the exact same breakfast I had eaten on Sunday morning: waffles + homemade blueberry sauce. So that is what I whipped up! It was surprisingly fast and easy for a weekday. I just adore this recipe to bring loads of antioxidant-rich blueberry goodness to a comfort food breakfast like waffles.
I used the Whole Foods brand of organic blueberries. I buy the giant bag so it lasts a bit longer than the small bags. Plus it has a nice sturdy feel to it and lately the berries have been huge! Perfect for chunky sauce. If you like the small blueberry texture, go with wild blueberries. Bonus: wild blueberries have double the antioxidants. But I kinda like the large, juicy 'regular' berries for this sauce. And once summer rolls in, you can snag your own fresh berries from the farmer's market. Freeze them in bulk and always be ready to make this sauce!
Minimal Heating for this Sauce
My favorite thing about my blueberry sauce recipe compared to most others I have seen is that mine uses very minimal heating, minimal (unrefined) sugar source and minimal starch too. You can see below how very 'natural' this sauce recipe is. It really keeps the fresh and juice integrity of the berries in tact, while just really gently softening them and adding a bit of thickness.
Q: How do I make it "Syrupy-er?"
If you want this easy blueberry sauce to have a bit less texture and more smooth and sticky texture (syrup-y!) the simple fix is to add a few more tablespoons of water and mush the berries around a bit.
You also might need to cook the sauce a few more minutes to bring to a boil and allow the water to thicken. Both versions are super yummy.
Purple Color
Check out the gorgeous purple color that comes out when you lightly cook blueberries! That color represents all the phytochemical and antioxidants that are built into the blueberry skins and flesh. Eat the rainbow, and deep-pigment plants especially.
Vegan Waffles.
I usually use my own DIY recipe or I like It's Wholesome waffle mix too. I'm sad though because they don't sell their brand on Amazon anymore! Has anyone seen it lately? So if anyone can share their fave go-to vegan pancake or waffle mix, leave it in the comments! Or you can always do a from scratch mix…
A few of my tried + true 'from scratch' waffles recipes: here and here.
I hope you all had a great weekend and are looking forward to a happy + healthy week. Thank you for being here!!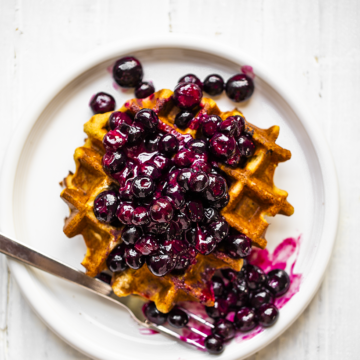 Easy Blueberry Sauce
This fresh and easy blueberry sauce is perfect for adding to oatmeal or topping pancakes or waffles.
Print
Pin
Ingredients
1 ½

cups

organic blueberries

,

frozen **

1

teaspoon

corn starch

1

tablespoon

maple syrup

2

tablespoon

water
Instructions
Add all the ingredients to a small sauce pot and stir until the starch is dissolved.

Turn the heat to high for about thirty seconds, then reduce to medium. Stir slowly for about a minute, until the blueberries soften . When the blueberries are softened – all frozen bits gone, turn the heat to high again and stir briskly – for another minute. Then turn off the heat. That brisk heat should have activated the corn starch enough to thicken the sauce. If your sauce still seems watery, leave it on high for another minute – while stirring.

Allow the sauce to cool and thicken for a few minutes before serving. Best served right away, but could also be made ahead of time.
Notes
** if using fresh berries, the cooking time will be less
nutrition estimate | per serving
Calories:
47
kcal
|
Carbohydrates:
12
g
|
Protein:
1
g
|
Fat:
1
g
|
Saturated Fat:
1
g
|
Sodium:
1
mg
|
Potassium:
54
mg
|
Fiber:
1
g
|
Sugar:
9
g
|
Vitamin A:
30
IU
|
Vitamin C:
5
mg
|
Calcium:
9
mg
|
Iron:
1
mg
Pin it for later!..