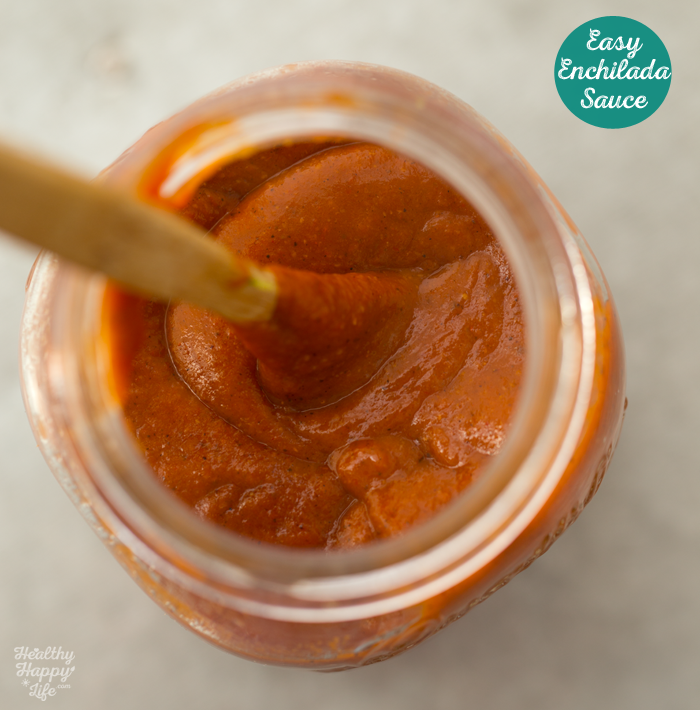 On today's fast and easy vegan menu: homemade enchilada sauce! Aka, Smoky Maple Chipotle Enchilada Sauce. Never buy enchilada sauce again with this go-to, customizable recipe!..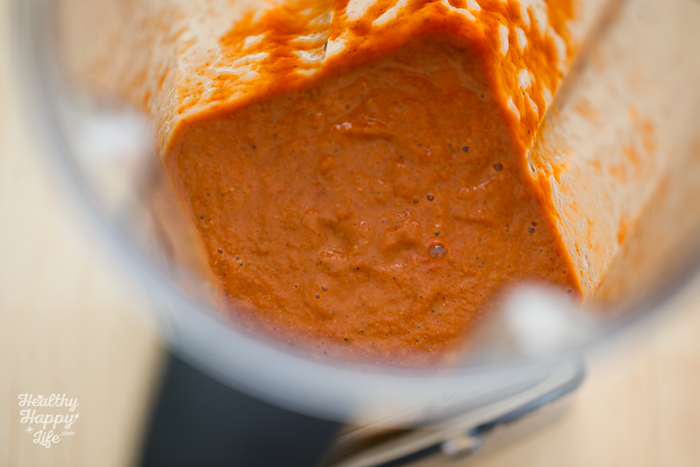 Simmer the blended sauce to thicken and develop the flavors..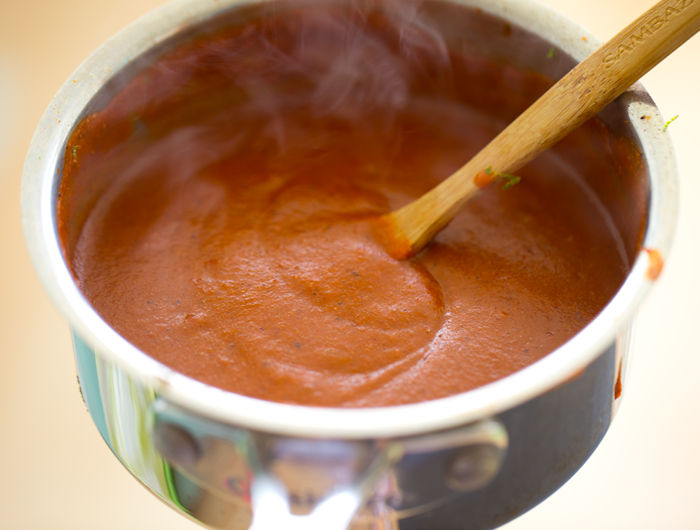 Ready to go or save for later!..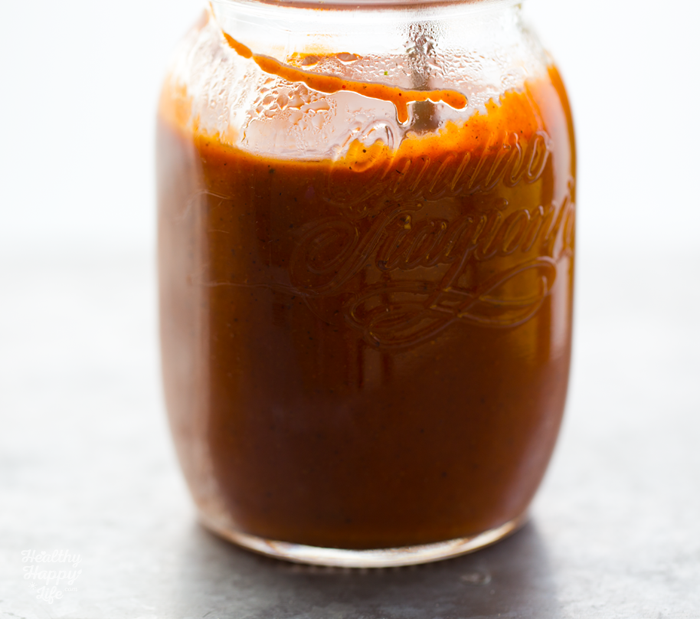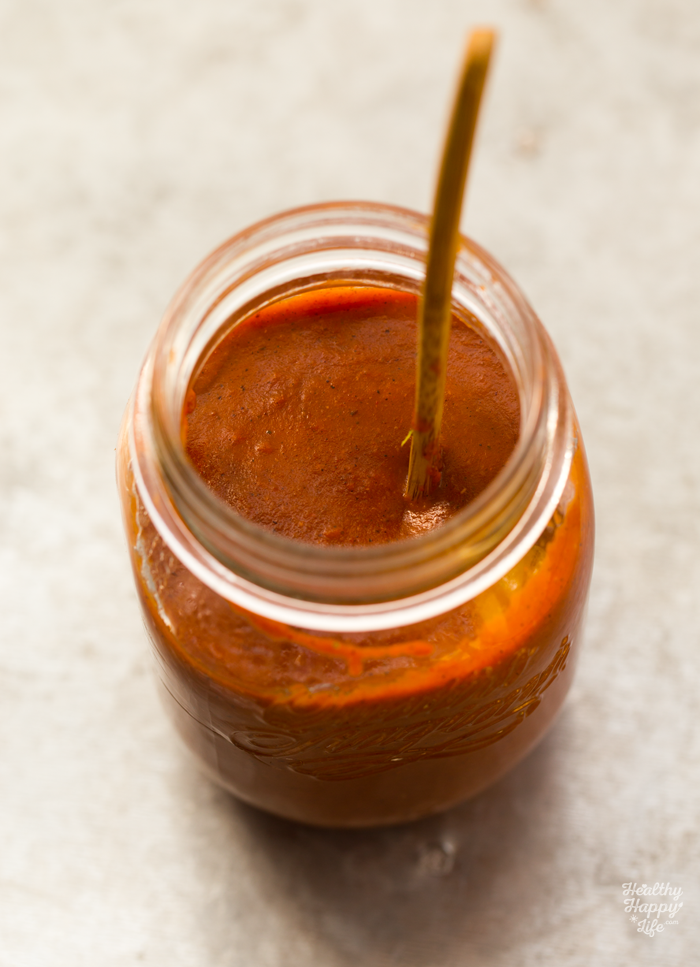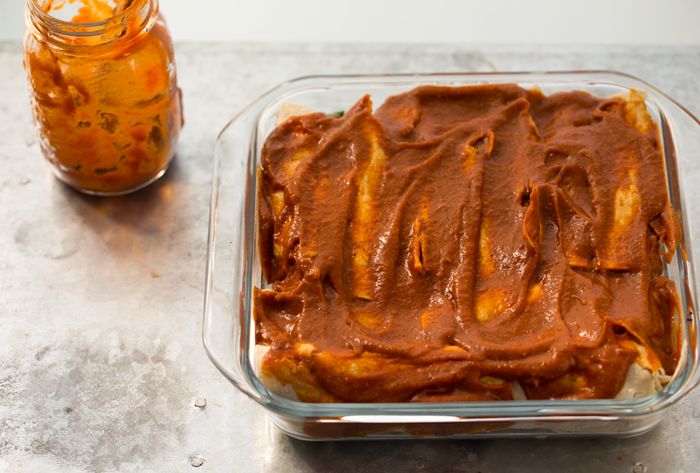 One of my most favorite entrees ever: enchiladas! Growing up in Santa Cruz, California, our family was always going out to eat to Mexican restaurants. And even before I was vegetarian, I always ordered spinach enchiladas. Moist, spicy, steamy, amazing enchiladas, smothered in red or green enchilada sauce, with a side of fluffy red rice and silky black re-fried beans. It was my version of restaurant heaven.
And enchiladas were also one of the first meals I learned to make for my family when I was in high school. But I always bought the enchilada sauce. I never knew it was SO easy to make it from scratch!

My Recipe. Today's recipe is a basic red enchilada sauce. Super easy to make with minimal ingredients. The best part about this sauce is that you can jazz it up with a few fun flavor accents. Try adding these to taste:
– peanut butter or whole peanuts
– cocoa powder or melted dark chocolate for a "mole" flavor
– fresh or roasted chiles for a smoky spicy flavor
– get creative with different spices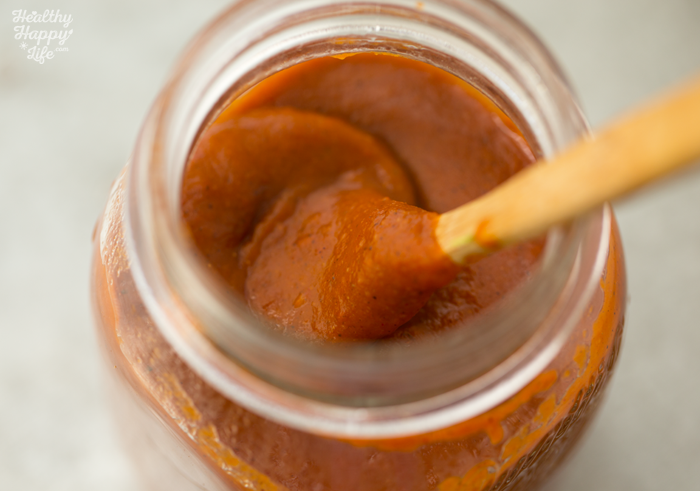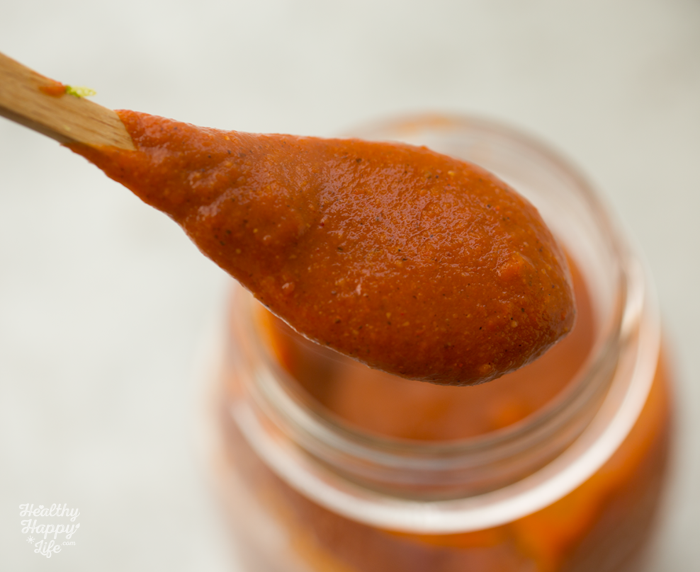 For this recipe I used a can of fire-roasted tomatoes as the tomato base. But you can substitute with tomato paste and veggie broth if you'd prefer. Use about 5oz paste and 1 cup veggie stock. (Though I have not tested that substitution so you may need to modify a bit to taste.)
You could also substitute the canned or boxed tomatoes with fresh tomatoes that have been oven-roasted until they blister. Something like this..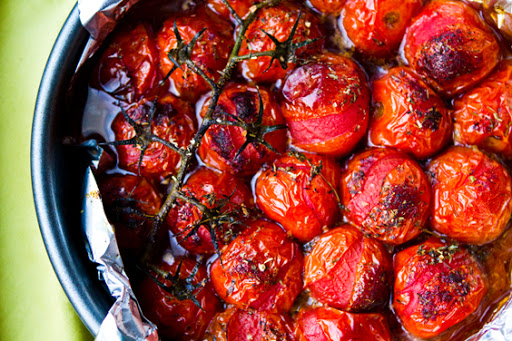 ..I wish I had some tomatoes on hand, but I will absolutely be trying that method the next time I make this sauce. Which should be very soon since the ending meal was so freaking fantastic. And easy!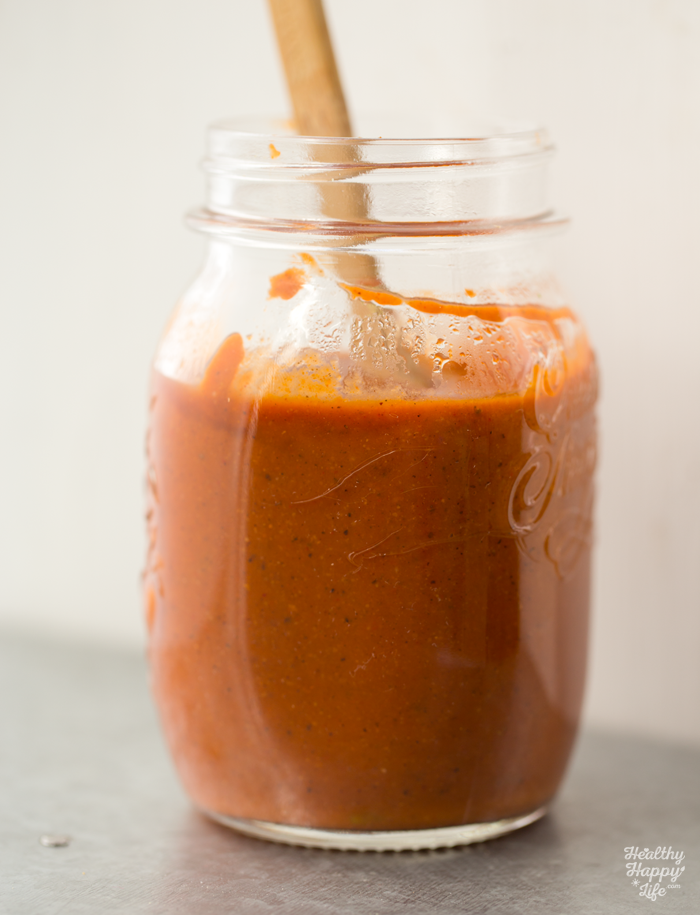 In a few days I will share the enchilada recipe – but for today let us start with the sauce.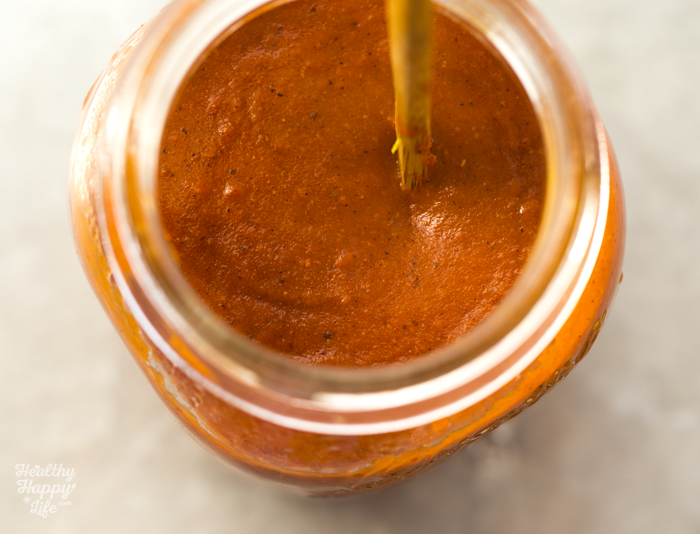 Easy Vegan Enchilada Sauce
By Kathy Patalsky
Published 06/09/2015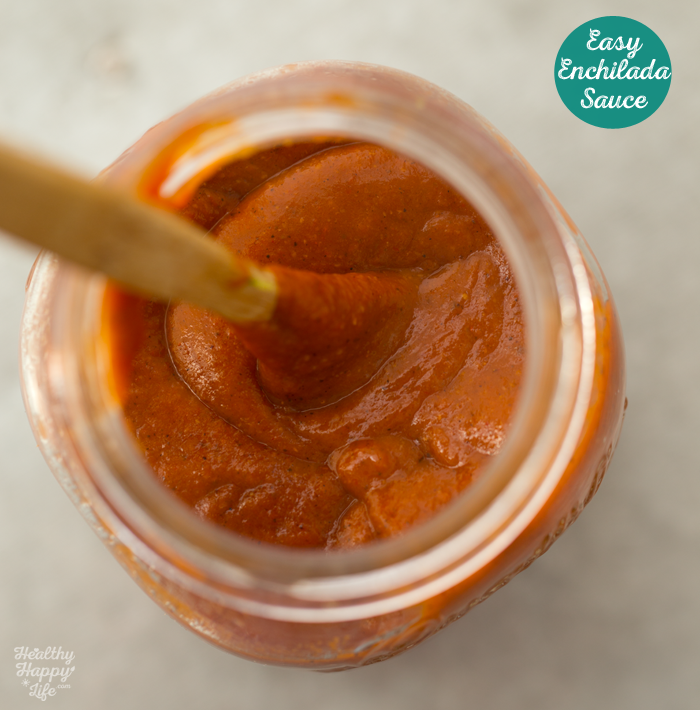 Aka, Smoky Maple Chipotle Enchilada Sauce. Smoky, spicy, thick and silky red enchilada sauce made from scratch! Feel free to get creative and add flavors like peanut, cacao, roasted chile and more.
Ingredients
14.5 ounces fire-roasted tomatoes (diced + canned) – lightly salted
2-3 cloves raw garlic
1 teaspoon chipotle powder
3 tablespoon maple syrup
1 teaspoon smoked paprika
¼ teaspoon cayenne (optional, adds more heat)
¼ cup flour – oat used
1 ½ teaspoon cumin powder
1 ½ teaspoon extra virgin olive oil – *sub with a veggie oil, or a nut or seed oil/butter (tahini, peanut..)
1 tablespoon fresh lime juice + a pinch of zest (sub with 2 teaspoon apple cider vinegar)
salt to taste (at least ½ tsp)
Instructions
Add all the ingredients to a high-speed blender. Blend on from low to high for a few minutes, until silky smooth.
Transfer the blender sauce to a small sauce pot. Simmer over medium heat for 2-5 minutes, stirring constantly. Simmer until thickened a bit and flavor matures.
You can pour this sauce into a mason jar for use within 1-3 days – seal jar and place in fridge. Or use right away for enchiladas, taco sauce, burgers and more. If using as a raw sauce (not to be cooked anymore) you may want to simmer the sauce a bit longer to "cook" the flavors.
Yield: about 2 cups
Prep Time: 00 hrs. 03 mins.
Cook time: 00 hrs. 05 mins.
Total time: 8 mins.
Tags: enchilada sauce,diy,howto,sauce,mexican,spicy,tomatoes,vegan,glutenfree,dinner,enchiladas