For some serious energy, super fast, blend up my Easy Energy Almond Butter Banana Smoothie. Though I hesitate to call this a smoothie because it tastes like a creamy, rich milkshake! Soyshake? Hempshake? Whatever you call it, the delicious taste and texture is undeniable.

Fresh Almond Butter. I made my smoothie with freshly ground Almond Butter from Whole Foods. Nothing beats fresh. And this recipe will give you something to do with those black-spotted ripe bananas on your counter – banana bread isn't your only option. This cravable vegan smoothie recipe is super easy with only seven simple ingredients. Get it!….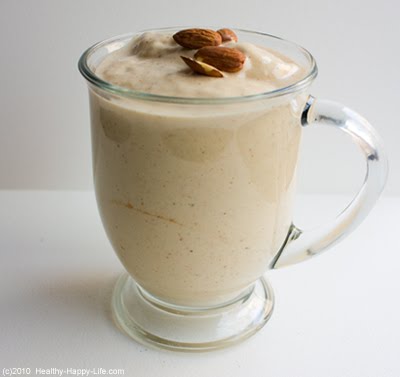 Almond Butter Inspired. I was inspired to make this smoothie after I purchased fresh ground almond butter at Whole Foods Market. It was my first time using WF's fresh almond butter grinder – grind it yourself in the store. Delicious! If you can find fresh almond butter you'll be in for a real treat. But even a high quality bottled butter will be fine for this simple, delicious recipe.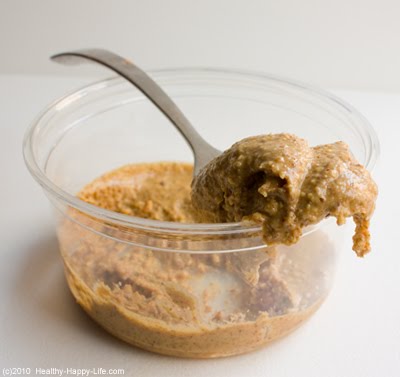 Frozen Bananas. You will need two frozen bananas for this recipe. Be sure to freeze your bananas when they are very ripe – a few black spots. And be sure to slice your ripe bananas into quarters before freezing them, so that they will blend easily once used. A clunky, hard, whole frozen banana does not blend easily. Obviously, you will need to prepare for this recipe in advance – start freezing those bananas! Note: two ripe fresh bananas will not work in this recipe. The smoothie would be too mushy and gooey. You need frozen fruit.

Healthy Smoothie. This smoothie is a good source of vitamin E, fiber, protein and potassium. Plus it is packed with energy from healthy fats (from the almonds) and high quality carbohydrates (from the bananas, natural sweetener and non-dairy milk). Choose a well fortified non-dairy milk and you should be getting some healthy, essential vitamins like vitamin B12 and vitamin D. Plus those bananas are easy on your tummy, for some quickly digested energy. I tried this smoothie with both soy and hemp milk and was very impressed with the flavor and nutrient profile.
Easy Energy Almond Butter Banana Smoothie
vegan, serves 2
2 cups non-dairy milk, vanilla flavor
*soy or hemp pref'd
2 frozen bananas, ripe
2 tablespoon raw almond butter, not salted is pref'd
*fresh ground almond butter is best
1 teaspoon apple cider vinegar
1 tablespoon agave or maple syrup
1 cup ice
½ teaspoon cinnamon
optional: a few dashes of cayenne
garnish: roasted almonds
Directions:
1. Place all ingredients in a high power blender like a Vitamix. Blend on high until smooth and thick.
2. Pour into glasses and garnish with roasted almonds.
*disclosure: This post contains a Vitamix affiliate link. Ready to buy the best blender ever? Get free shipping by using my link!