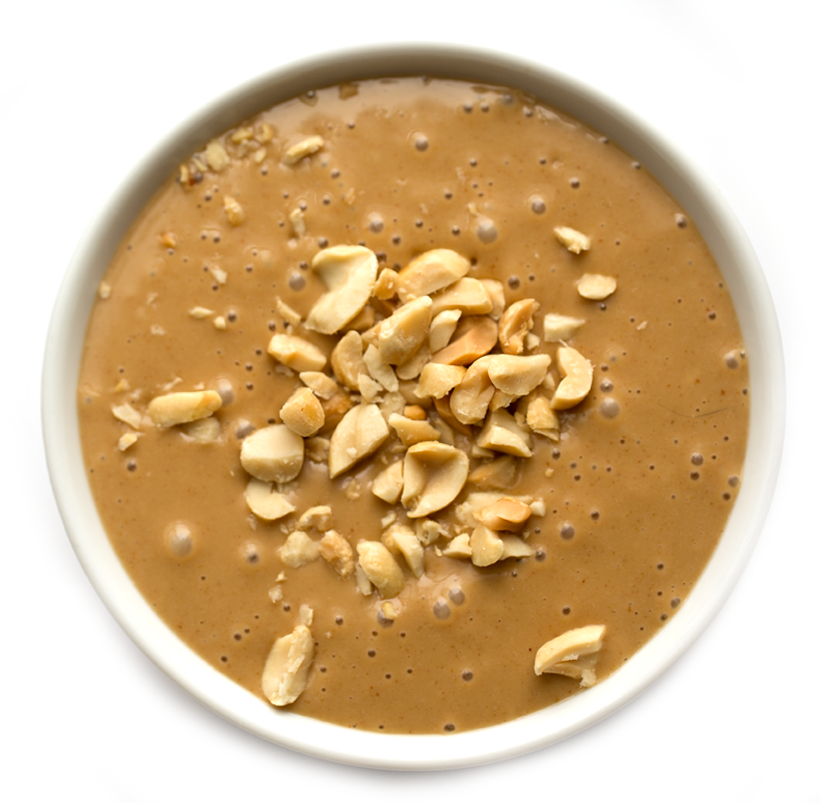 Peanut sauce makes so many things better. Veggies. Noodles. Grains. Plant proteins. Beans. This is my go-to peanut sauce recipe. It comes together in about five minutes and can be used right away. It gets thicker if you heat it and stays nice and creamy when chilled. Any way you serve it, you will love this stuff!…
Plus my eight fave ways to use peanut sauce..
Happy Friday everyone!
I hope you are having a happy, productive day! Or a super chill day – whatever you need – listen to your body, it will usually let you know. Today I needed to perch at my desk and play catch up on a few things. Work calls. Finding Vegan submission approval catch-up. And this easy little post. I just had to share this sauce recipe all on its own so I can easily reference it for you guys in the future. So ya, just sitting here all day at my desk on a chill Friday, soft sunbeams streaming through my window, breezy palm trees outside my window, matcha latte on my desk, feels amazing.
Today's recipe is one everyone needs in their culinary arsenal because it is so versatile and just darn yummy.
Peanut Sauce Bliss
Need to add some flavor to your meal? Peanut sauce! Boom. My Easy Peanut Sauce recipe is simple, rich, warming and creamy.
My Eight Fave Ways to Use Peanut Sauce
1. Soba Noodles
I love boiling soba noodles, preparing this peanut sauce recipe, then tossing them together along with some raw or sauteed veggies like carrots, spring onions, kale and more. Add peas, hemp seeds, tofu or tempeh for added protein. You could also do zoodles.
2. Dip it!
Peanut sauce makes a yummy dip for veggies and spring or summer rolls. Or collard wraps! I swear peanut sauce and collard wraps are perfection.
3. Soup add-in.
Ok, this sounds weird, but I love adding about 1-2 tablespoon peanut sauce to my soba or ramen noodle soups. It gives it a peanut-soup flavor without being overly thick and creamy. I love it with a soup that has some sweet potatoes or red onions.
4. Kale Smother Sauce.
I adore peanut sauced kale! You can use this recipe for a kale salad like this.
5. Salad dressing.
Raw veggies love peanut sauce, so you can totally toss a chopped salad with this sauce. I love carrots, spinach, romaine, celery, corn, peas, radishes, arugula … ya pretty much every salad ingredient with this sauce.
– Eureka Bowl – yummy kale salad with peanutty flavors
6. Peanut Tofu or Tempeh or Beans!
I love making tofu or tempeh cubes in my skillet then smothering them in this peanut sauce. You can even toss beans like chickpeas with this sauce. I like to add a pinch of smoky paprika on top.
– Peanut Ginger Curried Chickpeas over Brown Rice
7. Sweet Potato Sauce
I love the combination of sweet potatoes and this peanut sauce recipe, so I will either drizzle peanut sauce over top a baked sweet potato, or even better over top some skillet or baked sweet potatoes like these.
8. Grains – Rice, Quinoa, Farro..
So easy. I toss fluffy, steamy cooked brown rice or quinoa with a few spoonfuls of peanut sauce. Instant side dish or snack. Love it so much.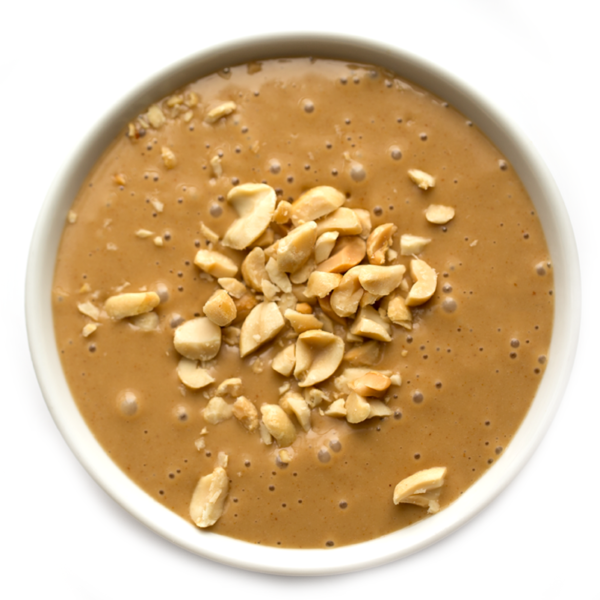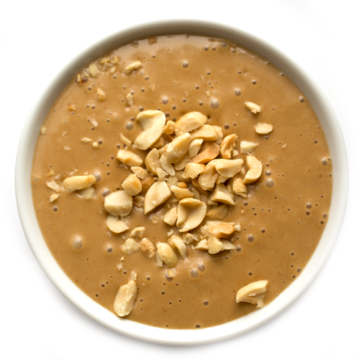 Easy Peanut Sauce
This creamy, lightly sweet and cravable vegan peanut sauce is delicious served over top veggies, noodles, teofu or tempeh – or use as a dipping sauce.
Print
Pin
Ingredients
½

cup

peanut butter

3-4

tablespoon

maple syrup

1 ½

tablespoon

tamari

,

or liquid aminos or soy sauce

2

tablespoon

rice vinegar

,

apple cider vinegar or lime juice

⅓

cup

warm water

½ – 1

teaspoon

raw ginger root

,

peeled – optional

optional: a pinch of cayenne or red pepper flakes or 1 clove garlic to bring more warmth

salt and pepper to taste
Instructions
Add all the ingredients to a blender.

Blend from low to high until smooth. Do a taste test and add salt and pepper to taste if desired.
Notes
Troubleshooting:
This sauce will absolutely thicken up when heated. So if you are adding to any cooked items, be sure to factor that in!
If you want this sauce even thicker when cooked, add 1 teaspoon corn starch to the blend.
If your sauce if too watery, add another 1-3 tablespoon peanut butter and another teaspoon of tamari. 
If you want your sauce much sweeter, reduce water to 3-4 tablespoon and sub 2 more tablespoon maple syrup. This is for a sweet peanut sauce!
If your sauce is too thick, add another splash of water.
nutrition estimate | per serving
Calories:
232
kcal
|
Carbohydrates:
16
g
|
Protein:
8
g
|
Fat:
16
g
|
Saturated Fat:
3
g
|
Sodium:
150
mg
|
Potassium:
243
mg
|
Fiber:
2
g
|
Sugar:
12
g
|
Calcium:
30
mg
|
Iron:
1
mg
More peanut cravings??

Try my Peanut Butter Oatmeal