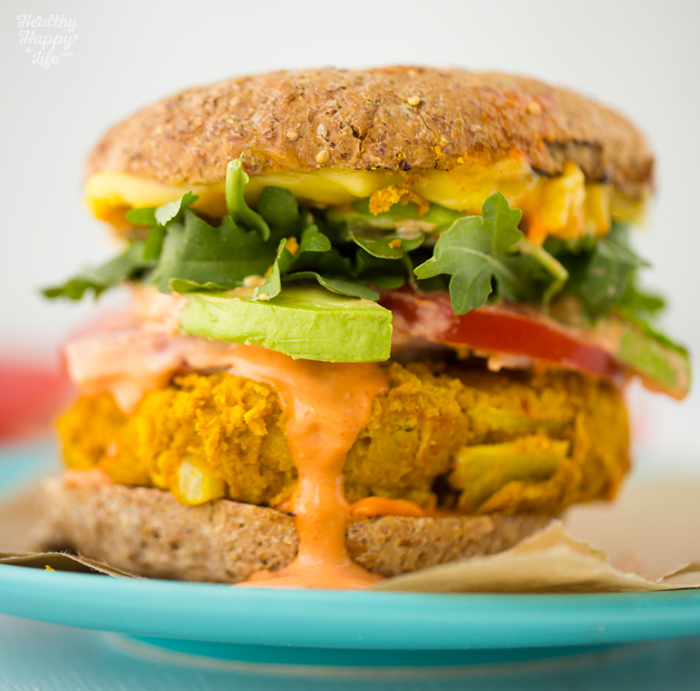 Is it the weekend yet? Is it summer yet? Because all I can think of is veggie burgers, warm nights, sunsets, aqua water, the smell of coconut sunscreen, flip flops, sunbeams, sand in my toes, freshly sliced watermelon, smoothies, sunglasses, blue skies, adventures, road trips, laughing faces, hot pink tank tops, ice cream parties, hiking, grilled veggies, dipping sauces and oh, did I mention veggie burgers?? Because that was actually where I was going with this little side road daydream run-on sentence. Yes, burgers.
Veggie burgers. Easy. Amazing. And oh so freaking fantastic.
Every time i make veggie burgers I wonder why I do not just eat veggie burgers all day every day.
And these Easy Turmeric Bean Burgers with Spicy Secret Sauce are just the thing to carry you into a blissful summertime!.. Let's go.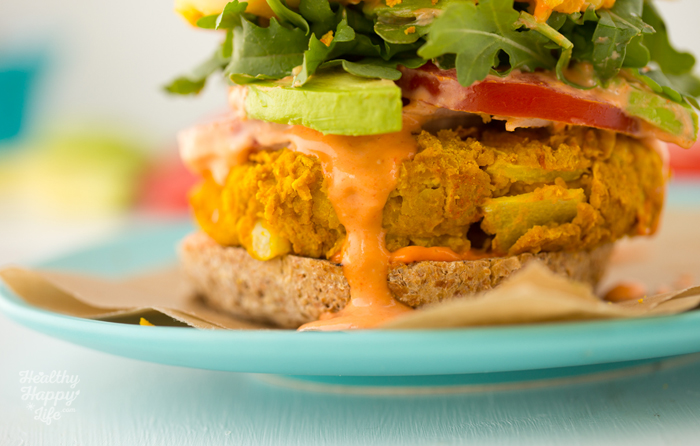 Secret (super simple) sassy super sauce anyone?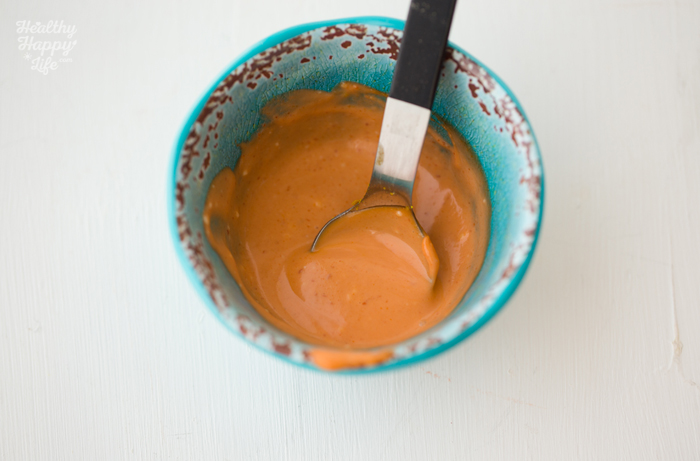 Sizzle those patties..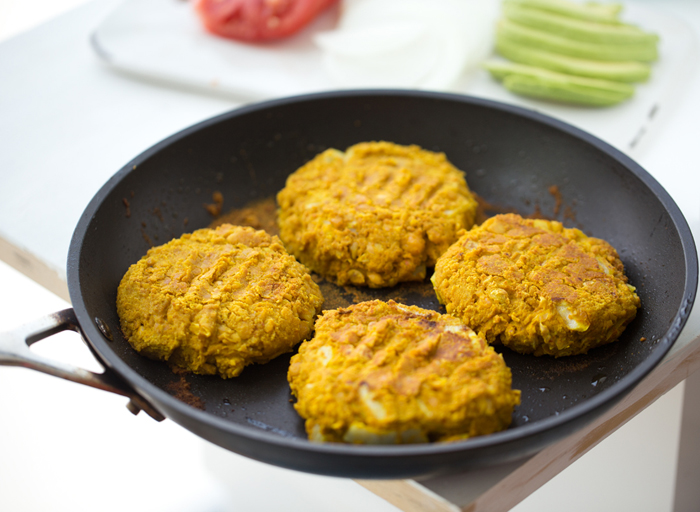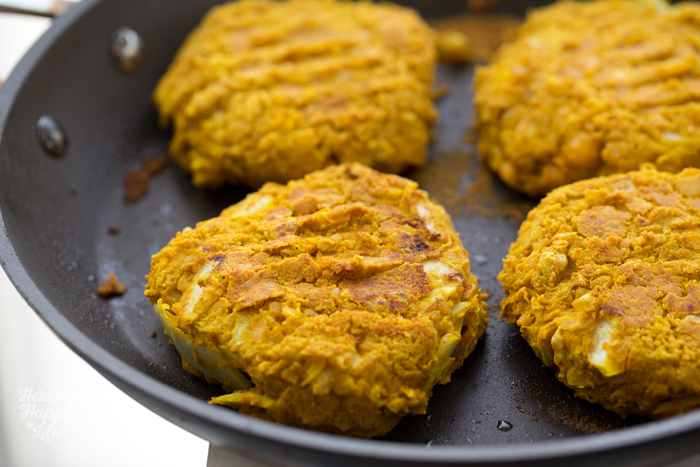 Add some toppings..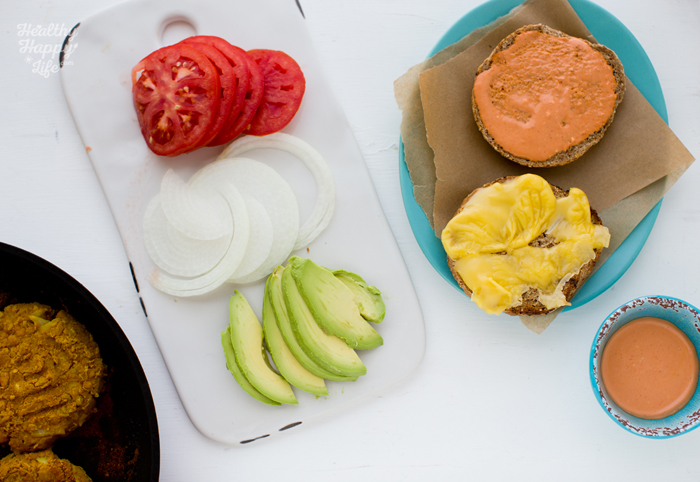 Melt some cheese (vegan cheese!)..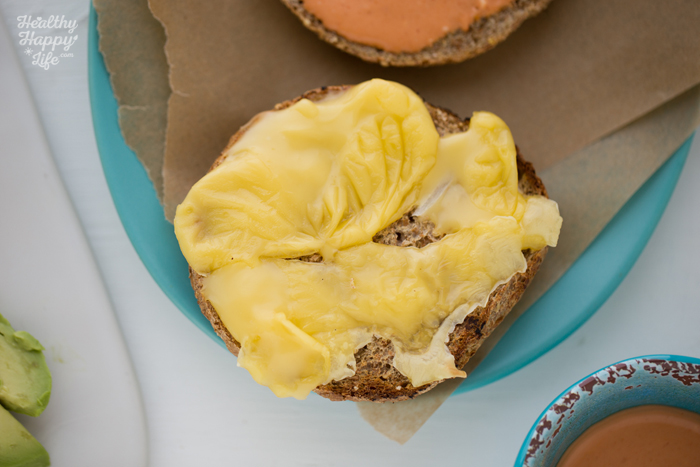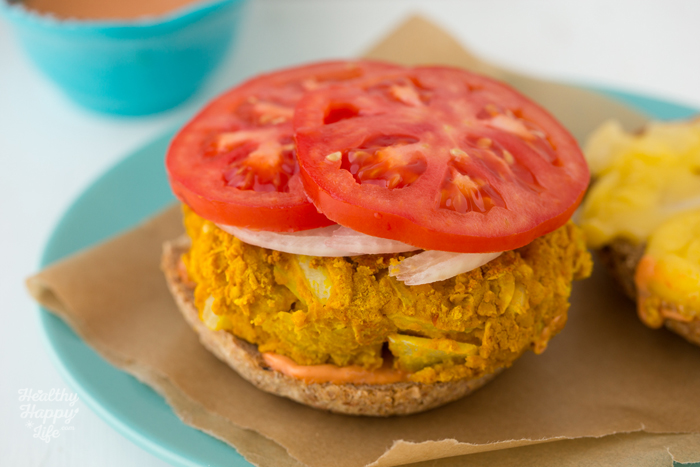 Then the SAUCE..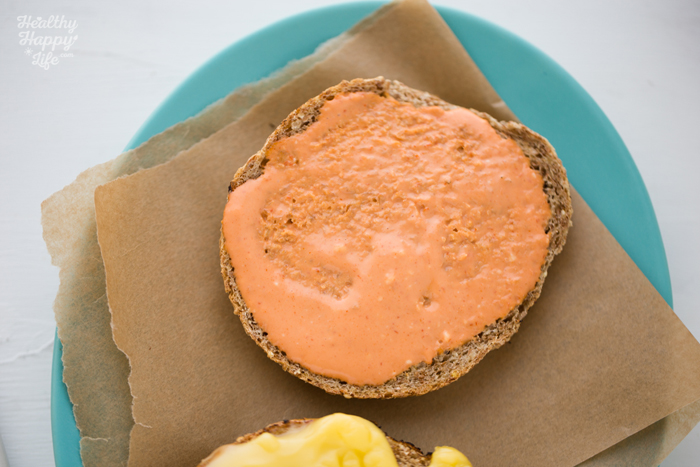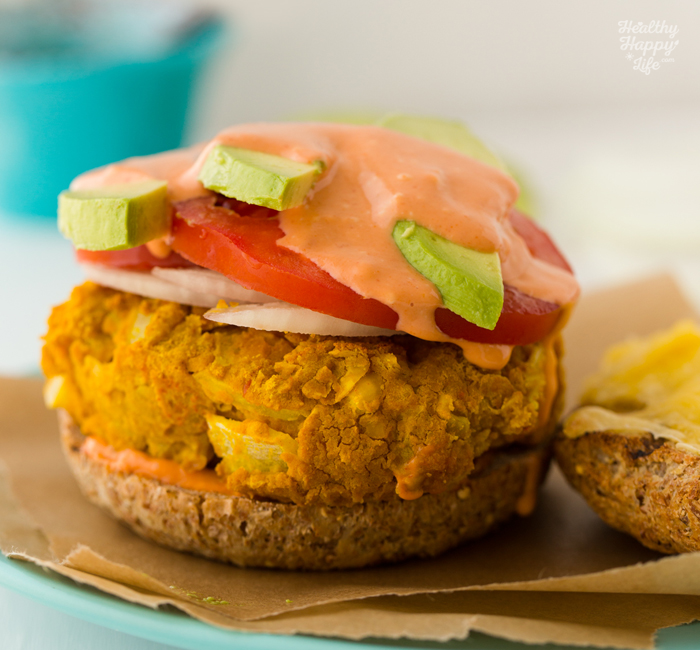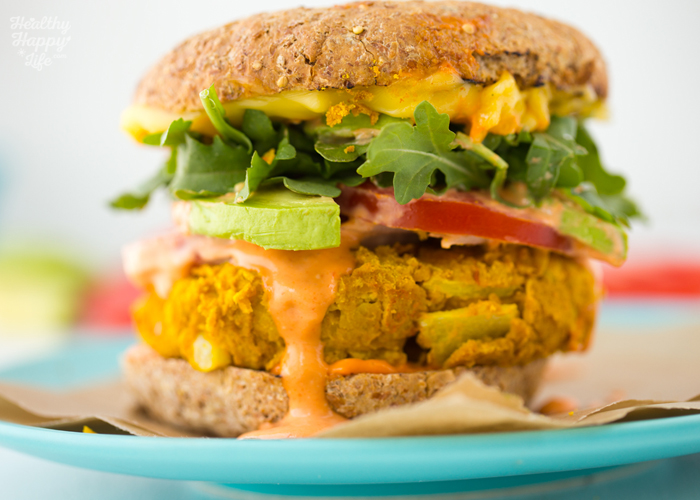 These golden burgers are a bit of a recipe nudge to anyone who has not grabbed a copy of my new book, Healthy Happy Vegan Kitchen. Because the first veggie burger recipe in the "burgers" chapter is a recipe almost exactly like this one. And SO good I wanted to make them and show them off on the blog .. and give them a few photos, since that recipe is photo-less in the book.

Burger Time. These tender, savory, super flavorful burger patties are accented with all your fave veggie toppings and a super easy amazing spicy-sweet secret sauce using vegenaise and sriracha. I am IN LOVE with this secret sauce actually. Two ingredients and so good.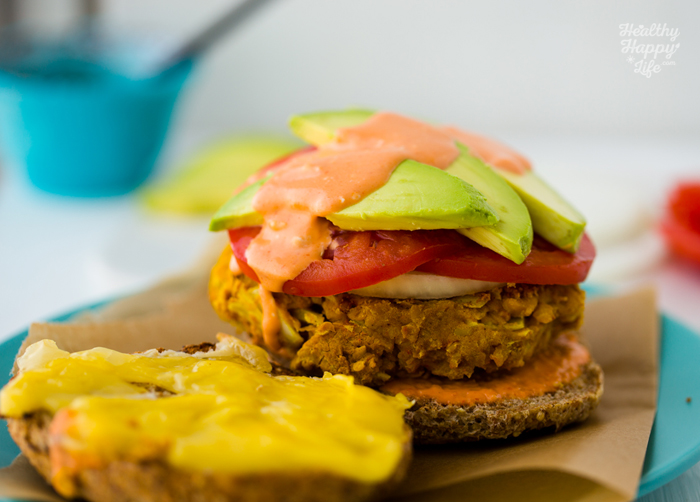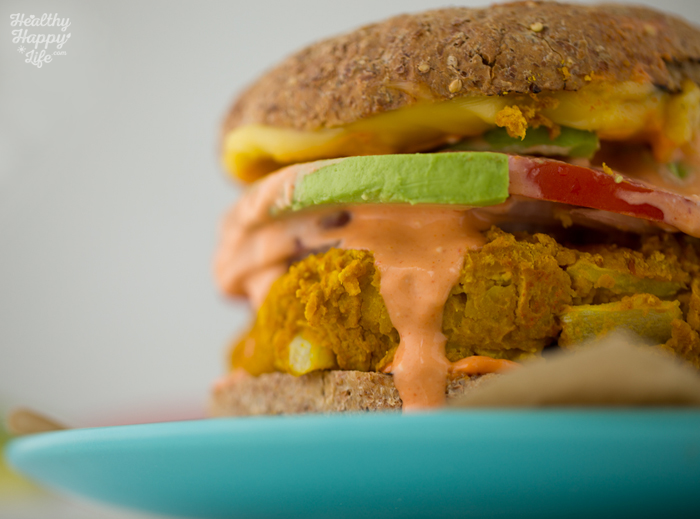 So lets all have a veggie burger night this holiday weekend and think of each other, yes? Happy "summer-is-coming" season.
Easy Turmeric Bean Burgers with Spicy Secret Sauce
By Kathy Patalsky
Published 05/20/2015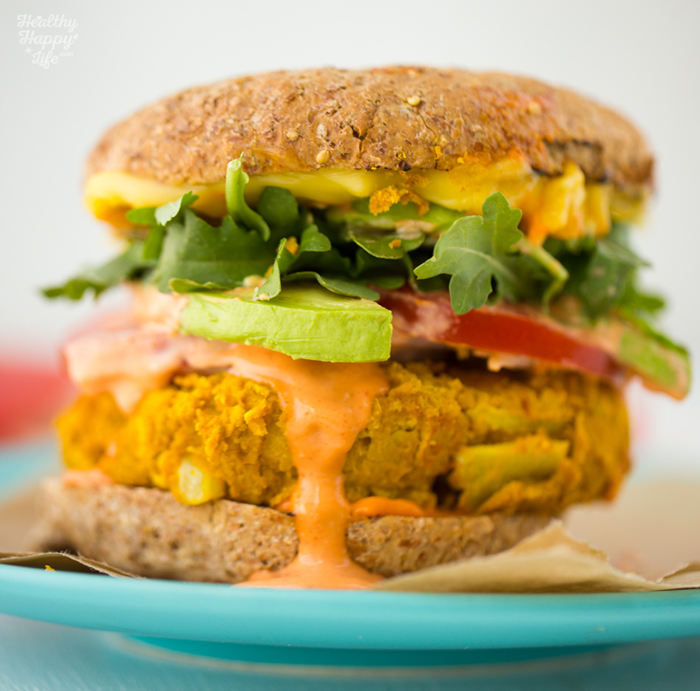 Hearty, savory amazing veggie burgers with golden turmeric glow and an accent of a spicy secret sauce. Easy and amazing! Vegan meal.
Ingredients
veggie burger patties:
1 ½ cups white beans (canned, drained + rinsed)
1 ½ cups chickpeas (canned, drained + rinsed)
2 teaspoon turmeric
¼ teaspoon salt
1 tablespoon tahini
¼ cup white onions, chopped
¼ – ⅓ cup nutritional yeast
2 teaspoon maple syrup, grade B
pinch of cayenne (optional)
1 teaspoon virgin coconut oil (for pan)
optional: 1 tablespoon hemp seeds
Spicy Secret Sauce:
1 tablespoon sriracha
2 tablespoon vegan mayo
Other:
4 buns
4-8 slices tomato
4 slices white onion
greens (optional)
1 avocado, thinly sliced
Vegan Cheese: 4 slices (optional)
Instructions
Preheat oven to 350 degrees.
In a large mixing bowl, smash and mash all the veggie burger patty ingredients until a thick mixture forms. To thicken further: add more nutritional yeast or flour. (Oat flour works well too, but I like nooch for the cheesy flavor.)
Warm a skillet over high heat on your stove. Add in the coconut oil. When oil is hot, form patties and place veggie patties in the pan. Cook 1-2 minutes, then flip. Cook for another 1-2 minutes. Transfer the pan to the warm oven and finish cooking patties in the oven – 350 degrees for about ten minutes should do it. For firmer patties (drier too) bake a bit longer. Note: You could also JUST use your stovetop or just use your oven to cook if preferred.
While the patties are cooking, prep your toppings and whisk together your secret sauce in a small cup or bowl.
Warm buns in the hot oven for 1-3 minutes. If using cheese, place cheese on one open bun and place under the broiler in your oven and BROIL for 1-2 minutes to melt cheese. Note: I used Follow Your Heart provolone cheese.
To assemble: Add secret sauce to both sides of your warmed bun. Add patties, then top with onion, tomato, avocado, greens and anything else! Serve warm.
Yield: 4 burgers
Prep Time: 00 hrs. 15 mins.
Cook time: 00 hrs. 10 mins.
Total time: 25 mins.
Tags: burger,veggie burger,vegan,entree,dinner,summer,turmeric,beans,avocado,secret sauce,spicy