(updated post) These Easy Vegan Caramel Apples are perfect for Halloween and/or your fall apple harvest. And despite what you may think about "vegan caramel" this recipe couldn't be easier! In fact, there are just two main ingredients and this caramel can be made in a matter of minutes!..
My caramel apples from the original post in 2012. The caramel looks lighter because it used raw turbino sugar instead of coconut sugar…
UPDATED. This post originally posted on 10/29/12 — Updated on 9/18/18

Coconut Caramel Sauce. This dip is one of my absolute favorite recipes. I make it every fall and it always makes the house smell amazing. Seriously. If you are throwing a party, make one batch ahead of time to give it some time to chill and make one batch right before your guests arrive so the house smells like caramel heaven.
The main question that I always have about caramel sauce for apples is: Will it stick????
The honest answer for this question is sort've. If you are used to a super sticky traditional candy caramel, the kind that sticks between your teeth and might pull a filling if you are not careful, then this caramel will not be equal in measure. And in that case, I would suggest buying some vegan Cocomels Coconut Caramels and melt those for super sticky, melted candy caramel.
But if you are open to a more sauce-like caramel with a wonderful sticky texture, ah-mazing swoon-worthy caramel flavor and intoxicating aroma, well, this sauce is perfection. Remember, there are literally just TWO main ingredients in this caramel, so we are really cutting down on added gunk, gums and also time in making things!
So yes, you can absolutely use this caramel sauce for dipping, but for caramel apples, I have two tips:
– Bubbly time. Make sure you allow the caramel to boil and bubble at max heat for a long enough time, and also to simmer on low for long enough time too. A good timeframe: about one minute on high and three to four minutes on low. Never stop stirring with a wooden spoon! You do not want to burn the caramel, just candy it a bit.
– Chill time. Chill your finished caramel sauce in the fridge for a long enough time to allow it to get super sticky. At least 24hrs is ideal for using this caramel for caramel apples.
If you are just using this caramel as a caramel sauce or dip just an hour in the fridge should do it. Or if you are using it for warm sauce, straight from the stove works! So good on bananas, ice cream sundaes and even apple pie!
Uses for this vegan caramel:

– caramel apples
– ice cream topper
– pumpkin spice latte topper
– apple dip
– drizzle over top banana or pumpkin bread
– drizzle over top apple crisp or pie
– drizzle over top yogurt or pudding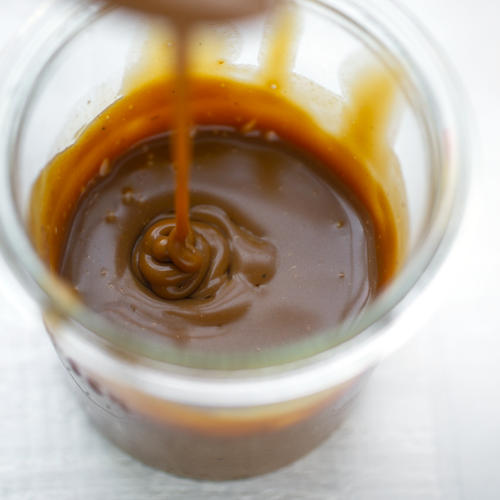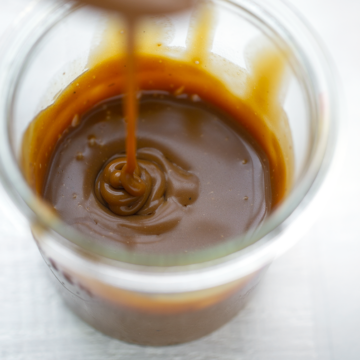 Vegan Caramel Sauce
By Kathy PatalskyPublished 10/29/2012This silky, rich, fluffy, sticky vegan caramel sauce is made using just two main ingredients: coconut sugar and coconut cream from coconut milk!
Print
Pin
Ingredients
4

tablespoon

coconut sugar

,

**** Another vegan sugar can be used if needed. Try turbino raw sugar. Larger sugar crystals will take longer to melt though.

2 ½

tablespoon

coconut cream (white park of chilled coconut milk)

⅛

teaspoon

vanilla extract (optional)

pink of sea salt (optional)
Instructions
Add the ingredients to a small sauce pan over low heat. Stir with a wooden spoon until the coconut cream has melted.

Turn the heat to high and continue stirring briskly until the mixture reaches a brisk boil. Stir as the mixture bubbles for about 30-60 seconds. Then reduce the heat back to low. Continue stirring, over low heat for another 2-4 minutes.

Pour the caramel into a small cup and place in the fridge. Allow the caramel to chill at least an hour before serving as a dip or drizzle. For sticky caramel, allow the caramel to chill overnight. Tip: For super sticky caramel, allow a few more seconds over high heat and another minute or so over low heat.
nutrition estimate | per serving
Pin it for later:


Photo + Sugar Note: The caramel that is used for the walnut-covered caramel apples was made using raw turbino sugar, thus why it has a lighter color and is slightly stickier. The darker colored, more opaque, burnt brown caramel was made using coconut sugar. In recent years I have come to prefer the coconut sugar version simply for the strong amazing aroma. But both versions work!

This caramel is also delicious when used on my Caramel Apple Pie..

Coconut cream (thick white stuff), simmering caramel:



*old post content from 10/29/12 starts now*

Alright, ready to make caramel apples with chocolate and walnuts? Let's do this thing. You will need..
* 1 apple
* my vegan caramel (recipe ahead)
* walnut + dark chocolate crumbles
* 1 wooden or paper apple skewer
..and boom. Your vegan caramel apple craving is soon to be satisfied…

I've been ogling the caramel apples all over the web the past week and decided that I needed to make this happen here on my blog.
I have experimented with vegan caramel in the past – like my vegan apple cider caramel – but this time I wanted to keep my recipe super simple and access the brilliance of coconut products. So instead of heavy cream or milk (which is found in most non-vegan recipes) I grabbed some vegan coconut cream.
coconut cream – full fat coconut milk, chilled, then the firm white stuff that forms at the top of the can or bowl is the "coconut cream"
And geniusly, Trader Joe's recently came out with something called "coconut cream" which is super rich and thick. Basically it is all "hard white stuff" from the can of coconut milk. You can also grab any full fat can of coconut milk, stick it in the fridge to chill and spoon the white hard stuff off the top of the can (technique shown in my coconut whip post.)
Vegan Vanilla Bean Coconut Caramel..

As I was skimming around other vegan caramel recipes I noticed that many of them get very precise regarding temperatures and boiling points etc etc. It all makes it sound very intimidating, especially to someone like me who does not own a candy thermometer.
So I gave my "super easy, guess-ti-mation timing" version a whirl and it totally worked. I made a few different batches, using different times for "boiling" and again, it worked. So while precision is totally awesome if you have the patience and skills and tools. I personally found that winging it kinda works here. Making vegan caramel a lot easier than you may think.

The topping / coating? You can really do whatever you'd like. Peanuts, chopped pecans, dark chocolate, walnuts, brazil nuts or even go all healthy and throw in a few chia or hemp seeds. I did a simple walnut + dark vegan chocolate mixture. Very yummy.


Easy Vegan Caramel Apples – Walnut Dark Chocolate Dipped
makes one, vegan
STEP 1:
1 large apple
1 stick for apple (wood or bamboo)
-> wash apple, dry very well and place stick into apple core
STEP 2:
coating:
¼ cup walnuts, raw
2 tablespoon vegan dark chocolate chips/chunks/bars
-> process these in a food processor or vitamix until thin and crumbly
STEP 3:
Vanilla-Coconut Caramel:
4 tablespoon vegan sugar (organic granulated sugar)
⅛ teaspoon real vanilla extract (or real vanilla bean specks .. I used this)
2 ½ tablespoon coconut cream (the white stuff from a chilled can of full fat coconut milk)
pinch of sea salt
-> Add sugar, vanilla, salt and coconut cream to a saute pan over high heat. Stir until melted together. Continue stirring as the mixture begins to bubble. Stir bubbling for about 45 seconds. Reduce heat to low. Stir for another minute. Turn heat off and pour mixture into a small dish. Place in the fridge to chill until sticky (about ten minutes should do it.)
STEP 4:
Dip apple in caramel – slather it around. Then dip in coating. Place on parchment paper and place in the fridge to chill, or serve right away.
Troubleshooting:
* If caramel is too thick when you pull from fridge, stick in the microwave for a few seconds to soften.
* If caramel does not firm up in the fridge, wait until fully chilled, it should be firm. If not, start over and heat the caramel mixture a minute or so longer at the boiling state. You may be able to simply reheat the same mixture.
* If caramel seems grainy, you need to melt/heat it for a longer period on the stove.
* If mixture seems too thick as you are heating it, add another spoonful of coconut cream.
* If caramel does not stick to the apple, place it back in the fridge, it probably needs to chill a bit longer to get stickier. OR your apple is too wet. Dry it off very well.