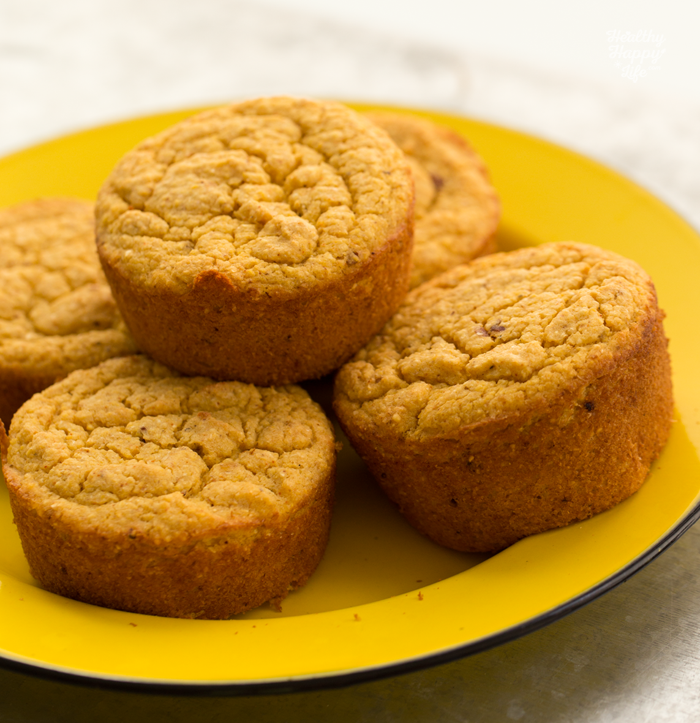 These buttery, fluffy, super simple, gluten-free vegan Corn Muffins are delicious served alongside a warm bowl of chili, soup or big colorful summer salad. They are fluffy, steamy and ah-mazing right out of the oven, but even 1-2 days later, you can slice them in half and pop them in your toaster to re-heat and serve…
I love this recipe because it uses frozen or fresh corn instead of canned. Frozen corn also means you can use your own "fresh corn" that has been frozen by you from farmer's market leftovers.
The sweet corn adds enough natural sweetness to these savory-sweet muffins, but if you want a bit of added natural sweetened feel free to toss in two Medjool dates to the blender for the liquids.
This recipe is so easy. Just blend, stir, pour, bake. Easy as corn muffins.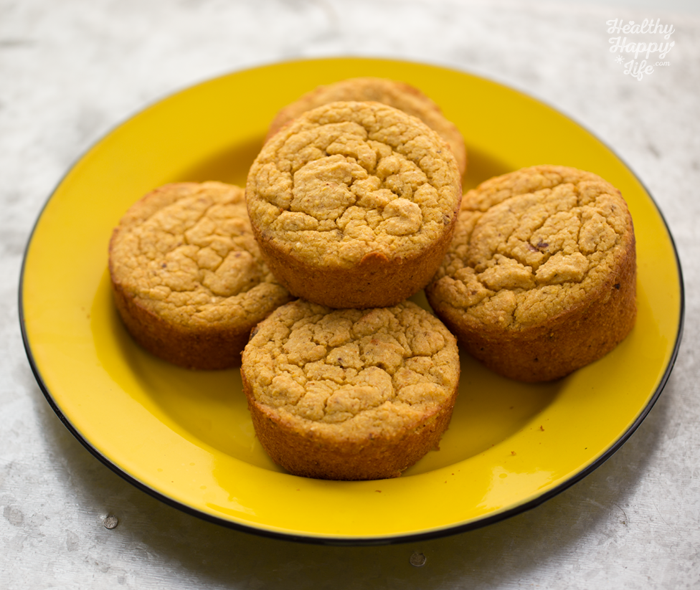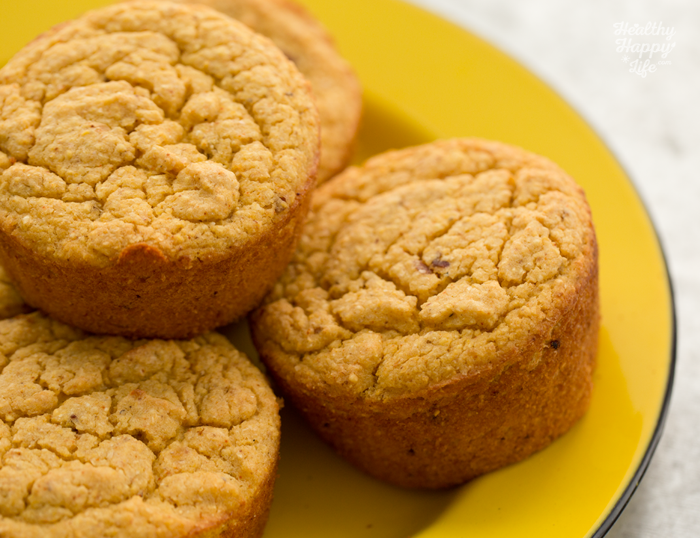 Perfect served alongside vegan chili like my Speedy Sweet Potato Chili: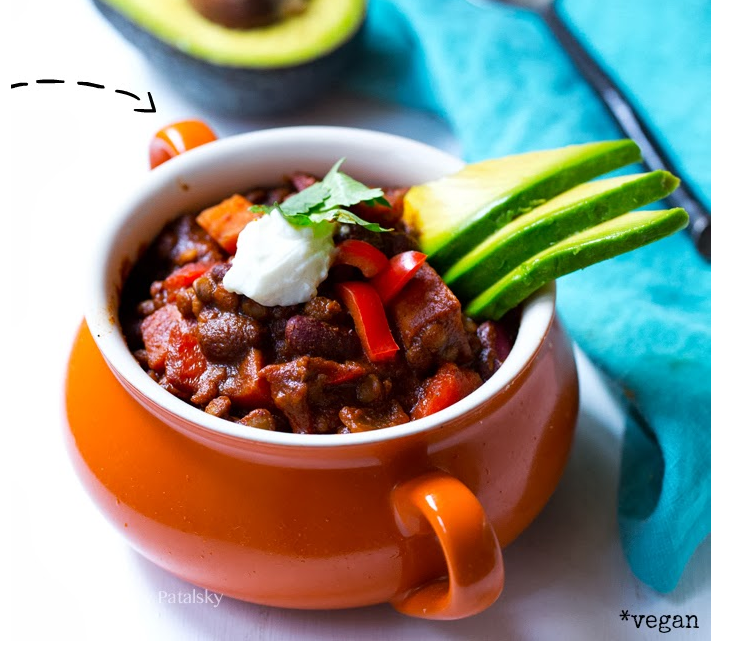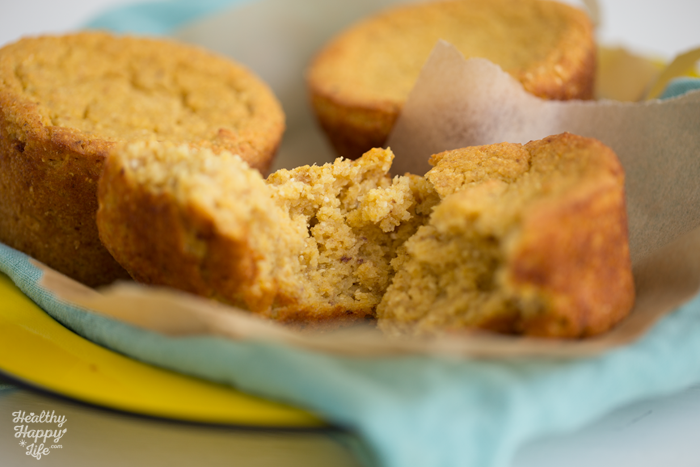 I used my jumbo muffin pan for extra wide muffins, but a regular pan works well too, and will yield you slightly taller muffins due to the narrower pan shape.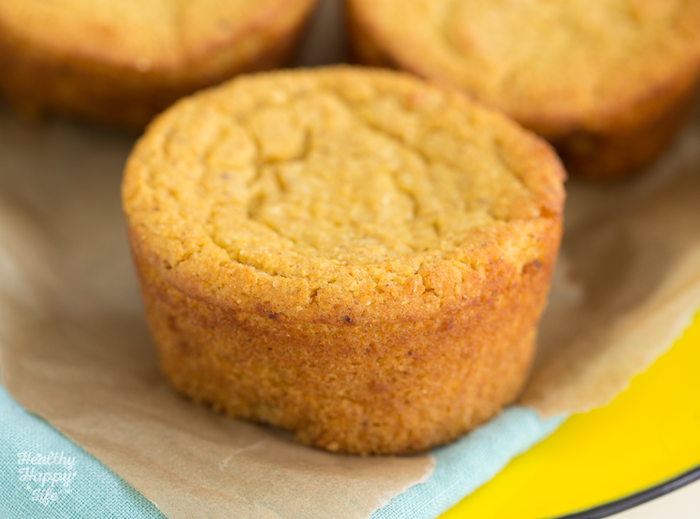 Buttery Vegan Corn Muffins
By Kathy PatalskyPublished 06/08/2015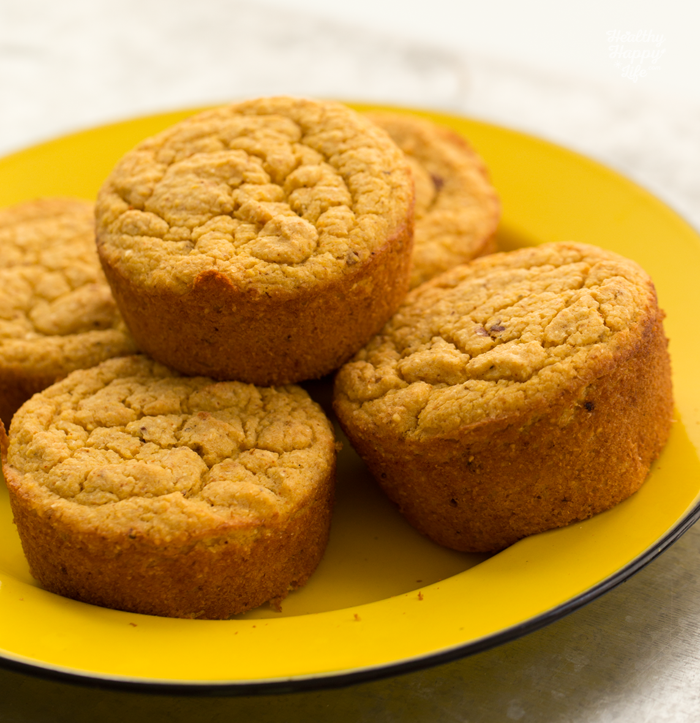 These buttery, tender, moist corn muffins are gluten-free and perfect for pairing with a warm bowl of chili, or alongside a big salad. Rustic, buttery, sweet corn flavor.
Ingredients
2 cups non-dairy milk, plain flavor
2 cups frozen organic corn kernels (You can also use fresh corn)
3 tablespoon vegan butter (Earth Balance)
1 ½ teaspoon apple cider vinegar
½ teaspoon salt
2 Medjool dates, pitted (optional)
2 cups corn meal (I used a fine sprouted corn meal)
1 ½ teaspoon baking powder
Spice it up: Add ½ teaspoon cayenne for a spicy accent
additional vegan butter for greasing pan — or use muffin liners
Instructions
Preheat oven to 375 degrees. Grease a muffin pan with vegan butter – generously.
In a blender, blend the frozen corn, non-dairy milk, vinegar, optional dates and vegan butter.
In a large mixing bowl, combine the corn meal, salt, baking powder and optional cayenne.
Pour the blended corn mixture into the dry bowl and stir until the batter thickens. The corn meal should thicken things up quite a bit.
Fill muffin pan and bake at 375 for 20-35 minutes — depending on your container size. I use jumbo muffins, so I baked about 30-35 minutes. A regular sized muffin container should take about 20-25 minutes. Muffins are done when the edges begin to brown and the tops are firm and muffins cooked through. Use the toothpick test.
Cool muffins in the pan for five minutes before carefully removing and cooling on a baking rack. Best served warm!
Yield: 6 jumbo or 12 regular sized muffinsPrep Time: 00 hrs. 10 mins. Cook time: 00 hrs. 25 mins. Total time: 35 mins. Tags: muffins,corn, cornbread,corn muffins,bread,side,glutenfree,vegan,summer