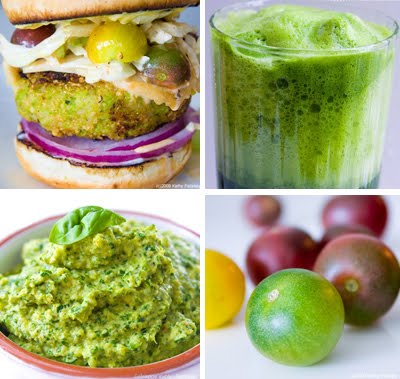 Last year on St. Patrick's Day I posted my Favorite Green Things List. A bit cheesy, I must admit. So this year, I was really debating whether or not to post another "Green Foods on St Patrick's Day" post. Well I finally caved this afternoon when I realized that green foods are indeed some of my faves. So why not celebrate and Eat Green Foods on St Patrick's Day. And no, green beer doesn't count. Although I do find the green-hat-and-plastic-shamrock-necklace-wearing groups of students trolling through downtown NYC in search of green alcohol very very entertaining.Get my five fave green vegan recipes…
Green foods are some of the healthiest around – they are also quite tasty! Green veggies and leafy greens have a wonderful grassy, salty, sweet, savory flavor to them. I remember in college I used to crave greens and would find myself eating baby spinach leaves right out of the bag around lunchtime. Kinda like chips! I guess I had already retrained my palate to crave healthy foods by then.
Here are my five fave green recipes. This was very hard to narrow down..
Top Five Green Recipes
2. Broccoli Jack Soup with Map-otle Tempeh Croutons
1. Lasagna Verde with Spicy Toasted Walnut Pesto
Bonus Bevie: Green Juice 101