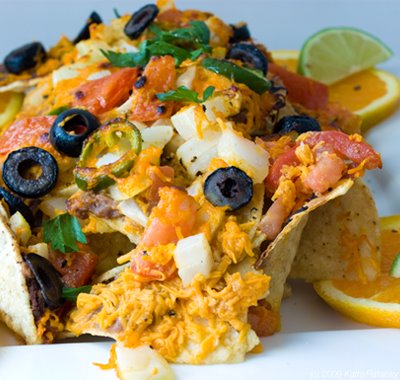 I still remember my first knock-out plate of nachos. Crisp, chewy and brown-burnt edged chips smothered in gobs of white and orange melted cheese. Beans, sour cream, diced veggies, jalapeno circles and salsa. Heavenly. But not healthy. Until now. Eat Nachos again! Learn how to cut out 5.5g of saturated fat per ounce of cheese and create a plate of party nachos you can feel good about…
Healthy Nacho Keys:
*load up on the beans! Choose fat-free refried black beans. Protein and fiber-rich
*Use fresh veggies and jalapenos. Can canned.
*Load up on the 'veggie mixture' topping.
*Spicy is good for you! Go spicy.
*Use spices and herbs like cilantro and cumin to add flavor (rather than added fat from sour cream, oil or more cheese.)
*Use a mix of baked/traditional chips. (The more baked the better)
*Use vegan cheese.
*Add healthy sides like fat-free salsa and healthy avocado slices (or guacamole)
Lift Your Nacho Ban. If you are a healthy eating devotee, you've probably pushed the party, ballpark, snack-worthy food Nachos out of your culinary spectrum. But hold your jalapenos! Nachos aren't all bad! The beans and spicy veggies give this dish good-for-you potential. Improve the chips, add a lot more of the healthy veggies and upgrade the cheese to a vegan version and you are in nacho business! FYI, vegan cheese has 5.5g less saturated fat per ounce than traditional cheese! Discover my recipe for fast, friendly, fun and furiously delicious Vegan Nachos.

Who invented nachos? It is said that in 1943, Ignacio "Nacho" Anaya, invented nachos. He lived in Mexico, not far from the Texas border. He used a Tostada, cheese and a few jalapenos. But that was it! Then in 1977 Frank Liberto, A Texas resident, changed up the recipe to use chips. But wow, nachos sure have evolved since then. Why not continue the evolution….
Nachos. Circa 1980. In the past, nachos have consisted of fried chips, thin greasy neon-orange cheese and sliced jalapenos-sometimes canned. More gourmet versions have included blue corn or gourmet style tortilla chips, piles of an exotic variety of cheeses, beans, sour cream, rice, cilantro and a variety of veggie toppings including onions and tomatoes. Not a 'healthy' food, and definitely not vegan. Until now…
Healthy Nachos. My healthier nachos use a mix of traditional and low-fat chips. They use a large serving of protein and fiber-rich black beans (the vegan, fat-free kind), lots of fresh-chopped veggies, spicy fresh jalapenos and the big kicker is changing up the traditional cheese for some vegan cheese!
Cheese vs. Vegan Cheese Comparison
per one ounce
Vegan Cheese (Follow Your Heart Brand): 80 calories, 8g fat, 0.5g saturated fat
Traditional Cheddar Cheese: 113 calories, 9 g fat, 6g saturated fat.
Lets get to it, here is my recipe for Healthy Vegan Party Nachos: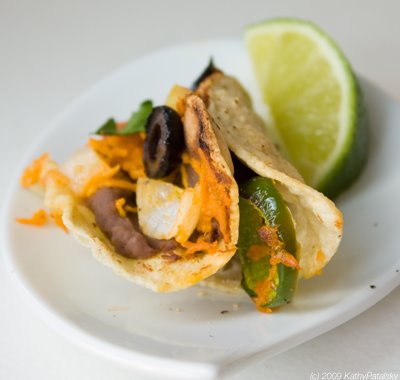 Vegan Party Nachos
vegan, makes one big plate
1 cup restaurant style tortilla chips
1 cup baked tortilla chips or oven-baked tortilla strips
*low salt is preferred
¾ cup canned black refried beans, vegan/fat-free
2 tablespoon black olive slices
1 fresh jalapeno pepper, sliced into circles
cheese mixture:
⅓ cup vegan cheddar cheese
2 tablespoon Monterey Jack cheese
*I use the Follow Your Heart brand
½ sweet onion, diced
1 small tomato, diced
2 tablespoon olive oil
1 tablespoon cumin powder
1 lime, juiced
pinch of salt and black pepper
olive oil spray
garnish: cilantro or parsley, chopped
4 orange slices
optional: chopped spinach, sliced mushrooms, side of fresh chopped avocados soaked in citrus juice and black pepper.
Directions:
Veggie mix:
In a medium bowl, combine diced tomatoes, diced onions, cumin powder, olive oil, lime juice and a pinch of salt and black pepper. Toss gently to coat the veggies. Set aside.
Line a casserole dish with parchment paper or foil.
Spray with olive oil spray.
Lay a handful of chips on bottom of dish.
Next, empty beans into microwave-safe dish.
Heat refried beans in microwave for one minute-to warm them.
Now take your remaining chips and spread 1 teaspoon of beans on each chip, then layer them in the casserole dish.
Grate the cheese.
Sprinkle ¾ of your cheese mixture on top of the chips.
Next, spoon about ½ cup of the veggie mixture on top of the cheese and chips.
Then add your remaining cheese to the top of that.
Add your olives and jalapeno slices to the top layer of cheese.
Spray entire nacho dish with olive oil spray (this will assist in browning the cheese and chips)
Now place your nachos of the top rack of your oven.
Broil them on high for about ten minutes-or until the chip ends are toasty brown and some of the cheese has bubbled brown as well.
Remove the dish from the oven and allow to cool for 2 minutes.
While the nachos cool, prep your serving plate.
Place 4 orange slice circles and 4 lime wedges on the dish.
(See image)
Finally, with a large spatula, transfer the nachos onto the serving plate.
Serve warm.
Serve any leftover beans or veggies in side dish bowls.
You can also serve with some spicy salsa or guacamole.