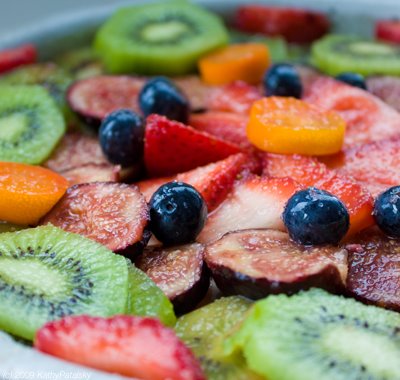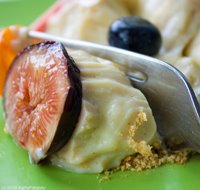 Strolling the NYC sidewalks, my pace slows at the site of a friendly bakery shop (there's a lot in this city). I gaze through the glossy glass window, and an array of sweet tempting treats stare back at me. Just browsing. But the one treat that always catches my eye is the colorful fruit tart. Brown crisp crust, creamy vanilla filling and a nice array of fresh fruit artfully laid on top. It's the fruit lover in me. As a kid I always chose the tart over the chocolate cake. And I know I'm not alone! So for all my fellow fruit tart devotees out there, this recipe is for you. It's an Even Healthier Fresh Summer Fruit Tart. It's cool creamy vegan banana-vanilla pudding, lemon-doused fruit and a cinnamon graham crust. This summer dessert will please your eyes and your taste buds…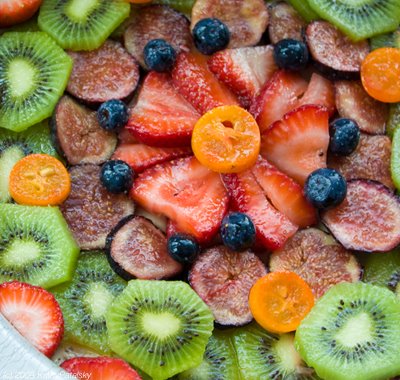 Seasonal Fruit. The great part about this dessert is that you can make it year round using whatever fruit is in season. Berries in summer, mandarins in winter. I used figs, kiwis, blueberries, strawberries and a few fun kumquats.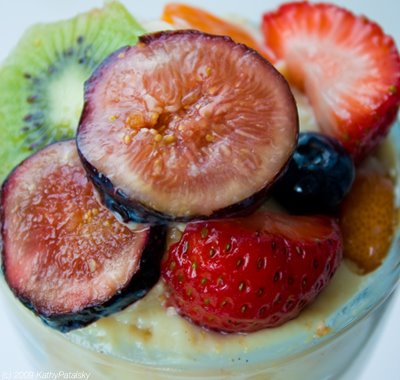 Vegan Pudding. I adore making vegan pudding pies, parfaits or bars. I always add a giant 15 ounce block of silken tofu, and for the luscious vanilla pudding I add lemon juice, a pinch of cinnamon, sea salt, arrowroot powder (easier to digest than corn starch) and a bit of raw sugar. My favorite vegan pudding mix is by Dr. Oetker. Lastly, I blend in my secret flavor ingredient: one ripe organic banana. Just enough banana flavor to accent the vanilla. It tastes like a subtle banana cream pie. Here is the full recipe…
Healthier Summer Fresh Fruit Tart
vegan, makes one tart
2 boxes Dr. Oetker Vanilla Pudding
1 block silken tofu (15 ounces)
1 lemon, juiced
1 large organic banana
¼ cup arrowroot powder
½ teaspoon cinnamon
2 cups soy milk
1 teaspoon vanilla extract
1 teaspoon salt
½ cup dry sugar
3 tablespoon agave syrup
Crust: 1 ¼ cups crust mix
vegan cinnamon graham crackers and a handful dry roasted almonds
2 tablespoon vegan butter
Fruit:
½ lemon, juiced
3 tablespoon raw sugar
2 cups seasonal fruit
*I used strawberries, blueberries, kumquats, figs, and kiwis
To make:
Grind grahams and nuts in a food processor.
Spread the crumbs in the bottom of a greased 9″ cake or pie pan.
The evenly pour melted vegan butter over the top.
Using a fork, smooth out the crust and saturated the crumbs with the butter a bit more evenly.
You can leave the crust raw graham, or you can bake it in the oven at 350 degrees for ten minutes.
*crisp crust will need to be baked. The raw crust is crumbly and light.
Pudding:
In a sauce pot, over high heat pour the cold soy milk, two packets of pudding, arrowroot powder, cinnamon, salt, vanilla extract and agave syrup.
Bring this mixture to a boil, stirring constantly.
When the bubbles break the surface and the mixture starts to thicken, reduce the heat to low and fold in the tofu, dry sugar and lemon juice.
After about a minute, remove the pan from the heat and transfer entire mixture to blender.
(Yes the mixture will be lumpy and globby and not smooth at all. That's OK.
The blender will smooth it all out.
Blend the mixture on medium-high.
If you need to add more soy milk to thin it out-do so now.
Then add your banana to the blender.
Blend until smooth.
When the mixture is ready, pour over the crust.
Allow to chill in fridge for at least 3 hours. Best if chilled overnight.
Fruit:
I like to do the fruit last so that it is at its freshest when served.
So I chop was and thoroughly dry all my fruit.
I then gently toss it with 3 tablespoon raw sugar and a spoonful of lemon juice.
Then arrange the fruit on the chilled and hardened tart.
I will then brush a bit more lemon juice on top and sprinkle a bit more sugar.
*will help preserve the color and flavor of the fruit.
Serve right away or chill in fridge for no more than a day before serving.
Notes:
*I recommend, if you can, to cut and place the fruit right before serving.
Some varieties of fruit can easily mush up and lost their color.
*Also, looking for vegan graham crackers? Well Keebler Low-Fat Cinnamon Grahams are vegan. See my vegan smores post for a more thorough description.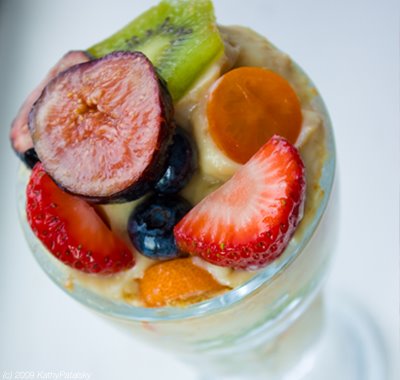 Enjoy more yummy yum Fruit Tart Photos….