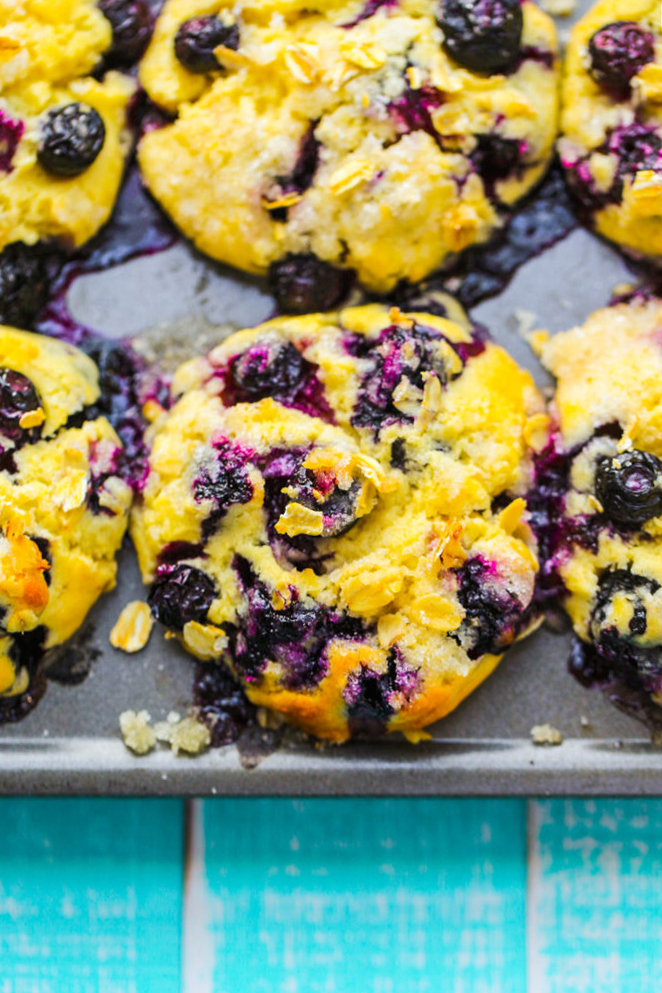 Tis the season for fresh blueberry muffins made from those plump, ripe, could-devour-this-whole-bowl-in-seconds sort of berries. And today, I tried out a very famous recipe, with my own little tweaks and vegan spin on things.
These "Famous" Fresh Blueberry Muffins, Gone Vegan are an absolute dream with their 'sugary crowns' and juicy berries exploding out of every fluffy crevice. Moist crumb and buttery tones throughout, these taste like they were pulled straight off of a bakery rack at from your favorite cozy cafe.
So make sure you have some amazing summer blueberries on hand and whip up these muffins…..
Before baking….
These muffins contain 2 ½ cups of fresh berries! So they are piled in there and studded on top….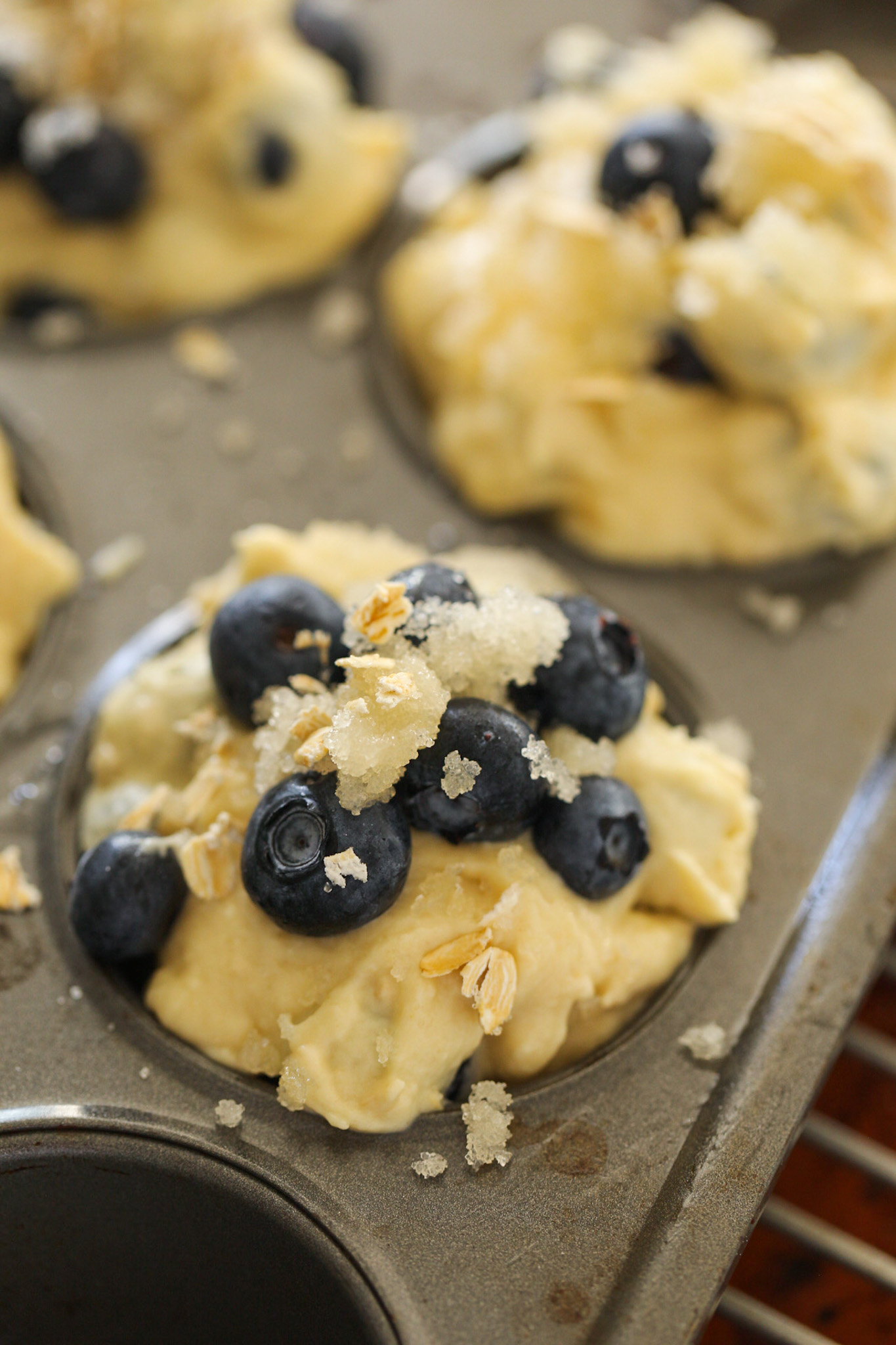 Baked up!…
Sugary crowns and all…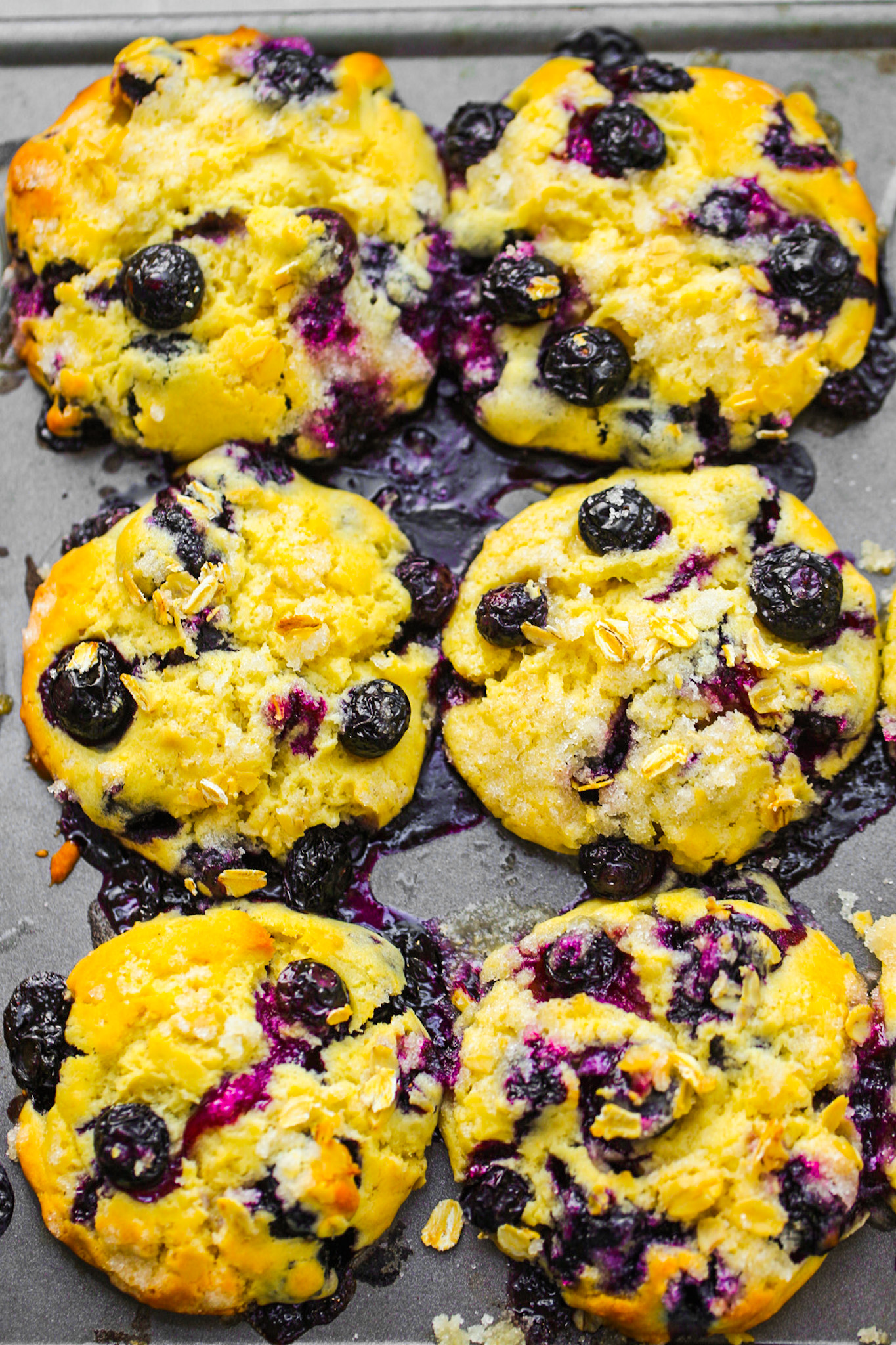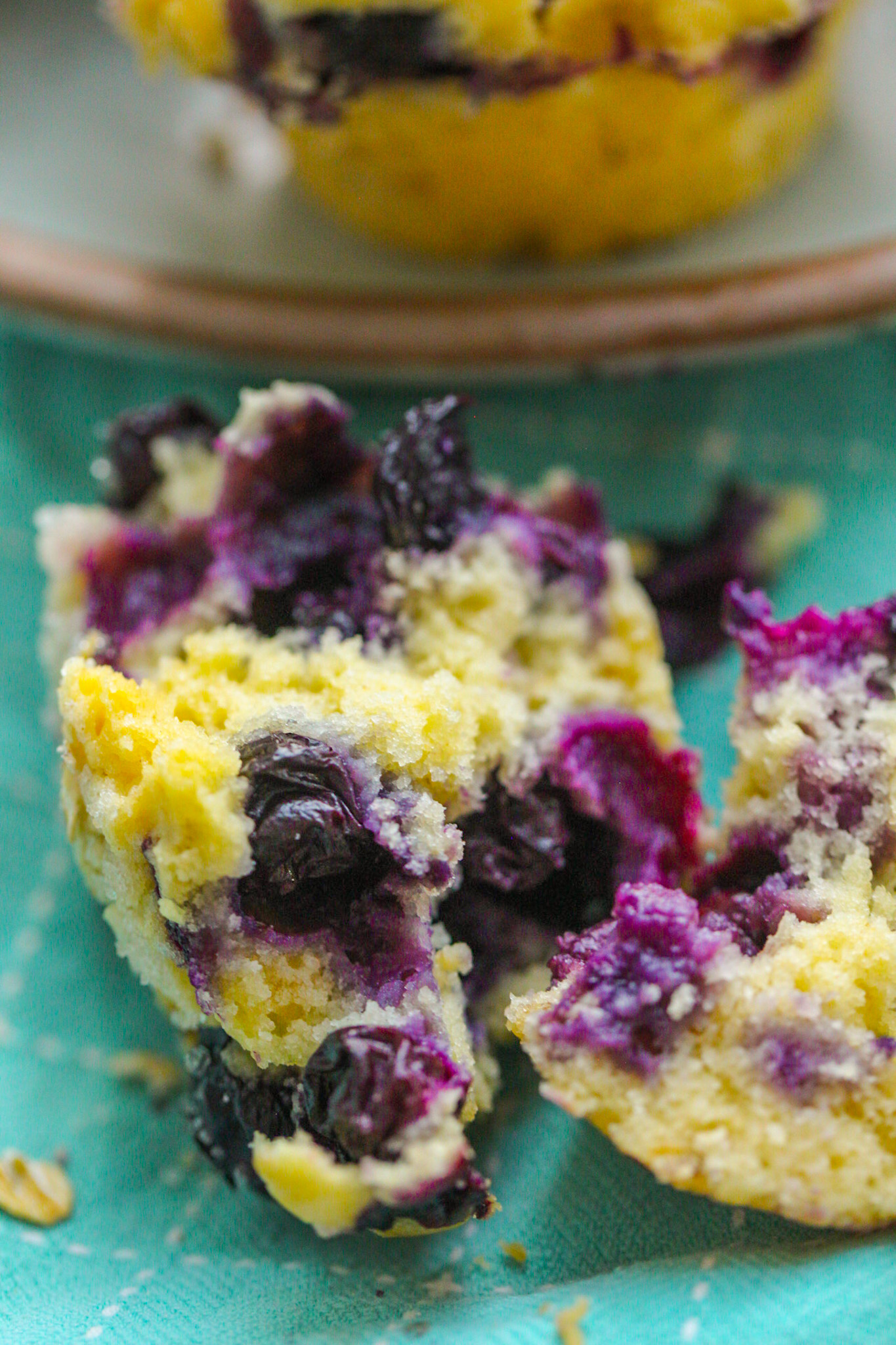 Famous Muffins
I stumbled upon this "Famous" Fresh Blueberry Muffins recipe online and simply had to veganize it and try it. Maybe it's my affinity for nostalgia-type things right now, old-fashioned, cozy and comfortable. But any vintage recipe has totally got my vote this summer. Comfort recipes!
The recipe I veganized, I found on the King Arther website. It's called "Famous Department Store Blueberry Muffins." I mean, how can you not love that. Do you even remember going to department stores? Or a mall? Or shopping in person??? Ah, the good old days.
So of course I had to make my kitchen into a top floor department store cafe and make these muffins.
Oh, and which department store are these muffins from? Jordan Marsh. A now closed store. Which makes the nostalgia even stronger, I guess. These muffins are so famous that the NY Times also chats about them.
I mean, honestly, the recipe isn't breaking any rules or adding any super secret ingredients. I'm pretty sure a few of my blueberry muffin recipes already here on the blog are similar to this one. But there are a few things that I think make this recipe stand out from the (very crowded) blueberry muffin recipe crowd….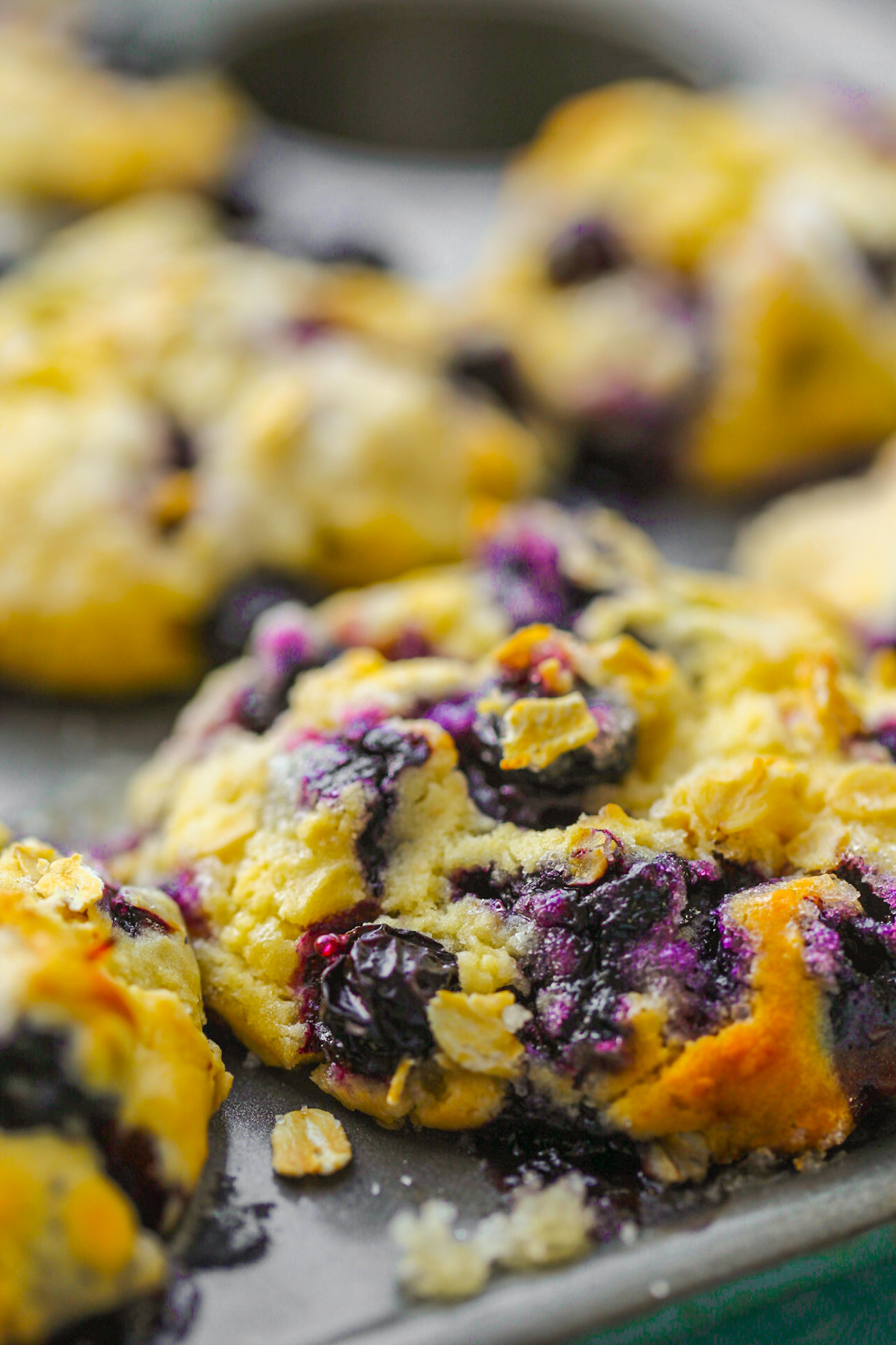 What Makes These Muffins Amazing…
So upon close evaluation. By ay of eating these muffins, obviously,I've spotted the three things that create the essence of this Famous Fresh Blueberry Muffin...
Yup, those are the three things. Let me elaborate…
Sugar on Top
I usually like to bake with coconut sugar or maple syrup because they are less refined and contain some bonus nutrients in there. But when it comes to creating really classic recipes, such as these muffins or traditional cookies and cakes, cane sugar is the way to go.
So for these Famous Fresh Blueberry Muffins, use cane sugar. To sweeten and also on top to sprinkle.
I always buy organic cane sugar, that way I know it is vegan. I usually buy the 365 Whole Foods brand.
These muffins are sweetened with cane sugar and include a nice dose of it on top of the muffins. That creates what the original description calls, "sugary crowns." I mean, who doesn't want to eat a sugary crown muffin top right about now???
So don't skimp on the sugar on top. I even did a slight sugar + vegan butter mixture for my 'crowns' because that is something I love doing.
Close up of these 'sugary crown' muffin tops…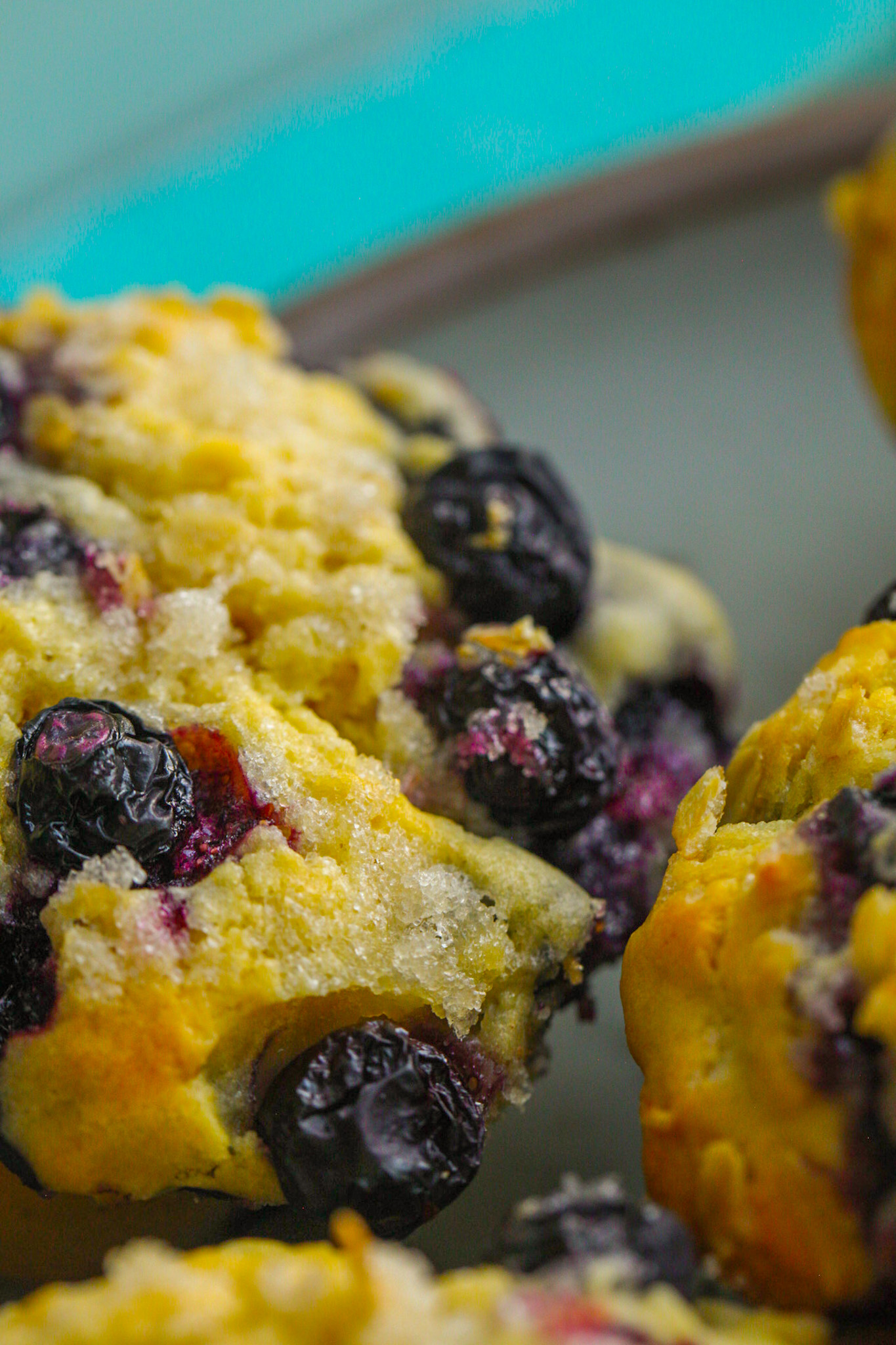 Fresh Blueberries
Must do: use fresh berries in this recipe! I used plump, organic, in-season berries. They were the giant kind of blueberry that you could easily devour in minutes. It almost killed me to bake them! But that is exactly what you need to do for the most amazing muffins ever.
"But Kathy, it's currently December and fresh berries are twenty dollars a pint."
…Ok, I hear you. It's July, so I can easily find gorgeous berries, but it you absolutely MUST use frozen just be sure to let them thaw out completely before adding – for even baking.
Butter
Vegan butter. Of course.
So instead of oil, which is often found in muffins, cakes and loaf breads, this recipe uses butter as the fat. So I used one stick of Earth Balance vegan butter, melted. It worked perfectly and gave the muffins a golden color.
The butter also adds a, well, "buttery" flavor that is so cozy. It doesn't weigh the muffins down at all, and rather just provides a delicate richness.
Vegan Egg.
Ok, one more thing that really makes these muffins awesome. Using a sturdy, fluffy egg replacer. I used the JUST Egg liquid. It also added to the gorgeous golden color of these. But if you don't have that ingredient on hand, pureed silken tofu and a pinch of additional salt will also work well.
Flour…
I used bread flour in my version of this recipe. I have just been really into it lately because it has such great structure and sturdiness for vegan baking. AP flour is what the original Famous Fresh Blueberry Muffins recipe calls for, so it will probably work here as well. But if you can give bread flour a whirl.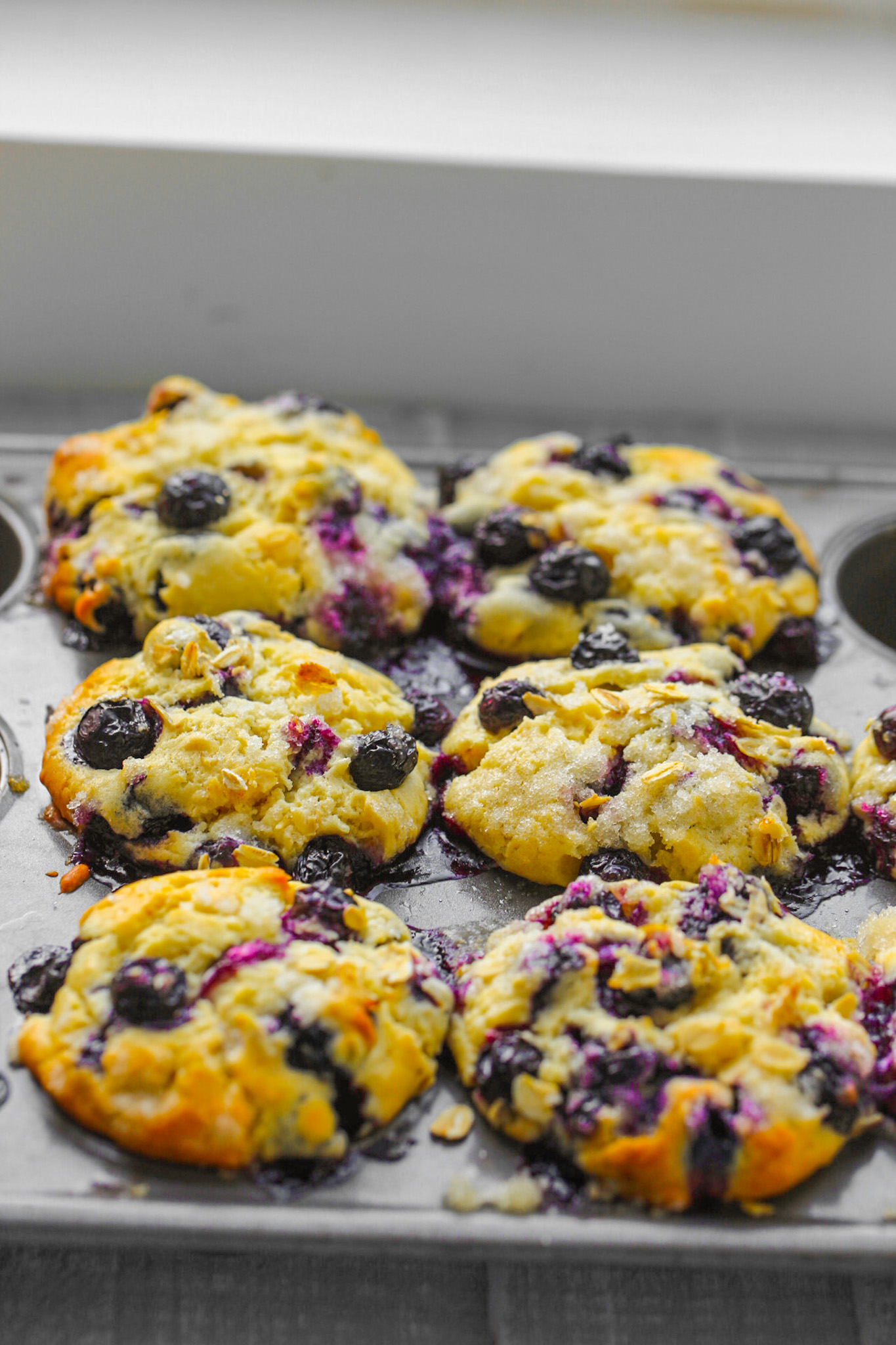 …TIP: Definitely grease your muffin tin well.
I'm talking, greasing both the muffin holes and the edges. These muffins will spill over and blueberry juice will leak out! You don't want a sticky mess. Greasing will help that. Plus, wait until muffins are cooled to remove from pan. (Unless you simply cannot wait and don't mind a bit of a mess…been there!)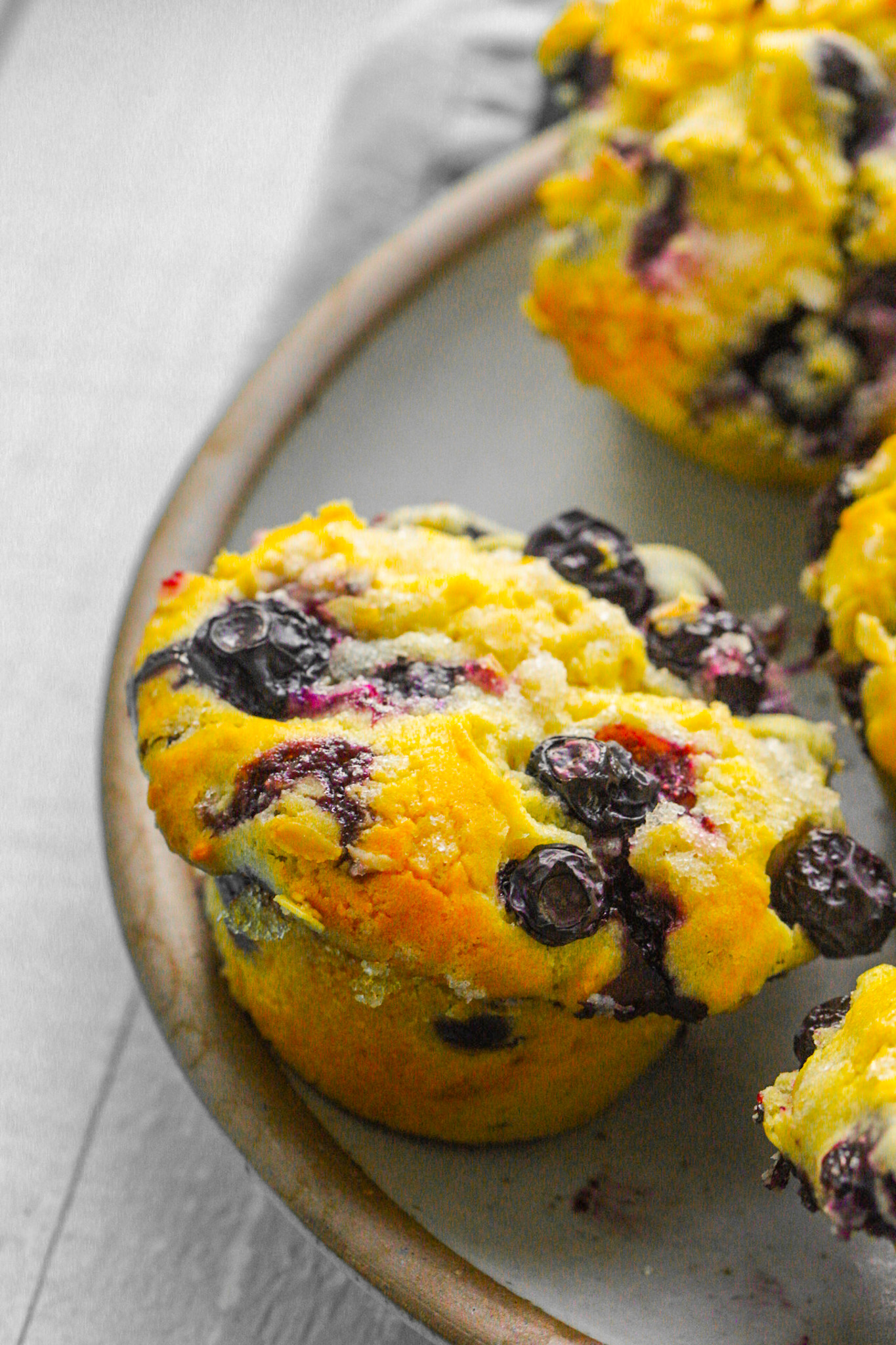 Stress Baking Summer.
Pop Sugar said it on Twitter this morning, and I agree…
"We're calling it, summer 2020 is the season of stress baking."

– popsugar
I mean, anecdotally, yup, I'm still baking. And no, not the 'weekend baking' routine . Or the, 'I'm going to make some homemade bagels today, how special!' sort of baking. More of the,
"Ugh, I just read another stressful headline about COVID and pregnancy and I don't want to look at my computer or my phone, so I'm going to hop in the kitchen and bake something. Because muffins will make things feel a little better." sort of baking. You too?
I mean, at least I'm baking generally healthy-ish things. So there's that. And since stress baking is a thing this summer, I fee like I'm part of a flour-covered-clothes community.
Check your pants, got some flour dustings on there? Welcome to the club.
Ok, let's get our happy place on, guys…. Famous Fresh Blueberry Muffins baking time!!!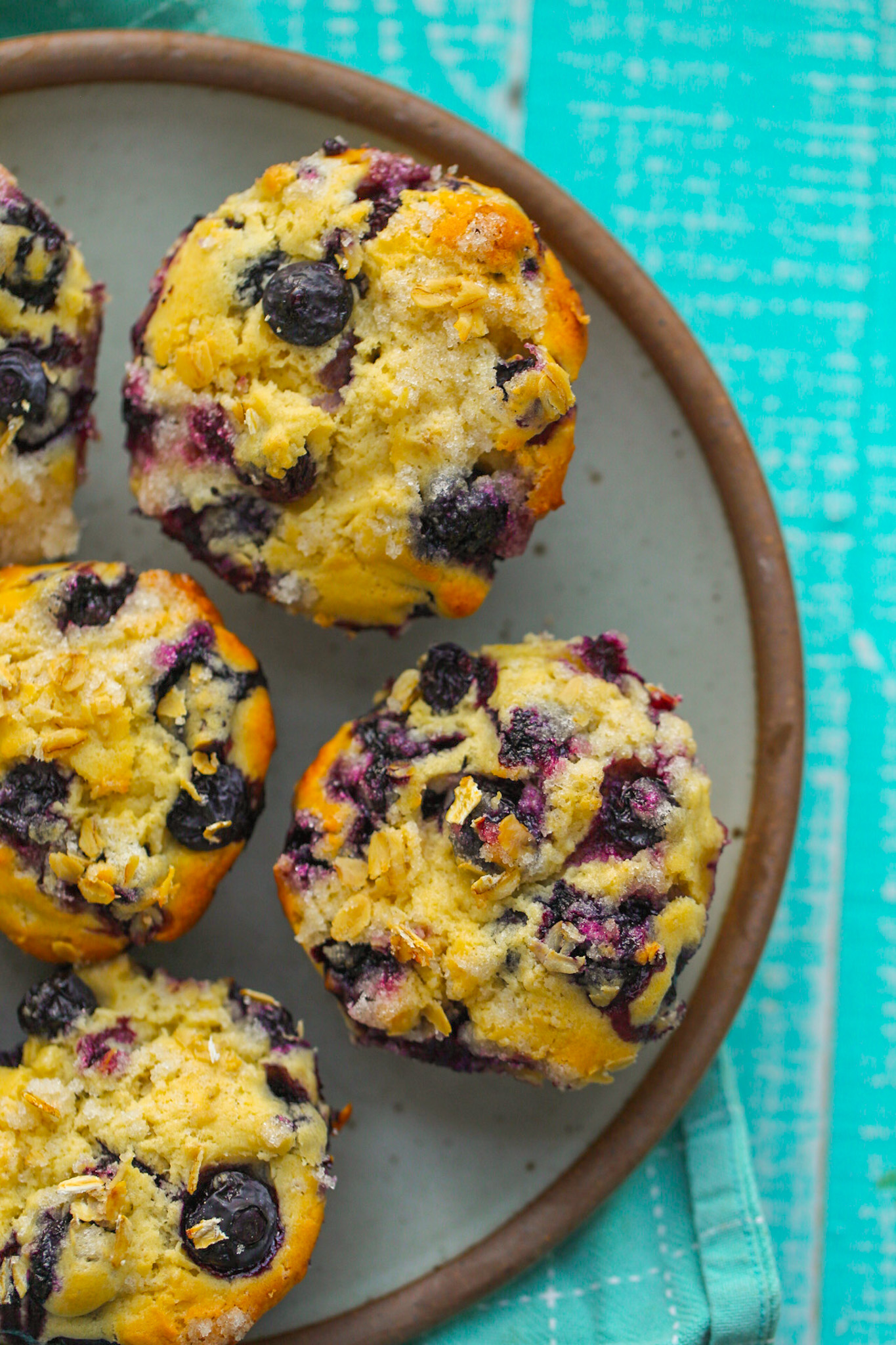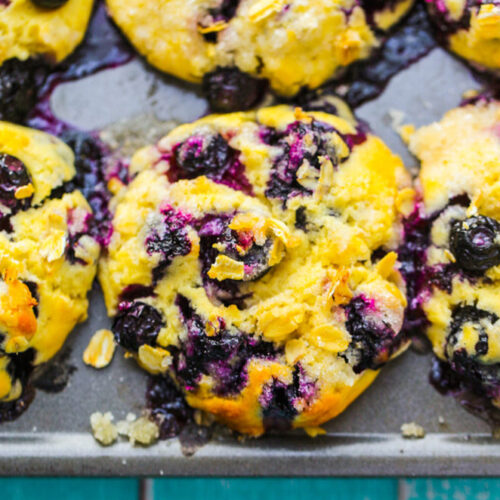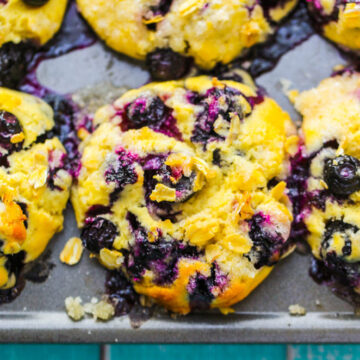 "Famous" Fresh Blueberry Muffins
This is my vegan version of a famous blueberry muffin recipe made using fresh berries, vegan butter and cane sugar.
Print
Pin
Ingredients
Wet:
½

cup

vegan butter

,

melted

¾

cup

cane sugar

,

organic

½

cup

vegan egg replacer

,

see notes

1

teaspoon

vanilla extract

1

teaspoon

apple cider vinegar or lemon juice

½

cup

soy milk
Dry:
2 ¼

cups

bread flour

,

organic, unbleached

2

teaspoon

baking powder

1

teaspoon

salt
Fold in:
2 ¼

cups

blueberries

,

fresh, organic – rinsed and dried well

¼

cup

rolled oats
Topping:
3

tablespoon

cane sugar

,

organic

1

teaspoon

vegan butter

,

softened or melted

2

tablespoon

rolled oats

oil or vegan butter for greasing muffin tin — or liners

¼

cup

blueberries

,

fresh, organic – rinsed and dried well
Instructions
Preheat oven to 375 and grease your muffin tin very well using veggie oil or vegan butter. Grease both the pits and smooth top of the muffin tin.

In a large mixing bowl, combine the wet ingredients. Whisk or beat well to combine.

Add in the dry ingredients and whisk or mix until smooth and fluffy.

Fold in the oats and fresh blueberries. Make sure your berries are nice and dry.

Scoop the batter into the tins.

Topping: Grab your ¼ cup of reserved fresh berries and plop them on top of the muffin batter. Combine the melted vegan butter with the cane sugar to get a clumpy soft sugar. Add the sugar mixture and rolled oats to the top of the muffins.

Bake at 375 degrees for about 30 minutes – or until muffins pass the toothpick test and the edges of the tops are lightly browned and fluffy.

Remove muffins from oven and let cool a good twenty minutes (at least) before removing carefully from tin. Serve warm! Store leftovers in the fridge for up to a few days — freeze for longer storage.
Equipment
muffin tin

large mixing bowl + whisk (or mixer)
Notes
egg replacer options – ½ cup of:
JUST Egg liquid
silken tofu, pureed with a pinch of salt added
(not tested) another egg replacer like flax eggs or apple sauce
This recipe is adapted from this "Famous" Department Store Blueberry Muffins" recipe.
nutrition estimate | per serving
Calories:
302
kcal
|
Carbohydrates:
49
g
|
Protein:
6
g
|
Fat:
10
g
|
Saturated Fat:
2
g
|
Sodium:
348
mg
|
Potassium:
225
mg
|
Fiber:
2
g
|
Sugar:
21
g
|
Vitamin A:
527
IU
|
Vitamin C:
4
mg
|
Calcium:
77
mg
|
Iron:
1
mg