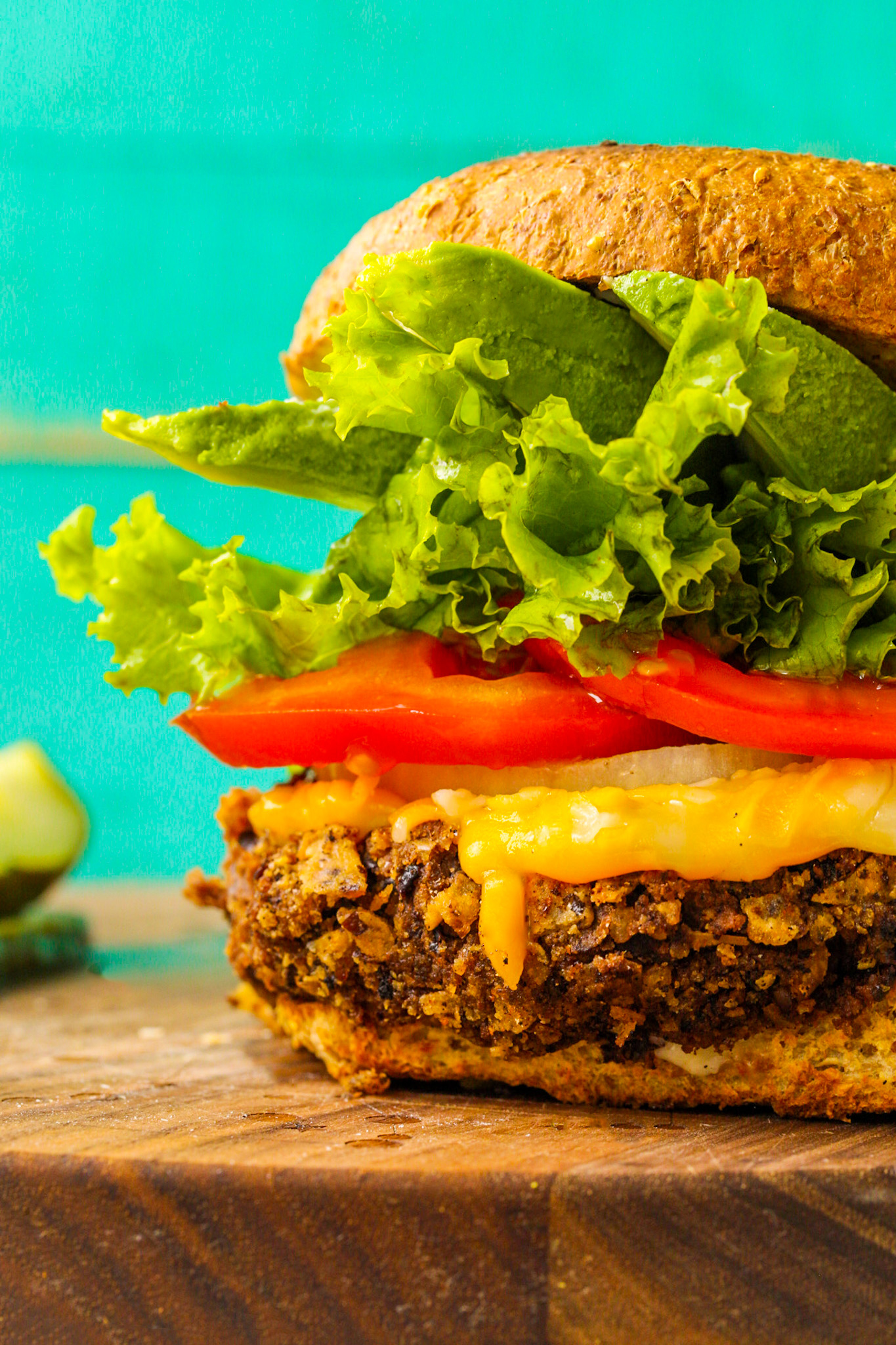 I've been on a veggie burger kick lately. So this Fiesta Black Bean Burger was another way to satisfy my craving for a toasty bun with pickles, crisp lettuce, tomato, onion and some saucey sauce on top. This burger had a melty slice of vegan cheese too. Loved these warmly spiced fiesta flavors!…
Veggie Burger Cravings
There is something so satisfying about a veggie burger – on a soulful level. Freshly made, with a mixture of warming and crisp and fresh ingredients, loads of flavor, handheld and just plain classic. Yup, I feel nourished from the inside out when I get a stacked veggie burger on my plate.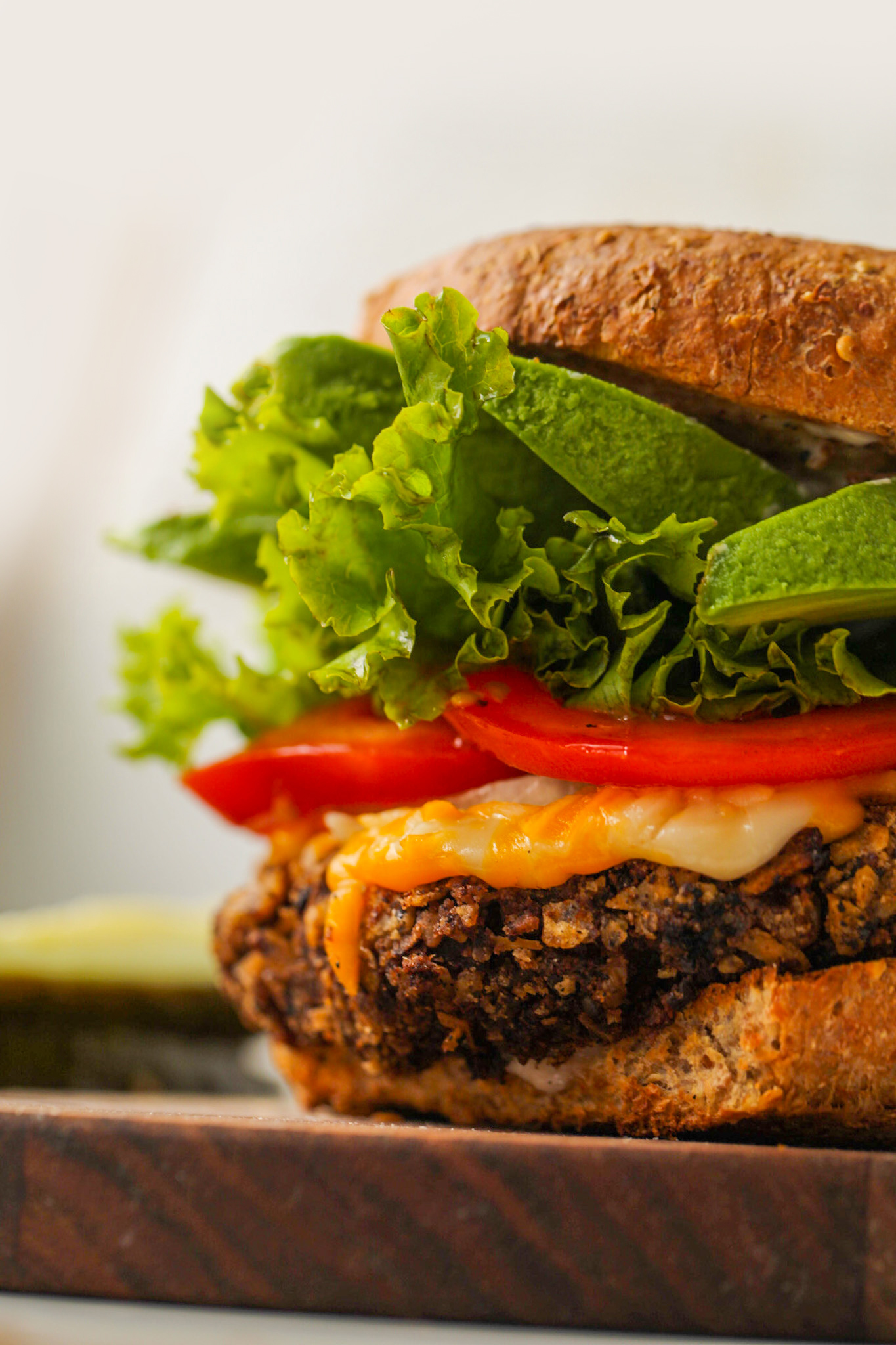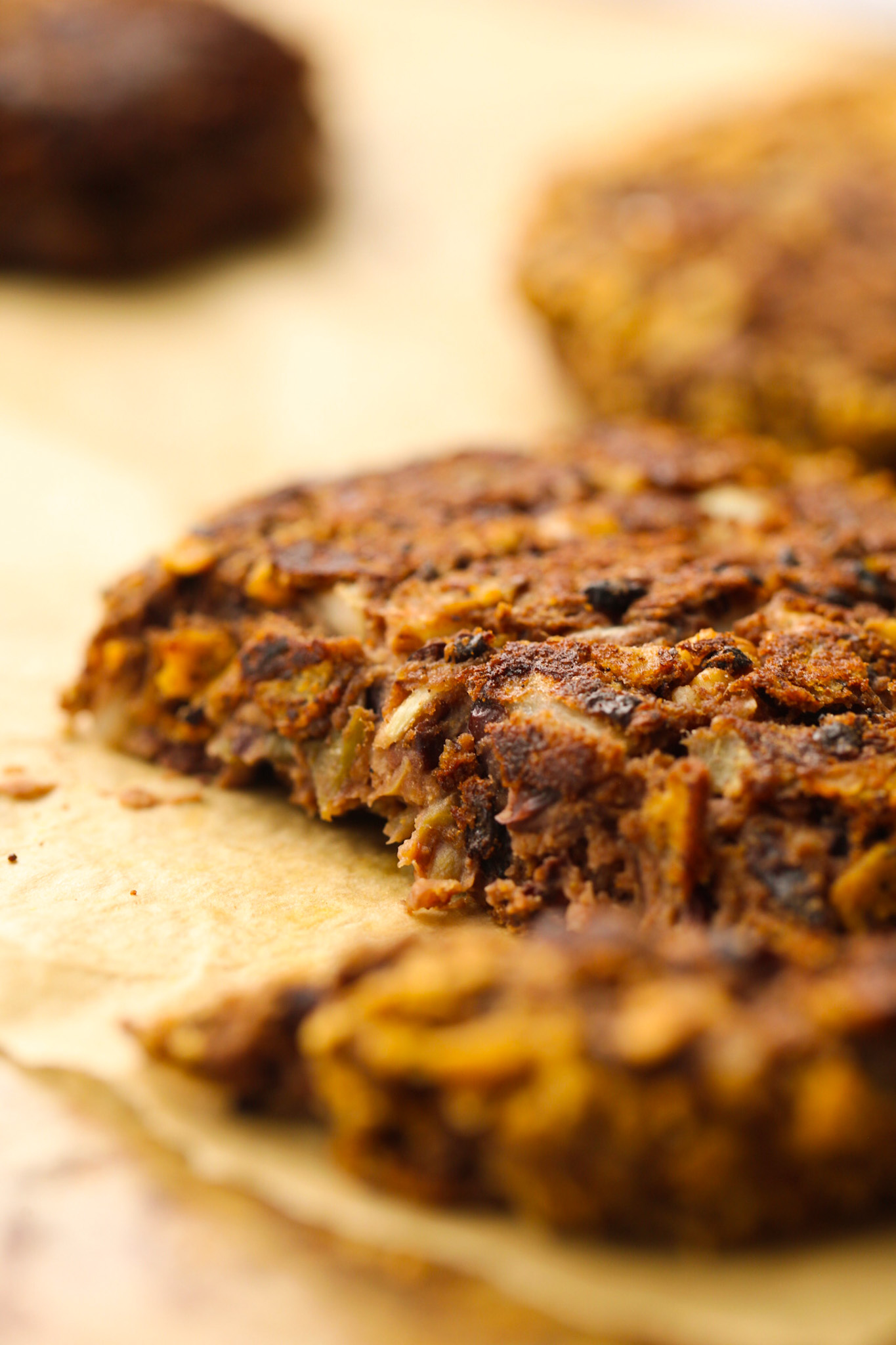 Black Bean Burger
I love bean-based veggie burgers and this one has a mixture of walnuts and black beans for a range of nutrients and savory flavors. This burger pairs really well with a melty slice of cheese! Not all veggie burgers do. But this one has a nice nutty, savory flavor that works so well with that bite from a vegan cheese.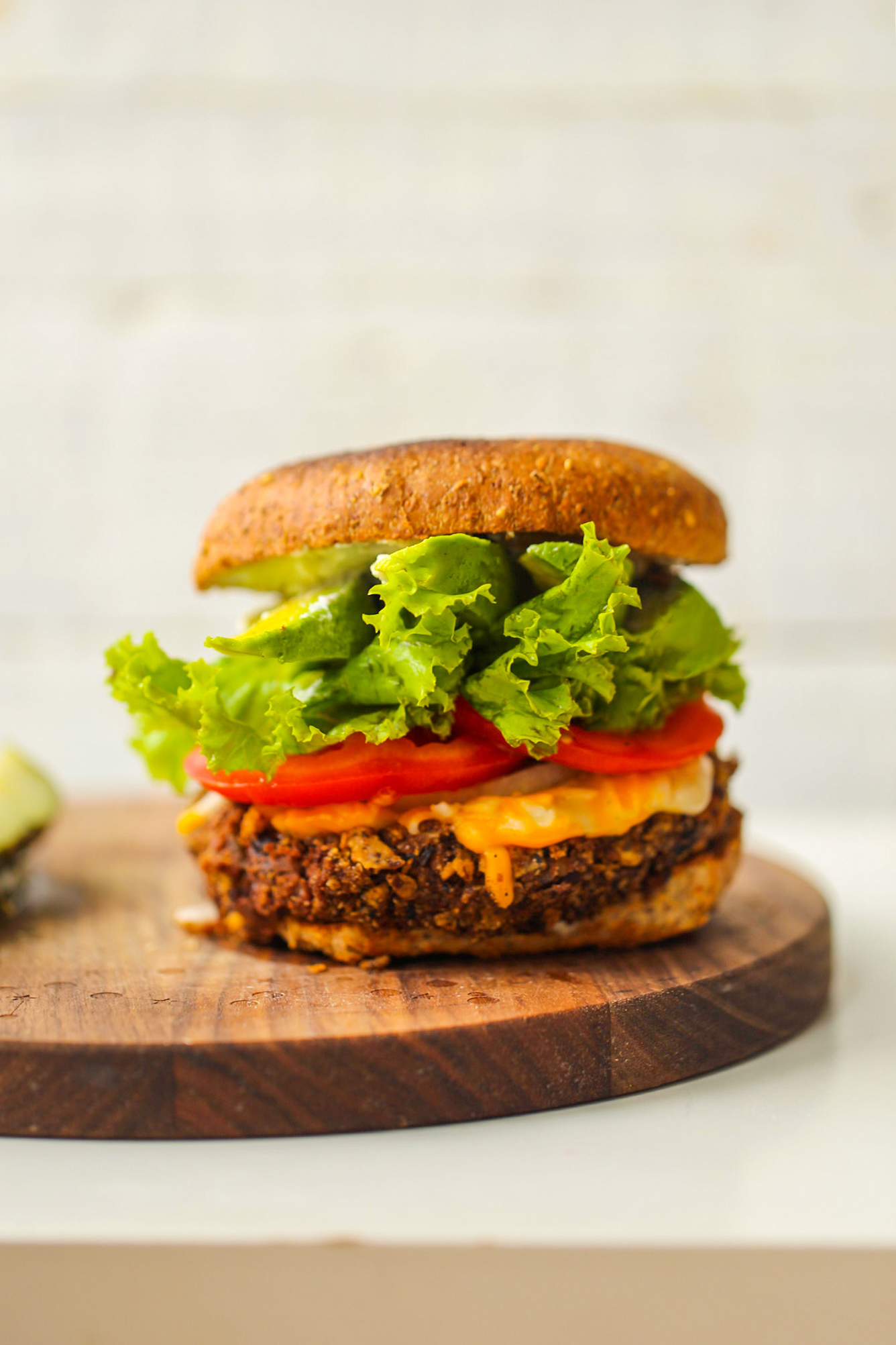 Spice Appeal
This burger is also fun because it is packed with flavor from an array of warming Mexican spices like cumin and chipotle, as well as mild chilies mashed right into the burger to bring on a signature smoky flavor.
Toppings
For the toppings, I chose…
avocado slices ( a must!)
green leaf lettuce
sliced tomato
sliced onion
vegan cheese – Colby Jack by Violife
Veganaise with a pinch of chipotle powder and drizzle of maple syrup
pickles! You can serve your pickles on the side or slice onto the burger. Pickled jalapeños would also work well!
For the bun, I did a sprouted grain bun, but any vegan burger bun would work!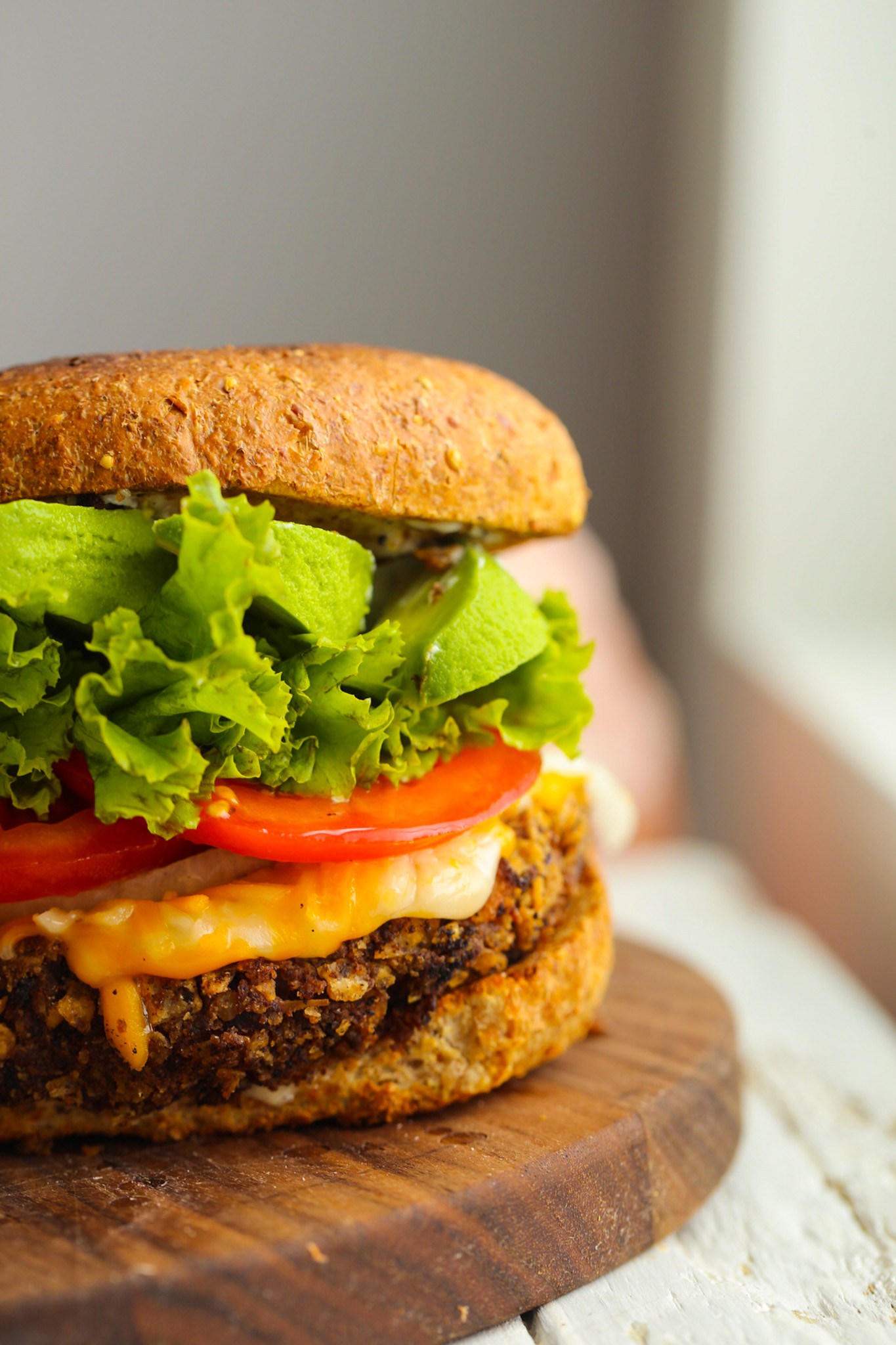 Crisp Coating
The way I like to make my veggie burgers is to make then a tad on the wet side, the mixture almost sticky in many ways, and then I use some sort of dry, crispy coating. For my Sweet Potato Burgers I use Panko breadcrumbs.
For these, I crushed tortilla chips! I used Beanfield's Nacho flavor for extra spiced-fiesta flavor!
…I had never done the chip coating before, but it actually worked really well.
Then with these types of burgers, I do a really quick pan-fry and bake for about fifteen minutes until warm and toasty but not dry.
I hate when veggie burgers are too dry or crumbly. I much prefer one that is on the softer side.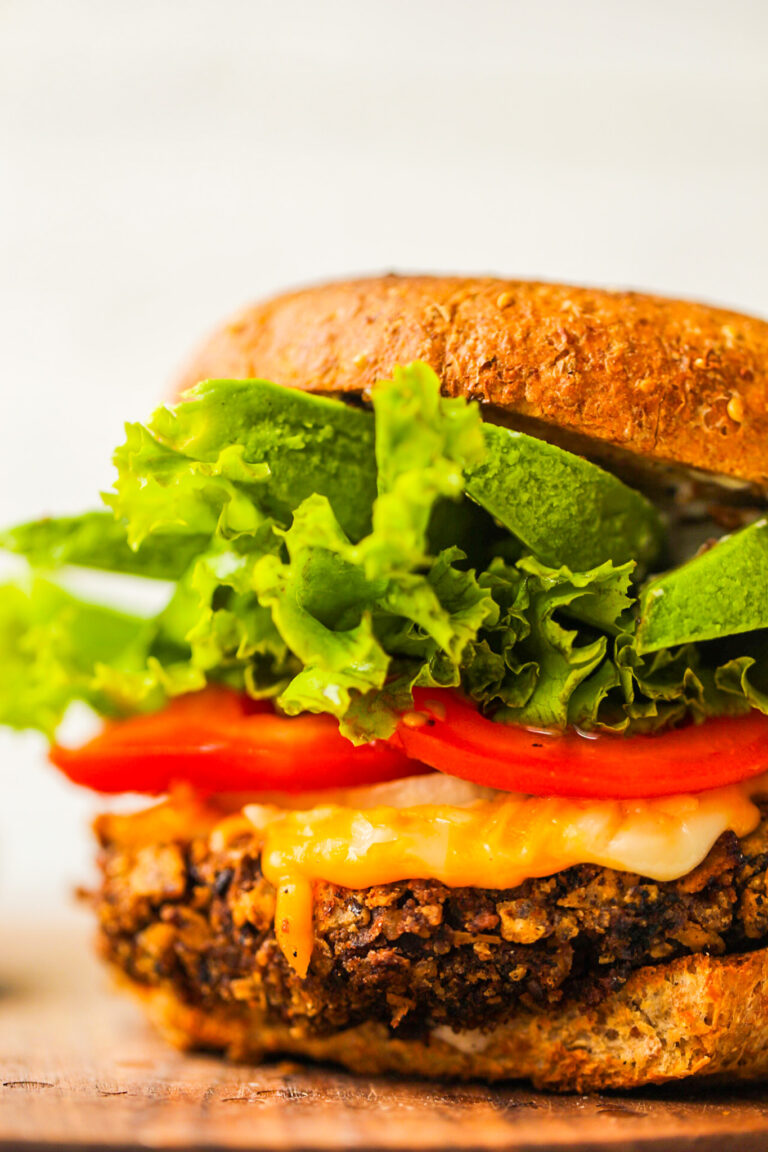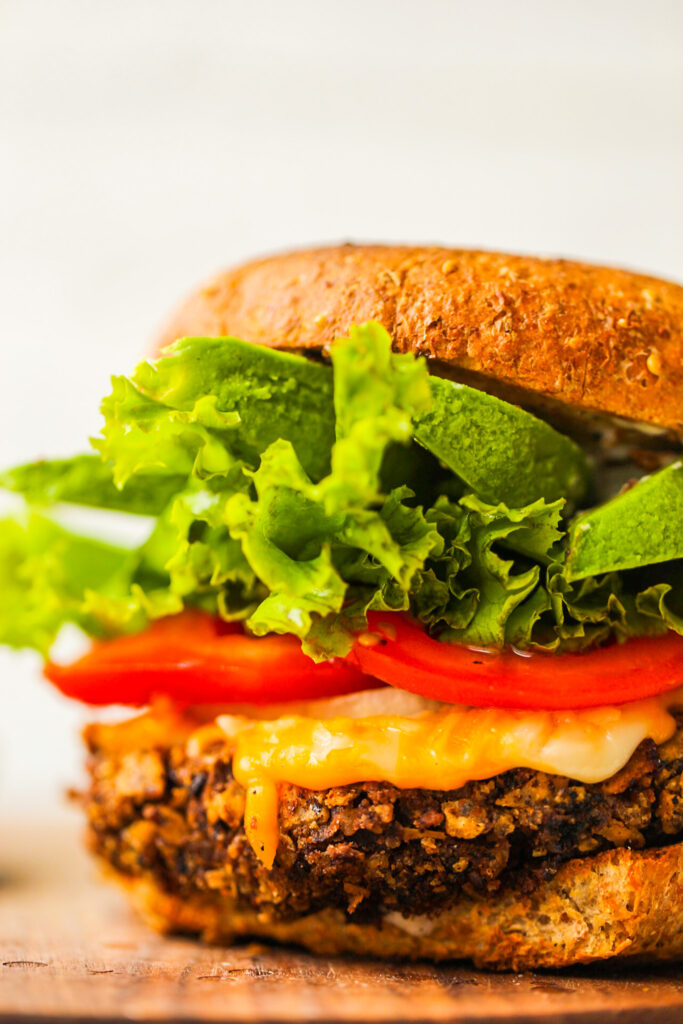 Firm Up Your Burger?
If you are not like me and don't want a burger that is on the soft side, you can easily adjust the filling a bit for a drier, more textured tone. Here are a few things that bind a burger a bit tighter – add:
flour
cooked rice or quinoa
nutritional yeast
more walnuts or chopping them to a finer texture – or even into a flour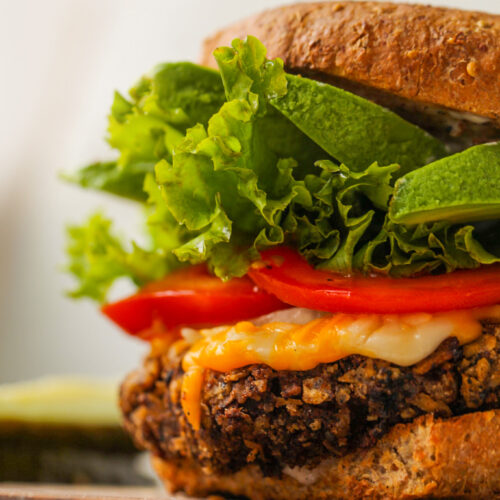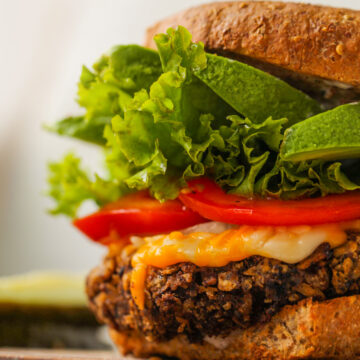 Fiesta Black Bean Veggie Burgers
This spicy and nutty veggie burger is coated in crushed tortilla chips and loaded with spices. Topped with fresh veggies and avocado.
Print
Pin
Ingredients
1/2

cup

raw walnuts

,

finely chopped

1 1/2

cups

black beans

1/4

cup

nutritional yeast

4

oz

green chilies

,

canned

1/2

tsp

salt

1/4

cup

onion

,

chopped

2

tsp

ground cumin

1/8

tsp

ground chipotle powder

,

optional

1/2

cup

tortilla chips

,

crushed

olive oil for skillet
Burger Toppings:
lettuce

burger buns

vegan mayo or chipotle mayo

tomato

vegan cheese

onion

avocado
Instructions
Line a baking sheet with parchment paper and preheat oven to 350 degrees.

Add all the veggie burger ingredients (except the olive oil and chips) to a large mixing bowl. Mash very well.

Very finely crush tortilla chips and pour into a small bowl.

Warm a skillet over high heat, add a drizzle of olive oil – enough to coat the pan. Turn heat to medium-low when oil is hot.

Patties: IF needed, place the burger mixture in the fridge to chill for 5-10 minutes. I do not do this, but it can help if you are new to forming a wetter patty.

Using your hands, scoop patty mixture and gently form into a patty, then plop into the cips – this will greatly help you handle the patties. Flip and coat other side with chips.

Place the patty into the warm oil and repeat with the mixture until all patties are in the pan. (You may need to do two rounds if you have a smaller skillet.

Flip patties about 1-2 minutes into cooking and cook another 1-2 minutes on the other side. You are just browning the outside. Transfer pan-fried patties to the baking sheet.

Bake at 350 for 15-20 minutes.

Toast you burger buns and ad sauce and toppings and the patty. Tip: To melt the cheese, place the cheese on the burger patties about 3-4 minutes before the burgers are done baking in the oven.
Equipment
skillet

large mixing bowl

masher or large fork

baking sheet
Notes
nutritional info does not include toppings and bun.
nutrition estimate | per serving
Calories:
207
kcal
|
Carbohydrates:
22
g
|
Protein:
10
g
|
Fat:
10
g
|
Saturated Fat:
1
g
|
Sodium:
388
mg
|
Potassium:
381
mg
|
Fiber:
8
g
|
Sugar:
2
g
|
Vitamin A:
13
IU
|
Vitamin C:
4
mg
|
Calcium:
41
mg
|
Iron:
3
mg