On the tenth day of Vegan Treats, my true love gave to me, ten Muffins Rising,
Nine Snowflakes Dancing,
Eight Snowman Crispies,
Seven Flutes of Cinnamon,
Six Soy Nogs swirling,
Five Gol-den Fuyus,
Four Coconut Snowballs,
Three French Toasts,
Two Cups of Cocoa,
and a North Pole Peppermint Chai (just for me.)

Bring Me Some Figgy Pudding (Muffins). Figs are a festive holiday fruit coated in tradition. Figgy Pudding, you've sung about it year after year, and in quite a demanding tone none the less! "Oh, bring us some Figgy Pudding" the lyric goes. Well instead of serving steamy soggy bowls of 'Figgy Pudding' (whatever that actually may consist of) try serving some Figgy Muffins. Hazelnuts, citrus zest and cinnamon accent these fluffy gems. Get my recipe...
Figgy Pudding. It's one of those phrases you hear (and have sung) a million times, but probably don't know exactly what Figgy Pudding is. According to wikipedia: "Figgy pudding is a pudding resembling something like a white Christmas pudding containing figs. The pudding may be baked, steamed in the oven, boiled or fried." Think "mashed figs thickened with bread". Kinda sounds like muffins right? So here is my vegan muffin version of "Figgy Pudding". But don't give these muffins away for free, request that a verse of "We Wish You a Merry Christmas" be sung first! A song for a muffin. Sounds like the holidays to me.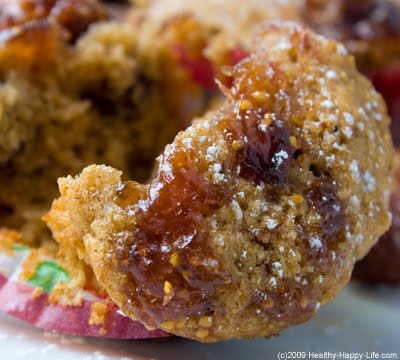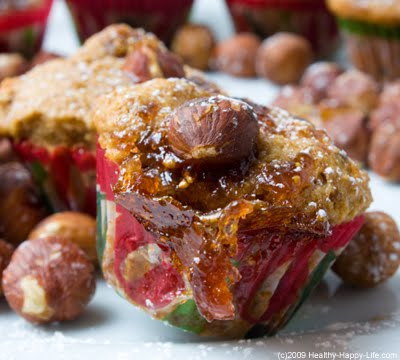 Mini Muffins. I made my Figgy Muffins mini-sized. Thus I made 24 mini instead of 12 regular sized. Either method works. Just be sure to adjust your baking time if you do mini muffins – they require a tad less time in the oven.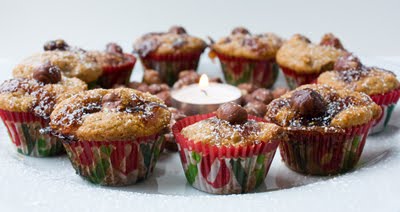 Figgy Pudding Muffins
vegan, makes 1 dozen
Muffin Batter:
¾ cup whole wheat flour
½ cup white flour
2 teaspoon baking powder
1 teaspoon salt
½ cup vegan sugar
1 teaspoon fresh orange zest
1 teaspoon cinnamon
⅓ cup soy milk
½ cup (vanilla or plain) soy yogurt (aka your 'pudding' component)
1 tablespoon canola oil
4 tablespoon Fig Jam, high quality, chunky
1 cup chopped toasted hazelnuts
optional: fold in 2 tablespoon flax seeds or meal
Topping:
Remaining fig jam (1 dollop per muffin)
1 hazelnut per muffin
Note: I used about 4.5 oz. total fig jam for this recipe. I used the Les Comtes de Provence brand. Another fig brand: Tiptree Green Fig Preserves. You can also made homemade fig jam to use in this recipe.
Directions:
1. Lightly toast your hazelnuts in a dry skillet over high heat. (You can use a ½ teaspoon of oil if you desire-add in a pinch of salt). Toasting should take about 1-2 minutes to get a nice crisp outer layer. Constantly shake skillet as you toast them to avoid burning the nuts. Leave about 15 whole hazelnuts out, and roughly chop the rest (1 cup) with a knife. Set aside.
2. Combine all your dry muffin batter ingredients in a large bowl: flour, salt, baking powder, sugar, cinnamon.
3. Next, fold in the liquid ingredients: soy milk, yogurt, orange zest.
4. Fold in your chopped hazelnuts. Then fold in the 4 tablespoon of fig jam. Keep it nice and lumpy, you want a 'swirl' of fig throughout the muffins. Note: You could even fold in a few fresh sliced figs if you have them on hand.
5. Line or spray your muffin tins and begin filling the muffin cups. Leave a bit of room for your fig jam topping.
6. Dollop about ½-1 teaspoon fig jam on top of each muffin. Use more or less to suit your tastes. Top each muffin with a hazelnut.
7. Bake in a preheated oven at 400 degrees for about 18 minutes. Or until the edges of the muffins begin to turn a toasted brown color. Serve warm. Dash with a light 'snow' of powdered sugar if you'd like.