My scone-baking kick continues! But today, I'm doing biscuits..
Today I am sharing my recipe for Flaky, Buttery Vegan Popeye Biscuits! These vegan, heart-shaped gems just happen to be loaded with spinach. So this is a sneaky way to add some greens to your meal. I love these served alongside soup or just served with a generous drizzle of maple syrup or coconut nectar on top.
I'm also sharing a story of why these biscuits remind me of one of my favorite childhood memories ever.
Popeye would devour these and you will too!!..
Before baking..

Fresh and fluffy from the oven..

Random Biscuit Memory. One of my favorite memories from childhood is of being a ballgirl. Every summer, our local tennis club would host the Cal Open – always called something different based on the main sponsor. It is "the longest running Men's Challenger in the U.S." According to the website. Funny enough, it is currently called the Nordic Naturals Challenger, one of my fave brands for vegan omegas, but anyways.
Every summer, two of my best friends and I would be ball girls. You know, the tiny humans who run all over the court during a match, collecting balls and standing in the hot sun for hours – sweaty towels tossed in our faces, red-faced tennis players pointing at us to refill their water bottles. Once in a while I would miss a ball and get yelled at by the umpire or a grumpy player. And sometimes, those super fast serves would pelt me right in the hip or shoulder. We would work match after match, be the first ones to arrive, alongside the referees, and the last to leave once the match was over. It was a long day with zero pay — free meals and swanky T-shirt and tennis shoes — and yet between all the fuss and endless complaining from our lips, it is truly one of my favorite memories. I think I probably did 4-5 summers ball girling. Once when I was just 8 years old and then again when I was around 11-14ish I think.
In 1993, I was 12, Patrick Rafter was the winner. I have a Polaroid photo with him somewhere in my piles and piles of old tennis photos. And we saw the Bryan Brothers come through too. We would fawn over the cute tennis players and even hound them for pictures and autographs around the last days of the tournament.
So what in the world does all this have to do with today's recipe? Well, just one thing. But a good excuse to reminisce. Buttery, flaky biscuits drizzled in sweet honey or coconut nectar or maple syrup always remind me of those summers. The reason is pretty basic…
So they would serve us lunch every day and often times KFC was the sponsor. But for some reason we never really ate the chicken. I think I was doing my childhood "leaning towards vegetarian" thing, not sure about the other girls. So us three sneaky girls would wait until everyone had eaten and scavenge through the straggling, unclaimed lunch boxes. We were in search of biscuits. That was all we wanted. It is pretty comical to think about in retrospect. We would prance away with napkins filled with 2-3 biscuits each and an armful of honey and butter packets. And we ate.
Weird, right? Snatching biscuits? But those food moments when something tastes exceptionally good, those moments always stay with your taste bud menories. And after being hot and sweaty all day, a salty, buttery biscuit tastes amazing.
And besides all that. Tennis anything always reminds me of my dad. The tennis king. And I know he would've loved these soft and flaky, buttery, lovely biscuits.
So ya, that is my random biscuit memory. I know you enjoyed it, right? And if not, well, at least you can try today's biscuits…
These biscuits are so good! The flavor is very simple, savory, slightly cheezy and spinachy – but in a delicious way – not an overly "veggie-like" flavor as the bright green color might suggest. My favorite way to eat this is definitely with something sweet drizzled on top. Jam would be perfect, or just some maple syrup of coconut nectar.
Tonight I served these alongside some potato-noodle-garlic-carrot soup. Some vegan mayo and hummus and maple syrup on the biscuits. Such yummy comfort food!
I hope you guys love this recipe as much as I do! Enjoy!!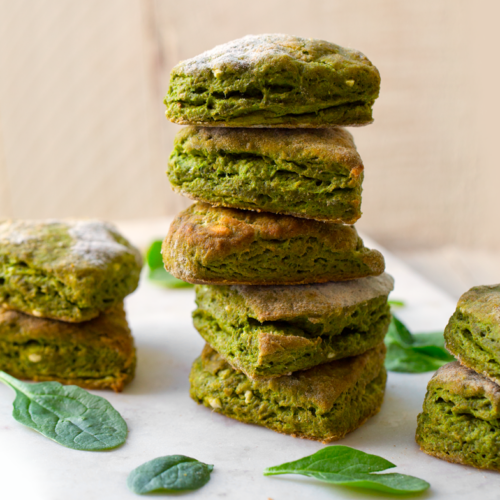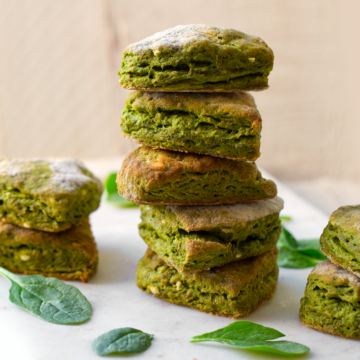 Flaky, Buttery Popeye Biscuits
These flaky and buttery vegan biscuits are loaded with spinach goodness!
Print
Pin
Ingredients
Dry:
2 cups sprouted grain flour

¼ cup nutritional yeast

1 tablespoon baking powder

¼ teaspoon baking soda

⅛ teaspoon black pepper

¼ teaspoon salt
Blend (Wet):
4oz organic spinach (about 5 cups loosely packed)

5oz vegan plain (unsweetened) yogurt (almond milk yogurt used)**

1 tablespoon raw sugar

¼ cup almond milk
Fold in:
5 tablespoon very cold vegan butter, grated or chopped into very small cubes (about ⅔ of one stick of vegan butter)

2-4 tablespoon vegan shredded white cheese (optional)

additional flour as needed to roll out the dough (at least ¼ cup needed)

** vegan cream cheese could also be used 
Instructions
Preheat oven to 400 degrees and line a baking sheet with parchment paper – or grease well.

Add all the dry ingredients to a large mixing bowl and stir to combine.

Add all the wet ingredients to a blender and blend from low to high until the spinach is smooth and resembles a thin smoothie-like texture.

Pour the spinach mixture into the dry bowl and stir until a sticky ball of dough forms. Add in the grated vegan butter and optional vegan cheese shreds and start kneading everything together, in the bowl, using your hands. If your dough feels too sticky, add in a few tablespoons of additional flour. When the dough is fluffy yet dry enough to roll out, transfer it to a floured flat surface and roll out to about an inch thick – thicker for taller, thicker biscuits.

Cut out the biscuits using and cookie or biscuit cutter you'd like. transfer to the baking sheet. Repeat until all the dough has been used up.

Bake at 400 degrees for 18-20 minutes.

Serve warm! store leftover sealed in a container or plastic bag – in the fridge for up to two days. Beyond that time, freeze biscuits to save for later. Reheat in a toaster over, oven or microwave to serve.