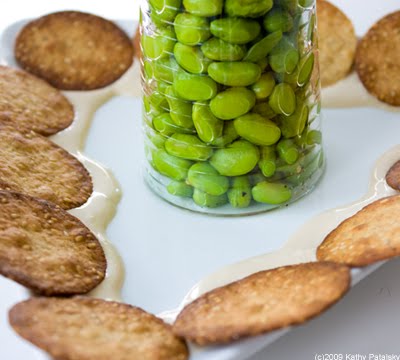 This kid-friendly "space snack" is out of this world! You may find it tricky to get your family to eat protein-rich edamame (whole green soy beans). Well not anymore! My Flying Saucer Edamame, with "Space Sauce" Snack, makes munching on soy beans as easy and fun as "3-2-1 Blast Off!"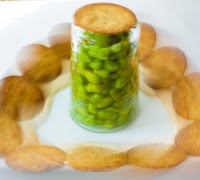 Healthy After School Snack. After a tiring day at school, it's time to slip into your spacesuit and head out into the galaxy to collect some tasty green moon rocks! Imagination not included. Get the recipe, how-to slide show and spaceship place mat ahead!…
More Space Sauce on your Moon Rocks Anyone? The plating for this intergalactic snack? A flying saucer spaceship. It's perfect for transporting your space travel treasures: green moon rocks! Otherwise known as edamame soy beans. Moon rock scoopers: rice crackers. Flavor accent: maple cream space sauce! Three ingredient "Space Sauce" is perfect for building moon rock cracker sandwiches. Get ready to launch into this fun for all ages after school (or work) snack.
Must See: The Spaceship Adventure in a Slideshow:
Healthy Space Snack. This snack is healthy because it contains protein-rich soy beans, crisp low-fat or fat-free rice crackers and a yummy vegan cream cheese based dipping sauce. You can use any variety of rice cracker: sesame, plain, wasabi, seaweed, spicy, vegetable, black sesame or brown sesame like mine. But the main ingredient is the star of the show: soy beans! Soy beans are rich in essential amino acids (complete chain proteins), fiber, essential fatty acids and soy isoflavones. It's not as easy as some people think to get kids (or adults!) to down those little green soybeans. This will assist you in that task. And if your family is already an edamame-fan, this snack is a fun way to perk up your bowl of edamame!
Crafting a Spaceship. This snack takes about ten minutes to make from start to finish. And that includes steaming the soy beans. Easy right? But enough about food, you'll need to make sure that you have enough supplies to build your flying saucer spaceship! Lets get to it!…
Flying Saucer Spaceship Edamame with "Space Sauce"
vegan, makes one spaceship plate plus extra "Space Sauce"
Spaceship Supplies:
1 small clear juice glass, hold about 1 cup of beans/
1 plate, medium sized
*any color/shape will work
1 snack plastic baggy
Ingredients:
1 cup cooked edamame soy beans
*I use pre-shelled/frozen beans
10-16 rice crackers
Space Sauce, about 2 tablespoon per plate/ship
Space Sauce
vegan, makes more than enough for one plate
4-5 heaping tablespoon vegan cream cheese
1 tablespoon maple syrup
1 teaspoon soy sauce
Directions:
1. First, make the space sauce by combining all the ingredients in a small bowl. Stir briskly with a spoon until all the cream cheese lumps are gone and you have a beige-gray-colored creamy smooth sauce.
2. Transfer the space sauce to your zippable plastic baggie. Seal tightly and place in the fridge to harden up a bit.
3. Steam cook the soybeans. I simply place my entire bag of pre-shelled frozen soybeans into the microwave for 4-5 minutes. Poke a few holes to vent the steam. If you don't like using microwaves, you can easily steam them stove top. I store the leftover beans in the fridge for snacking and salads. Cold edamame is delicious!
4. Grab your glass. Fill your clear juice glass with about 1 cup of beans-or enough to reach the brim of the glass. Pack them in tightly. If you'd like, you can grind a bit of fresh black pepper over the cooked beans before packing them into the glass. Depending on whether you like the taste of cold or warm beans better (I like cold edamame best). If you need to cool off just-cooked beans, stick them in the fridge for a few minutes.
5. Next, grab your spaceship plate. Place it upside down on, balanced on top of the bean-filled juice glass. Flip the plate and glass over carefully so that your plate is now laying flat and your secured bean cup is upside down in the middle of the plate. If any liquid seeps out of the cup-wipe it off with a napkin. Place your plate in the fridge to chill for about 5-10 minutes if you are going for the cold beans theme…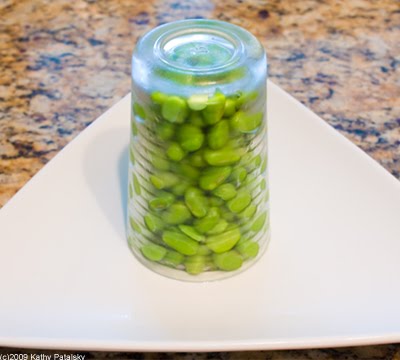 6. Next, grab your space sauce from the fridge (it should have firmed up a tad) and cut a TINY corner end off of the baggie. This will be your squeeze baggie.
7. Slowly squeeze out a (¼-1/2 inch thick) line around the very edge of the plate.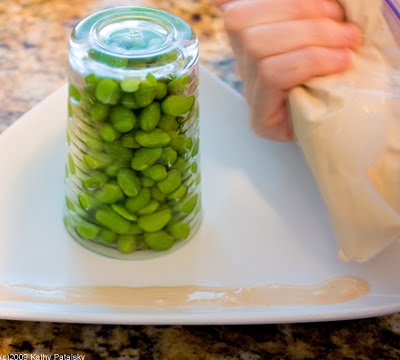 8. Next, secure your rice crackers on the edge of the plate by sticking them half in the space sauce drizzle. You're done! Now the fun part..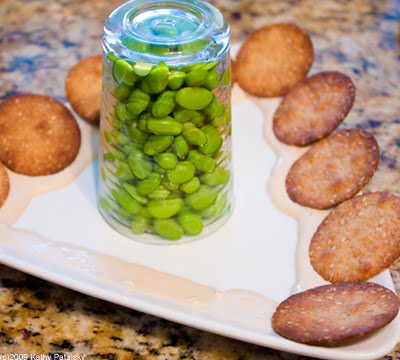 9. Bring the completed spaceship to your diners and announce the spaceship landing (spaceship sounds are optional, but recommended).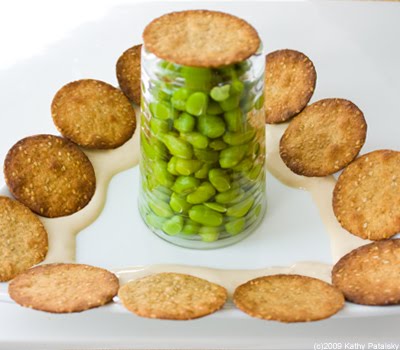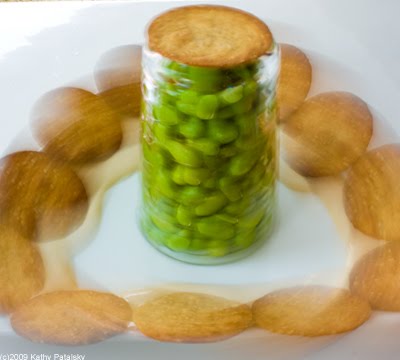 10. Announce that the spaceship will now be unloaded, and inside lie the collected galaxy space treasure: moon rocks!!!
11. You (or your kids) can now lift up the juice cup (gently) to allow the beans, aka moon rocks, to spill all over the plate. The moon rocks can now be collected and eaten as you wish.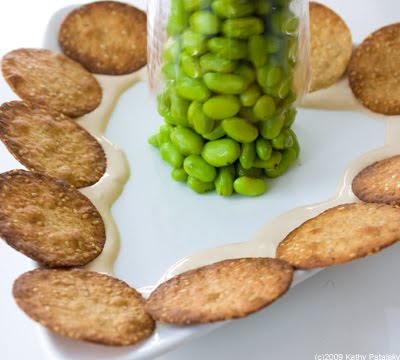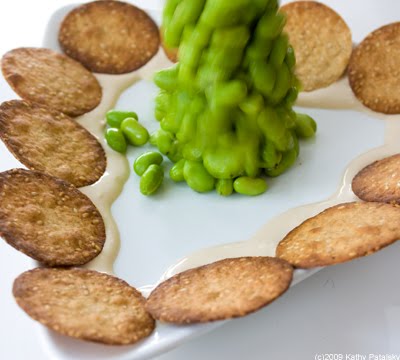 12. Extra Space Sauce can be drizzled on the ship, over the moon rocks or poured into a re-fueling station side-cup.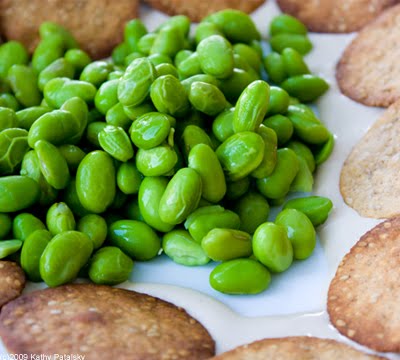 Happy space travels! Happy eating!
…Moon Rock Cracker sandwich anyone???…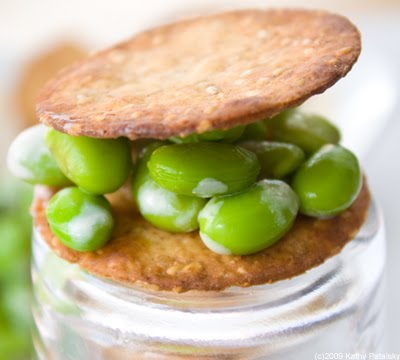 Need some more SPACE ADVENTURE inspiration:
Download a Spaceship Controls PDF placemat: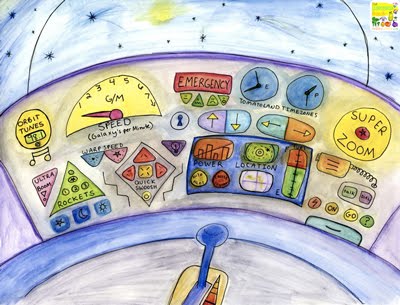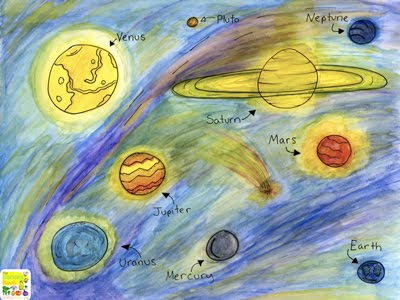 Blast off!!!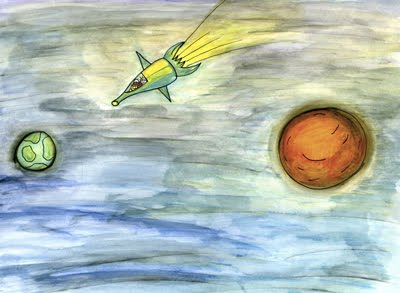 Larger Slideshow-click to view: