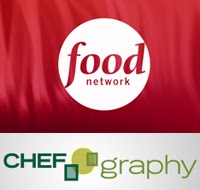 For the past few weeks, The Food Network has been running a stream of its Chefography shows, and I must admit, I've been loving them. Here are ten cool facts about the Food Network chefs and stars that I learned from tuning in. There's actually ten featured FN stars and more then ten facts!…
1. Ina Garten, The Barefoot Contessa. Ina is a smarty! She worked in the White House before making it big as The Barefoot Contessa. She also had a habit of sending her future-husband boxed brownies in the mail throughout their courtship days. And by the way, Ina always adds a pinch of freeze-dried coffee to her chocolate brownie recipes. She says the coffee enhances the complexity of the chocolate flavor. And I agree-great tip!
2. Bobby Flay. Bobby is a self-admitted wild child when it came to traditional schooling. He dropped out of school at age 17. However Bobby did eventually get his GRE and culinary schooling-at which he excelled greatly. Bobby likes to say that he went to UCLA. Not the UCLA in California, but the University of the Corner of Lexington Avenue. (Lexington is a main city street in NYC). Bobby is a NYC native-his heart belongs to NYC and his beautiful Texas-born wife actress Stephanie March.
3. Giada De Laurentiis. Giada was born in Rome, Italy. She has a very 'Hollywood' film industry involved family. She has a sister who is a makeup artist, and a brother named Igor. When Giada went to Culinary School in France she says she gained 15 pounds from all the pastry's and goodies she would make in class…and then eat without restraint. Before Giada moved to FN she was a private chef for a family in Los Angeles. Giada's FN show is taped in several real kitchens in homes around the Los Angeles area. Real homes, not a studio. One show can take up to 2-3 days to shoot. Giada's friends and family laugh at her early FN episodes because they say she looks 'pissed' and 'mad' in most of the shots. She does…it's quite funny because obviously Giada has really bloomed on camera since then. Giada married her husband Todd in 2003, though they had been dating since 1991. He proposed in Central Park and Giada was so stunned that she didn't respond right away. She laughs that Todd looked like he might cry when she was stunned into silence. He was fine once he heard her answer though…
4. Ace of Cakes, Duff Goldman. Duff used to be quite the juvenile delinquent. (Although he obviously is a rebellious type of creative genius.) He used to cover the concrete underpasses of Baltimore's freeways with beautiful spray paint graffiti art. The best part: his mom used to take photos of his illegal artistry. Duff is embarrassed to admit that he quit a job at the acclaimed Napa Valley restaurant The French Laundry, simply because 'he got yelled at'.
5. Rachel Ray. Rachel's big break was when she was given a cooking segment with Al Roker on the Today Show on NBC. It was a huge blizzard day and a guest had to cancel last minute. Fill in: Rachel Ray, a cook from Lake George NY. Because it was a blizzard, everyone and anyone was at home with their TV's on…watching little Rachel Ray make some soup. Her energy, spunk and sparkling personality won everyone over-including FN execs. Rachel is a very hard worker. Mario Batali says she has a work ethic like no one else!
6. Mario Batali. Mario had one of the first FN shows: Molto Mario. On one episode, Mario grated carrots and the side of his hand on-air and quickly thought up to hide the bloody injury in a bowl of mushed tomatoes. In the clip after the commercial break Mario's hand is covered in a giant bandage with no explanation to the viewers.
7. The Neely's. Gina and Pat Neely may have been high school sweethearts, but they didn't get back together until their ten year high school reunion. Gina was actually married and divorced earlier on in her life before reuniting with Pat. Pat's restaurant Neely's BBQ, likes to say "there is always a Neely at The Neely's restaurant". I wonder if that's still true!
8. Sandra Lee. Before she made it big on Food Network, you may remember Sandra from her uberly-successful late 1980's/early 90's infomercial for Kurtain Kraft. The infomercial was hosted by known other than "Mrs. Brady" Florence Henderson. Sandra's venture was a huge success, which was a big change from how she grew up. Sandra had a difficult childhood that involved welfare, food stamps and an mother in poor mental and physical health. Sandra says she was forced to act like a parent to her four younger siblings long before she had left her own childhood years.
9. Guy Fieri. Guy was forced to leave his pregnant wife in order to compete on the second season of The next Food Network Star. Good thing he did, because he won. He won a 6 episode deal with the Food Network, and the rest is Triple D history!
10. Food Network. In the very early days of The Food Network, the shows were taped without stopping-first take/one take style! Another crazy fact, there was actually no oven in one studio where chefs like Bobby and Mario did cooking shows. A hilarious clip shows how Mario would pretend to place his pans in an 'oven' that was actually just a hidden shelf. He'd slam the cupboard door to fake the sound of an oven door closing.
If you missed the Chefography series last week on Food Network you may be able to catch a few repeat episodes in the future. Guy Fieri's Chefography is repeating this week.
Check the Food Network Program Guide Schedule.