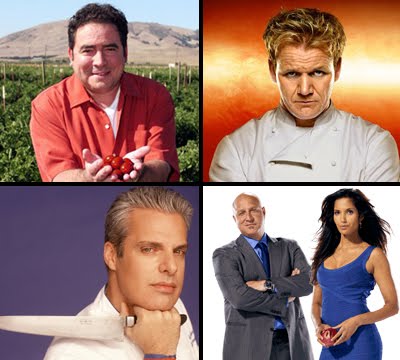 The world of foodie TV has really evolved since the days of Baking with Julia. With a simple click of the remote, foodies can experience Michelin-star cooking with Chef Eric Ripert, cut throat competition with Tom and Padma, fun in the kitchen with Brian Boitano and even a some green-themed cooking with Chef Emeril. Here's my top ten list of foodie TV shows you'd better be watching! Did your favorite make the cut?…
Foodie TV Top Ten List
*In no particular order
1. Avec Eric on Pbs
Known as one of the world's top chef's, Chef Eric Ripert serves up Michelin star food at Le Bernardin in New York City, on a nightly basis. But now he's coming to a television near you. You may have seen glimpses of Eric on Anthony Bourdain's show No Reservations, or as a guest judge on Top Chef, but this is the first time Chef Ripert receives top billing on a cooking-focused show. Eric's first show airs this weekend on PBS. Check local listings here. You can even see a clip of the new show here.
2. What Would Brian Boitano Make? and Melissa's Ten Dollar Dinners On Food Network.
I love these new shows on Food Network. WWBBM: It's a half hour show featuring the San Francisco-based cooking adventures of Olympic figure skating champion Brian Boitano. Who even knew BB knew how to cook! BB likes to throw crazy parties and serve amazing appetizer-style eats. So far he's had a mini-dating show in his living room and derby girl party on his roof. Too cool. And Melissa's Ten Dollar Dinners show is great because I love Melissa! She dazzles the kitchen with her 'been-there-done-that energy and effervescent spirit. As I said in my NFNS show blogs: "I'd want to be girlfriends with her. Hang out and swap recipes and tips!" Both shows must not be missed.
3. The Next Iron Chef on Food Network.
The Food Network is adding yet another Iron Chef to their roster, and this time you can watch the casting process unfold in an all out battle in Kitchen Stadium. The series premieres on Sunday Oct 4th. Definitely something to watch for if you are an Iron Chef fan.
4. Top Chef on Bravo
Top Chef is the best cooking competition show on TV. Enough said. It's a must-not-miss for foodies everywhere.
5. Hell's Kitchen on Fox
Pure entertainment. Who doesn't love to watch Michelin starred chef Gordon Ramsey yell and scream at a gaggle of chefs competing for the top prize? Hell's Kitchen never fails to live up to its name as Gordon screams, rages, rolls his eyes and throws things around his prime time kitchen. Fun in a 'wow, that was harsh!' kind of way…
6. Simply Delicioso on Food Network
I recently discovered this half hour long gem of a show. Host Ingrid Hoffman, cooks delicious Latin-inspired food from her Miami kitchen. Ingrid is a joy to watch and she has a lot of great tricks and tips. I stuck this show on the list because I don't hear people talking about it that often, but I love it!
7. Emeril Green on Planet Green
This show cracks me up every time! Watching the great Chef Emeril trolling around a Whole Foods Market with his shopping cart, chatting with other shoppers about what they are cooking for dinner tonight. Emeril always has great menus on this show and all the pop-up green and nutrition tips make this show both entertaining and educational! Emeril is the best. So humble.
8. Martha Stewart Show and Whatever Martha
Foodies everywhere bow down to Martha Stewart and her unsurpassed perfection. And then as they wallow in their feeling of unworthiness, they can flip over to Fine Living Network and watch 'Whatever Martha'. On WM, Martha's daughter Alexis and her pal Jennifer dish about what makes Martha so wrong about being oh-so-right all the time. Martha's Show is Foodie TV perfection and Whatever Martha is a dose of fun reality.
9. No Reservations with Anthony Bourdain on Travel Channel
Yes, I am proud to admit that I am a vegan who adores Anthony Bourdain. I don't always agree with him, but I guess I just hate to love him. He is a genius writer and commentator. He travels the globe with an open mind and an open mouth. Actually I take that back, Bourdain is open minded about anything called 'street food' but call it vegan and he runs screaming like a little girl. And yet I love him anyways.
10. Dinner: Impossible on Food Network
Energy, speed, conflict, action and passion! This show has it all. And I adore the show's host, Robert Irvine, who has to complete impossible catering tasks with a sometimes not-so-skilled crew of helpers. Did you know that Robert actually got fired from his Dinner Impossible hosting gig after some 'controversy' regarding his resume. But then a write-in campaign from FN viewers prompted them to re-hire him! Power to the foodies. Awesome.
Honorable Mentions:
The Best Thing I Ever Ate on Food Network
This show has really grown on me. It's a perfectly edited show featuring Food Network personalities chatting about their favorite eats across the globe. Topics include things like dessert treats, breakfast eats and more. It's fascinating to see what top chefs consider to be amazing memorable food experiences.
Food Network Old Favorites that continue to dominate foodie TV…
Foodies just can't stay away from these Food Network favorites:
Ace of Cakes, Throwdown with Bobby Flay, Barefoot Contessa, Anything with Giada, Paula's Home Cooking, Boy Meets Grill, Food Network Challenge, Triple D, 30 Minute Meals with Rachel Ray, Rachel's Tasty Travels…and many more…

Did I miss one of your faves??? Leave it in the comments!
I can't believe I almost forgot Martha on my list…never! Just look at that kitchen perfection…