It's almost that time of year again. Pumpkin Pie time. Four Ingredient Vegan Pumpkin Pie time…
Each year I like to refresh my go-to pumpkin pie recipe. So for 2011, I bring you this Four Ingredient Pumpkin Pie – this recipe is easier than ever!
Pumpkin Recipes…
Last year I posted a recipe for my 5-Ingredient Pumpkin Pie. You guys were simply giddy about the minimal ingredients. Well this year I've proudly revamped that recipe. Sliced the ingredients down even more. And it worked!
This four-ingredient pie filing tastes amazing. Thick and rich with a pumpkin spice maple flavor that tastes just as classic pumpkin pie should. The secret ingredient is again – those soaked cashews – I kept those from last year's recipe.
..but wait, there's more!..

Cream Swirled Version. Stay tuned, because to accompany today's recipe, in a few days I'll post my Swirled Cream Pumpkin Pie (same base recipe with only two additional ingredients!) But start off with this classic, holiday-approved, vegan pie. Vanilla bean coconut whip on top..
Want Coconut Whip? Two ways to get it..
1) Swirled Whip. Use a Frother can. Fluffy, airy, better-than-store-bought vegan whip.
2) Silky Whip. Use a hand beater for a silky "cool-whip" style whipped coconut cream.
..and also next week, I kick off my 2011 (third annual) Veggie Girl Power Series! Some amazing ladies this year!! Catch up on the previous years here: 2009 and 2010 and 2009 quotes.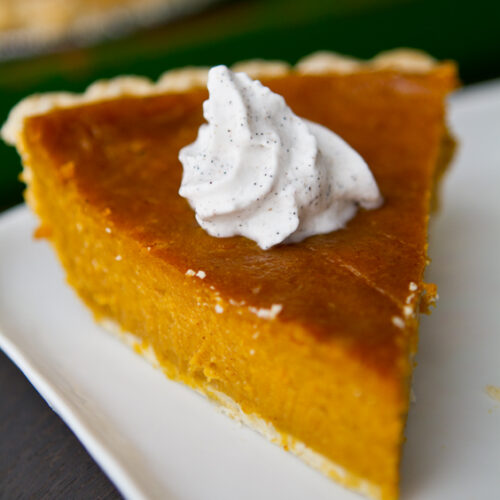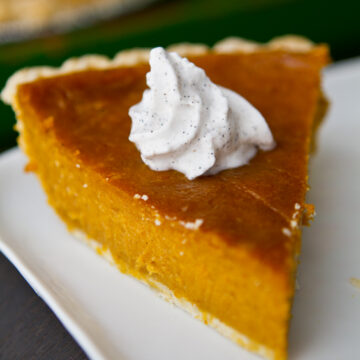 Four Ingredient Pumpkin Pie
I hope you serve up this easy Vegan Pumpkin Pie – get in and out of the kitchen in a flash so you can spend the holidays with your guests.
Print
Pin
Ingredients
1 ¼

cups

raw soaked cashews

1

cup

maple syrup

1

can organic pumpkin puree

,

16 ounces

2

teaspoon

pumpkin pie spice

optional: ½ teaspoon salt to taste

,

depends how much salt you soaked your cashews in

1

pie crust
Instructions
Soak about one cup of raw cashews in about 2 ½ cups of water in a large bowl. Add about ½ – 1 teaspoon of salt to the bowl – mix to dissolve. The salt allows the water to absorb more efficiently into the cashews and also adds some salt for your recipe. Note: you may want to soak more cashews than needed and make two pies – or use in other recipes like my vegan pumpkin spice cashew cheese!

Soak this cashew bowl overnight in the fridge. You want well-soaked cashews so that your pie mix blends up perfectly creamy. I soaked my cashews for about 18 hours. At least 8 is optimal. Don't soak for more than two days or the cashews can get grimy in my opinion.

The day of your actual pie making allow at least 3 hours from the time you start to the time you wish to serve the pie. I like a cool time of at least 2 hours.

Preheat your oven to 400 degrees.

Drain the water from your cashews. They should be very soft to bite and a slight purplish dark hue. This is normal. Add 1 ¼ cups of cashews to your food processor – or even better, a Vitamix or high speed blender. Get your own Vitamix here with free shipping!

Add pumpkin to blender. Next, add in the maple syrup and pumpkin pie spice. Blend on low -> high for about 3-5 minutes until the mixture is completely creamy. If your mixture is a bit thick for some reason – you can add in a few teaspoons of either water, maple syrup or even non-dairy milk. After blending, do a taste test and add a ½ teaspoon of salt if needed. I added in about ⅓ teaspoon extra salt. But taste before adding.

Pour your mix into a par-baked vegan pie shell (I toast my raw pie shell in the 400 degree oven for about 8 minutes). You can buy a frozen crust or make your own per instructions linked in recipe above.

Bake pie at 400 degrees for 15 minutes. Then reduce to 350 degrees and bake for an additional 30-40 minutes – or until the edges look fluffy and a darker caramel orange tone. Use a toothpick in center if unsure. The tooth-picked filling should come out slightly wet – but very thick and dark. It is important to remember that your pie will firm up significantly upon cooling and chilling in the fridge.

Remove pie from oven. Cool on counter for at least 30 minutes. Then place in fridge until ready to serve. At least 2 hours cooling and/or chilling time is my preference.

I serve chilled with a swirl of my vegan coconut whip on top!!
Notes
nutrition estimate | per serving
Calories:
319
kcal
|
Carbohydrates:
44
g
|
Protein:
5
g
|
Fat:
14
g
|
Saturated Fat:
3
g
|
Sodium:
93
mg
|
Potassium:
244
mg
|
Fiber:
1
g
|
Sugar:
25
g
|
Vitamin A:
19
IU
|
Vitamin C:
1
mg
|
Calcium:
59
mg
|
Iron:
2
mg
Pie Crust.
I was a bit annoyed at myself for not making my own crust for this pie. I used a vegan frozen crust from Whole Foods – easier since I was experimenting with recipes. I WILL for sure make a from scratch crust when I make this again for Thanksgiving. Flaky, vegan buttery, homemade vegan crust is oh-so-much-better than anything frozen. My how-to make pie crust instructions here will assist you. And watch my How-to Vegan Pie Crust Video too.
I hope you serve up this easy Vegan Pumpkin Pie – get in and out of the kitchen in a flash so you can spend the holidays with your guests.
Happy Fall Holidays!!!!