Peach Perfection. My creamy Fresh Peach Hemp Milk Protein Smoothie tastes lightly sweet with a cool nutty flavor from the ice cold hemp milk.

Hemp-tastic? I'll admit that I ignored hemp based foods for a long time-despite all the hemp hype among vegans. Though after research and taste-testing hemp products, I am a fan. Hemp milk is an ideal smoothie milk due to its higher fat and lower carbohydrate content. The hemp milk I use has only 1 gram of carbs. And hemp milk is a hemp-tastic source of vegan protein because hemp seeds contain all 10 essential amino acids. You must try this smoothie and re-think hemp milk…
Hemp Milk Smoothies. I am loving hemp milk for smoothies. It is higher in fat than most rice and soy milks and thus provides a very creamy base. Plus my favorite brand Living Harvest has a yummy unsweetened vanilla flavor with only 70 calories per cup. 4 grams protein, 5 grams of fat. And only 1 gram of carbohydrates. Plus just one cup provides 20% RDA of vitamin B12. Yay! And a whole host of other nutrients too. See the label on the Living Harvest website. And note, other brands do hemp well, but I am always satisfied with Living Harvest.

Why is Hemp so Great: "Hemp seeds contain all 10 Essential Amino Acids (EAA's) – the building blocks of protein. They're also rich in naturally-balanced Omega-3 and Omega-6 Essential Fatty Acids (EFA's). Additionally, hemp is high in magnesium, iron, potassium, fiber and phytonutrients, plus natural antioxidants like vitamin E. " -Living Harvest website, Hemp 101.
Here is the smoothie recipe:
Fresh Peach Hemp Milk Protein Smoothie
vegan
1 fresh ripe peach
1 ½ cups hemp milk, vanilla flavor
*I like Living Harvest brand, unsweetened flavor
1 cup frozen papaya
½ cup frozen peaches
¼ cup peach soy yogurt
½ cup coconut water ice cubes
1 frozen or fresh banana
¼ teaspoon salt
1 tablespoon agave syrup
optional:
2 tablespoon Hemp Protein Powder
*also Living Harvest brand, original flavor
2 tablespoon shredded (fine) coconut flakes
To make:
1. Blend all ingredients except the protein powder and fresh fruit (peach and if using, banana)
2. Once smoothie is blended, add in the fresh fruit and powder and blend for another few seconds until only tiny bits of the fruit can be seen. You don't want to over blend for a mushy smoothie-when using fresh fruit.
Always blend in the protein powder last too. Or some brands can get mushy and milky when over blended.
3. As always, add more frozen fruit/ice for a thicker smoothie. And add more liquids for a thinner smoothie. See my 20 best smoothie wellness tips for more advice.
4. Sip and Enjoy!!! Repeat the next day…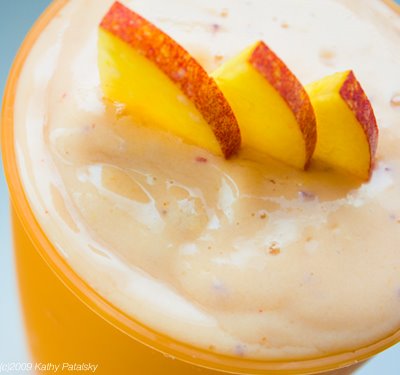 So How Much Protein is in the Smoothie?….
There is around 15 grams of protein.
7 grams protein in the hemp protein powder.
6 grams in the hemp milk.
About 2-3 grams in the remaining ingredients.